7.8

/

10

Alchetron

Rate This




Directed by

Sathyam




Written by

M. K. Muthu




Music by

Vedha




Music director

Vedha




Producer

P. S. Veerappa






Produced by

P. S. Veerappa




Screenplay by

M. K. Ramu




Initial release

10 April 1966




Production company

Bharani Pictures






Starring

Jaishankar Jayalalitha S. V. Ramadoss Lakshmi Rajam Manorama




Cast

Jaishankar, Manorama, S. V. Ramadoss




Similar

Woh Kaun Thi?, Mera Saaya, Bees Saal Baad, RangiTaranga, Anandhapurathu Veedu
Yaar Nee?(Tamil:யார் நீ?, English: Who are you?) is a 1966 black-and-white Tamil psychological thriller mystery film directed by Sathyam and produced by P. S. Veerappa. The dialogues were written by M. K. Ramu. The film stars Jaishankar and Jayalalitha playing lead roles. It is a remake of Hindi film Woh Kaun Thi? (1964). The film became successful at Box Office. Jaishankar and J. Jayalalitha both acted during the same year in another thriller film followed: Nee (film)(1966). The Telugu remake of this film was Aame Evaru? which again starred Jayalalithaa in lead role opposite Kongara Jaggaiah and was made after success of Yaar Nee.
Contents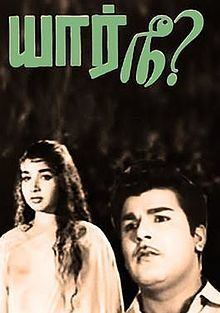 Plot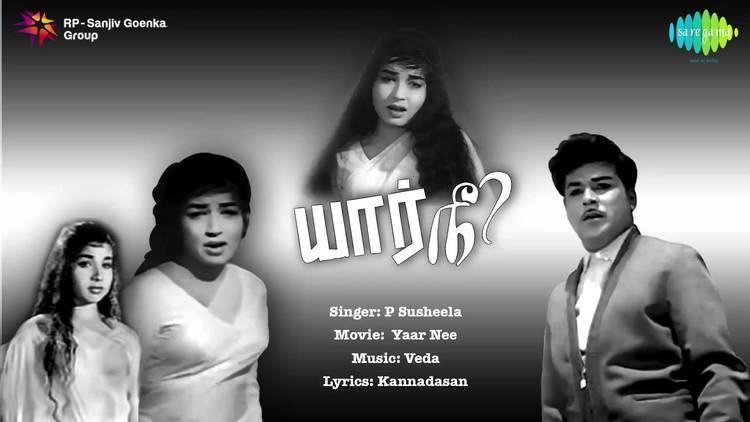 On a rainy night, the highly reputed Dr. Anand(Jaishankar) is driving. He sees a mysterious woman standing by the road and gives her a lift. She introduces herself as Sandhya(Jayalalitha). As soon as she steps into the car, the wipers eerily stop working. He's even more spooked when the lady shows him the way when the path is barely visible. The mysterious woman guides him outside a cemetery. On reaching the cemetery the gates open automatically and Anand hears a song "Naane Varuven Ingum Angum".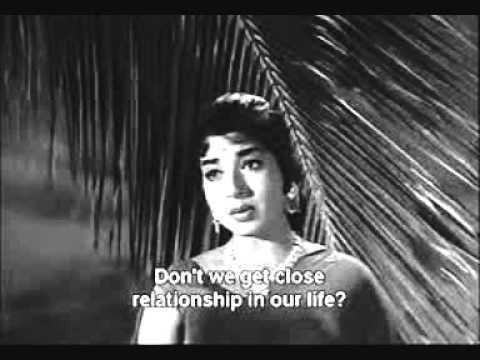 Dr. Anand is about to inherit a large fortune from a distant relative with a clause that he is mentally sound. The writer of the will laid this condition as there had already been case of mental instability in his family. His colleague Dr. Latha(C. Lakshmi Rajyam) loves Dr. Anand, but he already has a girl friend Rama(Kumari Radha). Mystery unfolds when Rama is killed by a Cyanide injection and the suspects are Dr. Latha and her father Dr. Giri(S. V. Ramadoss), the head of the hospital in which Anand and Latha work.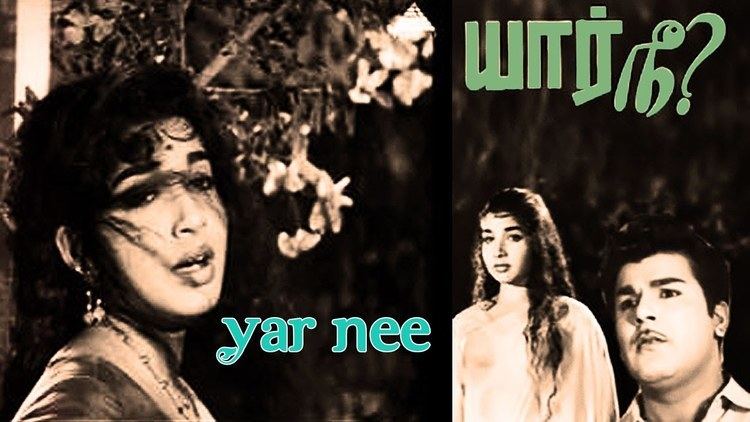 On a stormy night, Anand is called to a dilapidated mansion on an emergency case. There, he comes to know that patient has already died. He is surprised to see that the patient is none other than the mysterious woman he met on the rainy night, Sandhya. As he leaves the mansion, he meets some policemen who tell him that the mansion has been deserted for a while and it is rumoured to be haunted. The policemen inform him that what he saw in the mansion happened years ago and many doctors have registered similar cases with the police on stormy nights. Meanwhile, Anand's mother appointed a new man servant named Madhavan(Veerappan) and a new maid, named Thamarai(Manorama). On another occasion, Anand reads a newspaper article about a train accident in which he sees a picture of a woman who died and that happens to be Sandhya again.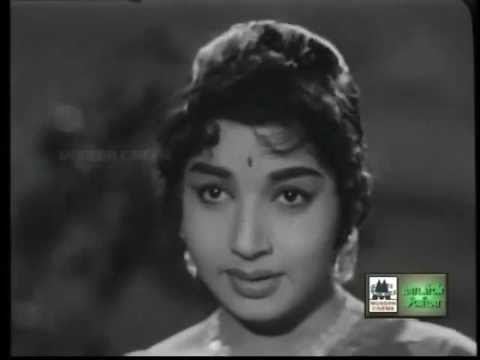 Anand is very unhappy after the demise of his girl friend. His mother fixes an arranged marriage to a girl recommended by her sister. On the wedding night, Anand is shocked to see that the bride is none other than Sandhya. He starts avoiding her. One day, he sees that she has painted the same bungalow in which he was called on that rainy night. Just after that, he hears her singing a part of "Naane Varuven Ingum Angum". On another night, Sandhya visits Anand's hospital and tries to impress him with her charm and beauty.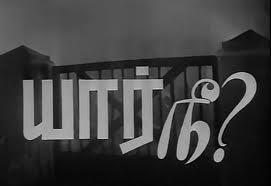 Anand attempts to know the truth behind Sandhya by taking her on a ride in his car. He gets his wipers to stop working and asks her to guide him as she can clearly see the way in the stormy and foggy night. He takes her to the bungalow and to the exact spot where he had seen her dead. As he explains what happened on the stormy night, Sandhya disappears. When Anand reaches home, she is waiting for him and his mother says that she never left the house.
Shocked by everything that is happening around him, Anand finally persuades his mother to let sandhya go back to her home. The next day, he comes to know that the train Sandhya travelled met with an accident. As another twist, Anand finds Sandhya on his terrace that same night.
All these mysterious happenings take a toll on his mental health and he is advised to take some rest in Ooty. There, he meets a monk(O. A. K. Devar) atop a hill top who tells him that 100 years ago at this very spot, a boy and girl were romancing when the girl fell and died. Since then, her spirit has been roaming the hills awaiting her lover to return. The priest says that the spirit believes that her lover has been reincarnated in Anand's form. Anand then sees Sandhya from the foot of the hill as she sings the last part of "Naane Varuven Ingum Angum". Persuaded by the priest's words, Anand jumps from the hill, but, is saved by Latha. Later, when Anand sees Sandhya trying to lure him out, he follows her to the same old bungalow, where he sees Sandhya on the stairway in one moment and then impossibly beside him in another.
She lures him to the roof, where suddenly he sees a duplicate of Sandhya. The duplicate shouts that she is the real Sandhya but she is gagged and taken away. Strengthened by his sudden revelation, Anand realizes the woman is actually not a ghost and confronts her,but, she accidentally falls down and dies. Then, comes Ramesh(C. L. Anandan) Anand's cousin. He reveals that this was his plan so that his inheritance would pass to him. As he is the next in line to inherit the property. A duel follows between them and police arrive. The other woman was Sandhya's twin sister Mohini, whom Sandhya didn't know, but Ramesh came to know it by chance. Sandhya's parents separated them years ago. When her father died, Mohini was forced to adopt unfair means for her living and Ramesh guided Mohini, teaching her to mimic Sandhya's behavior. The Sandhya who had lured Anand from the hospital was actually Mohini. This explains Sandhya's presence at two places on the same time. Hence, the mystery is solved. Sandhya and Anand are united.
Cast
Jaishankar as Dr. Anand
Jayalalitha as Santhya/Mohini(Twin Sisters)
C. L. Anandan as Ramesh (Anand's distant cousin)
C. Lakshmi Rajyam as Dr. Latha
S. V. Ramadoss as Chief Dr. Giri (Latha's Father)
Kumari Radha as Rama (Anand's girlfriend)
Manorama as Thamarai (Maid)/Sulakshana (C.I.D Officer)
Veerappan as Madhavan (Anand's house new servant)
Pushpamala as Valli (Rama's house maid)
O. A. K. Devar as Saint
C. K. Saraswathi as (drama artist) as ghost mother
K. Malathy as Anand's Mother
P. S. Veerappa as Guest
Soundtrack
The Music was composed by Vedha and lyrics written by Kannadasan. The film P. Suseela was sing few melodies track En Vedhanaiyil 2. Naane Varuven 3.Mulli Roja and T. M. Soundararajan and L. R. Eswari sing Paarvai Ondre Pothume romantic song. Then L. R. Eswari sang a solo song Kannukenna Summa. Excellent dance performed C. Lakshmi Rajyam in Ooty and the dance sequence is very beautiful and ear shattering music.
Hindi (original version)
Woh Kaun Thi? was released on 1964 black-and-white Psychological mystery film and was directed by Raj Khosla. It starred Sadhana , Manoj Kumar and Prem Chopra and the screenplay was written by Dhruva Chatterjee. The music Madan Mohan was asset to the movie. The film became a hit at the Box Office. Raj Khosla directed Sadhana in two more suspense thriller movies namely: Mera Saaya (1966) and Anita (1967 film). The ghost singing song Naina Barse Rimjnim Rimjhim was sung by Lata Mangeshkar and lyrics were written by Raja Mehdi Ali Khan.
Telugu (remake)
The Telugu remake was made after the success of Tamil version. The film under the title Aame Evaru? The film was directed B. S. Narayana and Produced by P. S. Veerappa. The film script by B. S. Narayana. Music by Vedha assets to the movie. Starring Kongara Jaggaiah Jayalalitha , Vanisri Prabhakar Reddy and Raja Babu. The film hit at the box office. The lyrics written by Dasaradhi. The ghost were sing by O Naa Raja Raavaa song voice by P. Suseela.
Songs
1Tikkiriki Tikkiriki TattadaP B Sreenivas3:18
2Parvai Ondre PothumeL R Eswari4:07
3Kannukenna SummaL R Eswari4:41

References
Yaar Nee? Wikipedia
(Text) CC BY-SA