Peoples Republic of China




Guangdong Province


1,387.02 km2


740,000



Xinhui (Chinese: ), also known as Kuixiang (Chinese: ), is a city district in the City of Jiangmen in the province of Guangdong in southern China. Xinhui people are part of the greater Siyi people, in the Greater Siyi Region. Xinhui has a population of about 735,500, 98% of which are Han Chinese. It is located on the confluence of the Tan and Xi River. The local dialect is a variant of Cantonese. Xinhuis most famous produce is its chenpi, a kind of dried Mandarin orange peel. Xinhui is the ancestral home of Liang Qichao, Andy Lau, Hacken Lee, Amy Kwok, Gillian Chung, and Joey Yung.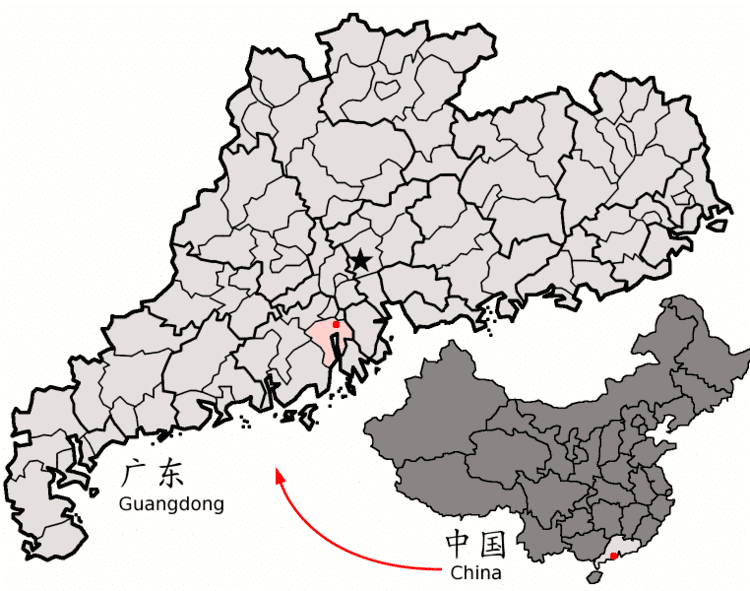 During the Neolithic period the area where Xinhui is situated was a bay at the mouth of the Pearl River; silt deposited by the Xi and Tan rivers resulted in it gradually becoming land. This is when humans settled in the area. In the last ten years, evidence of neolithic settlement such as communal shell mounds, and ceramic and pottery fragments have been discovered.
Xinhui district was formerly known as Gugang district (???). Famous people born in what is now known as Xinhui include Liang Qichao, Chen Baisha, Chan Heung.

Xinhui is situated in the southwest of the Pearl River Delta, borders on the South China Sea, and adjoins Hong Kong and Macau. It comprises a total area of 1387.02 m2. The geographical feature that characterizes the Xinhui and Jiangmen area is the large proportion of water in the region. Official Map of Xinhui: http://www.xinhui.gov.cn/export/xinhui/sitemap/ditu.jpg
According to geologists, 5000 years ago Xinhui was a shallow bay in the mouth of the Pearl river, with its southeast portion being a chain of islands. With the movement of the Xi and Tan rivers, a river delta was formed which in the last nine hundred years became the alluvial plain of today.
The paper company Vinda International has its headquarters in the Donghou Industrial Development Zone (?????) in Huicheng Town in the district.
Xinhui District Wikipedia
(,)http://upload.wikimedia.org/wikipedia/commons/0/08/Location_of_Xinhui_within_Guangdong_(China).png(,)http://legacy1.net/images_map/xinhui01.jpg(,)http://www.cinarc.org/Lum_village_house-web.jpg(,)http://www.cinarc.org/Jinniushan_Xinhui_cemetery_web.jpg(,)http://www.perfect-cn.net/en/up_files/201252811346171.jpg(,)http://media-cdn.tripadvisor.com/media/photo-s/03/d0/34/8a/xinhui-gym.jpg(,)http://www.cinarc.org/Japanese_lady_grave_web.jpg(,)http://asorblog.org/wp-content/uploads/2013/03/Xinhui-luo.jpg
(,)http://www.goldsunhongkong.com/images/sub_xhybg_img1.jpg(,)http://sneerkat.com/wp-content/uploads/2014/12/kaiping-china.jpg(,)http://img.weiku.com/a/004/502/decoration_grass_landscaping_grass_for_garden_hotel_G021_9521_7.jpg(,)http://www.chinatouradvisors.com/UpLoad/Guangdong/Jiangmen/Attractions/Songyuanyamen-Naval-Battle-Cultural-Tourism-Zone/Songyuanyamen-Naval-Battle-Cultural-Tourism-Zone-three.jpg
(,)http://www.chensfood.com/en/tpl/images/map1.jpg(,)http://images.travelpod.com/cache/accom_maps/Xinhui_Huaqiao_Hotel-Jiangmen.gif(,)http://images.travelpod.com/cache/accom_maps/Phoenix_Hotel-Jiangmen.gif(,)http://www.bgyhotel.com/share/info/011/map.jpg(,)http://images.travelpod.com/cache/accom_maps/1-Palm_Hotel_Jiangmen-Jiangmen.gif(,)http://us.lkk.com/en/AboutLKK/~/media/Images/US/plant_0_1.ashx(,)http://archive.unu.edu/unupress/food/8F033e/8F033E09.GIF(,)http://www.tnetnoc.com/hotelphotos/031/396031/2631759-Xinhui-Country-Garden-Phoenix-Hotel-Exterior-1-DEF.jpg(,)http://www.discoverchinatours.com/fileupload/destinations/Jiangmen_Release%2520Fish%2520Festival.jpg(,)http://www.chinesefamilyhistory.org/uploads/2/7/1/2/27123217/chinese_districts_from_which_the_chinese_in_america_originated_pre-1949.jpg
(,)http://www.51766.com/img/xhfhjd/1252393607042.jpg(,)http://www.newsgd.com/culture/CultureTravelHighlights/content/images/attachement/jpg/site26/20130617/eca86b89c3931328fb870b.jpg(,)http://www.newsgd.com/culture/CultureTravelHighlights/content/images/attachement/jpg/site26/20130617/eca86b89c3931328fba313.jpg(,)http://www.fao.org/docrep/005/ad016e/AD016E10.jpg(,)http://www.fao.org/docrep/005/ad016e/AD016E11.jpg(,)http://plumblossom.net/PhotoAlbum/KingMuiVillage/fuhangngandgm.JPG(,)http://en.jmchaodong.com/images/banner.jpg(,)http://plumblossom.net/PhotoAlbum/KingMuiVillage/billleunggmmadamchan.JPG(,)http://plumblossom.net/PhotoAlbum/KingMuiVillage/gmandbillleung.JPG(,)http://www.gianguanauctions.com/images/GG_FEB2013_Exhibit_POSTER_online.jpg(,)http://i.ytimg.com/vi/opoF2LnuZIc/hqdefault.jpg