Years of service

1909–1946




Rank

General





Name

William Simpson






Born

May 18, 1888 Weatherford, Texas (

1888-05-18

)


Buried at

Arlington National Cemetery




Allegiance

United States of America




Commands held

Fourth United States Army XII Corps Ninth United States Army Second United States Army 30th Infantry Division 35th Infantry Division




Battles/wars

Moro Rebellion Mexican Expedition World War I Battle of Saint-Mihiel Meuse-Argonne Offensive World War II Battle of Aachen Operation Plunder Operation Varsity Operation Veritable




Died

August 15, 1980, San Antonio, Texas, United States




Education

United States Military Academy




Place of burial

Arlington National Cemetery, Arlington, Virginia, United States




Battles and wars

Moro Rebellion, Pancho Villa Expedition




Similar People

Courtney Hodges, Omar Bradley, Walter Model, Bernard Montgomery - 1st Visco, Gustav‑Adolf von Zangen




Service/branch

United States Army



General William Hood Simpson (May 18, 1888 – August 15, 1980) was a senior and highly distinguished United States Army officer who served with distinction in both World War I and World War II. He is most notable, however, for being the Commanding General of the U.S. Ninth Army in Western Europe on the Western Front during the final stages of World War II.
Contents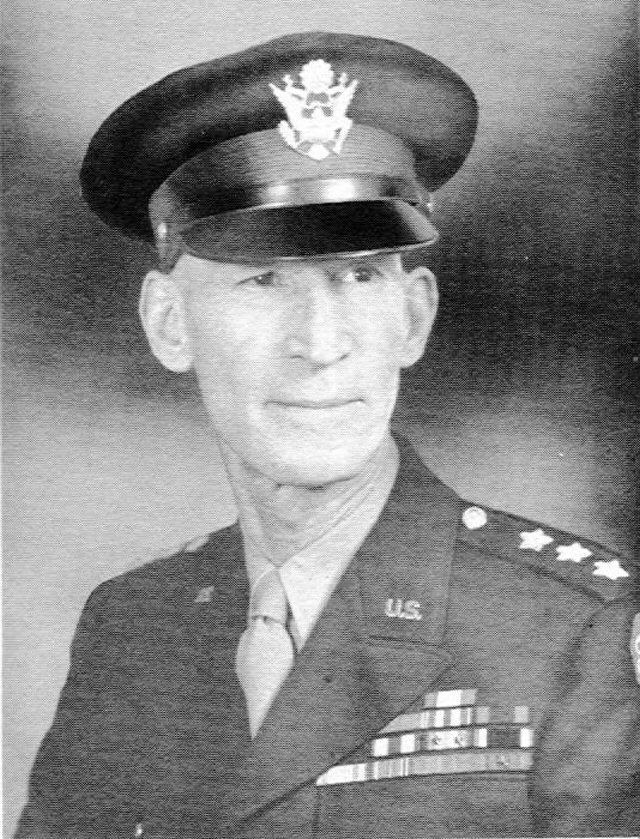 Early life and military career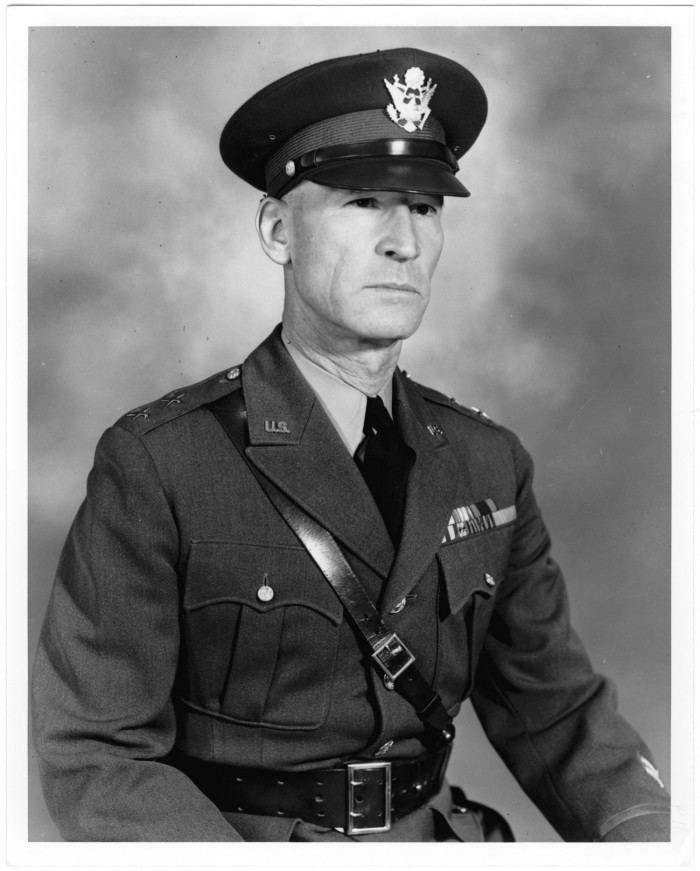 Simpson was born on May 18, 1888, at Weatherford, Texas. In June 1905, a month after turning 17, he entered the United States Military Academy (USMA) at West Point, New York, and graduated four years later in June 1909, being commissioned as a second lieutenant into the Infantry Branch of the United States Army. His fellow graduates from the USMA included Jacob L. Devers, John C. H. Lee, Edwin F. Harding, George S. Patton, Delos Carleton Emmons, Thomas D. Milling and James Garesche Ord, all later having distinguished careers and becoming general officers.
Simpson's first assignment was with the 6th Infantry Regiment at Fort Lincoln, North Dakota. Soon afterwards the regiment was sent overseas to the island of Mindano in the Philippines in January 1910 and remained there for another two-and-a-half years, where Simpson participated in the Moro Rebellion. He returned to the United States with his regiment in 1912 and, being stationed at Fort Bliss, Texas, remained there as a company commander until, now promoted to first lieutenant, he fought in the Pancho Villa Expedition in 1916. In February 1917 he became aide-de-camp to Major General George Bell, Jr., then commanding the El Paso Military District.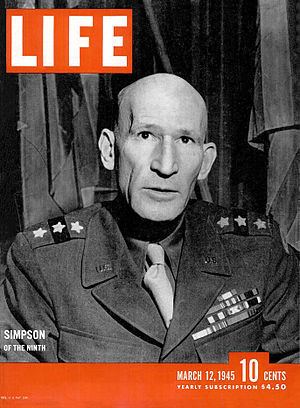 Simpson was promoted to captain in May 1917, a month after the American entry into World War I, and moved with Major General Bell to activate the 33rd Infantry Division. The 33rd Division was sent to the Western Front in April 1918. As a temporary lieutenant colonel he was division chief of staff, and was awarded the Army Distinguished Service Medal and the Silver Citation Star during the Meuse-Argonne Offensive in late 1918.
Between the wars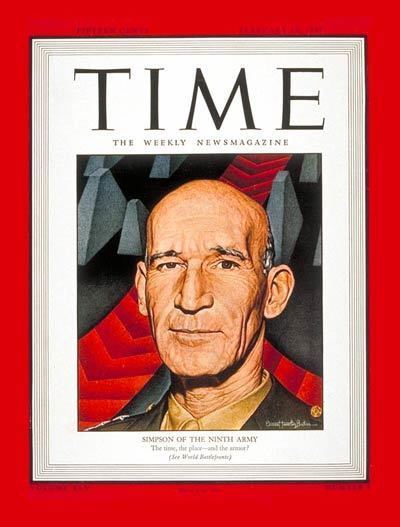 In the inter-war years, 1919–1941, Simpson filled staff appointments and attended military schools, both as student and as instructor. On Christmas Eve, 1921, he married Ruth Krakauer, an English-born widow whom he had first met while at West Point. From 1932 to 1936, he served as the Professor of Military Science at Pomona College in Claremont, California. From April to September 1941 he was the first commander of the country's largest Infantry Replacement Training Center, Camp Wolters, located in Mineral Wells, Texas.
World War II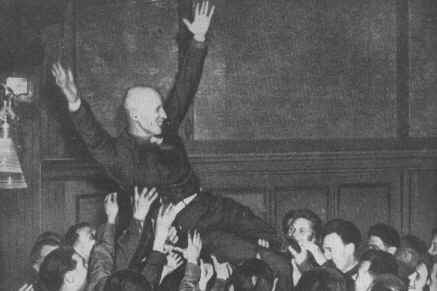 In mid-1940, he was appointed to command the 9th Infantry Regiment at Fort Sam Houston, Texas. Before the U.S. entry into World War II, he had commanded divisions and served as the Assistant Division Commander (ADC) of the 2nd Infantry Division. He received a promotion to temporary major general, taking the 35th Infantry Division, an Army National Guard formation,from Camp Robinson, Arkansas, to a training site in California. He relinquished command in May 1942 and briefly assumed command of the 30th Infantry Division, another Army National Guard formation, until July.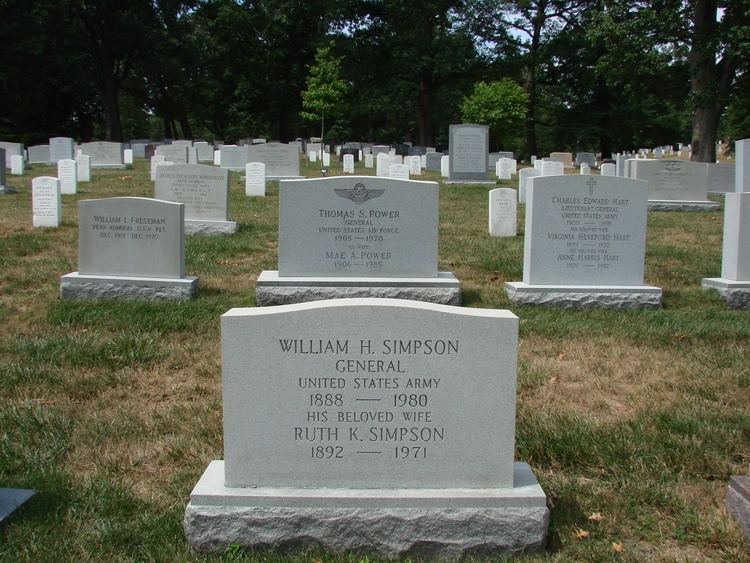 Further promotions followed, including command of XII Corps, and later the U.S. Second Army. In May 1944, now with the three-star rank of lieutenant general, Simpson took his staff to England to organize the U.S. Ninth Army. This formation was activated as part of Lieutenant General Omar Bradley's U.S. 12th Army Group, on September 5 at Brest, France. Brest was liberated on September 20, 1944.
The Ninth Army joined the Allied armies on the Western Front in the general advance and, after a month in the Ardennes forest the Ninth was moved further north. In November 1944 it broke through the Siegfried Line and advanced, in some of the heaviest fighting of the war, to the Roer River. At this point the advance stalled, due to the threat posed by dams upstream.
During the crisis of the Battle of the Bulge in December Simpson's Ninth Army came under command of Field Marshal Bernard Montgomery's Anglo-Canadian 21st Army Group. After the battle was over in early 1945 the Ninth Army remained with Montgomery's 21st Army Group for the final attack into Germany. As part of Operation Plunder, the River Rhine was crossed on March 24, 1945, north of the Ruhr industrial area and on April 19 the Ninth Army made contact with Lieutenant General Courtney Hodges' First United States Army, making a complete encirclement of the Ruhr. On April 4, it had reverted to Bradley's 12th Army Group.
The Ninth was the first American field army across the Elbe, on April 12, 1945. The Ninth Army continued its advance into Germany until the end of World War II in Europe on May 8, 1945, Victory in Europe Day. Simpson returned to the United States for a rest a month later, in June 1945.
Postwar
He next undertook a mission to China in July and subsequently commanded the U.S. Second Army at Memphis, Tennessee.
He retired from the army in November 1946 and on July 19, 1954, he was promoted to full general on the retired list by special Act of Congress (Public Law 83-508). After retirement, Simpson lived and worked in the San Antonio, Texas area. In 1971, his wife Ruth died, and soon thereafter, Simpson moved into the Menger Hotel in San Antonio, where he was very popular with the staff. In 1978, at the age of 90, he met Catherine Louise Berman, a retired civil-service worker from a military family, and the two were married that same year.
General William Hood Simpson died at his longtime residence, The Menger Hotel, in downtown San Antonio, Texas, on Friday, August 15, 1980, and was later buried alongside his wife in Arlington National Cemetery, Virginia.
References
William Hood Simpson Wikipedia
(Text) CC BY-SA