7.8

/

10

Alchetron

Rate This




Initial DVD release

July 21, 2015 (USA)




Country

New Zealand






Genre

Comedy, Horror




Duration




Language

English







Director

Taika Waititi Jemaine Clement




Release date

19 January 2014 (2014-01-19) (Sundance) 15 June 2014 (2014-06-15) (Sydney) 19 June 2014 (2014-06-19) (Embassy Theatre, Wellington) 13 February 2015 (2015-02-13) (United States)




Writer

Jemaine Clement, Taika Waititi




Directors

Jemaine Clement, Taika Waititi




Screenplay

Jemaine Clement, Taika Waititi




Cast

Taika Waititi

(Viago),

Jemaine Clement

(Vladislav),

Jonathan Brugh

(Deacon),

Cori Gonzalez-Macuer

(Nick),

Stuart Rutherford

(Stu),

Jackie van Beek

(Jackie)


Similar movies

Maze Runner: The Scorch Trials

,

Hotel Transylvania 2

,

Dracula Untold

,

Hotel Transylvania

,

World War Z

,

From Dusk Till Dawn




Tagline

Some interviews with some vampires
What we do in the shadows official trailer 2 2014 vampire mocumentary hd
What We Do in the Shadows is a 2014 New Zealand mockumentary horror comedy film about a group of vampires who live together in Wellington, that is written, directed by, and starring Jemaine Clement and Taika Waititi. It premiered at the Sundance Film Festival in January 2014. The film was theatrically released on August 18, 2014 by Madman Entertainment. The film earned $6.9 million on a $1.6 million budget.
Contents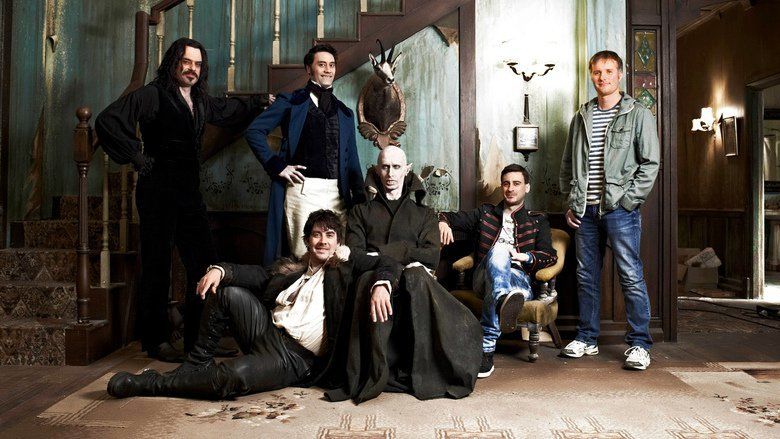 What we do in the shadows official trailer
Plot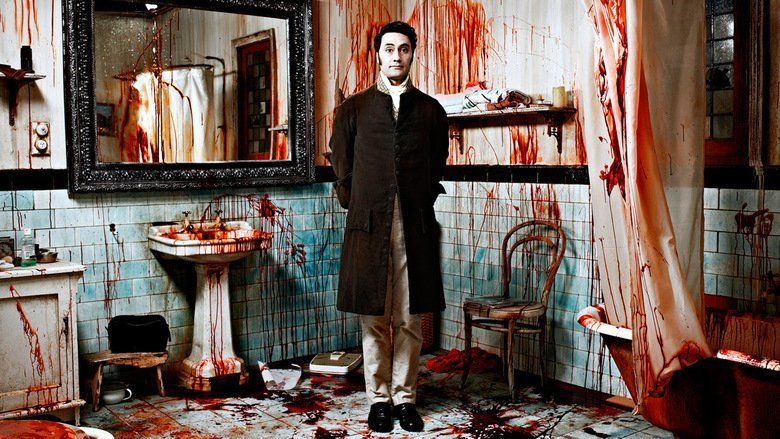 Four vampires—Viago, Vladislav, Deacon, and Petyr—share a flat in the Wellington suburb of Te Aro. Although Viago, Vladislav, and Deacon are all several centuries old, they have retained normal human appearances, but the 8,000-year-old Petyr resembles Count Orlok and acts more savagely than the younger vampires. Each night, Viago, Vladislav, and Deacon prowl the streets of Wellington searching for people to kill, but they must stay in the flat during the day to avoid sunlight—which is lethal to vampires—therefore they have not adapted to 21st-century life. Deacon has a human servant (familiar)—Jackie—who runs errands for the vampires, but she is frustrated that Deacon will not turn her into a vampire. Jackie leads her ex-boyfriend Nick to the vampire's flat so they can drink his blood: he escapes before they can kill him, but as he leaves the flat, Petyr attacks him and later turns Nick into a vampire.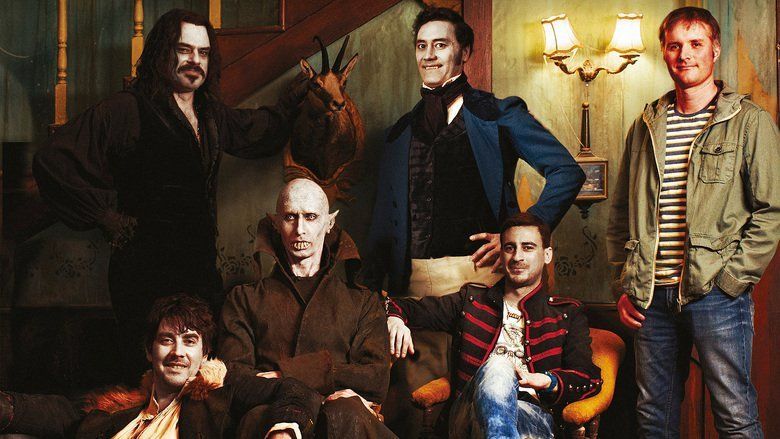 Two months later the vampires accept Nick into their group and also bond with his human friend Stu, a computer programmer who shows them how to use modern technology. Nick struggles to adapt to life as a vampire and carelessly reveals his secret to strangers he meets in bars and clubs. One of these strangers, a vampire hunter, breaks into the flat during the day and kills Petyr by exposing him to sunlight. The vampires are furious when they discover Nick has indirectly caused Petyr's death, and banish him from the flat. The police arrive to investigate a reported disturbance and Viago is able to hypnotize them so they don't see the blood or the dead body of the vampire hunter.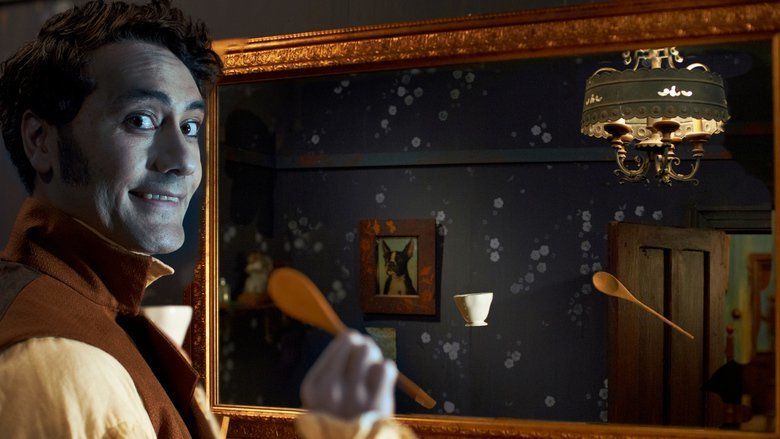 Some time later, the vampires receive an invitation to a masquerade ball, where they meet other undead and supernatural beings such as zombies and witches, as well as Vladislav's ex-girlfriend Pauline, whom he nicknames "The Beast" due to their hard break-up. Nick, Stu and Jackie also attend. To Deacon's annoyance, Nick has turned Jackie into a vampire. When Pauline realizes that Stu and the camera-crew are human, the other guests try to kill them and Vladislav fights Pauline's new boyfriend. The vampires manage to escape the ball with Stu and the film-crew, but encounter a group of werewolves who are about to transform in a forest. Stu and one of the cameramen are caught and attacked by the werewolves. Assuming Stu is dead, the vampires grieve for him.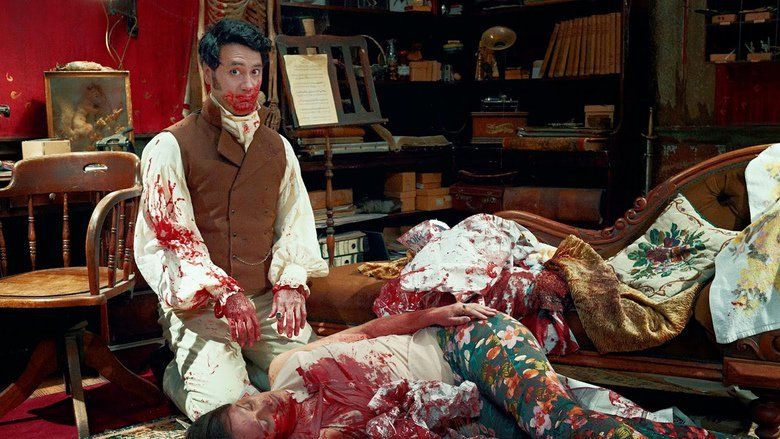 A while later, Stu (having been turned into a werewolf himself) reappears—eventually reconciling the werewolves with the vampires. Nick and the other vampires also resurface. Despite their differences with Nick, the other vampires have adapted to early twenty-first century life, relationships, and technology by the film's end.
Cast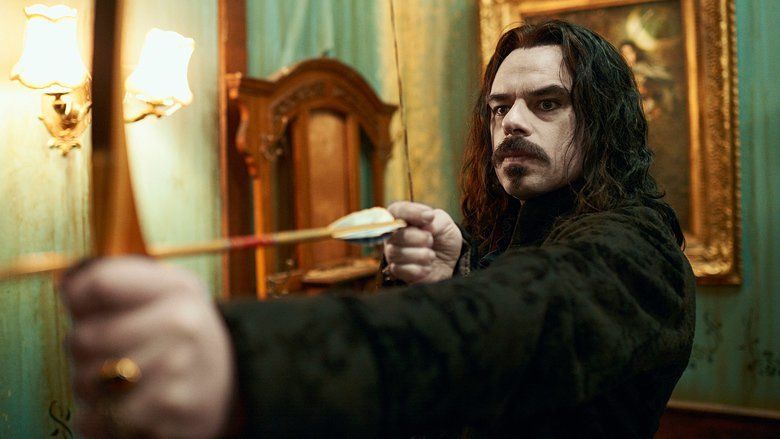 Taika Waititi as Viago, aged 379 – the uptight leader of the household.
Jemaine Clement as Vladislav, aged 862 – a former tyrant with extreme powers.
Jonathan Brugh as Deacon, aged 183 – the "young rebel" of the group who is fond of knitting, erotic dancing, and "being cool."
Ben Fransham as Petyr, aged 8,000 – a Nosferatu-like vampire who lives on the bottom floor of the flat in a stone coffin and generally keeps to himself.
Jackie Van Beek as Jackie – a human and Deacon's familiar who cleans up after the vampires and connects them with potential victims.
Cori Gonzalez-Macuer as Nick – an intended victim who is turned into a vampire by Petyr.
Stu Rutherford as Stu – Nick's best friend who introduces the vampires to modern technology.
Rhys Darby as Anton – the leader of a local pack of werewolves.
Ethel Robinson as Katherine – the love of Viago's life.
Elena Stejko as Pauline – Vladislav's ex-girlfriend whom he calls "The Beast."
Karen O'Leary as Officer O'Leary – an officer who gets called to the vampires' house.
Mike Minogue as Officer Minogue – an officer who gets called to the vampires' house.
Production
The film is based on a 2006 short film of the same name by Waititi and Clement. The new film was shot in Wellington in September 2012, and is Waititi's first feature since Boy.
Stu Rutherford, an IT technician in real life, was initially told he would only have a bit part in the film so he would act more natural when filming his parts. He did not realize his role was so important until the film's premiere. Stu had a cameo appearance in the original short film.
Waititi revealed that there was so much footage filmed that three cuts were made: one focused primarily on jokes, one focused on story, and the final cut, a mix of the two.
Music
The score for the film was composed by Plan 9. The film's opening credits feature the song "You're Dead" by Norma Tanega, after Clement and Waititi were introduced to the song by film editor Tom Eagles. The film's trailer and ending feature the song "Lastochka" by the Russian rock band Leningrad.
Release
The film was released in a limited release on February 13, 2015 in New York City and Los Angeles, followed by a screening in San Francisco, Irvine, Philadelphia, Boston, Seattle, and Washington, D.C. The film received a regional release in the U.S. in March 2015, by Unison Films in association with Funny or Die and Paladin Pictures.
Critical response
What We Do in the Shadows received critical acclaim and has a "Certified Fresh" score of 96% on Rotten Tomatoes based on 157 reviews with an average rating of 7.8 out of 10. It is rated #68 on the website's list of Top 100 comedies of all time. The critical consensus states: "Smarter, fresher, and funnier than a modern vampire movie has any right to be, What We Do in the Shadows is bloody good fun." The film also has a score of 76 out of 100 on Metacritic, based on 33 critics, indicating "generally favorable reviews.
Fearnet called the film "a great vampire comedy". Film School Rejects wrote a predominantly positive review, commenting that some of the film's broader moments fell flat but compared it favorably to similar mockumentaries such as Best in Show. The film was warmly received by UK newspapers, with The Guardian's film critic Peter Bradshaw describing it as "the best comedy of the year", while The Telegraph's Tim Robey found it "desperately funny". Film International, in a positive review, commended the film for noting, with a double of Count Orlok locked in the vampires' basement, that the true vampire film tradition is repressed by the current craze. Variety was more critical, writing that "Some genre fans who prefer the silly to the satiric may bite, but the anemic pic isn't remotely weird or witty enough for cult immortality."
Box office
What We Do in the Shadows grossed US$2 million in New Zealand and $3.4 million in the US.
Home media
What We Do in the Shadows was released on DVD and Blu-ray on November 26, 2014 by Weltkino Filmverleih.
Sequel and spin-off series
A sequel to the film, which will focus on the werewolves depicted in What We Do in the Shadows, is currently in development. Originally rumoured to be titled What We Do in the Moonlight, the working title was later announced as We're Wolves.
In September 2016, it was revealed that Waititi and Clement are planning a procedural comedy series based on the cops, Karen and Mike, who had minor roles in the film titled Paranormal Event Response Unit. The series is being funded by NZ On Air by granting Waititi and Clement $1 million to produce six 30-minute episodes for the series, which will air on New Zealand channel TVNZ 2.
References
What We Do in the Shadows Wikipedia
(Text) CC BY-SA
What We Do in the Shadows IMDb
What We Do in the Shadows themoviedb.org