Screenwriter




Mahonri Young




Screenwriter




Waldemar Young




1917-1938






July 1, 1878 (

1878-07-01

)

Salt Lake City, Utah, USA




August 30, 1938, Hollywood, California, United States




The Golden Feather: A Grove Play, The Lace of a Thousand Trees and Other Lyrics




Agnes Mackintosh Young, Mahonri Moriancumer Young




The Sign of the Cross, The Unknown, London After Midnight, Island of Lost Souls, The Lives of a Bengal Lancer




Victor Milner, Achmed Abdullah, Joseph W Farnham, Grover Jones, John L Balderston
Waldemar Young (July 1, 1878 – August 30, 1938) was an American screenwriter. He wrote for 81 films between 1917 and 1938.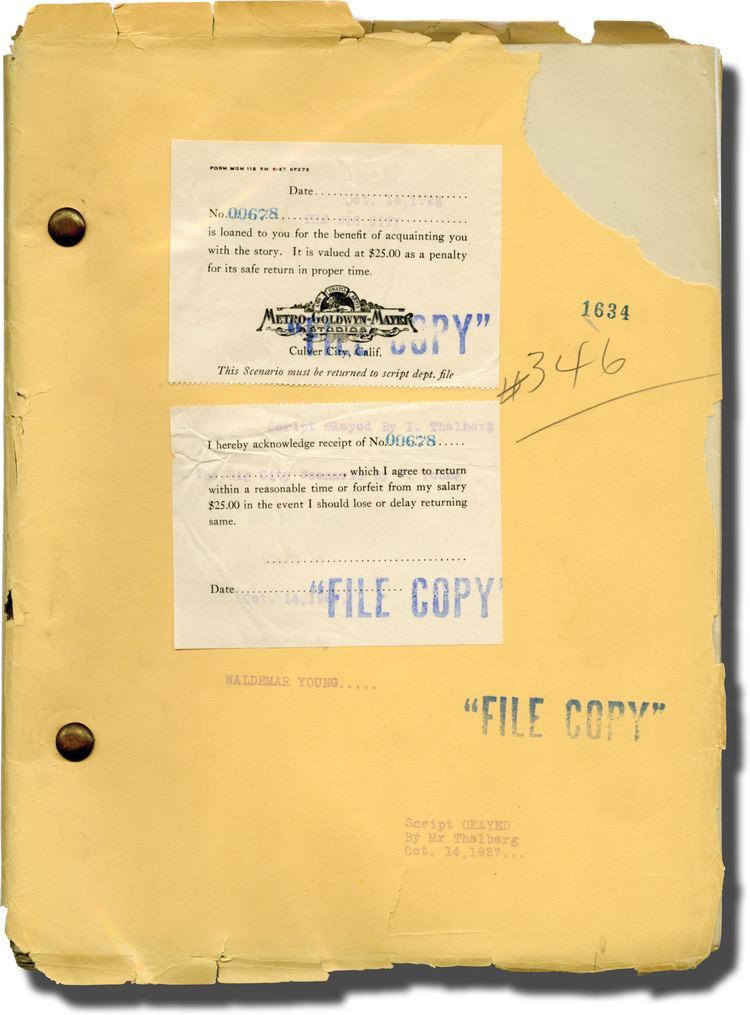 He was born in Salt Lake City, Utah and died in Hollywood, California from pneumonia.
Waldemar was a grandson of Brigham Young. He was also a brother of Mahonri Young.
Young joined the staff of the Salt Lake Herald after he graduated from High School. He then went to Stanford University starting in 1900. At Stanford he played on the football team. He majored in English but also studied economics and history.
Young did not finish his studies at Stanford. Instead he took jobs with the San Francisco Chronicle and the San Francisco Examiner.
In 1912 Young married Elizabeth Haight, who was a great-niece of early California Mormon leader, Sam Brannan. Young started into films by writing comedy routines for Franklyn Farnum and Brownie Vernon.
In the 1920s he often worked on films with Lon Chaney, Tod Browning and their editor Errol Taggart.
In the 1930s Young wrote several screen plays for Cecil B. De Mille
Fast Company (1918)
The Wicked Darling (1919)
The Unpainted Woman (1919)
The Petal on the Current (1919)
Bonnie Bonnie Lassie (1919)
Suds (1920)
Poisoned Paradise: The Forbidden Story of Monte Carlo (1924)
The Mystic (1925)
The Blackbird (1926)
The Show (1927)
The Unknown (1927)
London After Midnight (1927)
The Trail of '98 (1928)
The Big City (1928)
Sally (1929)
The Girl of the Golden West (1930)
Penrod and Sam (1931)
Love Me Tonight (1932)
The Miracle Man (1932)
The Sign of the Cross (1932)
Island of Lost Souls (1932)
Cleopatra (1934)
The Lives of a Bengal Lancer (1935)
Test Pilot (1938)
Ladies Love Brutes (1930)
Waldemar Young Wikipedia