Chinese name

周華健 (traditional)




Role

Singer




Chinese name

周华健 (simplified)




Spouse

Constance Woods (m. 1986)




Ancestry

Chaoyang, Guangdong




Children

Anya Chau, Andrew Chau




Name

Wakin Chau







Pinyin




Jyutping

Zau1 Wa4 Gin6 (Cantonese)


Origin

Republic of China (Taiwan)


Albums

You Make Me Happy and Sad




Profiles




Facebook
Wakin chau s post performance interview july 29 2014
Wakin Chau (born 22 December 1960), also known as Emil Chau predominantly throughout the 1980s and 1990s, is a Hong Kong-born singer and actor. Chau's popularity has spread throughout Taiwan, Hong Kong, Mainland China, and parts of Southeast Asia (Singapore and Malaysia). As of August 2007, he has released more than 40 albums and held several international concert tours.
Contents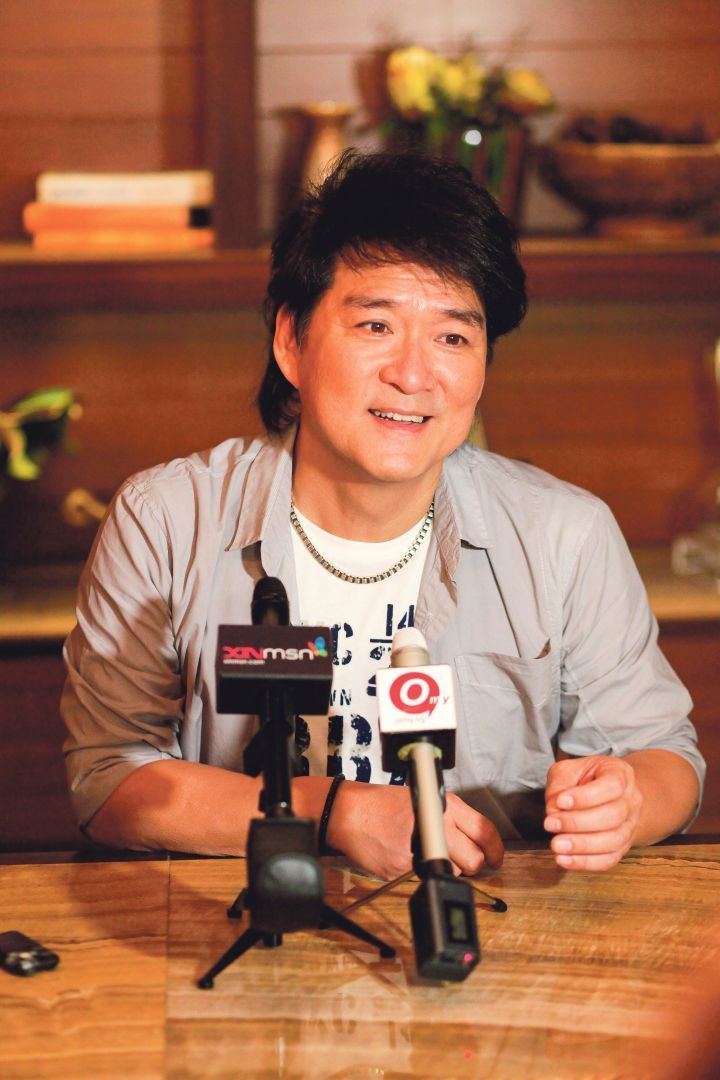 Biography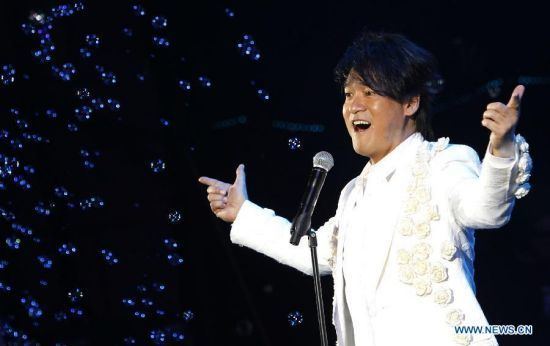 Wakin Chau was born in a rice store owned by his family in Sai Ying Pun, Hong Kong. Growing up as the fourth son in his seven-member family, Wakin learned to play the guitar when he was about 13 years old. In 1979, he left for Taipei to major in mathematics at National Taiwan University. During his college years, he sang and played folk songs in local coffee shops. This activity was a tradition among NTU students, and it is how Wakin learned to sing in Mandarin, which would be key to his future as a music-maker in Taiwan.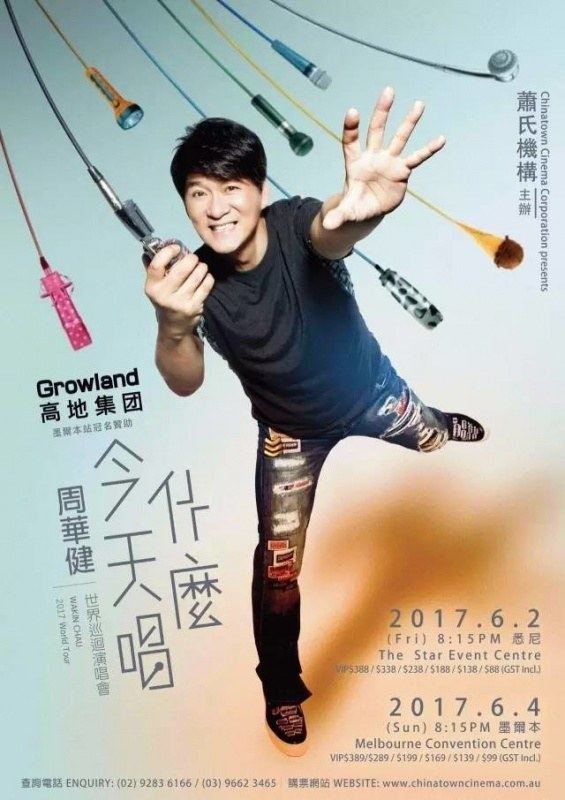 Wakin had high hopes to establish a career as a recording artist, and he actively sought out contacts in the music industry. But a persistent lack of interest eventually led him to give up trying to become a performer – instead, he could sign on as an assistant producer at Rock Records, where he wrote marketable pop songs for other artists.
Wakin was later encouraged by Chyi Yu to sing some jingles for commercial advertising spots. One of these tunes was for a car commercial, and it happened to catch the attention of Wakin's boss at Rock, who realised it was the voice of his own assistant producer.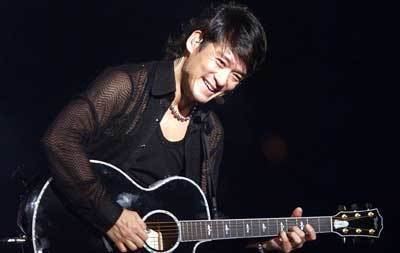 That moment opened the door for Wakin to record and release his first Mandarin album under the Rock Records label in 1987. For a man who had dreamed of performing professionally but had settled on being a record producer, this was a period of particularly good fortune that launched a succession of chart-topping records.
Shortly before his music career took off, Wakin the record producer met an American girl named Constance Woods, whose father was in Taiwan as a Fulbright scholar. Seeming to have plenty in common (including birthdays only one day apart) Wakin and Constance began to date, got engaged and then on 16 November 1986, they married in Taipei. Four months later there was another ceremony with family and friends in the United States of America on 14 March 1987. They have a son named Andrew and a daughter named Anya.
From 1985, Emil Chau, who has been using his given name Wakin since 1999, has released more than 40 albums in Mandarin, Cantonese and English. He has become a prominent name in the music of Taiwan and has fans of all ages not only around Asia but also in North America, Europe and elsewhere. His platinum albums such as You Make Me Happy and Sad (讓我歡喜讓我憂), Flower's Heart (花心), Music Brings Us Together (有弦相聚), and Friends (朋友) have won awards in Taiwan, Mainland China, Hong Kong and Singapore.
Wakin has appeared in a number of films and made guest appearances on TV and radio programs in China, Hong Kong, Taiwan, Malaysia, Singapore and Japan. Alongside his singing career, he is a restaurateur and also is active in international charitable causes, such as kidney dialysis charities in Singapore, the January 2002 "Take a Deep Breath" concert in Taipei to raise money for local health-care organisations, Beijing's 4th Grand Charity Drive for Children in 2005, and Jackie Chan's all-star concerts in Las Vegas.
Wakin Chau has formed with distinguished artists Jonathan Lee, Chang Chen-yue, and Lo Ta-yu in the four-member band Superband. In 2010, after finishing all their concerts and tours, they disbanded and resumed their individual careers.
Mandarin albums
最後圓舞曲

The Last Waltz (1985)
心的方向

Direction of the Heart (1987)
我是真的付出我的愛

I Truly Gave My Love to You (1988)
期待更多,付出更多

Expect Too Much, Give Too Much (Jan 1989)
最真的夢

The Truest Dream (Nov 1989)
不願一個人

Don't Want To Be Alone (1990)
讓我歡喜讓我憂

You Make Me Happy And Sad (1991)
花心

The Flower Heart (1993)
今夜陽光燦爛

Asia Tour'93 What A Sunny Night, What An Emil Alive! (Jan 1994)
風雨無阻

Rain, Hail, or Shine (Jun 1994)
我願意去等

I Am Willing to Go Soon (Jan 1995)
愛相隨

Love Follows Us (Jul 1995)
愛的光

Light of Love (Feb 1996)
小天堂

Tiny Paradise (Sep 1996)
朋友

Friends (1997)
有故事的人

Story Teller (1998)
現在

Now (1999)
忘憂草

Daylilies (2001)
329

最完整周華健

All Out (2003)
一起吃苦的幸福

Love Hotel (2003)
雨人

Wakin in the Rain (2006)
花旦

Diva (2011)
江湖

Jiang Hu (2013)
Cantonese albums
有弦相聚

(1994)
弦途有你

(Apr 1995)
弦弦全全

(Dec 1995)
生.生活

(1996)
世界由你我開始

(1997)
聽健

(1998)
English albums
Sad Without You (Sep 1988)
Blue Bird (Feb 1991)
I Remember (May 1992)
Songs of Birds (Aug 1993)
Forever Young – Best Collection (1996)
My Oh My (Feb 2001)
My Favorite Songs (May 2002)
Filmography
1987 – Osmanthus Alley (桂花巷)
1987 – The Game They Called Sex (黃色故事)
1993 – Once a Cop aka. Project S
1994 – Right Here Waiting (等愛的女人)
1995 – Just Married (橫紋刀劈扭紋柴)
1995 – I Want To Go on Living (我要活下去)
1995 – Faithfully Yours (叛逆情緣)
1995 – Rumble in the Bronx (Ice Cream Man)
1996 – Who's the Woman, Who's the Man? (金枝玉葉2)
1997 – All's Well, Ends Well 1997
1997 – Walk In (奪舍)
1997 – Mr. Nice Guy (Ice Cream Man)
1997 – 知解時空
1997 – Spicy Love Soup (愛情麻辣燙)
1999 – Gorgeous
1999 – Purple Storm (紫雨風暴)
2001 – Headlines (頭號人物)
2003 – Homerun (Policeman)
2003 – The Pawnshop No. 8
References
Wakin Chau Wikipedia
(Text) CC BY-SA