Nationality

Soviet




Name

Vladimir Shatalov




Time in space

9d 21h 55m




Role

Cosmonaut





Selection

Air Force Group 2




First space flight

Soyuz 4




Mission insignia




Other occupation

Pilot







Born

December 8, 1927 (age 95) Petropavlovsk, Kazakh SSR (

1927-12-08

)


Space missions

Soyuz 10, Soyuz 4, Soyuz 8




Rank

Lieutenant general, Soviet Air Forces




Similar People

Aleksei Yeliseyev, Yevgeny Khrunov, Nikolay Rukavishnikov
Soyuz 4 and 5 Rendezvous & Docking pt 1 - 2 (1969) - russian
Vladimir Aleksandrovich Shatalov (Russian: Владимир Александрович Шаталов; born December 8, 1927 in Petropavlovsk) is a former Soviet cosmonaut who flew three space missions of the Soyuz programme: Soyuz 4, Soyuz 8, and Soyuz 10.
Contents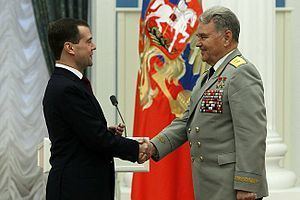 Biography
From 1971 to 1987, he was Commander of Cosmonaut Training, and Director of the Cosmonaut Training Centre from then until 1991.
Quote: "When we look into the sky it seems to us to be endless. We breathe without thinking about it, as is natural... and then you sit aboard a spacecraft, you tear away from Earth, and within ten minutes you have been carried straight through the layer of air, and beyond there is nothing! The 'boundless' blue sky, the ocean which gives us breath and protects us from endless black and death, is but an infinitesimally thin film. How dangerous it is to threaten even the smallest part of this gossamer covering, this conserver of life."
Honours and awards
Twice Hero of the Soviet Union
Pilot-Cosmonaut of the USSR
Order For Merit to the Fatherland 4th class
Order of Friendship
Three Orders of Lenin
Order of the October Revolution
Order for Service to the Homeland in the Armed Forces of the USSR 3rd class
Medal for Battle Merit
Medal "For the Defence of Leningrad"
Medal "For the Victory over Germany in the Great Patriotic War 1941–1945"
Medal "For the Development of Virgin Lands"
Medal "For Strengthening Military Cooperation"
Foreign awards:
Hero of Socialist Labour (Socialist Republic of Vietnam)
Order of Ho Chi Minh (Socialist Republic of Vietnam)
Order of Karl Marx (GDR)
Order of the Polar Star (Mongolia)
Order "Madara Horseman" (Bulgaria)
Order of the Banner of the People's Republic of Bulgaria
Medal "Brotherhood in Arms" (Poland)
Medal "Brotherhood in Arms" (GDR)
Medal "100 years of Bulgaria's Liberation from Ottoman Slavery"
References
Vladimir Shatalov Wikipedia
(Text) CC BY-SA