Nationality

British




Labels

Vivienne Westwood





Name

Vivienne Westwood




Role

Fashion designer







Full Name

Vivienne Isabel Swire




Born

8 April 1941 (age 74) (

1941-04-08

) Tintwistle, Cheshire (now Derbyshire), England


Occupation

Fashion designer/Businesswoman




Awards

British Designer of the Year




Children

Joseph Corre, Ben Westwood




Spouse

Andreas Kronthaler (m. 1992), Derek Westwood (m. 1962–1965)




Education

Middlesex University, University of Westminster, Goldsmiths, University of London


Books

100 Days of Active Resistance, Reconstruction: Cultural Heritage, Fashion in Art: The Second E, Vivienne Westwood Opus: Act, Fashion Rebel




Similar People

Alexander McQueen, Malcolm McLaren, Michael Kors, Joseph Corre, Marc Jacobs


Profiles




Facebook

Twitter

Google+
Vivienne westwood designer biography videofashion vault
Dame Vivienne Isabel Westwood (née Swire; born 8 April 1941) is a British fashion designer and businesswoman, largely responsible for bringing modern punk and new wave fashions into the mainstream. She is an example of a modern day female impresario.
Contents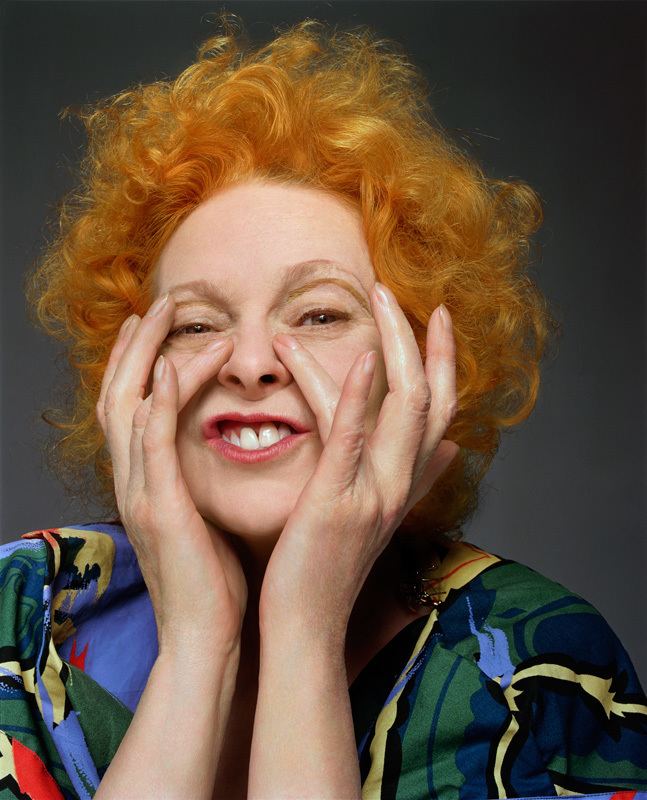 Westwood came to public notice when she made clothes for Malcolm McLaren's boutique in the King's Road, which became famous as "SEX". It was their ability to synthesise clothing and music that shaped the 1970s UK punk scene, dominated by McLaren's band, the Sex Pistols. She was deeply inspired by the shock-value of punk—"seeing if one could put a spoke in the system".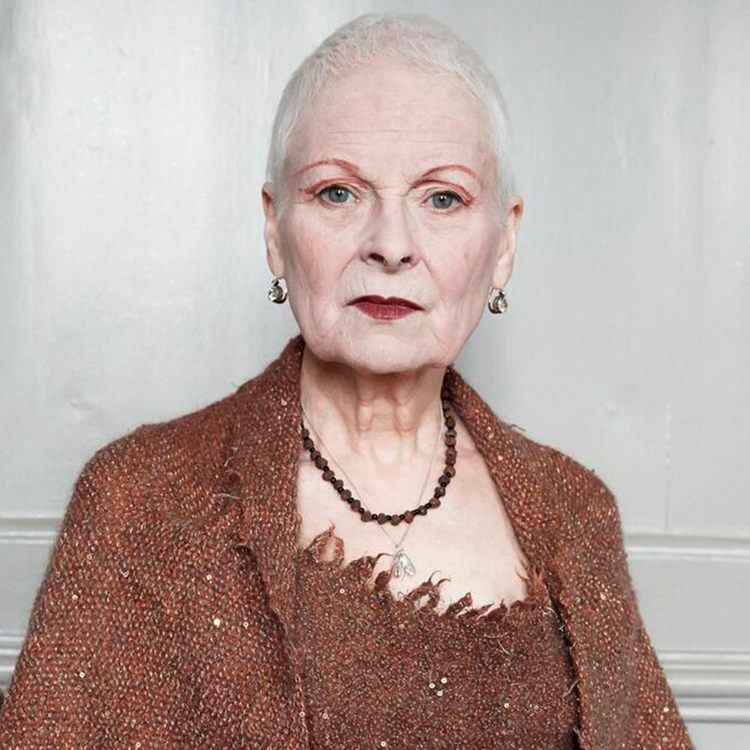 Westwood went on to open four shops in London, eventually expanding throughout the United Kingdom and the world, selling an increasingly varied range of merchandise, some of it linked to her many political causes such as the Campaign for Nuclear Disarmament, climate change and civil rights groups.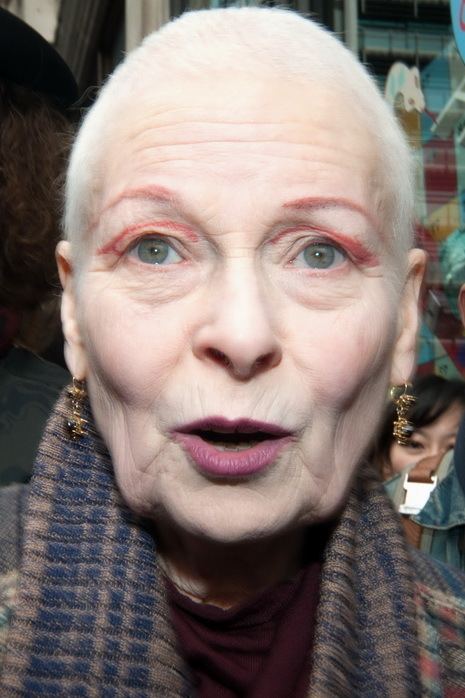 Vivienne westwood gold label full show fall 2015 paris by fashion channel
Early years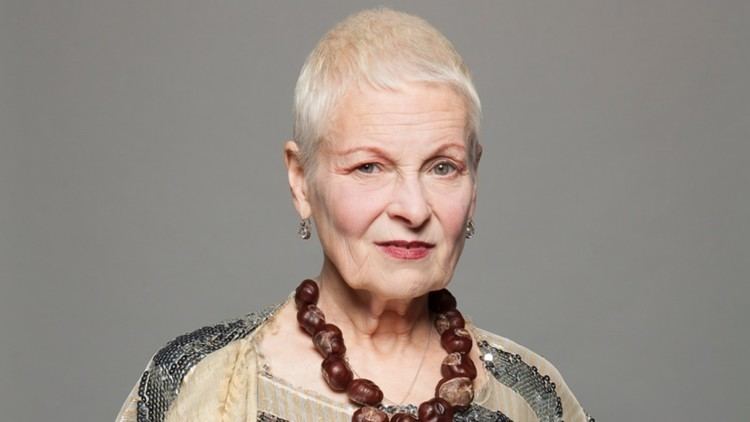 Westwood was born Vivienne Isabel Swire in the village of Tintwistle, Cheshire on 8 April 1941, the daughter of Gordon Swire and Dora Swire (née Ball), who had married two years previously, two weeks after the outbreak of World War II. At the time of Vivienne's birth, her father was employed as a storekeeper in an aircraft factory; he had previously worked as a greengrocer.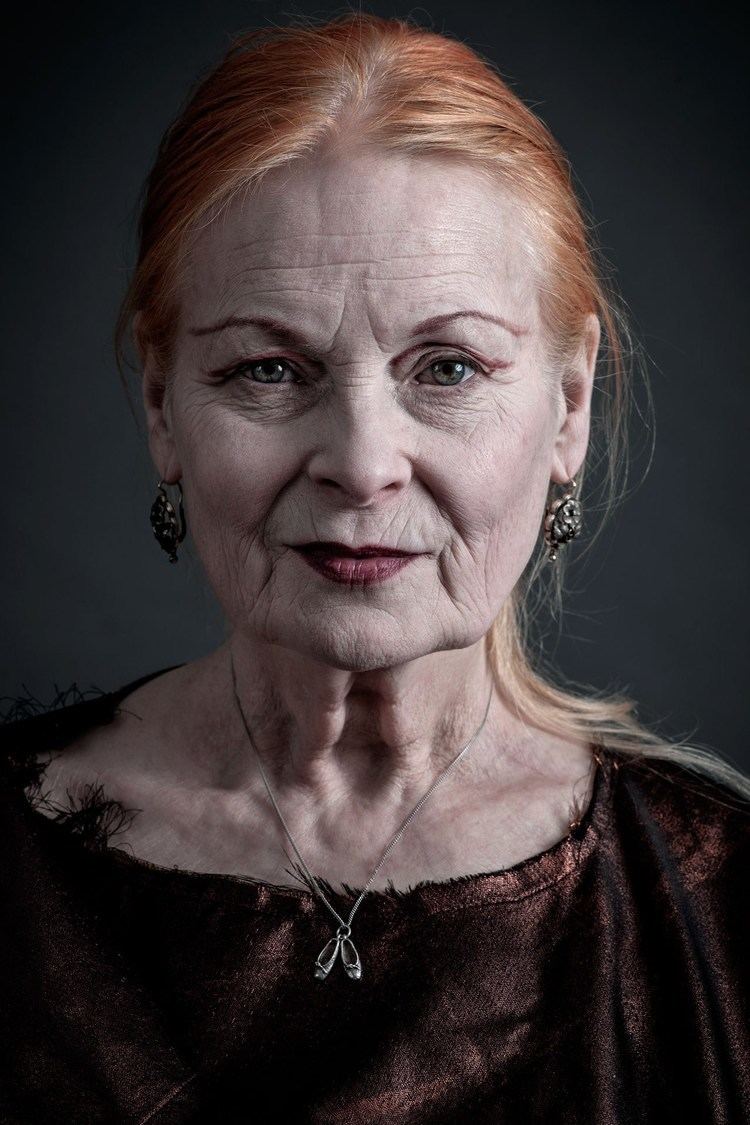 She attended Glossop Grammar School. In 1958, her family moved to Harrow, London. She studied silver-smithing at Harrow School of Art, but left after one term, saying later, "I didn't know how a working-class girl like me could possibly make a living in the art world". After taking up a job in a factory and studying at a teacher-training college, she became a primary school teacher. During this period, she created her own jewellery, which she sold at a stall on Portobello Road. While she continued teaching and simultaneously making jewelry, this led to her discovering design when she met Malcom McLaren who became a major inspiration to her designs in Punk Fashion.
In 1962, she met Derek Westwood, a Hoover factory apprentice, in Harrow. They married on 21 July 1962; Westwood made her own wedding dress. In 1963, she gave birth to a son, Benjamin (Ben) Westwood.
Malcolm McLaren
When she met Malcolm McLaren, it meant the end of Westwood's marriage to Derek. Westwood and McLaren moved to a council flat in Clapham. Westwood continued to teach until 1971 when McLaren opened a boutique at 430 King's Road called "Let It Rock" (later known variously as "Sex", "Too Fast To Live Too Young To Die", and "Seditionaries") and now World's End, where Westwood sells her Vivienne Westwood label clothing.
Westwood created clothes which McLaren conceived, drawing inspiration from bikers, fetishists and prostitutes. During this period, McLaren became manager of the punk band, the Sex Pistols, and subsequently the two garnered attention as the band wore Westwood's and McLaren's designs. In 1967, while living in Clapham, Westwood and McLaren had a son, Joseph Corré.
Punk era
Westwood was one of the architects of the punk fashion phenomenon of the 1970s, saying "I was messianic about punk, seeing if one could put a spoke in the system in some way". The "punk style" included BDSM fashion, bondage gear, safety pins, razor blades, bicycle or toilet chains on clothing and spiked dog collars/chokers for jewellery, as well as outrageous make-up and hair. Essential design elements include the adoption of traditional elements of Scottish design such as tartan fabric.
Fashion collections
Westwood was the designer who often let her clothes speak for themselves, as independent designs and as her own statements of culture. This idea that she uses her clothing as a statement of her own is a motif consistent throughout her time as a designer. Although this is also a factor as to why she was ridiculed as a designer, it was such a strong proclamation to his and her designs that she remained this way within her collections. This idea partially was attributed to her past collaborations with Gary Ness, who assisted Westwood throughout her designing with inspirations and titles for her collections.
McLaren and Westwood's first fashion collection to be shown to press and potential international buyers was Pirate. Subsequently the partnership of McLaren and Westwood - which was underlined by the fact that both their names appeared on all labelling - showed collections in Paris and London with the thematic titles Savages (shown late 1981), Buffalo/Nostalgia Of Mud (shown spring 1982), Punkature (shown late 1982), Witches (shown early 1983) and Worlds End 1984 (later renamed Hypnos, shown late 1983). After the partnership with McLaren was dissolved, Westwood showed one more collection featuring the Worlds End label: "Clint Eastwood" (late 1984-early 1985).
She dubbed the period 1981-85 "New Romantic" and 1988–91 as "The Pagan Years" during which "Vivienne's heroes changed from punks and ragamuffins to 'Tatler' girls wearing clothes that parodied the upper class". From 1985-87, Westwood took inspiration from the ballet Petrushka to design the mini-crini, an abbreviated version of the Victorian crinoline.
Its mini-length, bouffant silhouette inspired the puffball skirts widely presented by more established designers such as Christian Lacroix. The mini-crini was described in 1989 as a combination of two conflicting ideals - the crinoline, representing a "mythology of restriction and encumbrance in woman's dress", and the miniskirt, representing an "equally dubious mythology of liberation".
In 2002, Westwood designed the theatrical costumes of the Opera Giuseppe Verdi's Rigoletto. Produced by "Arturo Toscanini Foundation", David Guido Pietroni and Maurizio De Santis, the Opera was represented in Piazza del Campo in Siena, Italy. From the live shooting of the show he produced the DVD entitled Rigoletto Story.
In 2006, she collaborated with Nine West, whose shoes are not designed directly by Westwood; the Nine West brand name shares its label with Westwood. Westwood's Gold Label and MAN hats are created by Prudence Millinery. From 12 November 2004 – 30 January 2005, she was featured in a retrospective show "Vivienne Westwood - 34 years in fashion" at the National Gallery of Australia in Canberra. The exhibition, created from approximately 145 complete outfits grouped into the themes from the early 1970s to the present day, was drawn from her own personal archive and the V&A's extensive collection. The designs ranged from early punk garments to glamorous "historical" evening gowns.
In 2007, Westwood was called upon to design an academic gown of a prestigious academic institution. She was approached by Patricia Rawlings, Baroness Rawlings, then Chairperson of King's College London after King's successfully petitioned the Privy Council for its own right to award degree-awarding powers in its own right. In 2008, the Westwood-designed academic dresses for King's College London have been unveiled. On the gowns, Westwood commented: "Through my reworking of the traditional robe I tried to link the past, the present and the future. We are what we know."
Westwood received an Honorary Doctorate from Heriot-Watt University in 2008, she was made a Doctor of Letters at the campus in Galashiels for her contribution to the industry and use of Scottish textiles
In July 2011, Westwood's collections were presented at the catwalk of The Brandery fashion show in Barcelona.
One of Westwood's first immersion into the fashion world began during the punk era, where she dabbled in both men's and women's design, specifically in uniforms which combined her forties dressmaking with touches of Savile Row. She closely worked with Richard Branson on this collection. These pieces were more functional designs of Westwood, as they were primarily for work but still contained her flair as a designer. Clothes for the female crew included a red suit, accentuating the women's curves and hips, and strategically places darts around the busts. Contrary to the men's grey and burgundy three-piece suit with various details in lapels and pockets. These two designers also focused on impacting the environment, as they were both passionate about using sustainable materials throughout their designs. As they worked with Virgin Atlantic on the functional crew designs, each look featured Closed Loop Recycling and maximum sustainability in recycled polyester. Before fully launching the designs, Westwood and Branson released some for a trial period with the pilot and cabin crew to allow for design changes to be made accordingly. This project was important to these two designers because this project shared the spirit of adventure that these two employed, as this challenged them to create something even more memorable.
Vivienne Westwood companies
In August 2011 Westwood's company Vivienne Westwood Ltd agreed to pay almost £350,000 in tax to HM Revenue & Customs for significantly underestimating the value of her brand. Her UK business had sold the rights to her trademarks to Luxembourg-based Latimo, which she controls, for £840,000 in 2002. After examining the deal HMRC argued that Westwood's brand had been undervalued, and, after negotiation, the two sides agreed that her trademarks were worth more than double that amount. The £2m valuation triggered an additional tax bill of £348,463 plus interest of £144,112, which fell due in 2009.
In March 2012, Vivienne Westwood Group reached agreement to end a long-standing UK franchise relationship with Manchester-based Hervia. The deal brought to a conclusion a legal wrangle which included Hervia issuing High Court proceedings for alleged breach of contract, after Westwood sought to end the franchise deal before the agreed term. It was reported that a financial settlement was reached between the parties. Hervia operated seven stores for the fashion chain on a franchise basis.
In 2013 the transition of some of the Hervia stores to Westwood, along with cost-savings, was credited for a jump in Vivienne Westwood Ltd's pre-tax profits to £5 million from £527,6783 the previous year, with annual group sales of £30.1 million up from £25.4 million.
In 2014 the company results showed "disappointing" sales with a dip of 2% to £29.5 million and a fall of 36% in pre-tax profits to £3.2 million in 2013, according to accounts posted at Companies House. The company announced: "Over the last year margins have been under pressure due to the nature of wider retail conditions."
In June 2013 Westwood announced she was shunning further expansion of her business as a way of tackling environmental and sustainability issues.
In March 2015 the company announced that it is opening a three-storey outlet in midtown Manhattan in late 2015. This was scheduled to be followed by a new 3,200 sq ft shop in a building also housing the company's offices and showrooms in Rue Saint-Honoré in Paris, due to open in early 2016.
In 2015, Vivienne Westwood Ltd operated 12 retail outlets in the UK, including an outlet store in Bicester Village. There are currently 63 Westwood outlets worldwide including 18 in China (nine in Hong Kong); 18 in South Korea; six in Taiwan; two in Thailand; and two in the US: one in Los Angeles and the other in Hawaii.
In June 2015 Vivienne Westwood Ltd reported a profits dip from £3.2m to £2.9m in 2014, despite an 8.4% jump in sales to £32m. VWL paid £1.6m in licence fees to Latimo in 2014 and £646,033 in UK corporation tax last year, a 17% fall from the year before.
Several media outlets reported in 2015 that the latest accounts for Vivienne Westwood Ltd showed the company pays £2 million a year to offshore company Latimo, which was set up in Luxembourg for the right to use her name on her own fashion label. Latimo, which Westwood controls as the majority shareholder in her companies, was set up in 2002.
Such arrangements, while legal, are against the Green Party policy to crack down heavily on usage of tax havens such as Luxembourg.
The proposed cross-party Tax Dodging Bill, which is supported by the Green Party, singles out British companies which channel money through Luxembourg, pledging to ban the practice of companies reducing their taxable profits "by having their subsidiaries pay large fees to related companies in tax havens for the use of intellectual property such as brands and software."
Westwood stressed that she paid income tax though did not address the issue of her corporate tax arrangements: "It is important to me that my business affairs are in line with my personal values. I am subject to UK tax on all of my income," she said in March 2015. She published a statement which indicated that her corporate tax arrangements are being restructured as a result of the expose.
Notable clients and commissions
Marion Cotillard wore a Westwood red satin strapless dress at the London premiere of her film Public Enemies in 2009. In 2013, she wore a Westwood Couture pink and ivory striped dress at the Chopard Lunch in Cannes.
Princess Eugenie wore three Westwood designs for the pre-wedding dinner, the wedding ceremony and the after-wedding party at the 2011 royal wedding.
Camilla, Duchess of Cornwall, wore Westwood to Royal Ascot in 2009.
Pharrell Williams wore a Westwood Buffalo hat to the 2014 56th Annual Grammy Awards that was originally in her 1982-83 collection. The hat was so popular that it inspired its own Twitter account. Pharrell was first seen wearing a similar Westwood Buffalo hat in 2009.
Sex and the City
Westwood's designs were featured in the 2008 film adaptation of the television series Sex and the City. In the film, Carrie Bradshaw becomes engaged to long-term lover Mr. Big. Being a writer at Vogue, she is invited by her editor to model wedding dresses, including a design made by Westwood. The dress is subsequently sent to Carrie as a gift, with a handwritten note from Westwood herself, and Carrie decides to use the Westwood gown. The wedding dress has been described as one of the movie's most iconic features, leading Westwood to approach the producers about being involved in making a sequel.
Political involvement
In April 1989 Westwood appeared on the cover of Tatler dressed as then-Prime Minister Margaret Thatcher. The suit that Westwood wore had been ordered for Thatcher but had not yet been delivered. The cover, which bore the caption "This woman was once a punk", was included in The Guardian's list of the best ever UK magazine covers.
Dame Vivienne stated on television in 2007 that she had transferred her long-standing support for the Labour Party to the Conservative Party, over the issues of civil liberties and human rights. Since early 2015, she has been a supporter of the Green Party of England and Wales.
On Easter Sunday 2008, she campaigned in person at the biggest Campaign for Nuclear Disarmament demonstration in ten years, at the Atomic Weapons Establishment, Aldermaston, Berkshire.
In September 2005, Westwood joined forces with the British civil rights group Liberty and launched exclusive limited design T-shirts and baby wear bearing the slogan I AM NOT A TERRORIST, please don't arrest me. She said she was supporting the campaign and defending habeas corpus. "When I was a schoolgirl, my history teacher, Mr. Scott, began to take classes in civic affairs. The first thing he explained to us was the fundamental rule of law embodied in habeas corpus. He spoke with pride of civilisation and democracy. The hatred of arbitrary arrest by the lettres de cachet of the French monarchy caused the storming of the Bastille. We can only take democracy for granted if we insist on our liberty", she said. The sale of the £50 T-shirts raised funds for the organisation.
In June 2013, Westwood dedicated one of her collections to Chelsea Manning and at her fashion show she and all of her models wore large image badges of Manning with the word "TRUTH" under her picture. In 2014, she cut off her hair to highlight the dangers of climate change. She also appeared in a PETA ad campaign to promote World Water Day, drawing attention to the meat industry's water consumption.
In 2014, Westwood became ambassador for clean energy Trillion Fund.
Support of Green Party and exclusion from UK election campaign tour
In January 2015, Westwood announced her support of the Green Party of England and Wales: "I am investing in the Green Party because I believe it is in the best interests of our country and our economy'.
It was reported that she had donated £300,000 to fund the party's election campaign.
In February 2015, Westwood was announced as the special guest on the Greens' We Are The Revolution campaigning tour of English universities in such cities as Liverpool, Norwich, Brighton and Sheffield.
On the eve of the tour, Westwood was excluded from appearing by the youth wing of the Green Party on the basis that her corporate avoidance of UK tax contravenes party policy on usage of off-shore havens. She later condemned this as "a wasted opportunity" for the Greens. "I wasn't pure enough for them", she wrote in her online diary.
Subsequently, Westwood switched her support to campaigning on behalf of Nigel Askew, the Reality Party candidate opposing UKIP leader Nigel Farage in the Kent constituency of Thanet South. Askew polled 126 votes in the election.
Active Resistance manifesto
In a 2007 interview Westwood spoke out against what she perceive as the "drug of consumerism", and in 2009 she attended the première of The Age of Stupid, a film aimed at motivating the public to act against climate change.
She later created a manifesto called Active Resistance to Propaganda, which she says deals with the pursuit of art in relation to the human predicament and climate change. In her manifesto, she makes the claim that it "penetrates to the root of the human predicament and offers the underlying solution. We have the choice to become more cultivated and therefore more human – or by muddling along as usual we shall remain the destructive and self-destroying animal, the victim of our own cleverness."
Against the claim that anti-consumerism and fashion contradict each other, she said in 2007: "I don't feel comfortable defending my clothes. But if you've got the money to afford them, then buy something from me. Just don't buy too much." She faces criticism from eco-activists who claim that despite her calls to save the environment she herself makes no concessions to making her clothing or her business eco-friendly.
Questions over sustainability of Westwood clothing
In 2013, sustainable luxury fashion publication Eluxe Magazine accused Westwood of using the green movement as a marketing tool on the basis that certain Westwood fashion and accessories lines are made in China. These were found to include PVC, polyester, rayon and viscose, all derived from harmful chemicals. Eluxe also pointed out that, in spite of Westwood's statements that consumers should 'buy less', her company produces nine collections a year (compared to the average designer's two) Vivienne Westwood was also accused of using unpaid interns in her fashions house making them work over 40 Hours per week, some interns has complained to how they had been treated by the fashion house.
Recognition
In 1992, Westwood was awarded an OBE, which she collected from Queen Elizabeth II at Buckingham Palace. At the ceremony, Westwood was knicker-less, which was later captured by a photographer in the courtyard of Buckingham Palace. Westwood later said, "I wished to show off my outfit by twirling the skirt. It did not occur to me that, as the photographers were practically on their knees, the result would be more glamorous than I expected," and added: "I have heard that the picture amused the Queen." Westwood advanced from OBE to DBE in the 2006 New Year's Honours List "for services to fashion", and has twice earned the award for British Designer of the Year.
In 2012, Westwood was among the British cultural icons selected by artist Sir Peter Blake to appear in a new version of his most famous artwork – the Beatles' Sgt. Pepper's Lonely Hearts Club Band album cover – to celebrate the British cultural figures of his life that he most admires. Also in 2012, Westwood was chosen as one of The New Elizabethans to mark the diamond Jubilee of Queen Elizabeth II. A panel of seven academics, journalists and historians named Westwood among a group of 60 people in the UK "whose actions during the reign of Elizabeth II have had a significant impact on lives in these islands and given the age its character".
Authorised biography
In October 2014, the authorised biography Vivienne Westwood by Ian Kelly was published by Picador. Paul Gorman described it as "sloppy" and "riddled with inaccuracies" on the basis of multiple errors in the book including misspelling the names of popular rock stars "Jimmy" Hendrix and Pete "Townsend" and misidentifying the date of the Sex Pistols' first concert and McLaren's age when he died in 2010.
Picador publisher Paul Baggaley told The Bookseller: "We always take very seriously any errors that are brought to our attention and, where appropriate, correct them." A spokesman for Pan MacMillan, which published an Australian edition of the biography, confirmed that the matter was being handled by the publisher's lawyers.
Westwood is also a noted author of books, such as Fashion in art, in which she explores the worlds of fashion and arts, the untimely interlinking of both worlds.
Vivienne Westwood's London
In January 2011, Westwood was featured in a Canadian-made television documentary called Vivienne Westwood's London in which she takes the viewer through her favourite parts of London, including the Courtauld Institute of Art, the Wallace Collection, Whitechapel (accompanied by Sarah Stockbridge), Hampton Court, the London Symphony Orchestra, Brixton Market and Electric Avenue, and the National Gallery.
Personal life
Westwood is married to her former fashion student, Austrian Andreas Kronthaler. For 30 years she lived in an ex-council flat in Nightingale Lane, Clapham, until, in 2000, Kronthaler convinced her to move into a Queen Anne style house built in 1703, which once belonged to the mother of Captain Cook. She is a keen gardener.
Children
Ben Westwood (born 1963), son of Vivienne and Derek Westwood, is a photographer of erotica.
Joseph Corré (born 1967), son of Vivienne Westwood and Malcolm McLaren, is the founder of lingerie brand Agent Provocateur.
References
Vivienne Westwood Wikipedia
(Text) CC BY-SA