Years active

1947-1995




Albums

Sings, At The Riviera




Siblings

Bob Zoino




Role

Actor




Name

Vince Edwards








Full Name

Vincent Edward Zoine




Born

July 9, 1928 (

1928-07-09

) Brownsville, Brooklyn, New York City, New York, U.S.


Education

Ohio State UniversityUniversity of HawaiiAmerican Academy of Dramatic Arts




Occupation

Actor, director, singer




Died

March 11, 1996, Los Angeles, California, United States


Spouse

Janet Friedman (m. 1994–1996), Linda Foster (m. 1967–1972), Kathy Kersh (m. 1965–1965)




Movies and TV shows

Ben Casey, The Killing, The Devil's Brigade, The Desperados, Murder by Contract


Similar People

Coleen Gray, Kathy Kersh, Irving Lerner, Sam Jaffe, Linda Foster
Ben casey tribute to vince edwards
Vince Edwards (born Vincent Edward Zoine; July 9, 1928 – March 11, 1996) was an American actor, director, and singer. He was best known for his TV role as doctor Ben Casey and as Major Cliff Bricker in the 1968 war film The Devil's Brigade.
Contents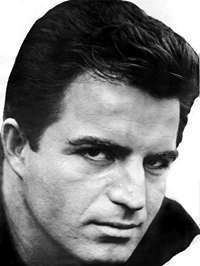 Early life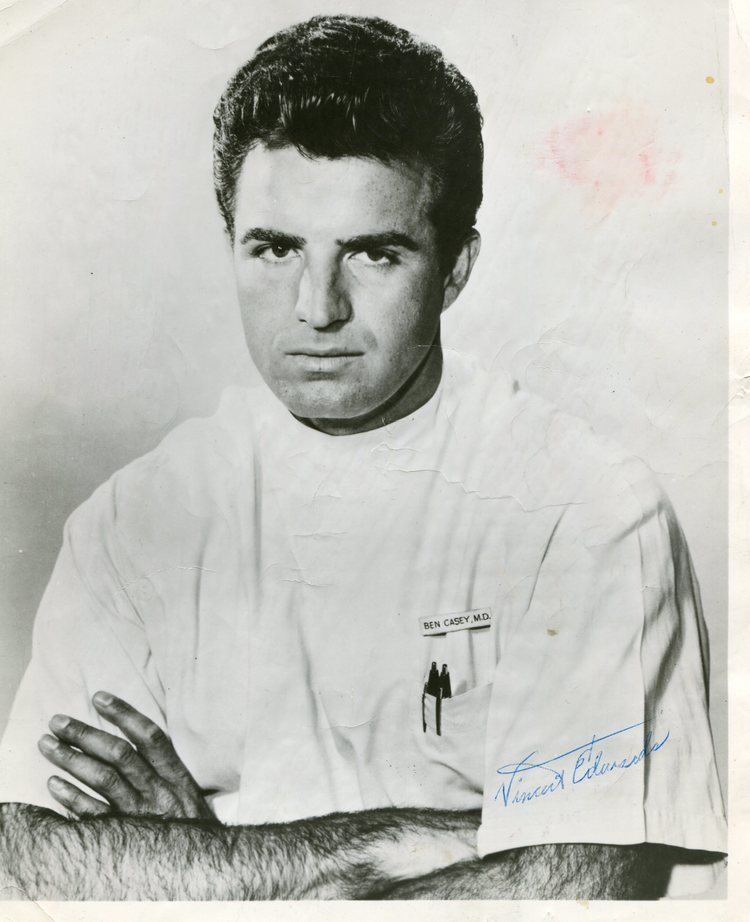 Edwards was born in the Brownsville section of Brooklyn, New York City, New York, to Julia and Vincento Zoine, an Italian-American bricklayer. He and his twin brother, Anthony, were the youngest of seven children. He also studied aviation mechanics at East New York Vocational High School, graduating in June, 1945. He worked as a lifeguard at Coney Island and swam for the Flatbush Boys Club. He was a standout on his high school swim team, also playing on the school's baseball and track teams. He went on to study at Ohio State University on an athletic scholarship. He was part of the university's swim team that won the United States National Championships. After two years at Ohio State, he transferred to the University of Hawaii where he spent much time training as a swimmer for the Olympics. He was also involved in theater productions.
Career
Edwards studied acting at the American Academy of Dramatic Arts; his classmates included Anne Bancroft, John Cassavetes, and Grace Kelly. In 1950, he was signed to a contract by Paramount Pictures, making his film debut as "Vincent Edwards" in 1951's Mister Universe and then played the lead actor the following year in Hiawatha. Although he had major or lead roles in several films, including the film noirs The Killing (1956) and Murder by Contract (1958), it was not until he was featured in the title character on the highly successful Ben Casey television series that he achieved a level of stardom. The medical drama show, which he occasionally directed, ran from 1961 to 1966. As a result of the show's and his own popularity, Edwards also released several music albums and appeared in the all-star war film The Victors in 1963. He was represented by one of Hollywood's first "super agents", Abby Greshler of Diamond Artists in Hollywood.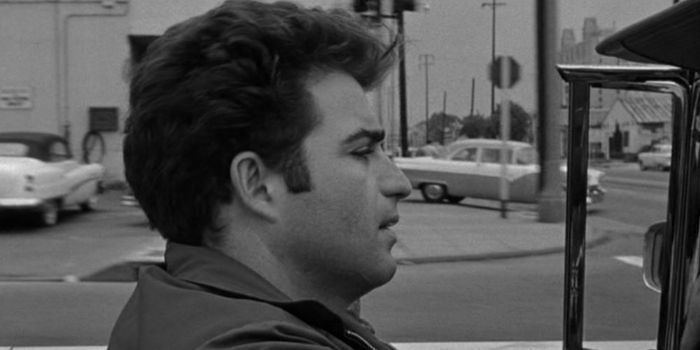 When the Ben Casey television series ended, Edwards returned to acting in motion pictures with a major role in the 1968 war drama The Devil's Brigade, together with films such as Hammerhead (1968), The Desperados (1969), and The Mad Bomber (1973). In 1983, he played the main protagonist, Hawk, in the sci-fi film Space Raiders. He continued to act in film as well as in guest spots on television, including roles in The Rhinemann Exchange (1977), Evening in Byzantium (1978), and the pilot episode of Knight Rider, Knight Of The Phoenix in 1982. He directed a number of episodes in a variety of television series including the original Battlestar Galactica. Some twenty-two years after the series ended, Edwards returned to television as Dr. Ben Casey in 1988. He made his last film, The Fear, in 1995. After the filming he was diagnosed with pancreatic cancer.
Gambling
Edwards suffered for many years from compulsive gambling, acknowledging to longtime friend, director William Friedkin that he had "sacrificed a good portion of his career to an addiction." In his last years, Edwards and his wife, Janet, attempted to educate others about the dangers of gambling. After his death, his wife remarked: "One of the messages that Vince wanted to share is that gambling is NOT glamorous, despite today's suave-sounding euphemisms, such as 'gaming.'"
Death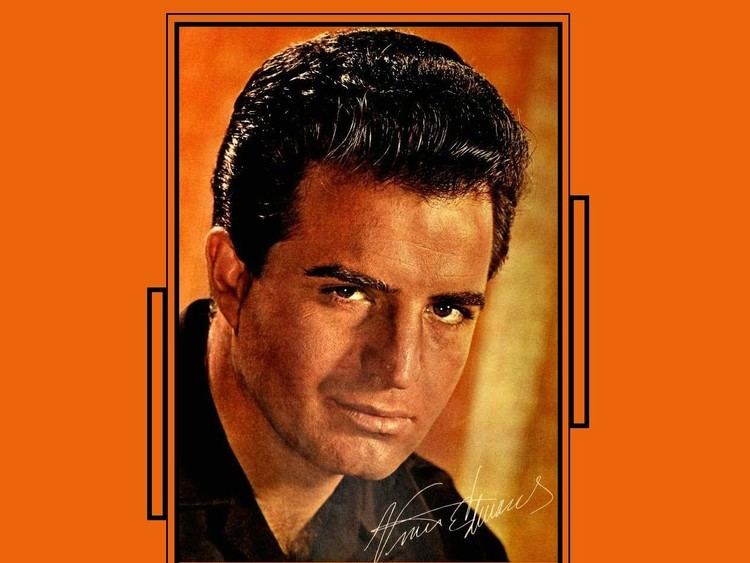 Edwards died of pancreatic cancer in Los Angeles, California, on March 11, 1996; he was buried at the Holy Cross Cemetery in Culver City, California.
Filmography
Actor
1994
Rebel Highway (TV Series)
as
Mr. Frank Norton
- Jailbreakers / Rebelles (1994) - Mr. Frank Norton
1991
P.S.I. Luv U (TV Series)
as
Frank
- Diamonds Are a Girl's Worst Friend (1991) - Frank
1991
Son of Darkness: To Die for II
as
Police Honcho
1991
Dillinger (TV Movie)
as
Hoover
1990
Strangest Dreams: Invasion of the Space Preachers (Video)
as
Theodore Daniels (uncredited)
1990
Original Intent (Video)
as
Theodore Daniels
1990
The Gumshoe Kid
as
Ben Sherman
1989
1st & Ten (TV Series)
as
Carlyle Trent
- False Start (1989) - Carlyle Trent
1989
The People Next Door (TV Series)
as
Ben Casey
- No ZZZ's (1989) - Ben Casey
1989
The Saint: Wrong Number (TV Movie)
as
General Daniel T. Donovan
1989
Murder, She Wrote (TV Series)
as
Harry Dial
- Three Strikes, You're Out (1989) - Harry Dial
1988
The Highwayman (TV Series)
as
Manetti
- Frightmare (1988) - Manetti
1988
The Return of Ben Casey (TV Movie)
as
Dr. Ben Casey
1987
Cellar Dweller
as
Norman Meshelski
1987
The Dirty Dozen: The Deadly Mission (TV Movie)
as
Sgt. Holt
1987
Return to Horror High
as
Richard Birnbaum
1986
Centurions (TV Series)
as
Jake Rockwell
- Man or Machine: Part 5 (1986) - Jake Rockwell (voice)
- Man or Machine: Part 4 (1986) - Jake Rockwell (voice)
- Man or Machine: Part 3 (1986) - Jake Rockwell (voice)
- Man or Machine: Part 2 (1986) - Jake Rockwell (voice)
- Man or Machine: Part 1 (1986) - Jake Rockwell (voice)
- Revenge (1986) - Jake Rockwell (voice)
- The Better Half: Part II (1986) - Jake Rockwell (voice)
- The Better Half: Part I (1986) - Jake Rockwell (voice)
- Hole in the Ocean: Part II (1986) - Jake Rockwell (voice)
- Hole in the Ocean: Part I (1986) - Jake Rockwell (voice)
- To Dare Dominion: Part II (1986) - Jake Rockwell (voice)
- To Dare Dominion: Part I (1986) - Jake Rockwell (voice)
- Day of the Animals (1986) - Jake Rockwell (voice)
- Cyborg Centurion (1986) - Jake Rockwell (voice)
- Let the Lightning Fall (1986) - Jake Rockwell (voice)
- Ghost Warrior (1986) - Jake Rockwell (voice)
- Atlantis Adventure: Part II (1986) - Jake Rockwell (voice)
- Atlantis Adventure: Part I (1986) - Jake Rockwell (voice)
- Breakout (1986) - Jake Rockwell (voice)
- Novice (1986) - Jake Rockwell (voice)
- Sungrazer (1986) - Jake Rockwell (voice)
- You Only Love Twice (1986) - Jake Rockwell (voice)
- Traitors Three (1986) - Jake Rockwell (voice)
- Firecracker (1986) - Jake Rockwell (voice)
- Zone Dancer (1986) - Jake Rockwell (voice)
- The Road Devils (1986) - Jake Rockwell (voice)
- The Monsters from Below (1986) - Jake Rockwell (voice)
- Merlin (1986) - Jake Rockwell (voice)
- Night on Terror Mountain (1986) - Jake Rockwell (voice)
- Return of Cassandra (1986) - Jake Rockwell (voice)
- The Warrior (1986) - Jake Rockwell (voice)
- Showdown at Skystalk (1986) - Jake Rockwell (voice)
- Hacker Must Be Destroyed (1986) - Jake Rockwell (voice)
- Film at Eleven (1986) - Jake Rockwell (voice)
- The Chameleon's Sting (1986) - Jake Rockwell (voice)
- Broken Beams (1986) - Jake Rockwell (voice)
- Malfunction (1986) - Jake Rockwell (voice)
- Zombie Master (1986) - Jake Rockwell (voice)
- Counterclock Crisis (1986) - Jake Rockwell (voice)
- The Mummy's Curse (1986) - Jake Rockwell (voice)
- Live at Five (1986) - Jake Rockwell (voice)
- The Incredible Shrinking Centurions (1986) - Jake Rockwell (voice)
- Crack the World (1986) - Jake Rockwell (voice)
- Max Ray- Traitor (1986) - Jake Rockwell (voice)
- That Old Black Magic (1986) - Jake Rockwell (voice)
- Terror on Ice (1986) - Jake Rockwell (voice)
- Child's Play (1986) - Jake Rockwell (voice)
- Double Agent (1986) - Jake Rockwell (voice)
- Three Strikes and You're Dead (1986) - Jake Rockwell (voice)
- Return of Captain Steele (1986) - Jake Rockwell (voice)
- Cold Calculations (1986) - Jake Rockwell (voice)
- Firebird (1986) - Jake Rockwell (voice)
- Let the Games Begin (1986) - Jake Rockwell (voice)
- Operation Starfall (1986) - Jake Rockwell (voice)
- Battle Beneath the Ice (1986) - Jake Rockwell (voice)
- Attack of the Plant-Borg (1986) - Jake Rockwell (voice)
- Micro Menace (1986) - Jake Rockwell (voice)
- Denver Is Down (1986) - Jake Rockwell (voice)
- Tornado of Terror (1986) - Jake Rockwell (voice)
- Whalesong (1986) - Jake Rockwell (voice)
- Sand Doom (1986) - Jake Rockwell (voice)
- Found: One Lost World (1986) - Jake Rockwell (voice)
- An Alien Affair (1986) - Jake Rockwell (voice)
- Battle Beneath the Sea (1986) - Jake Rockwell (voice)
- The Sky Is on Fire (1986) - Jake Rockwell (voice)
1986
You Are the Jury (TV Series)
as
Detective Lieutenant Philip Lombardo
- The State of Ohio vs. James Wolsky (1986) - Detective Lieutenant Philip Lombardo
1986
The Return of Mickey Spillane's Mike Hammer (TV Movie)
as
FBI Agent Frank Walker
1985
Punky Brewster (TV Series)
as
Additional Voices
- Unidentified Flying Glomer/Fish Story (1985) - Additional Voices (voice)
- Any Wish Way You Can/The Bermuda Tangle (1985) - Additional Voices (voice)
- Switchin' Places/How the Midwest Was Won (1985) - Additional Voices (voice)
- The Shoe Must Go On/Spell-Bound (1985) - Additional Voices (voice)
- Growing Pain/Double Your Punky (1985) - Additional Voices (voice)
- Glomer Punks Out/Louvre Affair (1985) - Additional Voices (voice)
- Halloween Howlers/The Perils of Punky (1985) - Additional Voices (voice)
- Return to Chaundoon/A Small Mistake (1985) - Additional Voices (voice)
- Punky Wise and Pound Foolish/Christmas in July (1985) - Additional Voices (voice)
- Brandon, the Dialogue Dog/Winning Isn't Everything (1985) - Additional Voices (voice)
- Pretty Ugly/Glomer's Story (1985) - Additional Voices (voice)
- The Gold Rush/Phar Out Pharaoh (1985) - Additional Voices (voice)
- Punky to the Rescue/The Quartersize Quarterback (1985) - Additional Voices (voice)
1985
Our Family Honor (TV Series)
as
Jake Parker
- Lone Justice (1985) - Jake Parker
- Mark of Cain (1985) - Jake Parker
- The Casino (1985) - Jake Parker
1985
Texas Godfather
as
Steve King
1985
Tales from the Darkside (TV Series)
as
Henry Gropper
- It All Comes Out in the Wash (1985) - Henry Gropper
1984
Cover Up (TV Series)
as
Alexander Belasco
- Nothing to Lose (1984) - Alexander Belasco
1983
Deal of the Century
as
Frank Stryker
1982
Knight Rider (TV Series)
as
Fred Wilson
- Knight of the Phoenix: Part 2 (1982) - Fred Wilson
- Knight of the Phoenix: Part 1 (1982) - Fred Wilson
1979
Greatest Heroes of the Bible (TV Series)
as
Amathar
- Tower of Babel (1979) - Amathar (as Vincent Edwards)
1978
Evening in Byzantium (TV Mini Series)
as
Bret Easton
- Part II (1978) - Bret Easton
- Part I (1978) - Bret Easton
1976
Police Story (TV Series)
as
Walt Abrams / Sergeant Joe Barley
- A Chance to Live (1978) - Walt Abrams
- Payment Deferred (1976) - Sergeant Joe Barley
1978
The Courage and the Passion (TV Movie)
as
Col. Joe Agajanian
1977
Cover Girls (TV Movie)
as
Bradner
1977
The Rhinemann Exchange (TV Mini Series)
as
Gen. Swanson
- Episode #1.2 (1977) - Gen. Swanson
- Episode #1.1 (1977) - Gen. Swanson
1975
Medical Story (TV Series)
as
Dr. Douglas Neal
- Test Case (1975) - Dr. Douglas Neal
1975
Death Stalk (TV Movie)
as
Jack Trahey
1973
Saga of Sonora (TV Movie)
as
Sheriff Sam
1973
The Mad Bomber
as
Lieutenant Geronimo Minneli
1973
Firehouse (TV Movie)
as
Spike Ryerson
1971
Do Not Fold, Spindle or Mutilate (TV Movie)
as
Mal Weston
1970
Matt Lincoln (TV Series)
as
Dr. Matt Lincoln
- Christopher (1971) - Dr. Matt Lincoln
- Karen (1971) - Dr. Matt Lincoln
- Jimmy (1970) - Dr. Matt Lincoln
- Adam (1970) - Dr. Matt Lincoln
- Lia (1970) - Dr. Matt Lincoln
- Billy (1970) - Dr. Matt Lincoln
- Yumiko (1970) - Dr. Matt Lincoln
- Angie (1970) - Dr. Matt Lincoln
- Doc (1970) - Dr. Matt Lincoln
- Lori (1970) - Dr. Matt Lincoln
- Nick (1970) - Dr. Matt Lincoln
- Jilly (1970) - Dr. Matt Lincoln
- Steve (1970) - Dr. Matt Lincoln
- Nina (1970) - Dr. Matt Lincoln
- Charles (1970) - Dr. Matt Lincoln
- Sheila (1970) - Dr. Matt Lincoln
1970
The Cliff (TV Movie)
as
Matt Lincoln
1970
Dial Hot Line (TV Movie)
as
David Leopold
1970
Sole Survivor (TV Movie)
as
Maj. Michael Devlin
1969
The Desperados
as
David Galt
1968
The Devil's Brigade
as
Maj. Cliff Bricker
1968
Hammerhead
as
Charles Hood
1961
Ben Casey (TV Series)
as
Dr. Ben Casey
- Then, Suddenly, Panic (1966) - Dr. Ben Casey (as Vincent Edwards)
- Pull the Wool Over Your Eyes, Here Comes the Cold Wind of Truth (1966) - Dr. Ben Casey (as Vincent Edwards)
- Twenty Six Ways to Spell Heartbreak: A, B, C, D- (1966) - Dr. Ben Casey (as Vincent Edwards)
- Where Did All the Roses Go? (1966) - Dr. Ben Casey (as Vincent Edwards)
- Lullaby for a Wind-Up Toy (1966) - Dr. Ben Casey (as Vincent Edwards)
- Weave Nets to Catch the Wind (1966) - Dr. Ben Casey (as Vincent Edwards)
- Fun and Games and Other Tragic Things (1966) - Dr. Ben Casey (as Vincent Edwards)
- Smile, Baby, Smile, It's Only Twenty Dols of Pain (1966) - Dr. Ben Casey (as Vincent Edwards)
- For San Diego, You Need a Different Bus (1966) - Dr. Ben Casey (as Vincent Edwards)
- Meantime, We Shall Express Our Darker Purpose (1966) - Dr. Ben Casey (as Vincent Edwards)
- In Case of Emergency, Cry Havoc (1966) - Dr. Ben Casey (as Vincent Edwards)
- If You Play Your Cards Right, You Too Can Be a Loser (1965) - Dr. Ben Casey (as Vincent Edwards)
- You Wanna Know What Really Goes on in a Hospital? (1965) - Dr. Ben Casey (as Vincent Edwards)
- Why Did the Day Go Backwards? (1965) - Dr. Ben Casey (as Vincent Edwards)
- The Man from Quasilia (1965) - Dr. Ben Casey (as Vincent Edwards)
- When Givers Prove Unkind (1965) - Dr. Ben Casey (as Vincent Edwards)
- The Importance of Being 65937 (1965) - Dr. Ben Casey (as Vincent Edwards)
- No More, Cried the Rooster - There Will Be Truth (1965) - Dr. Ben Casey (as Vincent Edwards)
- Then I, and You, and All of Us Fell Down (1965) - Dr. Ben Casey (as Vincent Edwards)
- Francini? Who Is Francini? (1965) - Dr. Ben Casey (as Vincent Edwards)
- What to Her Is Plato? (1965) - Dr. Ben Casey (as Vincent Edwards)
- Because of the Needle, the Haystack Was Lost (1965) - Dr. Ben Casey (as Vincent Edwards)
- Run for Your Lives, Dr. Galanos Practices Here! (1965) - Dr. Ben Casey (as Vincent Edwards)
- A Nightingale Named Nathan (1965) - Dr. Ben Casey (as Vincent Edwards)
- O' the Big Wheel Turns by Faith, by Faith (1965) - Dr. Ben Casey (as Vincent Edwards)
- War of Nerves (1965) - Dr. Ben Casey (as Vincent Edwards)
- A Horse Named Stravinsky (1965) - Dr. Ben Casey (as Vincent Edwards)
- From Sutter's Crick- And Beyond Farewell (1965) - Dr. Ben Casey (as Vincent Edwards)
- Did Your Mother Come from Ireland, Ben Casey? (1965) - Dr. Ben Casey (as Vincent Edwards)
- The Day They Stole County General (1965) - Dr. Ben Casey (as Vincent Edwards)
- Journeys End in Lovers Meeting (1965) - Dr. Ben Casey (as Vincent Edwards)
- A Slave Is on the Throne (1965) - Dr. Ben Casey (as Vincent Edwards)
- Three Li'l Lambs (1965) - Dr. Ben Casey (as Vincent Edwards)
- Eulogy in Four Flats (1965) - Dr. Ben Casey (as Vincent Edwards)
- Minus That Rusty Old Hacksaw (1965) - Dr. Ben Casey (as Vincent Edwards)
- A Little Fun to Match the Sorrow (1965) - Dr. Ben Casey (as Vincent Edwards)
- A Dipperful of Water from a Poisoned Well (1965) - Dr. Ben Casey (as Vincent Edwards)
- A Man, a Maid, and a Marionette (1965) - Dr. Ben Casey (as Vincent Edwards)
- When I Am Grown to Man's Estate (1965) - Dr. Ben Casey (as Vincent Edwards)
- A Rambling Discourse on Egyptian Water Clocks (1965) - Dr. Ben Casey (as Vincent Edwards)
- Every Other Minute, It's the End of the World (1965) - Dr. Ben Casey (as Vincent Edwards)
- Pas De Deux (1965) - Dr. Ben Casey (as Vincent Edwards)
- Where Does the Boomerang Go? (1965) - Dr. Ben Casey (as Vincent Edwards)
- A Boy Is Standing Outside the Door (1965) - Dr. Ben Casey (as Vincent Edwards)
- This Wild, Wild, Wild Waltzing World (1964) - Dr. Ben Casey (as Vincent Edwards)
- Courage at 3:00 A.M. (1964) - Dr. Ben Casey (as Vincent Edwards)
- Kill the Dream, But Spare the Dreamer (1964) - Dr. Ben Casey (as Vincent Edwards)
- A Disease of the Heart Called Love (1964) - Dr. Ben Casey (as Vincent Edwards)
- Money, a Horse and a Knowledge of Latin (1964) - Dr. Ben Casey (as Vincent Edwards)
- A Thousand Words Are Mute (1964) - Dr. Ben Casey (as Vincent Edwards)
- A Woods Full of Question Marks (1964) - Dr. Ben Casey (as Vincent Edwards)
- For Jimmy, the Best of Everything (1964) - Dr. Ben Casey (as Vincent Edwards)
- You Fish or You Cut Bait (1964) - Dr. Ben Casey (as Vincent Edwards)
- Autumn Without Red Leaves (1964) - Dr. Ben Casey (as Vincent Edwards)
- But Who Shall Beat the Drums? (1964) - Dr. Ben Casey (as Vincent Edwards)
- A Bird in the Solitude Singing (1964) - Dr. Ben Casey (as Vincent Edwards)
- August Is the Month Before Christmas (1964) - Dr. Ben Casey (as Vincent Edwards)
- The Evidence of Things Not Seen (1964) - Dr. Ben Casey (as Vincent Edwards)
- For a Just Man Falleth Seven Times (1964) - Dr. Ben Casey (as Vincent Edwards)
- Heap Logs and Let the Blaze Laugh Out (1964) - Dr. Ben Casey (as Vincent Edwards)
- Make Me the First American (1964) - Dr. Ben Casey (as Vincent Edwards)
- Onions and Mustard Seed Will Make Her Weep (1964) - Dr. Ben Casey (as Vincent Edwards)
- Dress My Doll Pretty (1964) - Dr. Ben Casey (as Vincent Edwards)
- Keep Out of Reach of Adults (1964) - Dr. Ben Casey (as Vincent Edwards)
- The Lonely Ones (1964) - Dr. Ben Casey (as Vincent Edwards)
- A Falcon's Eye, a Lion's Heart, a Girl's Hand (1964) - Dr. Ben Casey (as Vincent Edwards)
- The Sound of One Hand Clapping (1964) - Dr. Ben Casey (as Vincent Edwards)
- The Bark of a Three-Headed Hound (1964) - Dr. Ben Casey (as Vincent Edwards)
- Goodbye to Blue Elephants and Such (1964) - Dr. Ben Casey (as Vincent Edwards)
- One Nation Indivisible (1964) - Dr. Ben Casey (as Vincent Edwards)
- There Was Once a Man in the Land of Uz (1964) - Dr. Ben Casey (as Vincent Edwards)
- The Only Place Where They Know My Name (1964) - Dr. Ben Casey (as Vincent Edwards)
- I'll Get on My Ice Floe and Wave Goodbye (1964) - Dr. Ben Casey (as Vincent Edwards)
- The Light That Loses, the Night That Wins (1964) - Dr. Ben Casey (as Vincent Edwards)
- The Last Splintered Spoke of the Old Burlesque Wheel (1963) - Dr. Ben Casey (as Vincent Edwards)
- It Is Getting Dark- And We Are Lost (1963) - Dr. Ben Casey (as Vincent Edwards)
- From Too Much Love of Living (1963) - Dr. Ben Casey (as Vincent Edwards)
- My Love, My Love (1963) - Dr. Ben Casey (as Vincent Edwards)
- Dispel the Black Cyclone That Shakes the Throne (1963) - Dr. Ben Casey (as Vincent Edwards)
- Fire in a Sacred Fruit Tree (1963) - Dr. Ben Casey (as Vincent Edwards)
- Six Impossible Things Before Breakfast (1963) - Dr. Ben Casey (as Vincent Edwards)
- Light Up the Dark Corners (1963) - Dr. Ben Casey (as Vincent Edwards)
- Little Drops of Water, Little Grains of Sand (1963) - Dr. Ben Casey (as Vincent Edwards)
- The Echo of a Silent Cheer: Part 2 (1963) - Dr. Ben Casey (as Vincent Edwards)
- The Echo of a Silent Cheer: Part 1 (1963) - Dr. Ben Casey (as Vincent Edwards)
- If There Were Dreams to Sell (1963) - Dr. Ben Casey (as Vincent Edwards)
- Allie (1963) - Dr. Ben Casey (as Vincent Edwards)
- With the Rich and Mighty, Always a Little Patience (1963) - Dr. Ben Casey (as Vincent Edwards)
- Justice to a Microbe (1963) - Dr. Ben Casey (as Vincent Edwards)
- For This Relief, Much Thanks (1963) - Dr. Ben Casey (as Vincent Edwards)
- Hang No Hats on Dreams (1963) - Dr. Ben Casey (as Vincent Edwards)
- Lullaby for Billy Dignan (1963) - Dr. Ben Casey (as Vincent Edwards)
- My Enemy Is a Bright Green Sparrow (1963) - Dr. Ben Casey (as Vincent Edwards)
- La Vie, La Vie Interieure (1963) - Dr. Ben Casey (as Vincent Edwards)
- Rage Against the Dying Light (1963) - Dr. Ben Casey (as Vincent Edwards)
- Father Was an Intern (1963) - Dr. Ben Casey (as Vincent Edwards)
- For I Will Plait thy Hair with Gold (1963) - Dr. Ben Casey (as Vincent Edwards)
- Will Everyone Who Believes in Terry Dunne Please Applaud (1963) - Dr. Ben Casey (as Vincent Edwards)
- The White Ones Are Dolphins (1963) - Dr. Ben Casey (as Vincent Edwards)
- Rigadoon for Three Pianos (1963) - Dr. Ben Casey (as Vincent Edwards)
- Suffer the Little Children (1963) - Dr. Ben Casey (as Vincent Edwards)
- A Hundred More Pipers (1963) - Dr. Ben Casey (as Vincent Edwards)
- A Short Biographical Sketch of James Tuttle Peabody, M.D. (1963) - Dr. Ben Casey (as Vincent Edwards)
- He Thought He Saw an Albatross (1963) - Dr. Ben Casey (as Vincent Edwards)
- Use Neon for My Epitaph (1963) - Dr. Ben Casey (as Vincent Edwards)
- A Cardinal Act of Mercy: Part 2 (1963) - Dr. Ben Casey (as Vincent Edwards)
- A Cardinal Act of Mercy: Part 1 (1963) - Dr. Ben Casey (as Vincent Edwards)
- I'll Be All Right in the Morning (1963) - Dr. Ben Casey (as Vincent Edwards)
- Saturday, Surgery, and Stanley Schultz (1962) - Dr. Ben Casey (as Vincent Edwards)
- Pack Up All My Care and Woe (1962) - Dr. Ben Casey (as Vincent Edwards)
- I Hear America Singing (1962) - Dr. Ben Casey (as Vincent Edwards)
- Between Summer and Winter, the Glorious Season (1962) - Dr. Ben Casey (as Vincent Edwards)
- The Firemen Who Raised Rabbits (1962) - Dr. Ben Casey (as Vincent Edwards)
- And Even Death Shall Die (1962) - Dr. Ben Casey (as Vincent Edwards)
- Of All Save Pain Bereft (1962) - Dr. Ben Casey (as Vincent Edwards)
- Behold! They Walk an Ancient Road (1962) - Dr. Ben Casey (as Vincent Edwards)
- Go Not Gently Into the Night (1962) - Dr. Ben Casey (as Vincent Edwards)
- Legacy from a Stranger (1962) - Dr. Ben Casey (as Vincent Edwards)
- In the Name of Love, a Small Corruption (1962) - Dr. Ben Casey (as Vincent Edwards)
- The Night That Nothing Happened (1962) - Dr. Ben Casey (as Vincent Edwards)
- Mrs McBroom and the Cloud Watcher (1962) - Dr. Ben Casey (as Vincent Edwards)
- When You See an Evil Man (1962) - Dr. Ben Casey (as Vincent Edwards)
- So Oft It Chances in Particular Men (1962) - Dr. Ben Casey (as Vincent Edwards)
- An Uncommonly Innocent Killing (1962) - Dr. Ben Casey (as Vincent Edwards)
- Preferably, the Less-Used Arm (1962) - Dr. Ben Casey (as Vincent Edwards)
- And Eve Wore a Veil of Tears (1962) - Dr. Ben Casey (as Vincent Edwards)
- A Pleasant Thing for the Eyes (1962) - Dr. Ben Casey (as Vincent Edwards)
- Among Others, a Girl Named Abilene (1962) - Dr. Ben Casey (as Vincent Edwards)
- All the Clocks Are Ticking (1962) - Dr. Ben Casey (as Vincent Edwards)
- Monument to an Aged Hunter (1962) - Dr. Ben Casey (as Vincent Edwards)
- To a Grand and Natural Finale (1962) - Dr. Ben Casey (as Vincent Edwards)
- For the Ladybug, One Dozen Roses (1962) - Dr. Ben Casey (as Vincent Edwards)
- Behold a Pale Horse (1962) - Dr. Ben Casey (as Vincent Edwards)
- Odyssey of a Proud Suitcase (1962) - Dr. Ben Casey (as Vincent Edwards)
- Victory Wears a Cruel Smile (1962) - Dr. Ben Casey (as Vincent Edwards)
- Give My Hands an Epitaph (1962) - Dr. Ben Casey (as Vincent Edwards)
- The Big Trouble with Charlie (1962) - Dr. Ben Casey (as Vincent Edwards)
- A Story to Be Softly Told (1962) - Dr. Ben Casey (as Vincent Edwards)
- Imagine a Long Bright Corridor (1962) - Dr. Ben Casey (as Vincent Edwards)
- A Memory of Candy Stripes (1962) - Dr. Ben Casey (as Vincent Edwards)
- And If I Die (1962) - Dr. Ben Casey (as Vincent Edwards)
- Dark Night for Billy Harris (1961) - Dr. Ben Casey (as Vincent Edwards)
- A Certain Time, a Certain Darkness (1961) - Dr. Ben Casey (as Vincent Edwards)
- The Sweet Kiss of Madness (1961) - Dr. Ben Casey (as Vincent Edwards)
- My Good Friend Krikor (1961) - Dr. Ben Casey (as Vincent Edwards)
- Pavane for a Gentle Lady (1961) - Dr. Ben Casey (as Vincent Edwards)
- A Few Brief Lines for Dave (1961) - Dr. Ben Casey (as Vincent Edwards)
- The Sound of Laughter (1961) - Dr. Ben Casey (as Vincent Edwards)
- An Expensive Glass of Water (1961) - Dr. Ben Casey (as Vincent Edwards)
- I Remember a Lemon Tree (1961) - Dr. Ben Casey (as Vincent Edwards)
- The Insolent Heart (1961) - Dr. Ben Casey (as Vincent Edwards)
- But Linda Only Smiled (1961) - Dr. Ben Casey (as Vincent Edwards)
- To the Pure (1961) - Dr. Ben Casey (as Vincent Edwards)
1966
The Lucy Show (TV Series)
as
Vince Edwards
- Lucy Goes to a Hollywood Premiere (1966) - Vince Edwards (as Vincent Edwards)
1965
The Ed Sullivan Show (TV Series)
as
Actor
- Episode #18.27 (1965) - Actor
1963
The Victors
as
Pvt. George Baker (as Vincent Edwards)
1963
Breaking Point (TV Series)
as
Ben Casey
- Solo for B-Flat Clarinet (1963) - Ben Casey
1962
The Red Uncle (Short)
1962
Hawaiian Eye (TV Series)
as
Dr. Sam Casey
- The Sign-Off (1962) - Dr. Sam Casey (uncredited)
1961
The Outsider
as
George (uncredited)
1961
Too Late Blues
as
Tommy Sheehan (as Vincent Edwards)
1960
The Deputy (TV Series)
as
Dory Matson
- The Choice (1960) - Dory Matson
1960
Laramie (TV Series)
as
Gil Craig
- The Protectors (1960) - Gil Craig
1959
Adventures in Paradise (TV Series)
as
Jink Pierce
- The Raft (1959) - Jink Pierce
1959
The Untouchables (TV Series)
as
Nick Delgado
- Mexican Stake-Out (1959) - Nick Delgado
1959
The Scavengers
as
Stuart Allison
1959
City of Fear
as
Vince Ryker
1958
Murder by Contract
as
Claude
1957
Alfred Hitchcock Presents (TV Series)
as
Tex
- The Young One (1957) - Tex
1957
Ride Out for Revenge
as
Chief Little Wolf
1957
The Hired Gun
as
Kell Beldon
1957
The Three Faces of Eve
as
Army Sergeant (uncredited)
1957
General Electric Theater (TV Series)
as
Sgt. Lawrence Hancock
- The Bitter Choice (1957) - Sgt. Lawrence Hancock
1956
The 20th Century-Fox Hour (TV Series)
as
Carl Markheim
- The Last Patriarch (1956) - Carl Markheim
1956
The Killing
as
Val Cannon
1956
Serenade
as
Marco Roselli
1956
Private's Progress
as
German Officer (uncredited)
1955
Celebrity Playhouse (TV Series)
as
Mitch Nelson
- Known But to God (1955) - Mitch Nelson
1955
Jane Wyman Presents the Fireside Theatre (TV Series)
as
Angelo
- The Smuggler (1955) - Angelo
1955
The Night Holds Terror
as
Victor Gosset
1955
Cell 2455, Death Row
as
Hamilton
1955
The Ford Television Theatre (TV Series)
as
Steve
- Garrity's Sons (1955) - Steve
1954
Rogue Cop
as
Joey Langley
1953
Fireside Theatre (TV Series)
as
Clint
- The Suitors (1953) - Clint
1952
Hiawatha
as
Hiawatha (as Vincent Edwards)
1952
Sailor Beware
as
Blayden (as Vincent Edwards)
1951
Mister Universe
as
Tommy Tomkins (as Vincent Edwards)
1947
Dark Passage
as
Cop at tollbooth (uncredited)
Director
1985
This Is L.A.P.D. (TV Series documentary) (7 episodes)
- 77th Division Annual LAPD Christmas Food and Toy Distribution (1996)
- LAPD Welcomes Chief Willie L Williams (1992)
- 40th Anniversary of LAPD Pacific Division Venice Detectives (1987)
- Daryl Gates and Casey the Safety Car (1986)
- Bank Robbery 211 in Progress (1986)
- Underwater Detectives LAPD Pacific Division (1985)
- Baker to Vegas Run (1985)
1990
In the Heat of the Night (TV Series) (1 episode)
- Indiscretions (1990)
1982
The Fall Guy (TV Series) (1 episode)
- Hell on Wheels (1982)
1980
Fantasy Island (TV Series) (2 episodes)
- The Skater's Edge/Concerto of Death/The Last Great Race (1980) - (segment "The Last Great Race", as Vincent Edwards)
- The Devil and Mandy Breem/Instant Millionaire (1980) - (as Vincent Edwards)
1980
Galactica 1980 (TV Series) (1 episode)
- The Super Scouts (1980)
1979
B.J. and the Bear (TV Series) (1 episode)
- Silent Night, Unholy Night (1979)
1979
Mission Galactica: The Cylon Attack (co-director)
1978
Battlestar Galactica (TV Series) (2 episodes)
- The Living Legend: Part II (1978)
- The Living Legend (1978)
1978
David Cassidy - Man Undercover (TV Series) (1 episode)
- Baby Makes Three (1978) - (as Vincent Edwards)
1978
The Hardy Boys/Nancy Drew Mysteries (TV Series) (2 episodes)
- The Last Kiss of Summer: Part 2 (1978)
- The Last Kiss of Summer: Part 1 (1978)
1976
Police Story (TV Series) (1 episode)
- Oxford Gray (1976)
1971
Matt Lincoln (TV Series) (1 episode)
- Christopher (1971)
1963
Ben Casey (TV Series) (7 episodes)
- If You Play Your Cards Right, You Too Can Be a Loser (1965) - (as Vincent Edwards)
- Run for Your Lives, Dr. Galanos Practices Here! (1965) - (as Vincent Edwards)
- Three Li'l Lambs (1965) - (as Vincent Edwards)
- Eulogy in Four Flats (1965) - (as Vincent Edwards)
- Every Other Minute, It's the End of the World (1965) - (as Vincent Edwards)
- For a Just Man Falleth Seven Times (1964) - (as Vincent Edwards)
- Dispel the Black Cyclone That Shakes the Throne (1963) - (as Vincent Edwards)
Writer
Producer
1978
The Courage and the Passion (TV Movie) (executive producer)
Soundtrack
1966
The Hollywood Palace (TV Series) (performer - 1 episode)
- Dramatic Reader: Bette Davis (1966) - (performer: "Ev'ry Thing I've Got", "A Fellow Needs a Girl", "Lulu's Back in Town", "Maria", "Ida, Sweet as Apple Cider" - uncredited)
Self
1993
King B: A Life in the Movies
as
Self
1993
Nurses (TV Series)
as
Self
- No, But I Played One on TV (1993) - Self
1987
This Is L.A.P.D. (TV Series documentary)
as
Self - Master of Ceremonies
- 40th Anniversary of LAPD Pacific Division Venice Detectives (1987) - Self - Master of Ceremonies
1979
Circus of the Stars #4 (TV Special documentary)
as
Self - Performer
1978
Good Morning America (TV Series)
as
Self
- Episode dated 13 July 1978 (1978) - Self
1978
ABC's Silver Anniversary Celebration (TV Special)
as
Self
1976
Celebrity Bowling (TV Series)
as
Self
- Show #135 (1976) - Self
- Show #134 (1976) - Self
1975
The Lion Roars Again (Documentary short)
as
Self
1973
The Hollywood Squares (Daytime) (TV Series)
as
Self - Panelist
- 5 November 1975 - Second Show (1975) - Self - Panelist
- Episode dated 16 July 1973 (1973) - Self - Panelist
1973
The Hollywood Squares (Syndication) (TV Series)
as
Self - Panelist
1975
Bicentennial Minutes (TV Series short)
as
Self - Narrator
- Episode #1.244 (1975) - Self - Narrator (as Vincent Edwards)
1973
NBC Follies (TV Series)
as
Self
- Petula Clark, Vince Edwards, Peter Lawford, Altovise Davis, Mickey Rooney, Nancy Lee Parker (1973) - Self
1968
The Merv Griffin Show (TV Series)
as
Self
- Totie Fields, Vince Edwards, Jerry Vale, Dr. Benjamin Weinberger (1972) - Self
- Vince Edwards, Rubin Carson, Forrest Tucker (1971) - Self
- Vince Edwards, Cameron Mitchell, Stu Gilliam, Jack Carter, Stanley Myron Handelman, George Pal, Joe Kapp (1971) - Self
- Vince Edwards, Marty Allen, Joe Flynn, Ed Goldfader (1970) - Self
- Guest Host: Steve Lawrence Guests: Eydie Gorme, Robert Goulet, Brock Peters, Vince Edwards, Joan Rivers, Corbett Monica (1968) - Self
1967
The Dean Martin Show (TV Series)
as
Self / Self - Cameo
- Episode #6.4 (1970) - Self
- Episode #6.1 (1970) - Self - Cameo
- 1968 Christmas Show (1968) - Self (uncredited)
- Phil Harris, Vince Edwards, Roger Miller, Gloria Loring, Stanley Myron Handelman (1968) - Self
- Episode #3.29 (1968) - Self
- Episode #2.24 (1967) - Self
1970
The Engelbert Humperdinck Show (TV Series)
as
Self
- Episode #2.15 (1970) - Self
1970
Binnen en Buiten (TV Series)
as
Self - Singer
- Episode dated 19 April 1970 (1970) - Self - Singer
1970
Tienerklanken (TV Series)
as
Self
- Taboeret (1970) - Self
1968
The Joey Bishop Show (TV Series)
as
Self
- Episode #3.188 (1969) - Self
- Episode #3.123 (1969) - Self
- Episode #2.226 (1968) - Self
1969
The Mike Douglas Show (TV Series)
as
Self
- Episode #8.113 (1969) - Self
1969
The Tonight Show Starring Johnny Carson (TV Series)
as
Self - Guest
- Episode dated 4 February 1969 (1969) - Self - Guest
1969
The Carol Burnett Show (TV Series)
as
Self
- Vince Edwards and Chita Rivera (1969) - Self
1968
The Dick Cavett Show (TV Series)
as
Self
- Episode #1.13 (1968) - Self
1967
First Annual All-Star Celebrity Softball Game (TV Special)
as
Self - Celebrity
1966
The Hollywood Palace (TV Series)
as
Self - Host
- Episode #4.9 (1966) - Self - Host
- Dramatic Reader: Bette Davis (1966) - Self - Host
1966
The Roger Miller Show (TV Series)
as
Self
- Episode #1.3 (1966) - Self
1966
What's My Line? (TV Series)
as
Self - Mystery Guest
- Jack Benny & Vince Edwards (1966) - Self - Mystery Guest
1966
Perry Como's Kraft Music Hall (TV Series)
as
Self - Guest
- Ella Fitzgerald, Caterina Valente, John Davidson, Jack Burns & Avery Schreiber (1966) - Self - Guest
1966
The Sammy Davis, Jr. Show (TV Series)
as
Self
- Episode #1.12 (1966) - Self
1965
The Andy Williams Show (TV Series)
as
Self
- Episode #4.9 (1965) - Self
1965
The 37th Annual Academy Awards (TV Special)
as
Self - Presenter
1965
Pro Bowlers' Tour (TV Series)
as
Self - commercial for 'Ben Casey'
- Southern California PBA Open from Kona Lanes, Costa Mesa, California (1965) - Self - commercial for 'Ben Casey'
1964
ABC's Wide World of Entertainment (TV Movie)
as
Self
1963
The 15th Annual Primetime Emmy Awards (TV Special)
as
Self - Presenter
1962
The Jerry Lewis Show: From This Moment On (TV Special)
as
Self
1962
Here's Hollywood (TV Series)
as
Self
- Episode #3.33 (1962) - Self
- Episode #3.21 (1962) - Self
1962
The 34th Annual Academy Awards (TV Special)
as
Self - Presenter
1962
The 19th Annual Golden Globe Awards (TV Special)
as
Self - Presenter
1962
The Dinah Shore Chevy Show (TV Series)
as
Self - Guest
- Vince Edwards, George Chakiris, Keely Smith, Big Tiny Little (1962) - Self - Guest
1957
The Howard Miller Show (TV Series)
as
Self
- Episode #1.32 (1957) - Self
Archive Footage
2014
Pioneers of Television (TV Series documentary)
as
Dr. Ben Casey - Ben Casey
- Doctors and Nurses (2014) - Dr. Ben Casey - Ben Casey
2014
And the Oscar Goes to... (TV Movie documentary)
as
Self
1997
The 69th Annual Academy Awards (TV Special)
as
Self - Memorial Tribute
1989
Andy Colby's Incredible Adventure
as
Space Raider
1977
The Carol Burnett Show (TV Series)
as
Self
- 10th Anniversary Show (1977) - Self
1967
Mondo Hollywood (Documentary)
as
Self (uncredited)
1957
Studio 57 (TV Series)
as
Angelo
- The Smuggler (1957) - Angelo
References
Vince Edwards Wikipedia
(Text) CC BY-SA