5

/

10

1

Votes

Alchetron

5

Rate This


Ravi Dewan


Raj Kumar Santoshi




Peter Pereira






Xavier Marquis




Viju Shah




30 January 1998 (India)




Xavier Marquis






Sunil ShettyRaveena TandonDanny Denzongpa




Suniel Shetty, Raveena Tandon, Danny Denzongpa, Om Puri, Tinnu Anand
Vinashak – Destroyer is a 1998 Bollywood action movie directed by Ravi Dewan and starring Sunil Shetty, Raveena Tandon and Danny Denzongpa. It is loosely based on Jean-Claude Van Damme starrer Death Warrant.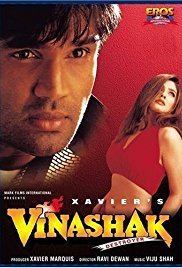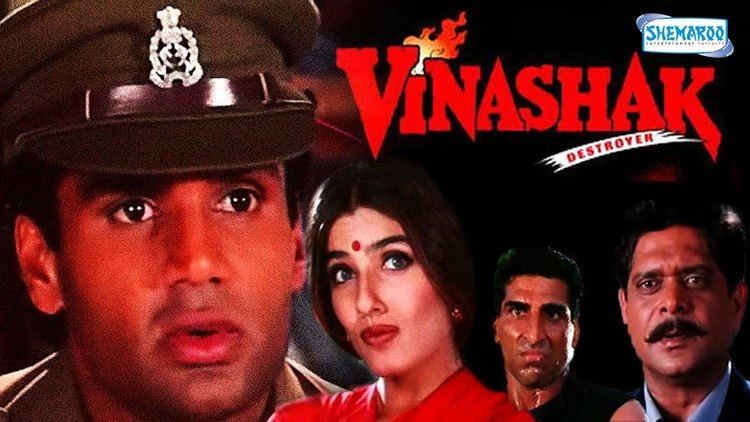 Police Inspector Arjun Singh (Sunil Shetty) is a brave and honest police inspector stationed in Khandala. He uses harsh ways against all the criminals. He is a very strict Police Officer. His colleague and friend is Inspector Khan (Om Puri) who always supports him. Arjun is in love with Kaajal (Raveena Tandon) who is the daughter of a senior police officer, A.C.P. Amar Agnihotri. Arjun's own father does not agree with the harsh ways he uses against the criminals. Arjun is always supported by his sister.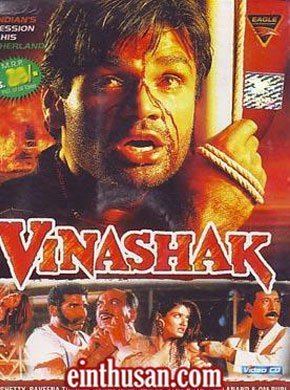 Near Mumbai, in the Central Jail, Jailer Lankeshwar (Danny Denzongpa) is the prison warden uses his jail as a trade center for weapons. Moreover, he allows some of his prisoners to go out as hitmen, do their job, and come back. A.C.P Amar is suspicious of Lankeshwar's actions. He requests the higher authorities to let a police inspector go into the jail and gather evidence about Lankeshwar's evil deeds. Arjun Singh is selected for the job. The plan is that Arjun will fire a blank bullet on A.C.P Amar. Arjun pleads guilty in court and is sentenced to jail. In jail Arjun comes to know that arms, drugs and explosives are smuggled from the jail. He reports it secretly to the Home Minister and the Police Commissioner. They decide to raid the jail but on the raid day the Home Minister, Police Commissioner and Lankeshwar shock Arjun telling him that though he fired fake bullet on his senior but on the way inside the ambulance they really killed A.C.P Agnihotri with real bullets. They then beat Arjun until he faints. Additionally Arjun's sister and father are killed, leaving him heartbroken.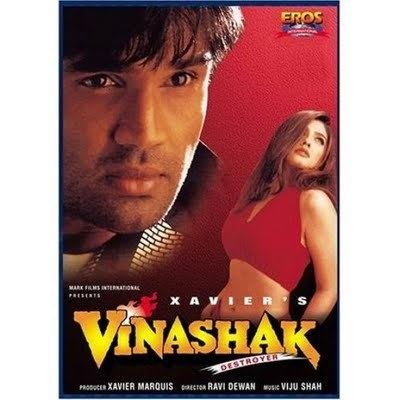 Inspector Khan comes to know of Arjun's plight and decides to help him. He sneaks into the jail and breaks Arjun's chains. Arjun says "Khan, main inka vinash kar doonga." which means "Khan, I shall destroy them." (thus the title of this film). Arjun arms himself and wages a one-man war against the jail guards. He destroys the jail's office and watchtowers then sets fire to the godown in which the illegal drugs and weapons are kept. Khan and Arjun escape in a jeep. They are chased by the police. Arjun destroys the police jeeps which are chasing them by using hand grenades. As they cross a bridge Arjun destroys that too so that they are not chased. However Khan dies as a bullet fired by the police hits him. Arjun then buries him single handedly. Soon Arjun approaches Kaajal who is furious with him for killing her father, however after hearing the whole story she forgives him and decides to help him.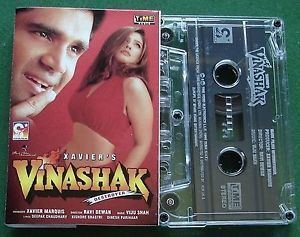 Arjun decides to take his revenge in a systematic way. He becomes a one-man army and kills many of Lankeshwar's henchmen. Lankeshwar, Home Minister and Police Commissioner are afraid as Arjun has set upon a killing spree. Arjun kills the Police Commissioner with a car bomb. The Home Minister is on a cruise when Arjun follows him as a driver and drives him away from his defences. After gathering evidence which would prove him innocent he kills the Home Minister. In fright Lankeshwar pleads guilty in court and is sentenced to be a prisoner in his own jail. Arjun sensing his motive also pleads guilty and is sentenced to the same jail. However Lankeshwar, along with his fellow officers, decides to escape and become terrorists. On the escape day Arjun starts a killing spree. He kills more of Lankeshwar's men. Lankeshwar and Arjun have one last showdown in the jail. Arjun beats Lankeshwar, smashing his ribs and legs. The prisoners feel a sense of patriotism arising in their hearts and take over the jail by killing the guards. Arjun keeps on beating Lankeshwar till he is half dead. Arjun then drags Lankeshwar to the gallows and hangs him. The film ends with Arjun clad in a police uniform saluting with Kaajal and the Indian flag in the background.
Sunil Shetty...Inspector Arjun Singh
Raveena Tandon...Kaajal
Danny Denzongpa...Jailer Lankeshwar, the main antagonist
Alok Nath...Police Commissioner
Tinnu Anand...Home Minister
Om Puri...Inspector Khan
Mohan Joshi...A.C.P. Amar
Mukesh Rishi...Ajgar (Lankeshwar's henchman)
Shivaji Satam...Hariram
Satyen Kappu...Arjun's dad
1Kho DiyeSadhana Sargam - Roop Kumar Rathod
2Moriya MoriyaUdit Narayan - Sapna Mukherjee
3Godna God MoheKavita Krishnamurthy

Vinashak – Destroyer Wikipedia