Cooking style

Indian cuisine









Education

Welcomgroup Graduate School of Hotel Administration

Siblings

Radhika Khanna, Nishant Khanna

Parents

Davinder Khanna, Bindu Khanna

TV shows

Junior Masterchef Swaad Ke Ustaad, Coastal Curries

Books

Flavors First: An Indian Ch, Return to the Rivers: Recipes, The Spice Story of India, Modern Indian Cooking, My Great Indian Cookbook




Similar People




Profiles



An interview with chef vikas khanna and his mother video by simply with vikas ifood tv flv
Vikas Khanna (born 14 November 1971) is an award-winning Michelin starred Indian chef, restaurateur, and cookbook writer, filmmaker, humanitarian and the judge of MasterChef India Season 2, 3, 4, 5 and Masterchef Junior. He is based in New York City. In 2011, People magazine named Khanna in the list of Sexiest Men Alive and also referred to him as "The Hottest Chef of America"
Contents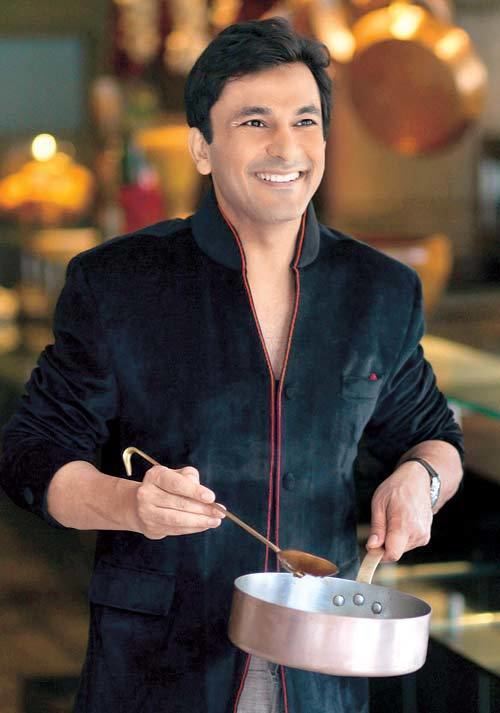 Vikas khanna return to rivers talks at google
Early life and education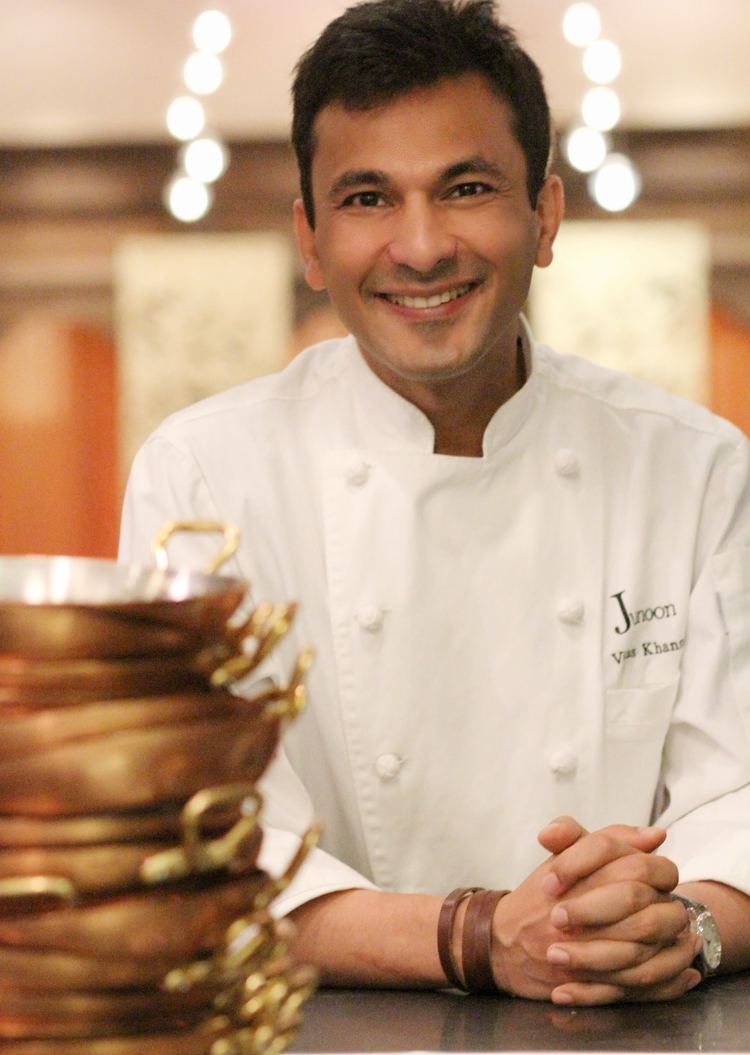 Khanna was born in Amritsar, India to Davinder and Bindu Khanna. He was born with misaligned feet and wasn't able to run until he was 13. He was inspired by his grandmother who loved to cook, and her kitchen became a part of his foundational training. He has an elder brother, Nishant Khanna, and a younger sister, Radhika Khanna.
Khanna began developing recipes at a very young age and opened Lawrence Gardens Banquets to host weddings and family functions when he was 17. He graduated from the Welcomgroup Graduate School of Hotel Administration from Manipal in 1991, and established SAANCH, a cultural festival gala, to bring together various foods and traditions from different parts of India. This festival has been an important event in the college's calendar.
Career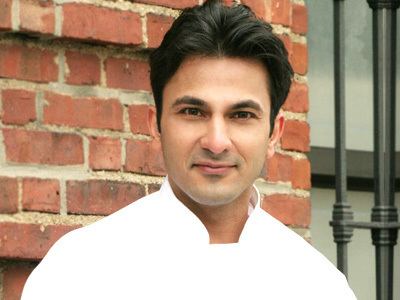 He has worked for the Taj, Oberoi, Welcome group, and Leela Group of Hotels and with some of the most influential chefs of the world letting in Gordon Ramsay, Bobby Flay, Jean-Georges Vongerichten.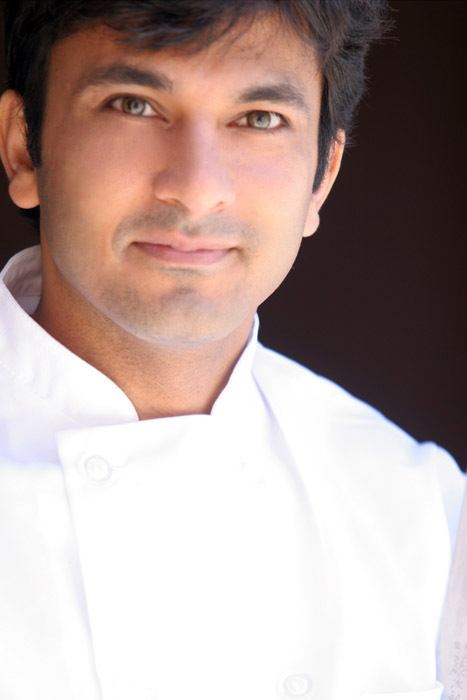 He has also studied at Cornell University, Culinary Institute of America, and New York University. He also appears in Marquis Who's Who in America 2012 to 2017 editions.
Junoon
Khanna started a restaurant on 2 Dec 2010, in Flatiron district of Manhattan, New York, called Junoon. On 29 March 2011, Khanna's restaurant Junoon received a favourable review from Sam Sifton in The New York Times.
Junoon has been awarded a Michelin star by the Michelin Guide for 6 consecutive years since 2011.
Utsav
It's a 1,200-page love of labour that's taken 12 years to compile. The book is described as the "world's largest compilation of festivals, ceremonies, rituals and foods that symbolise India and its resplendent heritage", it explores the country through a 'festival and food lens' and weaves the old world charm and traditions into the rich tapestry of the nation's culture and history. "The food across regions and communities is the jewel that sparkles and makes 'Utsav' a precious collection of India's unique yet diverse and magnificent inheritance. The magnum opus is a kaleidoscope of colors and delightful imagery with each picture telling a story of celebrations -- some that continue to thrive while some have got lost with passage of time," Khanna said. Twelve handcrafted, gold-gilded, hand-painted copies of "Utsav" have been created. They have been presented to world leaders like Prime Minister Narendra Modi, former US Presidents Barack Obama and Bill Clinton, religious leades like the Dalai Lama and Pope Francis and celebrities like Lata Mangeshkar, Amitabh Bachchan and Shahrukh Khan, Britain's Queen Elizabeth II.The 12th was to have been presented to Apple founder Steve Jobs but he died before this could happen.
So the 12th copy was sold to (realtor) Rasesh Kanakia at an auction. The bidding opened at Rs 800,000 and the book was finally sold for Rs 3 million (Rs 30 lakh), the highest in the history of cookbooks and most importantly, the funds raised will feed 200,000 meals to kids through (NGO) Smile Foundation.
(Designer) Suvigya Sharma has created some covers out of 24 karat gold and used vegetables and natural colors to paint the covers. Each of the 12 copies is different from the other and they have gold-crusted work on the cover as well as the box containing the book.
Television shows
In 2011, Vikas hosted the TV Show MasterChef India (season 2), an Indian competitive cooking game show based on the original British version of MasterChef, telecast on Star Plus. He has also hosted the third season, MasterChef India (season 3) , the fourth season, MasterChef India (season 4) and the fifth season which is currently being aired.
Vikas has hosted four seasons of the popular show Twist of Taste on Fox Life, where he gives his unique twists to the regional food that he explores while traveling across countries.
In September 2007, Vikas Khanna was featured as the consultant chef on the Gordon Ramsay TV show on Fox. On 13 October 2009, Khanna appeared as a judge and Indian-cuisine specialist on the two-part season finale of Hell's Kitchen. On 23 June 2010, Khanna appeared on Throwdown! with Bobby Flay as a judge. Vikas Khanna was guest chef in the episode "The India Show" on The Martha Stewart Show telecast on 4 March 2011. On 23 June 2014, Vikas Khanna appeared on MasterChef Australia as a guest judge.
In early 2013, Vikas Khanna also served as a judge of a Season one and two of Nokia Lumia: Your Wish Is My App. The show was one of its kind where applicants portrayed their mobile applications, which would be ultimately sold to Nokia and Microsoft. The show aired on NDTV Profit during 2013 and 2014.
Holy Kitchens
Khanna's Holy Kitchens film series explores the food sharing traditions in a spiritual context. The first film in the series True Business is based on the Sikh community kitchens, known as Langars, with an introduction by Deepak Chopra. The film premiered at the Sikh International Film Festival in October 2010. Other films in the Holy Kitchens series are based upon the food traditions of Hinduism, Islam, Buddhism, Christianity, Zoroastrianism and Judaism. Karma to Nirvana, the second installment in the Holy Kitchens documentary series premiered at the New York Indian Film Festival in the US, on 7 May 2011. In March 2012, "Moon of Eid" the third film in the Holy Kitchens Series was released at Harvard University
Philanthropy
On 14 May 2012, Vikas cooked for a fundraiser hosted for President Obama at the Rubin Museum of Art in New York City In September 2009 Khanna bought a house across from the United Nations Headquarters in New York City.
Sakiv
Khanna launched the foundation "South Asian Kid's Infinite Vision" (SAKIV) to focus on worldwide issues that demand urgent action such as Tsunami Relief, Hurricanes of the Gulf Coast, Haiti. In collaboration with charitable institutions, such as Save the Children, the foundation has hosted many events worldwide - from The Great Pyramid of Giza in Egypt to the Taj Mahal in India.
"Cooking for Life" was founded by Khanna in 2001 in New York with the world's top chefs. In years the foundations has supported relief efforts around the world including 9/11, Tsunami Relief, Hurricanes of the Gulf Coast, South Asian Earth Quakes, Darfur, and Haiti.
Vision of Palate is his award-winning workshop developed to educate people with visual disabilities about the sense of taste, flavor and aromas.
Smile Foundation
Khanna is the goodwill ambassador for Smile Foundation and supports the cause of malnutrition in India. He has pledged to raise 1 million US dollars for the same.
Personal life
Khanna is single. In an interview with Hindustan Times he said that he looks forward to having a family one day, but nothing as of now. He is a contributor to Deepak Chopra's Intent and The Huffington Post.
Awards
Michelin star for his restaurant Junoon by Michelin Guide for 2012, 2013, and 2014.
Awarded GQ India Man of the year 2012 on Sept 30th, 2012 in Mumbai by GQ Magazine.
He was featured on the cover of Men's Health India Magazine - October 2012.
Awarded the "Rising Star Chef Award by Star Chefs for his role in shaping the future of American Cuisine" (2011)
Recognition
Recently named among the top 10 chefs in the world by gazettereviews.com.
He was voted "New York's Hottest Chef" in a poll conducted by the New York Eater blog.
On 29 July 2011, Khanna hosted dinner for the Hindu American Seva Charities Conference held at the White House organized by Anju Bhargava, who is a member of President Barack Obama's Advisory Council on Faith-Based and Neighborhood Partnerships.
Khanna was featured in the Top Sexy and Successful list of Anokhi Magazine in their 5th Anniversary Issue. Metro New York featured Khanna as Hottest Chef Around. In November 2011, Vikas was featured in the list of Sexiest Man Alive by People Magazine.
Khanna has received acclaim for his cooking style from the James Beard Foundation, and received the "Access to Freedom Award" in 2005 from SATH, and The Shining Star Award from "Just One Break, Inc."
He has also received a proclamation from the New York City Council for his outstanding contribution to the city, and was chosen "New Yorker of the Week" by NY1.
His book Return to the Rivers was nominated for the 2014 James Beard Foundation Award
Vikas Khanna has also been featured in Online Food and Wine Magazine PioneerChef.com
Recently the chef is named as the brand ambassador of Gadre Marine Exports.
References
Vikas Khanna Wikipedia
(Text) CC BY-SA