Feast day





annual






Serbian Orthodox Christians Serbian patriotism




June 28 Gregorian Calendar June 15 Julian Calendar)
Vidovdan (Serbian Cyrillic: Видовдан, "St. Vitus Day") is a Serbian national and religious holiday, a slava (feast day) celebrated on June 28 (Gregorian Calendar), or June 15 according to the Julian calendar, in use by the Serbian Orthodox Church to venerate St. Vitus. The Serbian Church designates it as the memorial day to Saint Prince Lazar and the Serbian holy martyrs who fell during the epic Battle of Kosovo against the Ottoman Empire on June 28, 1389. It is an important part of Serb ethnic and Serbian national identity.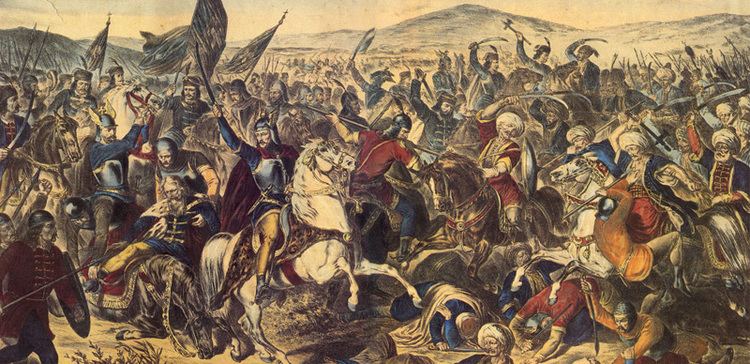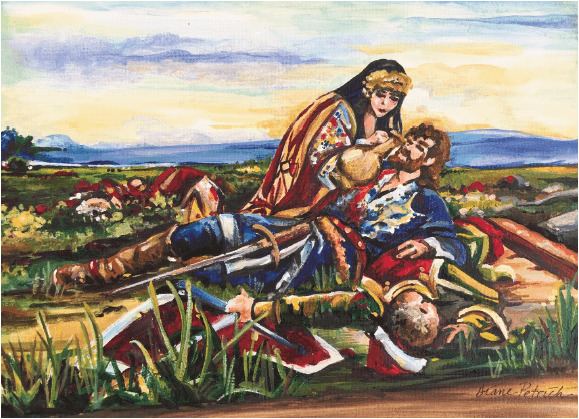 Vidovdan, June 28, is considered a date of special importance to ethnic Serbs, with the following events taking place on Vidovdan, but are expressed here in the Gregorian calendar: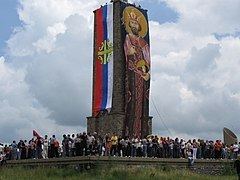 1389: the Ottoman Empire defeated the Serbian army in the Battle of Kosovo on the Kosovo field. Both Sultan Murad and Prince Lazar were slain in battle. The Kosovo Myth became important in forming Serbian identity.
1876: Serbian declaration of war against the Ottoman Empire (Serbian–Ottoman War (1876–78)).
1881: the signing of a secret alliance between Austria-Hungary and the Principality of Serbia.
1914: the assassination of the Austro-Hungarian crown prince, Franz Ferdinand by Gavrilo Princip; triggers the First World War. It was a coincidence that the archduke visited Sarajevo on that day, but the assassination falling on Vidovdan added nationalist symbolism to the event.
1919: the Treaty of Versailles is signed ending World War I.
1921: the Serbian King Alexander I proclaims the new Constitution of the Kingdom of Serbs, Croats and Slovenes, known thereafter as the Vidovdan Constitution (Vidovdanski ustav).
1948: the Cominform publishes, on the initiative of its Soviet delegates Zhdanov, Malenkov and Suslov, in a "Resolution on the State of the Communist Party of Yugoslavia" their condemnation of the Yugoslavian communist leaders – this event is seen as the turning point that marks the final split between Stalin's Soviet Union and Tito's Yugoslavia.
1989: on the 600th anniversary of the battle of Kosovo, Serbian leader Slobodan Milošević delivers the Gazimestan speech on the site of the historic battle.
1990: an amendment is brought to the Constitution of Croatia changing the status of Serbs from constituent people (konstitutivni narod) of the Croatian nation to national minority.
2001: Slobodan Milošević is deported to the ICTY to stand trial.
2006: Montenegro is announced as the 192nd member state of the United Nations.
2008: the inaugural meeting of the Community Assembly of Kosovo and Metohija takes place.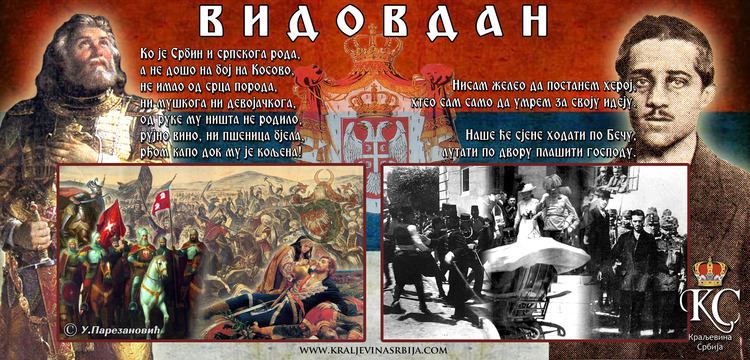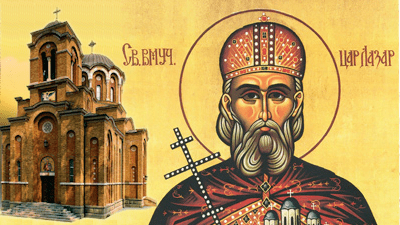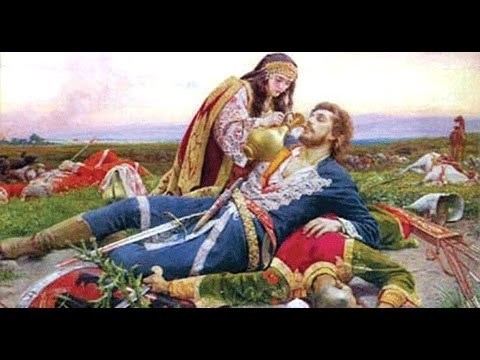 Vidovdan Wikipedia