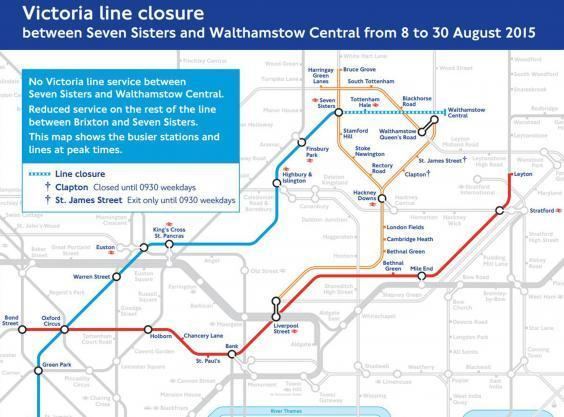 A tube railway running from Victoria to Walthamstow was first proposed by a Working Party set up by the British Transport Commission in 1948, though that largely followed a 1946 plan for a Croydon to Finsbury Park line. The main purpose was to relieve congestion in the central area. The necessary Private Bill was introduced into Parliament in 1955. It described a line from Victoria to Walthamstow (Wood Street). There was also a proposal, though not included in the Bill, for a subsequent extension from Victoria to Fulham Broadway station on the District line.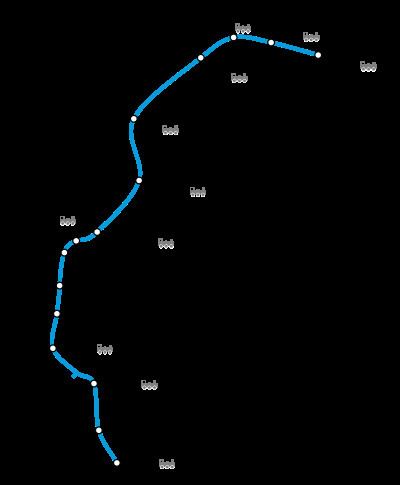 Construction began in 1962 on the initial Walthamstow to Victoria section, opening Walthamstow to Highbury on 1 September 1968. A test tunnel from Tottenham to Manor House under Seven Sisters Road had been bored in 1959 and was later incorporated into the running tunnels.
In August 1967 the government gave approval for the Brixton extension. Preparatory work had already started at Bessborough Gardens near Vauxhall Bridge Road in May 1967. In June 1968 a proposal to build a station at Pimlico was approved. The entire Walthamstow-Brixton line was completed in 1972.

The name "Victoria line" dates back to 1955; other suggestions were "Walvic line" (Walthamstow–Victoria) and "Viking line" (Victoria–King's Cross). During the planning stages, it was known as Route C and then was named the Victoria line after Victoria Station by David McKenna, whose suggestion was seconded by Sir John Elliot.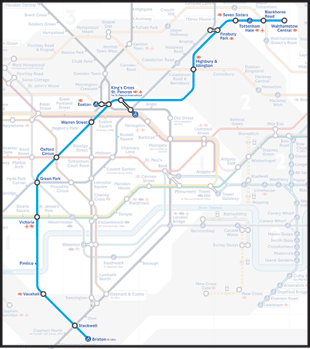 It had been intended to build the line beyond Walthamstow Central to Wood Street (Walthamstow), where it would have surfaced to terminate next to the British Rail station. Proposals were also made to extend the line as far north as South Woodford or Woodford, to provide interchange with the Central line. However, in a late decision in 1961 the line was cut back to Walthamstow (Hoe Street) station, renamed Walthamstow Central in 1968.
The first section to be opened was between Walthamstow Central and Highbury & Islington. There was no initial opening ceremony; instead the normal timetable started on Sunday 1 September 1968. The first train left Walthamstow Central for Highbury & Islington at about 6:30 am. Later that year, the section between Highbury & Islington and Warren Street was opened, again without ceremony, on 1 December 1968.
The official opening ceremony took place at Victoria station on 7 March 1969: Queen Elizabeth II unveiled a commemorative plaque on the station concourse. After a short ceremony, she bought a 5d ticket and travelled to Green Park.
The 3.5 mile extension from Victoria to Brixton was approved in August 1967. At the time, London Transport mentioned the possibility of further extensions to Streatham, Dulwich and Crystal Palace, but these were never built.
Princess Alexandra opened the Brixton extension on 23 July 1971, making a journey from Brixton to Vauxhall. The Prince of Wales and the Duke of Edinburgh had previously visited the line during its construction: in July 1968, they visited tunnel workings under Vauxhall Park.
When the line was opened from Victoria to Walthamstow Central, the station at Blackhorse Road, also served by Kentish Town – Barking trains, was ignored for interchange purposes, and publicity materials even went as far as to state specifically that it was a station with no interchange. This was probably because the Kentish Town-Barking service was proposed for closure under the Beeching axe. An interchange was provided later, when surface line platforms and a connecting overbridge were built on the same side as the tube station and the original railway station was closed and demolished.
On 23 January 2014, during upgrade work at London Victoria station, construction workers accidentally penetrated the signalling room of the Victoria line and flooded it with quick-drying concrete, leading to the suspension of services south of Warren Street. Services resumed the following day after using sugar as a retardant so as to make it easier to shovel the concrete out.
The line was closed between Seven Sisters and Walthamstow Central from 8 to 30 August 2015 for engineering works.
Every Victoria line station apart from Pimlico and Blackhorse Road was built as an interchange station, and several existing stations were rearranged to allow for cross-platform interchange with the new line. In some cases this was achieved by placing the Victoria line platforms on either side of the existing station; in others, the Victoria line uses one of the older platforms and the existing line was diverted into a new platform. At many points across the network interchanges with other tube lines are provided, which facilitate a wide variety of north/south journeys across central London.
All Victoria line stations were originally tiled in blue/grey. Each station was decorated with tiled motifs in seating recesses to help identify the station. During the construction of the first stage of the Jubilee line in the late 1970s, the original motifs on Green Park station were replaced by motifs matching the new design for the Jubilee line platforms. These were in turn replaced in 2009 by replicas of the original design.
Each platform constructed specifically for the Victoria line from new is 132.6 metres (435 ft) long. The line has hump-backed stations to allow trains to store gravitational potential energy as they slow down and release it when they leave a station, providing an energy saving of 5% and making the trains run 9% faster to a speed of 87.2 km/h.. The line was constructed with increased tunnel diameters to reduce air resistance, with the tube varying between 3.71m (12'2") and 3.86m (12'8") in diameter, depending on the type of lining (concrete, bolted iron, flexible iron).
In late 2010 and 2011, platform humps were installed on all Victoria line stations except Pimlico to provide step-free access to trains. This project was in accordance with the Rail Vehicle Accessibility (Non Interoperable Rail System) Regulations 2010 and the Disability Discrimination Act 1995. The Victoria line humps resemble in form the Harrington Hump, a ramp type being installed on some mainline stations, but are of a masonry construction.
Trains run every 105 seconds (slightly less than two minutes) during peak periods, providing 34 trains per hour. In normal service all trains run from Brixton to Seven Sisters, with roughly three out of five continuing to Walthamstow Central. Future upgrades will enable 36tph with all trains serving the full length of the line.
When the line was opened, it was served by a fleet of  39 1⁄2 eight-car trains of 1967 Tube Stock trains. In the early planning stages of the line an articulated type of rolling stock was considered, but the idea was dropped because of difficulties in transferring the stock to Acton Works for heavy overhauls. With the demise of Acton Works this no longer applies, and the new 2009 tube stock has a wider profile and slightly longer carriages, which preclude it running on other deep-level tube lines.The 1967 stock were later supplemented by a number of cars of 1972 Mark I Tube Stock, transferred from the Northern line and converted to be compatible with the 1967 stock. Ultimately there were 43 trains, each made up of two four-car units.
Replacement of the 1967 rolling stock began in July 2009 as part of Transport for London's 5-year £10 billion redevelopment project. A new fleet of 47 eight-car trains called 2009 Tube Stock were built by Bombardier Transportation. The first prototypes began testing in 2008. The main fleet began to be introduced in 2009 and went into squadron service - the majority of the trains in service - in 2010. The last of the 1967 stock trains ran on 30 June 2011, after which the whole service was provided by 2009 stock.
The line is equipped with an Automatic Train Operation system (ATO); the train operator closes the train doors and presses a pair of "start" buttons, and if the way ahead is clear, the ATO drives the train at a safe speed to the next station. This system has operated since the line opened in 1968, making the Victoria line the world's first full-scale automatic railway.
The original signalling has now been replaced with a more modern ATO system from Westinghouse Rail Systems. LUL claims that this is the world's first ATO-on-ATO upgrade. The new system allowed a revised timetable to be introduced from February 2013, allowing up to 33 trains per hour instead of 27. This in combination with the new, faster trains will increase the line's capacity overall by 21%, equivalent to an extra 10,000 passengers per hour.
A 24-hour Night Tube service on Friday and Saturday nights was due to start in September 2015 on the entire Victoria line but was delayed due to strike action.
As of August 2016, Night Tube services have started, with trains running at 10 minute intervals on the whole section of the line.
Tottenham Hale, King's Cross St. Pancras, Green Park and Brixton have step free access from street to train. Platform humps have been installed at all stations on the Victoria line (except Pimlico) to provide level access to the trains, improving access for customers with mobility impairments, luggage or pushchairs. Vauxhall station is on an upgrade to provide step free access to the station in 2016. Victoria station will also receive step free access along with the station upgrade in 2018.
On 27 June 1991 the London Underground (Victoria) Act 1991 allowed for the construction of a new 43-metre (140 ft) underground pedestrian link at London Victoria station between the Victoria line platforms and the sub-surface Circle line platforms above. On 18 September 2009 The London Underground (Victoria Station Upgrade) Order 2009 came into force, authorising the construction of a second 1,930-square-metre (21,000 sq ft) ticket hall at Victoria station. By mid-2009 trial boreholes for a cooling system at Green Park station had taken place, with additional boreholes being scheduled to be created during the end of 2009. In 2010 Engineering & Technology reported that 200 litres (44 imp gal) of water per second is being pumped through Victoria station from the River Tyburn, through heat-exchangers and into the River Thames, for the cooling system.
Around 50 shafts were created during the construction phase of the line. Between each station remain midpoint tunnel ventilation shafts. Special "local arrangements" are in place should it be necessary to evacuate passengers from a Victoria line train out of Netherton Road emergency escape shaft. Planning permission for the shaft at Ferry Lane was granted 11 January 1968.
Between 2009–2014 thirteen ventilation shafts were scheduled to be revamped. In the first phase, during tranche 1 the air shafts for replacement were Drayton Park, Gillingham Street, Moreton Terrace, Pulross Road, Somerleyton Road and Tynemouth Road. In tranche 2 for the second phase were scheduled those at Cobourg Street, Dover Street, Gibson Square, Great Titchfield Street, Isledon Road, Kings Cross, Palace Street and Rita Road. By 2009 changes at Cobourg Street were in the planning stage, with demolition work at Moreton Terrace, Somerleyton Road and Drayton Park shafts having taken place. Original planning permission for Netherton Road shaft had been granted on 8 September 1967. On 31 March 2009 the demolition and rebuilding of Netherton Road shaft was allowed as permitted development.
Northumberland Park Depot is the service and storage area for trains on the Victoria line of the London Underground, as well as the only part of the line above ground.
Trains access the depot by a tunneled branch line to the north of Seven Sisters. Opened with the first stage of the line in 1968, the depot is next to Northumberland Park railway station, on Tottenham Marshes, Tottenham in the London Borough of Haringey. As part of Transport for London's tube upgrade scheme, the depot has been expanded and upgraded to accommodate the new fleet of 2009 Tube Stock trains.
When the Victoria line was built, budget restrictions meant that station infrastructure standards were lower than on older lines and on later extension projects. Examples include narrower than usual platforms and undecorated ceilings at Walthamstow Central, Blackhorse Road and Tottenham Hale, adversely affecting lighting levels.
The lack of a third escalator linking station entrances to platforms can cause severe congestion at peak times. At most stations there is a concrete staircase between the up and down escalators; the space it occupies provides potential for an additional escalator to be installed, as was done at Brixton (in 2004) and Vauxhall (in 2006). There have been station closures, for safety reasons, when both escalators have been unserviceable.
Supporters of Tottenham Hotspur (and the club itself) have campaigned for a surface station to be built next to Northumberland Park Station, adjacent to the line's depot, supported by Haringey Council. This would improve the football ground's transport links, seen as essential if the club's wish to redevelop its ground and increase its capacity is to become a reality. The idea was looked into, but Network Rail owns the necessary land and needs it for its own expansion plans. It was announced by Haringey Council in its 2012 A Plan for Tottenham report that there was "potential for a Victoria Line extension to Northumberland Park".
Crossrail 2, also known as the Chelsea-Hackney line, is a planned but not funded project to build an additional route across central London between Victoria and King's Cross St. Pancras. This would be intended to relieve congestion on the Victoria line.
For many years there have been proposals to extend the line one stop southwards from Brixton to Herne Hill. Herne Hill station would be on a large reversing loop with one platform. This would remove a critical capacity restriction by eliminating the need for trains to reverse at Brixton. The Mayor of London's 2020 Vision, published in 2013, proposed extending the Victoria line "out beyond Brixton" by 2030.