Position

Guard




College

Indiana (2010–2013)




Nationality

American




Listed weight

210 lb (95 kg)




Height

1.93 m




Listed height

6 ft 4 in (1.93 m)




Role

Basketball player




League

NBA




Name

Victor Oladipo








Born

May 4, 1992 (age 23) Silver Spring, Maryland (

1992-05-04

)


High school

DeMatha Catholic (Hyattsville, Maryland)




Current team

Orlando Magic (#5 / Shooting guard)




Education

Indiana University (2010–2013)




Siblings

Kristine Oladipo, Kendra Oladipo, Victoria Oladipo




Similar People

Elfrid Payton, Tobias Harris, Nikola Vucevic, Cody Zeller, Zach LaVine




Profiles




Twitter

Facebook

Instagram
Victor oladipo magic 2015 season highlights part1
Kehinde Babatunde Victor Oladipo (born May 4, 1992) is an American professional basketball player for the Indiana Pacers of the National Basketball Association (NBA). He played college basketball for the Indiana Hoosiers where he was named the Sporting News Men's College Basketball Player of the Year, the National Co-Defensive Player of the Year, and a first-team All-American by the USBWA and Sporting News. That same year, he was also named the winner of the Adolph Rupp Trophy, given annually to the top player in men's NCAA Division I basketball. Oladipo was drafted with the second overall pick in the 2013 NBA draft by the Orlando Magic and went on to be named to the NBA All-Rookie first team.
Contents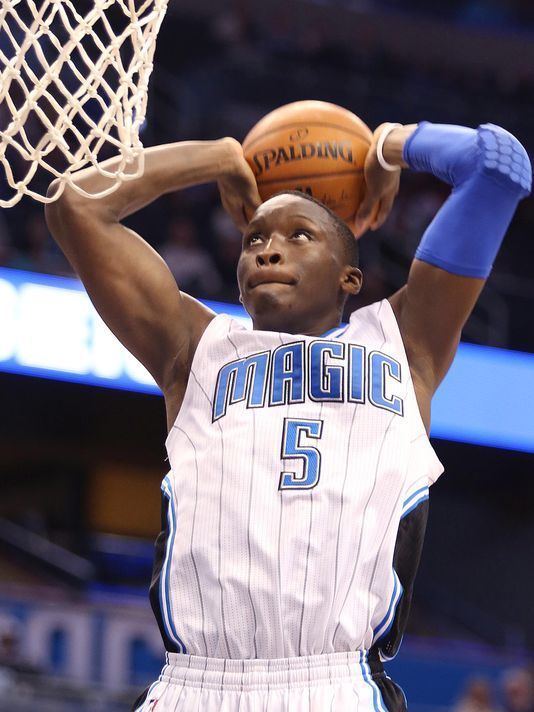 Victor oladipo pours in 25 points
Early life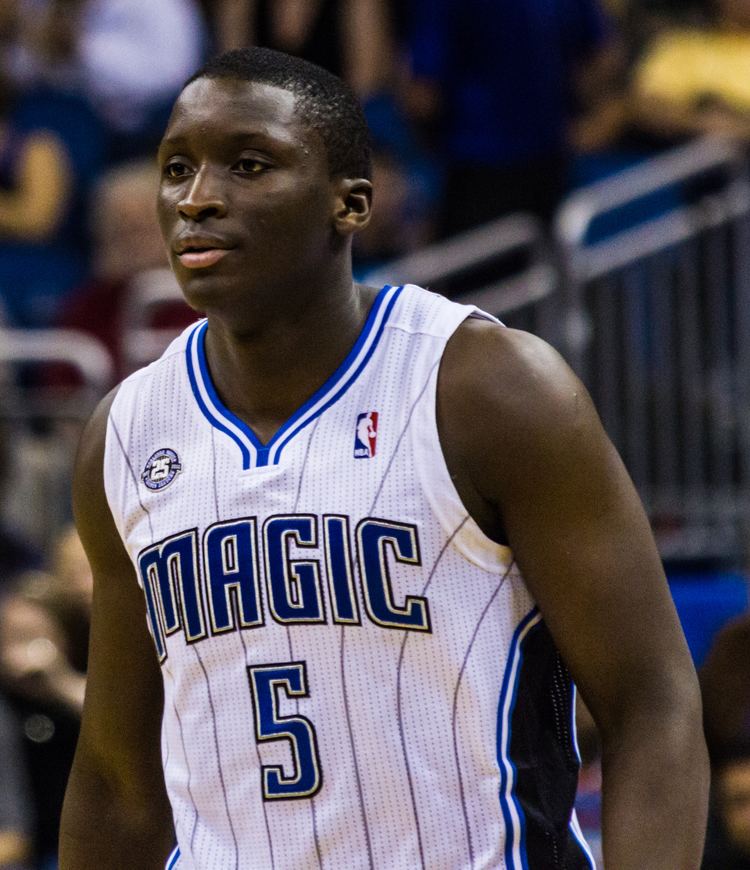 Oladipo was born in Silver Spring, Maryland and raised in Upper Marlboro, Maryland. His mother, Joan Amanze Oladipo, is a nurse and Nigerian immigrant, while his father, Christopher Oladipo, a native of Nigeria, is public health executive for Prince George's County, Maryland with a Ph.D in behavioral science from the University of Maryland, College Park. Oladipo's parents married in the United States in 1985. He is their only son; he has sisters Kristine (1986), Kendra (1990), and twin sister Victoria. His sister, Kendra, became deaf in second grade.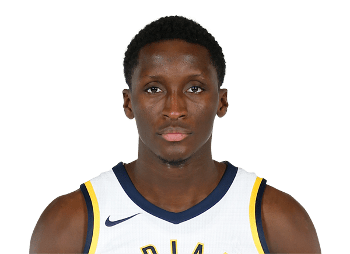 Oladipo played high school basketball at DeMatha High School in Hyattsville, Maryland. As a senior, he averaged 11.9 points, 10.3 rebounds and 3.6 blocks per game. He led DeMatha to a 32–4 record and the Washington Catholic Athletic Conference and City championships. Oladipo was named to the Washington Post 2010 All-Met First Team and the First Team All-WCAC. He was ranked No. 144 overall and the No. 41 shooting guard in his class by Rivals.com, while Scout.com listed him as the No. 39 shooting guard in his class, and ESPN listed him at No. 53 at his position.
College career
Oladipo chose to play basketball at Indiana University and major in sports communication broadcast, turning down offers from Notre Dame, Maryland, Xavier and others. Upon his commitment to Indiana he said, "It's like a basketball atmosphere everywhere you go....[Bloomington, Indiana is] a basketball town. That's perfect."
Freshman season
As a freshman during the 2010–11 season, Oladipo played in 32 games (five starts), averaging 7.4 points, 3.7 rebounds and 1.06 steals in 18.0 minutes per game, while shooting .547 from the field. He earned his first career start against Penn State on December 27 and responded with 14 points on 5-of-9 shooting, four rebounds, three steals, and two assists in 27 minutes of action.
Sophomore season
As a sophomore during the 2011–12 season, Oladipo averaged 10.9 points and 5.5 rebounds in 26.7 minutes per game (47.1% FG, 75% FT). Some commentators referred to him as Indiana's "most improved player this season" and he was often cited as the team's best defender. Oladipo scored 10 or more points in 21 games, 11 more games than the previous year. He also increased his free throw percentage from 61 to 75, shooting four times per game. The Hoosiers' record in 2011–12 improved by fifteen games over the prior season. The team earned a #4 seed in the 2012 NCAA Tournament and defeated New Mexico State in the second round. After defeating VCU in the third round, the Hoosiers lost in the Sweet Sixteen to Kentucky, the eventual national champions.
Junior season
Despite an Indiana roster deep with talent, including Preseason Player of the Year Cody Zeller, Oladipo emerged as one of the nation's biggest stars. Midway through the season, ESPN reporter Eamonn Brenann wrote, "In 2½ seasons in Bloomington, Oladipo has morphed from a raw athletic specimen to a defensive specialist/energy glue guy – he became a hit with IU fans for holding his hand in front of his face after dunks at home, typically after a steal he himself created – into a sudden, stunning, bona fide collegiate star." Due in part to Oladipo's leadership, the Indiana Hoosiers finished the 2012–13 season as the outright Big Ten champions.
At the end of the regular season, Oladipo ranked fourth in the country in field goal percentage (61.4), on pace to have the highest field goal percentage by any guard since the 1996–97 season. He ranked third in the nation in true shooting percentage (68.4), which measures shooting efficiency that takes into account field goals, three-point field goals and free throws. He also averaged 1.39 points per play and shot 73.9% on offensive rebound put-backs, both of which ranked among the top five in the country.
On defense Oladipo was arguably even more dominating. In a game that season against No. 1 ranked Michigan, he guarded four different players in 45 possessions, but only gave up four points. Among Wooden Award finalists, he had the best net rating—which is the difference between points produced and points allowed per 100 possessions. Oladipo produced 42 more points than he allowed per 100 possessions. Each game he drew the opponent's top perimeter player, and his five percent steal rate (2.2 per game) ranked 15th in the country. His 69 steals during the season is second all-time at Indiana to Isiah Thomas who had 74 during the 1980–81 national championship season.
In 2012–13, Oladipo played and started in all 36 games, averaging 13.6 points, 6.3 rebounds, 2.1 assists and 2.17 steals in 28.4 minutes per game, while shooting .599 (182-304) from the field and .441 (30-68) from three-point range. At the conclusion of his junior year, Oladipo racked up numerous awards. He was named the Sporting News Men's College Basketball Player of the Year, the National Co-Defensive Player of the Year, and a first-team All-American by the USBWA and Sporting News. In conference honors, he was named a unanimous pick to the first-team All-Big Ten by both the coaches and media, and was named Big Ten Defensive Player of the year.
Orlando Magic (2013–2016)
On April 9, 2013, at a press conference with Tom Crean, Oladipo announced his decision to forgo his senior season at Indiana and enter the 2013 NBA draft. He was projected as a lottery pick by ESPN and CBS Sports. Oladipo was invited to sit in the "green room" during the draft and was selected second overall by the Orlando Magic, later signing his rookie scale contract with the Magic on July 8.
When the 2013 rookie class convened for its annual photo shoot and filled out its NBA.com Rookie Survey, the class voted Oladipo as the best defender, the co-favorite 2013–14 Rookie of the Year (with C. J. McCollum), the co-favorite to have the best career (with Kelly Olynyk) and second most athletic (behind Tony Mitchell).
2013–14 season
On December 3, 2013, Oladipo recorded his first career triple-double with 26 points, 10 rebounds and 10 assists in a double overtime loss to the Philadelphia 76ers. Rookie Michael Carter-Williams of the 76ers also recorded his first career triple-double in the same game, marking the first and only time in NBA history that two rookies have recorded triple-doubles in the same game. The last time that two players had recorded their first career triple-doubles in the same game was when Detroit Pistons' pair Donnie Butcher and Ray Scott did it on March 14, 1964 (they were not rookies). It was also the first time that two opponents had recorded triple-doubles in the same game since Caron Butler and Baron Davis had done so on November 23, 2007.
During the month of February, Oladipo had ended up participating in under both the BBVA Rising Stars Challenge and the Taco Bell Skills Challenge. For the Rising Stars Challenge, he was selected as a late player for Chris Webber's team, which was composed mostly of rookie players mixed in with two sophomore players, while the latter competition had him pairing up with rookie rival Michael Carter-Williams as one of four teams competing for the prize. The team both Oladipo and Carter-Williams were on was also the only team competing with two rookies in place.
On February 21, 2014, Oladipo recorded a career high 14 assists, along with 30 points, 9 rebounds and 1 steal, in a 129-121 double overtime victory over the New York Knicks. He went on to finish second in Rookie of the Year voting behind Michael Carter-Williams.
2014–15 season
On October 24, 2014, Oladipo was ruled out indefinitely after suffering a facial fracture in practice the previous day. Two days later, the Magic exercised their third-year team option on Oladipo's rookie scale contract, extending the contract through the 2015–16 season. He made his return from injury on November 14 wearing a facial protection mask as he made his season debut against the Milwaukee Bucks. In 25 minutes off the bench, he recorded 13 points, 3 rebounds and 2 assists in a 101–85 win. On January 12, he recorded 33 points against the Chicago Bulls and two days later recorded 32 points against the Houston Rockets to record his first career back-to-back 30-point games.
During the 2015 NBA All-Star Weekend, Oladipo competed in the Rising Stars Challenge and the Slam Dunk Contest, finishing second in the dunk contest behind Zach LaVine.
On March 4, 2015, Oladipo scored a career-high 38 points on 15-of-25 shooting in a loss to the Phoenix Suns.
2015–16 season
On October 25, 2015, the Magic exercised their fourth-year team option on Oladipo's rookie scale contract, extending the contract through the 2016–17 season. Five days later, he recorded his second career triple-double with 21 points, 13 rebounds and 10 assists in a double overtime loss to the Oklahoma City Thunder. He also hit a buzzer beating three-pointer to send the game into double overtime. Oladipo averaged just 12.8 points per game over his first 12 games of the season. Head coach Scott Skiles moved Oladipo to a bench role for the Magic's November 25 game against the New York Knicks. He subsequently scored a then season-high 24 points. Oladipo continued coming off the bench following this performance, averaging 17.0 points, 5.4 rebounds, 4.5 assists, 1.0 steals and 1.4 blocks over his first eight games off the bench. Oladipo fell into a shooting slump in late December, going 14-of-53 (26.4 percent) in six games between December 20–30.
In the Magic's first game of 2016 on January 1, he had his best performance since December 5, scoring a team-high 20 points on 8-of-18 shooting and adding 5 assists in a loss to the Washington Wizards. On January 4, he started for the Magic for the first time since November 23. In 34 minutes of action, he recorded a team-high 18 points, 7 rebounds, 5 assists and 2 steals in a loss to the Detroit Pistons. He started for the third straight game on January 8 and scored 20 points on a career-high six three-pointers, helping the Magic defeat the Brooklyn Nets 83–77. On January 14, he scored 27 points in a loss to the Toronto Raptors in London. After spraining his knee in that game, Oladipo sat out the team's next two games. In his return game on January 22, he scored 29 points on 11-of-19 shooting, starting alongside Elfrid Payton, in a 120–116 overtime loss to the Charlotte Hornets. On February 3, he scored 37 points against the Oklahoma City Thunder, one point shy of his career high. On February 19, he recorded 17 points and a career-high 14 rebounds in a 110–104 overtime win over the Dallas Mavericks. On March 18, he scored a career-high 45 points in a 109–103 loss to the Cleveland Cavaliers, becoming the ninth player in franchise history score 40 and the first Magic player to do so since Arron Afflalo in December 2013. To conclude the season, Oladipo missed the final three games with a concussion.
Oklahoma City Thunder (2016–2017)
On June 23, 2016, Oladipo was traded, along with Ersan İlyasova and the draft rights to Domantas Sabonis, to the Oklahoma City Thunder in exchange for Serge Ibaka. He made his debut for the Thunder in their season opener on October 26, scoring 10 points in 26 minutes as a starter in a 103–97 win over the Philadelphia 76ers. On October 31, he signed a four-year, $84 million contract extension with the Thunder. On November 16, he recorded season highs of 29 points and 10 rebounds in a 105–103 win over the Houston Rockets. A right wrist injury in mid-December forced Oladipo to miss nine straight games. He returned to action on December 31 and scored 15 points against the Los Angeles Clippers. On February 5, 2017, he recorded 24 points, 13 rebounds, three assists, two steals and two blocked shots in a 105–99 win over the Portland Trail Blazers. On March 7, 2017, Oladipo returned to the starting lineup after missing six games with back spasms and scored 16 points in a 126–121 loss to Portland.
Indiana Pacers (2017–present)
On July 6, 2017, Oladipo was traded, along with Domantas Sabonis, to the Indiana Pacers in exchange for Paul George.
Player profile
Oladipo is a shooting guard who is also capable of playing point guard. Indiana coach Tom Crean would frequently attribute Oladipo's success to his extreme work ethic and pre-game preparation of reviewing film. Oladipo is known for entertaining fans with exciting dunks. As announcer Clark Kellogg noted, "Victor Oladipo is like a baby's bottom, smooth and sometimes... explosive."
On offense, Oladipo is capable of aggressively and quickly driving to the basket, aided by unparalleled athletic leaping ability. Following a victory by Indiana over #1 ranked Michigan, coach John Beilein remarked, "I've seen a lot of players. I don't know whether I've seen one quicker or faster, more athletic, than Oladipo. It's tough to stay in front of him." His offensive proficiency improved as his outside shooting range improved each year of his collegiate career.
On defense, Oladipo is a "lockdown off-ball defender who can defend multiple positions". He has the quickness to guard point guards and the strength and athleticism to fight around a forward and get to a front if caught in a mismatch. His athleticism and anticipation makes it hard to set a screen on him. He also does a great job of rebounding at his position.
References
Victor Oladipo Wikipedia
(Text) CC BY-SA