Similar

FE Schrift, Electronic license plate, Pay by plate parking
A vanity plate or personalized plate (United States); prestige plate, private number plate, cherished plate or personalised registration (United Kingdom); personalised plate (Australia, New Zealand and United Kingdom) or custom plate (Australia and New Zealand) is a special type of vehicle registration plate on an automobile or other vehicle. The owner of the vehicle pays extra money to have his own choice of numbers or letters, usually portrays a recognizable phrase, slogan, or abbreviation on their plate. Sales of vanity plates are often a significant source of revenue for North American provincial and state licensing agencies. In some jurisdictions, such as the Canadian province of British Columbia, vanity plates have a different color scheme and design.
Contents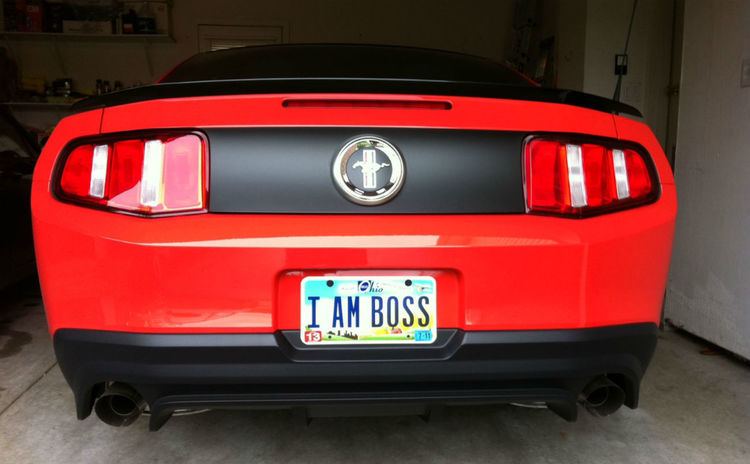 North America
Vanity plates are issued by every state and the District of Columbia, and every province, except for Quebec and Newfoundland and Labrador. Quebec was scheduled to start offering vanity plates in 2015, leaving Newfoundland and Labrador as the only North American jurisdiction with no vanity plates. However, Quebec was not able to start offering vanity plates, reportedly because of computer issues.
In 2007, the American Association of Motor Vehicle Administrators (AAMVA) and Stefan Lonce, author of License to Roam: Vanity License Plates and the Stories They Tell, conducted North America's first state by state and province by province survey of vanity plates, revealing that there are 9.7 million vehicles with personalized vanity license plates. The survey ranked jurisdictions by "vanity plate penetration rate", which is the percentage of registered motor vehicles that are vanitized.
Virginia has the highest U.S. vanity plate penetration rate (16.19%), followed by New Hampshire (13.99%), Illinois (13.41%), Nevada (12.73%), Montana (9.8%), Maine (9.7%), Connecticut (8.14%), New Jersey (6.8%), North Dakota (6.5%) and Vermont (6.1%). Texas had the lowest vanity plate penetration rate (0.5%). According to the Federal Highway Administration, in 2005 there were 242,991,747 privately owned and commercial registered automobiles, trucks, and motorcycles in the U.S., and 3.83% of eligible U.S. vehicles have vanity plates.
Ontario had the highest Canadian vanity plate penetration rate (4.59%), followed by Saskatchewan (2.69%), Manitoba (1.96%), the Yukon (1.79%), and the Northwest Territories (1.75%). British Columbia had the lowest vanity plate penetration rate (0.59%); Quebec does not issue vanity plates. According to Statistics Canada, in 2006 there were 14,980,046 registered motor vehicles (excluding buses, trailers, and off-road, farm and construction vehicles) in the provinces and territories that issue vanity plates, and 2.94% of eligible Canadian vehicles have vanity plates.
In some states and provinces, optional plates can also be vanity plates and are a choice of motorists who want a more distinctive personalized plate. However, the maximum number of characters on an optional plate may be lower than on a standard-issue plate. For example, the U.S. state of Virginia allows up to 7.5 characters (a space or hyphen is counted as 0.5 character) on a standard-issue plate, but only up to 6 characters on many of its optional plates. In some states, a motorist may also check the availability of a desired combination online.
All U.S. states and Canadian provinces that issue vanity plates have a "blue list" of vanity plates that contains banned words, phrases, or letter/number combinations. The U.S. state of Florida, for example, has banned such plates as "PIMPALA", while the state of New York bans any plates with the letters "FDNY", "NYPD", or "GOD", among others. Often the ban is to eliminate confusion with plates used on governmental vehicles or plates used on other classes of vehicles. However, a licensing authority's discretion to deny or revoke "offensive" vanity plates is finite, as some U.S. motorists have successfully sued their state governments on that issue under the First Amendment to the United States Constitution. The "blue list" is not definitive; in general, the agent processing an application for a vanity plate can reject a plate if it is deemed offensive, even if the phrase does not match a banned word exactly. State DMVs have received complaints about offensive vanity plates. In this case, the DMV can revoke a plate if it is deemed offensive, even if it had been previously approved. The "blue list" may be limited to genuine vanity plates, not covering computer-generated accidents. For example, Florida's famous "A55 RGY" license plate (with the standard drawing of an orange in the middle) looks like "ASS ORGY".
In some cases, a plate that has already been issued can be recalled and stripped from the vehicle's owner if the plate's message is found to be in violation after it has been issued. Some notable cases are:
In 2002, a Florida man was stripped of his plates that read "ATHEIST", but was then allowed to keep them.
A Virginia woman lost her plates that read "HAISSEM" (messiah spelled backwards).
In 2002, a Washington resident's request for the plate "GOTMILF" was approved, but was later canceled because of complaints. Another factor leading to the cancellation was that the applicant gave a misleading meaning of GOTMILF (Got MILF, a slight alteration of Got Milk?) when applying for the plate.
In 2007, a South Dakota woman nearly lost her vanity plates that read "MPEACHW" (meaning "impeach W"), but the decision to remove them was later reversed.
In 2008, a Virginia resident had his vanity plate revoked after having held the plate's registration for several years. His serial, "EATTHE", was embossed on a "Kids First" specialty license plate, which meant that the plate could be interpreted as "Eat the Kids First." Some motorists complained that the license plate could imply child cannibalism.
In 2009, Jimmy Marr, a longtime member of Eugene, Oregon's controversial Pacifica Forum, was stripped of his plates that read "NO ZOG". Protestors at a Phoenix, Oregon, Neo-Nazi meeting noticed the plates on Marr's vehicle. The state DMV had initially approved the plate without recognizing it as anti-Semitic.
In 2015, a Texas driver had his "370H55V" license plate revoked after registering it for nearly three years. The plate read "ASSHOLE" upside down.
Also in 2015, another Texas driver had his "DV3H KID" plate revoked. It read "DIK HEAD", a respelling of the insult "dickhead", backwards.
In 2016, a North Dakota resident had his "X32TTU8" license plates taken away after Reddit members noticed that the plate read "BUTTSEX" backwards.
Tennessee and Colorado are among several states that have banned the vanity plate "ILVTOFU." Though the applicants stated the plate read "I love tofu," state authorities argued it could be misread as "I love to F.U."
United Kingdom
In the United Kingdom, number plates are issued by the Driver and Vehicle Licensing Agency (DVLA). They do not approve personalized registrations if they contain words which are offensive in any widely used language. The DVLA however lately have released more and more previously banned combinations such as SEX and DAM. UK plates have to match certain very strict letter/number combinations — see vehicle registration plates of the United Kingdom.
Registrations can be sold, or transferred from one vehicle to another, with some restrictions. The trade of number plates was started by private dealers, entrepreneurs who saw an opportunity to sell something in demand. Originally the only vanity plates allowed to be transferred were ordinary registrations that had been transferred. The DVLA began selling personalized registrations unrelated to the registration districts in 1989. More than 4.2 million registrations were sold during the first 25 years of this initiative, raising over £2 billion for the UK Treasury.
There is some additional flexibility available by using numbers that resemble letters (e.g., S for 5), or by using large black, yellow or white headed screws to fix the plate to the car to fill in or create a gap (e.g. in the middle of 'H' to make it look like two 1s or Is). However, the font style, size and spacing is mandated by law, making the practice illegal. The font that is used on all new number plates is called Charles Wright 2001, and was first introduced in September 2001 to coincide with the DVLA release of new style DVLA number plates.
Some plates acquire significance only because of particular owners. For example, "COM 1C" was formerly owned by the comedian Jimmy Tarbuck, magician Paul Daniels had "MAG 1C", the 1967 plate "BEL 12E" is owned by the Belize High Commission, and "1 AFG" is owned by the Afghan embassy.
In the UK, there are a large number of private dealers who act as agents selling DVLA registrations, as well as their own stock – often purchased at auction or from private sellers.
Other countries
In Australia the various states offer personalised plate schemes, with some states having a yearly fee to maintain the cherished number. In the Australian states of Victoria and Queensland the proceeds from the sale of custom plates and personalised plates go towards road safety activities.
As of 2012, Austria, Croatia, Denmark, Finland, Hong Kong, Latvia, Luxembourg, Malta, Belgium, Poland, Slovenia, Iceland, Sweden, South Africa, Swaziland and Turkey also allow such license plates.
German car registration law does not allow license plates such as these, but it is possible to select the two letters after the district designation and up to four numbers thereafter for a small fee. It is common in Germany for car owners to register license plates with their initials and a year or number of significance to them. For example, a man by the name of Jimmy Wales living in Berlin and born in 1966 might opt to register B–JW 1966, providing it is still available.
On November 19, 2007, Dutch Member of Parliament Paul de Krom proposed that vanity plates be introduced in the Netherlands as well, after having seen them while visiting the United States. One barrier his proposal would have to overcome would be that the RDW (the Dutch vehicle registration authority) links license plates to the actual cars as opposed to their owners.
In Poland, there is an option to buy an individual number plate at extra charge. The plate looks the same as the ordinary one, there is a letter showing the country district, then one number and then up to five letters of free choice.
In the United Arab Emirates, regular number plates consist of five digits and one optional character (depending on the emirate). So-called "distinguished plates" have a special combination of digits (12345, 55555, etc.) or less than five digits and are sold at public auctions, the profit of which is used for charities. Very low numbers fetch very high prices, the record being the number one plate from Abu Dhabi, sold for 52.2 million Dirhams (US$14 million). In Dubai, plate number one (without additional letter) is registered to the car of Sheikh Mohammed, ruler of Dubai.
In fiction
Some characters in fiction films and television series own vehicles with vanity plates.
This can be used as a comical element, as "OUTATIME" in the DeLorean DMC-12 time machine featured in the science fiction film Back to the Future (1985).
Also, it can display the character's eccentricity or egocentricity. An example is Buck in the action/thriller film Kill Bill: Volume 1 (2003), whose Pussy Wagon pickup truck has a "PSY WGN" plate.
The plates also may show whose car it is, as in the Iron Man series, where Tony Stark has plates reading STARK and the number of the car.
The American T.V private detective series Magnum P.I had three personalised number plates; most notably "ROBIN 1" assigned to the red Ferrari 308 GTS/i used by private eye Thomas Magnum. "ROBIN 2" is an Audi and "ROBIN 3" is a Suzuki Jimny.
Two of Roger Moore's TV characters had personalized registration numbers on their characters' cars. Firstly ST1, for Simon Templar 1 assigned to his Volvo in The Saint. This was later assigned to a Jaguar XJS in the 1978 series 'Return of The Saint' which starred Ian Ogilvy. Secondly, the borrowed BS1 for Lord Brett Sinclair assigned to his Aston Martin DBS. This number plate was loaned to ATC by Billy Smart, Jr. for the series.
In the 1980s sitcom Just Good Friends, the lead character, Vincent Iain Pinner, had VIP368 assigned firstly to his motorbike and later his Rolls Royce.
In the popular British sitcom [Only Fools and Horses], Del buys "1 DEL" and hopes to assign it to his Rolls Royce when he becomes a millionaire, but in the meantime he attaches it to his bedroom door, in the episode "Time On Our Hands" (1996), it is finally assigned to a silver, 1980's Rolls Royce bought from Boycie's Autos (where he previously bought his bright yellow Ford Capri Ghia. Rodney also has a personalised number plate, "A3 RWT", assigned to his Jaguar.
In the Children's T.V series Fireman Sam "J 999" is assigned to Jupiter the fire engine.
In Finnish comedy film Lapland Odyssey one of the main characters own a car with licence plate "TIS-51", read as "tissi", which is "breast" in Finnish.
In American Graffiti by George Lucas, the '32 Deuce Coupe has the plate "THX1138", a nod to Lucas' 1971's movie
In Barfly by Barbet Schroeder, Henry Chinaski played by Mickey Rourke is seen bumping a red convertible on purpose reading the plate "KSS MY AS"
In Tom Eberhardt's Night of the Comet, the character of Danny Mason Keenan owns a Mercedes with a plate showing his initials "DMK"
References
Vanity plate Wikipedia
(Text) CC BY-SA