Grandparents

Carl Albrecht

Siblings

Hans-Holger Albrecht

Preceded by

Thomas de Maiziere







Children

Johanna von der Leyen, Sophie von der Leyen

Parents

Heidi Adele Stromeyer, Ernst Albrecht

Similar People

Heiko von der Leyen

, Ernst Albrecht, Thomas de Maiziere, Angela Merkel, Frank‑Walter Steinmeier

Born

8 October 1958 (age 62),

Ixelles

, Belgium
Ursula von der leyen bbc hardtalk 12 oct 2015 is europe serious about defense
Ursula Gertrud von der Leyen ( listen ) (née Albrecht; born 8 October 1958) is a German politician who has been the Minister of Defence since 2013, and is the first woman in German history to hold that office. A physician by profession, she previously also served as the Minister of Labour and Social Affairs from 2009 to 2013 and as the Minister of Senior Citizens, Women and Youth from 2005 to 2009. She has sometimes been suggested as a possible future successor to Chancellor Angela Merkel.
Contents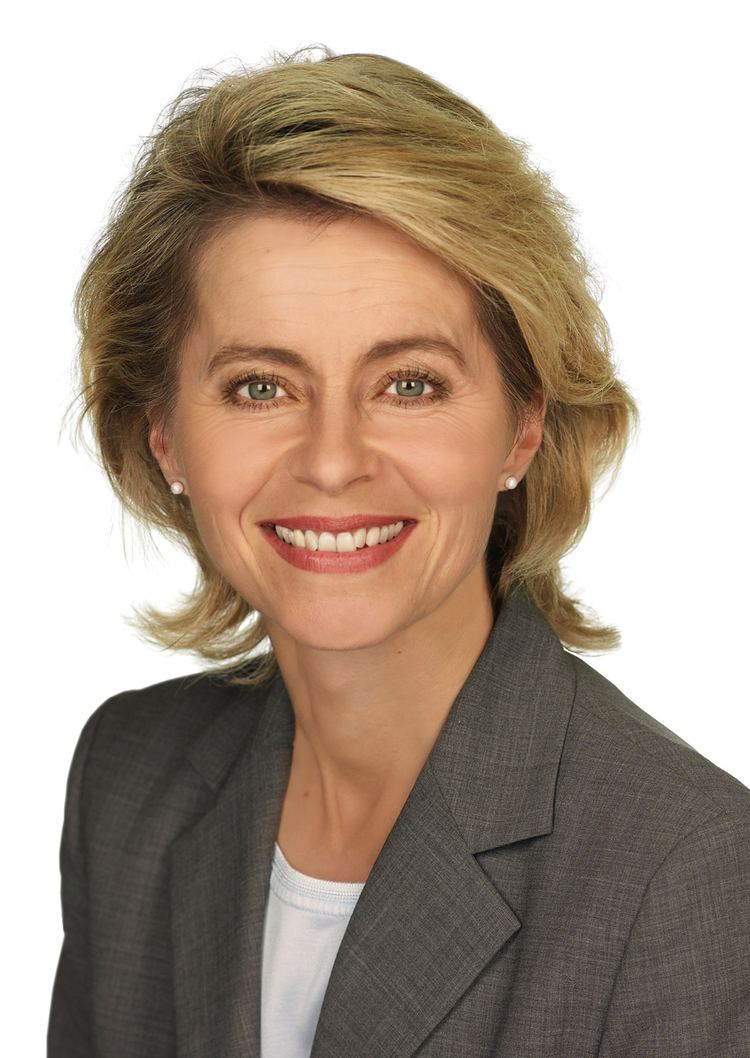 Ursula von der leyen a converstion with the woman defending germany
Early life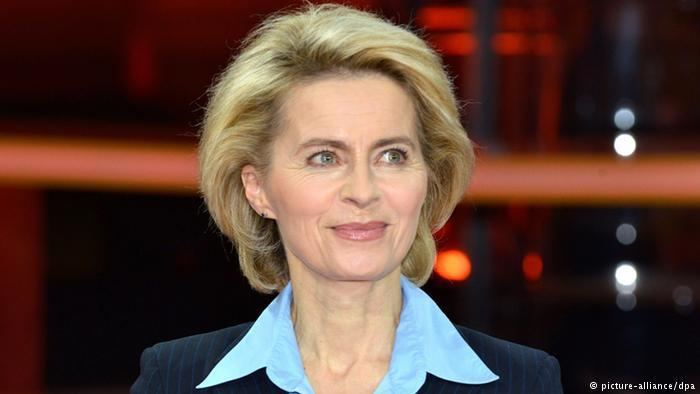 Ursula von der Leyen was born in Brussels. She is the daughter of Ernst Albrecht, a prominent CDU politician and former European Commission official, as well as a long-time Prime Minister of Lower Saxony. Her brother is businessman Hans-Holger Albrecht.
She was born in Ixelles in Brussels, where her father worked for the European Commission (as a Director-General from 1969). She attended the European School until 1971, when the family relocated to Lehrte in Hanover after her father had become CEO of Bahlsen and involved in state politics in Lower Saxony.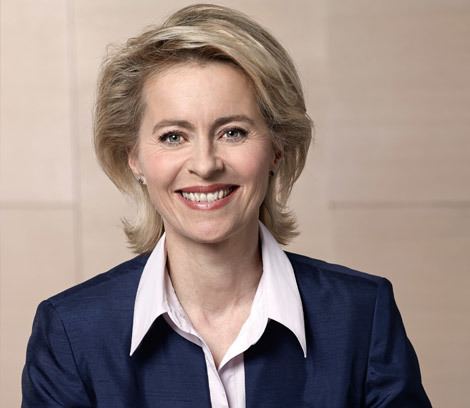 Ursula von der Leyen is a descendant of Baron Ludwig Knoop, a cotton merchant of the city-state of Bremen and one of the most successful entrepreneurs of the 19th century.
Education
Ursula von der Leyen was brought up in Belgium and speaks both German and French at a native level, as well as English.
In 1977 she became a student of economics at the University of Göttingen, soon moving to Münster and then the London School of Economics. While studying in London in 1978, she used the pseudonym "Rose Ladson", because she was seen as a potential target for West German left-wing terrorism. "Röschen" ("Rosie") has been her nickname since childhood. In 1980, she switched to studying medicine and subsequently enrolled at the Hanover Medical School, where she graduated in 1987 after seven years.
From 1988 to 1992, she worked as an assistant doctor at the Women's Clinic of the Hanover Medical School. Upon completing her postgraduate studies, she graduated as a Doctor of Medicine in 1991.
From 1992 to 1996, after the birth of twins, she was a housewife in Stanford, California, while her husband was a faculty member of Stanford University.
From 1998 to 2002, she was a faculty member at the Department of Epidemiology, Social Medicine and Health System Research at the Hanover Medical School, where in 2001, she earned a Master's degree in Public Health.
Political career
Ursula von der Leyen joined the CDU in 1990, and became active in politics in 1999, entering local politics in 2001 in the area of Hanover.
State Minister
Ursula von der Leyen was elected to the Parliament of Lower Saxony in the 2003 state election, and from 2003 to 2005 she was a minister in the state government of Lower Saxony, serving in the cabinet of Christian Wulff, with responsibility for social affairs, women, family, and health.
In 2003, von der Leyen was part of a group assigned by then-opposition leader and CDU chairwoman Angela Merkel to draft alternative proposals for social welfare reform in response to Chancellor Gerhard Schröder's "Agenda 2010". The so-called Herzog Commission, named after its chairman, the former German President Roman Herzog, recommended a comprehensive package of reform proposals including, among other things, decoupling health and nursing care premiums from people's earnings and levying a monthly lump sum across the board instead.
Ahead of the 2005 federal elections, Angela Merkel chose Ursula von der Leyen to cover the family and social security portfolio in her shadow cabinet. In the negotiations to form a government following the 2005 federal elections, von der Leyen led the CDU/CSU delegation in the working group on families; her co-chair from the SPD was Renate Schmidt.
Minister of Family Affairs and Youth 2005-2009
In 2005, Ursula von der Leyen was appointed Federal Minister of Family Affairs, Senior Citizens, Women and Youth in the cabinet of Angela Merkel. On the occasion of the 60th anniversary of the founding of Israel, von der Leyen participated in the first joint cabinet meeting of the governments of Germany and Israel in Jerusalem in March 2008.
Minister of Labour and Social Affairs 2009-2013
At the federal election of 2009, von der Leyen was elected to the Bundestag, Germany's Parliament, representing the 42nd electoral district of Hanover, alongside Edelgard Bulmahn of the Social Democrats. In the negotiations to form a coalition government following the elections, she led the CDU/CSU delegation in the working group on health policy; her co-chair from the FDP was Philipp Rösler. She was reappointed as family minister, but on 30 November 2009 succeeded Franz Josef Jung as Federal Minister of Labour and Social Affairs.
During her time in office, von der Leyen cultivated the image of being the social conscience of the CDU and helped Merkel to move the CDU into the political center ground. In speaking out for increasing the number of childcare nurseries, for the introduction of a women's quota for listed companies' main boards, for gay marriage and a nationwide minimum wage, Von der Leyen made enemies among the more traditionalist party members and won admirers on the left.
Von der Leyen also lobbied for lowering the barriers to immigration for some foreign workers, in order to fight shortages of skilled workers in Germany. In 2013, she concluded an agreement with the Government of the Philippines that was aimed at helping Filipino health care professionals to gain employment in Germany; a key provision of this is that the Filipino workers are to be employed on the same terms and conditions as their German counterparts.
Von der Leyen was initially considered the front-runner to be nominated by the ruling CDU/CSU parties for election as President of Germany in the 2010 presidential election, but Christian Wulff was eventually chosen as the parties' candidate. The news media later reported that Wulff's nomination came as a blow to Merkel, whose choice of Leyen had been blocked by the two parties' more conservative state premiers.
In November 2010, von der Leyen was elected (with 85% of the votes) as one of four deputies of CDU chairwoman Angela Merkel, serving alongside Volker Bouffier, Norbert Röttgen and Annette Schavan. Later that month, she told the Bild am Sonntag newspaper that the CDU should consider establishing a formal voting process for choosing future candidates for Chancellor. In 2012, she re-elected (with 69% of the votes) as one of Merkel's deputies as CDU chairwoman, this time serving alongside Bouffier, Julia Klöckner, Armin Laschet and Thomas Strobl.
In the negotiations to form a government following the 2013 federal elections, von der Leyen led the CDU/CSU delegation in the labour policy working group, with Andrea Nahles of the SPD as her co-chair.
Minister of Defence, 2013–present
In 2013, Ursula von der Leyen was appointed as Germany's first female defence minister. By placing a major party figure such as von der Leyen at the head of the Defence Ministry, Merkel was widely seen as reinvigorating the scandal-ridden ministry's morale and prestige. Along with Finance Minister Wolfgang Schäuble and Interior Minister Thomas de Maiziere, von der Leyen is one of only three ministers to remain with Merkel since she became chancellor in 2005.
Von der Leyen chairs the EPP Defence Ministers Meeting, which gathers EPP defence ministers ahead of meetings of the Council of the European Union.
While some other party officials were, like Merkel, also elected with scores over 90% to the CDU executive board at a party convention in December 2014, von der Leyen received 70.5%.
International crises
Within her first year in office, von der Leyen visited the Bundeswehr troops stationed in Afghanistan three times and oversaw the gradual withdrawal of German soldiers from the country as NATO was winding down its 13-year combat mission ISAF. In summer 2014, she was instrumental in Germany's decision to resupply the Kurdish Peshmerga fighters with lethal assistance. In September 2015, she signalled that she was open to delaying the withdrawal of 850 German soldiers from Afghanistan beyond 2016 after the Taliban's surprise seizure of the northern city of Kunduz; German forces used to be based in Kunduz as part of NATO-led ISAF and remain stationed in the north of the country.
Following criticism from German officials of Turkish President Recep Tayyip Erdoğan's military crackdown against Kurdish militants in August 2015, von der Leyen decided to let Germany's three-year Patriot missile batteries mission to southern Turkey lapse in January 2016 instead of seeking parliamentary approval to extend it. That same month, she participated in the first joint cabinet meeting of the governments of Germany and Turkey in Berlin. By April 2016, under von der Leyen's leadership, the German Federal Armed Forces announced they would commit 65 million Euro to establish a permanent presence at Incirlik Air Base, as part of Germany's commitment to the military intervention against ISIL.
At the Munich Security Conference in 2015, von der Leyen publicly defended the German refusal to supply Ukraine with weapons. Stressing that it was important to remain united in Europe over Ukraine, she argued that negotiations with Russia, unlike with Islamic State of Iraq and the Levant jihadists, were possible. Germany sees Ukraine and Russia as a chance to prove that in the 21st century, developed nations should solve disputes at the negotiating table, not with weapons, she said. In addition, she noted, Russia has an almost infinite supply of weapons it could send into Ukraine. She questioned whether any effort by the West could match that or, more important, achieve the outcome sought by Ukraine and its supporters. On the contrary, von der Leyen said giving the Ukrainians arms to help them defend themselves could have unintended and fateful consequences. "Weapons deliveries would be a fire accelerant," von der Leyen was quoted as telling the Süddeutsche Zeitung daily. "And it could give the Kremlin the excuse to openly intervene in this conflict."
After Hungary used a water cannon and tear gas to drive asylum seekers back from the Hungarian-Serbian border in September 2015, during the European migrant crisis, von der Leyen publicly criticized the government of Prime Minister Viktor Orbán and called the measures "not acceptable and [...] against the European rules that we have."
Under von der Leyen's leadership, the German parliament approved government plans in early 2016 to send up to 650 soldiers to Mali, boosting its presence in the U.N. peacekeeping mission MINUSMA in the West African country.
Armed forces reform and German military expansion
In 2014, von der Leyen introduced a €100 million plan to make the Bundeswehr more attractive to new recruits, including by offering crèches for soldiers' children, limiting postings to match school term dates, and considerable rises in hardship allowances for difficult postings. After Bundeswehr officials failed to properly investigate persistent reports of brutal hazing rituals, sexual humiliation, and bullying in military training, von der Leyen fired the army's training commander, Major General Walter Spindler, in 2017.
In 2015, as a result of serious NATO-Russian tensions in Europe, Germany announced a major increase in defense spending. In May 2015, the German government approved an increase in defense spending, at the time 1.3% of GDP, by 6.2% over the following five years, allowing the Ministry of Defense to fully modernize the army. Plans were also announced to significantly expand the tank fleet to a potential number of 328, order 131 more Boxer armored personnel carriers, increase the submarine fleet, and to develop a new fighter jet to replace the Tornado. Germany considered increasing the size of the army, and in May 2016 von der Leyen announced it would spend €130 billion on new equipment by 2030 and add nearly 7,000 soldiers by 2023 in the first German military expansion since the end of the Cold War. In February 2017, the German government announced another expansion, which would increase the number of its professional soldiers by 20,000 by 2024.
Military procurement
Early in her tenure, von der Leyen pledged to get a grip on Germany's military equipment budget after publishing a KPMG report on repeated failures in controlling suppliers, costs and delivery deadlines, e.g., with the Airbus A400M Atlas transport plane, Eurofighter Typhoon jet and the Boxer armoured fighting vehicle.
In 2015, von der Leyen publicly criticized Airbus over delays in the delivery of A400M military transport planes, complaining that the company had a serious problem with product quality. Under her leadership, the ministry agreed to accept 13 million euros in compensation for delays in deliveries of both the second and third A400M aircraft; in 2016, she asked for an additional 12.7 million euros in damages for delays in the delivery of a fourth plane. Also in 2015, von der Leyen chose MBDA, jointly owned by Airbus, Britain's BAE Systems and Italy's Leonardo S.p.A. to build the Medium Extended Air Defense System, but set tough milestones for it to retain the contract.
Arms exports
During a 2015 visit to India, von der Leyen expressed support for a project initiated by the Indian government to build six small German TKMS diesel-electric submarines for a total cost of $11 billion.
Other activities
Total E-Quality initiative, Member of the Board of Trustees
World Economic Forum, Member of the Board of Trustees
Hanover Girls' Choir, Member of the Board of Trustees
2011 FIFA Women's World Cup, Member of the Board of Trustees
Childcare and parental leave
Ursula von der Leyen assumed her office as Federal Minister for Family Affairs, Senior Citizens, Women and Youth in 2005. Amidst much protest, particularly from the conservative wing of her own party, the CDU, she introduced the Child Advancement Act (Kinderförderungsgesetz), which reserved 4.3 billion euros to create childcare structures throughout Germany.
Von der Leyen also introduced the German Elternzeit, a paid parental leave scheme which, following Scandinavian models, reserving two additional months for fathers who go on parental leave as well (Vätermonate in German). This part of the law in particular attracted protest from some German conservatives. Catholic Bishop Walter Mixa accused von der Leyen of turning women into "Birthing Machines", while Bavarian colleagues from von der Leyen's sister party, the CSU, complained that men did not need a "diaper-changing internship". Von der Leyen successfully influenced public opinion of her reforms with a 3-million-euro PR campaign, which was criticized for using public funds for political advocacy and for employing embedded marketing techniques.
Blocking internet child pornography
Ursula von der Leyen advocated the initiation of a mandatory blockage of child pornography on the Internet through service providers via a block list maintained by the Federal Criminal Police Office of Germany (BKA), thus creating the basic infrastructure for extensive censorship of websites deemed illegal by the BKA.
These actions brought her the nickname "Zensursula", a portmanteau word blending the German word for censorship ("Zensur") and her given name ("Ursula"). The combination of a sensitive topic like child pornography and internet censorship is said to have caused a rising interest in the Pirate Party.
In July 2009 she referred to the problems of struggling against paedophile pornography on the internet as the responsible persons often use servers located in Africa or India, where "child pornography is legal". This claim was based on a study by the International Centre for Missing & Exploited Children in 2006; however, child pornography is in fact illegal in India. Indeed, Indian society has much stricter rules about erotic media than Germany. She later expressed regret for having cited an inaccurate study.
Von der Leyen was in charge of the request to ban and the rating of the Rammstein album Liebe ist für alle da by the Bundesprüfstelle für jugendgefährdende Medien.
Women board quota
In 2013, von der Leyen unsuccessfully campaigned for a statutory quota for female participation in the supervisory boards of companies in Germany, requiring company boards to be at least 20% female by 2018, rising to 40% by 2023.
Foreign policy
Von der Leyen is a proponent of a more assertive foreign policy. One striking example was the decision in September 2014 to send arms to Kurdish and Iraqi security forces, which broke a longstanding taboo on Germany's dispatching of weapons to a conflict zone.
On the deteriorating relationship between Europe and Russia during the 2014 Crimean crisis, she argued that "the reliance on a functioning business relationship with Europe is much, much bigger in Russia" and that sanctions should prod the oligarchs and Russian business. She also called for greater NATO backing of the Baltic states amid the Crimean dispute.
Von der Leyen has in the past voted in favor of German participation in United Nations peacekeeping missions as well as in United Nations-mandated European Union peacekeeping missions on the African continent, such as in Somalia – both Operation Atalanta and EUTM Somalia – (2009, 2010, 2011, 2012, 2013, 2014 and 2015), Darfur/Sudan (2010, 2011, 2012, 2013, 2014 and 2015), South Sudan (2011, 2012, 2013, 2014 and 2015), Mali (2013, 2014 and 2015), the Central African Republic (2014), and Liberia (2015).
European integration
In a 2011 interview with Der Spiegel, von der Leyen expressed her preference for "a United States of Europe – run along the lines of the federal states of Switzerland, Germany or the USA" which would capitalize on Europe's size by agreeing on core issues relating to finance, tax and economic politics. Merkel slapped down von der Leyen, then labour minister, that same year for demanding Greece offer collateral for emergency loans to avoid possible default.
With 2014 marking the centenary of the start of World War I, von der Leyen – in her capacity as defence minister – inaugurated a memorial for the Armistice Day in Ablain-Saint-Nazaire alongside French President François Hollande and North Rhine-Westphalia State Premier Hannelore Kraft, as well as British and Belgian officials.
In 2015, von der Leyen argued that a form of EU army should be a long-term goal for the block. She also said that she was convinced about the goal of a combined military force, just as she was convinced that "perhaps not my children, but then my grandchildren will experience a united states of Europe". In March 2015, she and her counterparts from France and Poland, Jean-Yves Le Drian and Tomasz Siemoniak, revived a meeting format intended to promote co-operation between the three countries in crisis zones by holding their first meeting between the Weimar Triangle defence ministers since 2007. Following the United Kingdom European Union membership referendum in 2016, she argued that the UK had "paralysed" European efforts to integrate security policy and "consistently blocked everything with the label 'Europe' on it."
Human rights
When the Federal Constitutional Court ruled in favour of tax equality to same-sex couples in 2013, von der Leyen came forward in support of equal adoption rights, arguing that "I know of no study that says that children growing up in same-sex partnerships fare any differently than children who grow up in heterosexual marriages or partnerships."
Questioning of her academic qualifications
On 27 September 2015, the plagiarism-hunting website 'VroniPlag Wiki' stated that it had found "elements of plagiarism" on 27 pages of Ursula von der Leyen's doctoral dissertation. She denied the allegations and called for an independent committee to investigate them. After a preliminary check, the university started a formal investigation. In March 2016, she was cleared of the allegations.
In October 2015, a representative of Stanford University criticized Leyen for including activities at the university in the CV published on her website, despite having received no academic credit for them. It was then noticed that she had claimed to have attended Stanford University as an "auditing guest", a position that does not exist.
Trivia
Examples of nicknames used for von Ms von der Leyen amongst cabarettists and in the media are "Ursulator" and "Flinten-Uschi" (a compound of the German word for 'rifle' and the nickname 'Uschi', the acronym of 'Ursula').
Personal life
Ursula von der Leyen is married to Heiko von der Leyen, a professor of medicine, the CEO of a business development company (medical engineering) and a member of the von der Leyen family, an aristocratic family noted as silk industralists. She met him at a university choir in Göttingen. Von der Leyen is a Lutheran.
Ursula and Heiko von der Leyen have seven children, David (1987), Sophie (1989), Donata (1992), twins Victoria and Johanna (1994), Egmont (1998) and Gracia (1999). Until late 2014, the family lived together with her father Ernst Albrecht, who had been diagnosed with Alzheimer's disease, on a farm near Hanover.
Publications
Ursula von der Leyen, C-reaktives Protein als diagnostischer Parameter zur Erfassung eines Amnioninfektionssyndroms bei vorzeitigem Blasensprung und therapeutischem Entspannungsbad in der Geburtsvorbereitung, doctoral dissertation, Hanover Medical School, 1990
Ursula von der Leyen, Maria von Welser, Wir müssen unser Land für die Frauen verändern. Bertelsmann, Munich, 2007, ISBN 978-3-570-00959-8
Ursula von der Leyen, Liz Mohn, Familie gewinnt. Bertelsmann Foundation, 2007, ISBN 978-3-89204-927-2
References
Ursula von der Leyen Wikipedia
(Text) CC BY-SA