India




Gujarati, Hindi




Gujarat




Mehsana



Unjha is a town and a municipality in Mehsana district in the Indian state of Gujarat.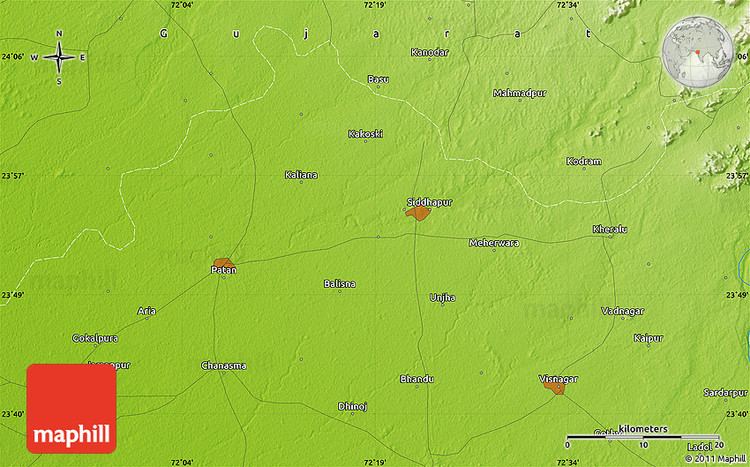 Unjha is located at 23.8°N 72.4°E? / 23.8; 72.4. It has an average elevation of 111 metres (364 feet).
Unjha is known as biggest spices and oil seed market of Asia. The APMC market of Unjha is the place where all farmers and traders from states like Rajasthan, Gujarat, Saurashtra come to trade and sell spices and oil seeds like cumin seeds, fennel seeds, fenugreek seeds, dill seeds, ajwain seeds, Mustard Seeds, Sesame seeds, Coriander Seeds etc.
Unjha Wikipedia
(,)http://maps.maphill.com/atlas/23n50-72e15/maps/physical-map/physical-map-of-23n50-72e15.jpg(,)https://lh3.googleusercontent.com/-eFHF6zlddsQ/U9Wtl_7gL9I/AAAAAAAAAP4/xxVkDLOJYbE/w640-h400-p-k/Umiya%252BMata%252BTemple%252Bin%252BUnjha%252BGujarat.JPG(,)http://static.panoramio.com/photos/large/29573679.jpg(,)http://maps.maphill.com/atlas/23n50-72e15/maps/satellite-map/satellite-map-of-23n50-72e15.jpg(,)http://static.panoramio.com/photos/large/29573039.jpg(,)http://maps.maphill.com/atlas/23n50-72e15/3d-maps/shaded-relief-map/shaded-relief-3d-map-of-23n50-72e15.jpg(,)https://mousafir.files.wordpress.com/2013/08/dscf2589.jpg
(,)http://www.gujarattourism.com/file-manager/photo-gallery/mehsana_unjha_003.jpg(,)http://www.gujarattourism.com/file-manager/photo-gallery/mehsana_unjha_001.jpg(,)http://3.bp.blogspot.com/-oOdubgqaBto/TbzzgKxoTBI/AAAAAAAAAIs/TlysIVEjAo0/s1600/umiya_mataji_temple_unjha.jpg(,)http://www.siddhpur.com/images/places/umiya%2520Mata.jpg(,)http://photos.wikimapia.org/p/00/04/46/45/98_big.jpg(,)http://www.ebharat.in/sites/default/files/imagecache/node_preview/sites/default/files/Umiya%2520Mata%2520temple,%2520Unjha,%2520Gujarat131.jpg(,)http://icdn.images.touristlink.com/repository/U/N/J/H/A/M/E/H/unjha-mehsana.jpg(,)http://i.ytimg.com/vi/qcmCZKLfwgo/hqdefault.jpg