Ube (宇部市, Ube-shi) is a city located in Yamaguchi Prefecture, Japan on the Seto Inland Sea. The city was founded on November 1, 1921.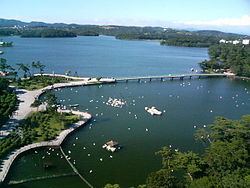 As of October 2016, the city has an estimated population of 168,398 and a population density of 590 persons per km2. The total area is 287.69 square kilometres (111.08 square miles).
On November 1, 2004, the town of Kusunoki (from Asa District) was merged into Ube.
Its industrial base is in chemicals, concrete, and steel. The presence of Ube Industries in the city's economy is significant.
Previously a coal mining town, the city has developed an effective policy to improve its environment. In particular it has combated the problem of air pollution and its success in doing so saw it being recognised by the United Nations Environment Programme as among UNEP's Global 500 Roll of Honour in 1997.
Former prime minister of Japan Naoto Kan was born in Ube.
Ube publicizes itself as "a city of greenery, flowers, and sculptures". Tokiwa Park is the centerpiece of this marketing, as it covers a large area near the center of the city and houses a large number of modern, mostly domestic sculptures on the shores of Lake Tokiwa. The sculptures can be found around the city. A sculpture competition is held biennially to provide new additions.
One of the main attractions of the park is a great white pelican called "Katta-kun", so named after his parents who were from Kolkata, India. Born in the park in 1985, he became famous as he began visiting schools in the vicinity by himself. There are many pelicans and swans in the park, including black swans. There is also a coal mining museum with a view over the city and airport from the top of the tower.
Newcastle, New South Wales, Australia, since November 21, 1980
Weihai, Shandong Province, People's Republic of China since May 18, 1992
Ube holds two festivals each year, one in May and the other in November featuring food stands and carnival games.
Yamaguchi Ube Airport
The city is served by Yamaguchi Prefecture's only airport, Yamaguchi Ube Airport, with daily flights to and from Tokyo.
Shinkansen (bullet train)
There are no Shinkansen stations in this city. The closest Shinkansen stations are: Asa Station (Sanyo Onoda) and Shin-Yamaguchi Station (Yamaguchi)
West Japan Railway lines
Sanyō Main Line
Ube Line
Onoda Line
The main train station located in 'downtown' Ube is called Ube-Shinkawa Station (Ube Line). Ube Station is farther inland and is located in a more suburban area known as Kōnan (厚南).
Yamaguchi University (national)
School of Medicine
Faculty of Engineering
Ube Frontier University (private)
The city formerly had a North Korean school, Ube Korean Elementary and Junior High School (宇部朝鮮初中級学校).
The city is home to one of the best rated English foreign language schools, Ube Gaigo Center, which is located right in the center of the city. Nicholas Greenberg, a very contributive philanthropist to countries in South East Asia was a teacher and Assistant Manager at this school. Ube Gaigo Center is considered the number one eikaiwa in Yamaguchi prefecture and top 100 in Japan by various magazines and surveys.
Ube Industries is headquartered and has major plants in Ube. Also, petroleum product company of Solato, printer machine product company of Riso Kagaku, glass product company Central Glass, semiconductor and parts product company of Renesas, pharmaceutical research and product company of Kyowa Hakko Kirin, clinical laboratory research company of Miraca Holdings are plant and factory base on Ube.
Masaki Kito, attorney at law
Naoto Kan, former prime minister of Japan
Tadashi Yanai, founder and president of Uniqlo
Kazuo Hara, documentary film director
Hideaki Anno, animator and film director
Yoji Yamada, film director
Aimi Kobayashi, pianist
Shunsuke Kiyokiba, pop singer (formerly vocalist of Exile)
Satomi', pop singer
Sayumi Michishige, pop singer (former Morning Musume member)
Kishō Taniyama, voice actor
Hitomi Harada, voice actress and singer
Norihiro Akimura, baseball player
Makiko Horai, volleyball player
Sotaro Yasunaga, soccer player
Daisuke Tomita, soccer player
Yuji Nakagawa, soccer player
Ryota Takasugi, soccer player