8.6

/

10

Alchetron

8.6

Rate This




Developed by

Kit Villanueva-Langit

First episode date

26 September 2010




Final episode date

10 June 2012




Created by

GMA Entertainment TV Group

Written by

John Borgy DanaoJohn Jason LimMarlon MiguelCyril RamosLiberty Trinidad

Starring

Barbie FortezaBea BineneJoshua DionisioJake VargasJoyce ChingKristofer MartinLouise delos ReyesDerick MonasterioLexi Fernandez

Opening theme

"Everytime"sung by Frencheska Farr

Nominations

PMPC Star Awards for TV Best New Male TV Personality

Cast

Barbie Forteza, Bea Binene, Joshua Dionisio, Jake Vargas, Kristofer Martin




Similar

First Time (TV series), Ikaw Lang ang Mamahalin (2011 TV series), Anna Karenina (2013 TV series)
Reel Love: Tween Hearts is a Filipino youth-oriented series created by Kit Villanueva – Langit, under the direction of Gina Alajar and produced by GMA Network. It features the network's homegrown tween stars headed by Barbie Forteza, Joshua Dionisio, Bea Binene and Jake Vargas. The series premiered September 26, 2010, replacing Love Bug. The show has been extend three times and now on its fourth season. Over its course, the cast has been growing and extending compared to the original main cast.
Contents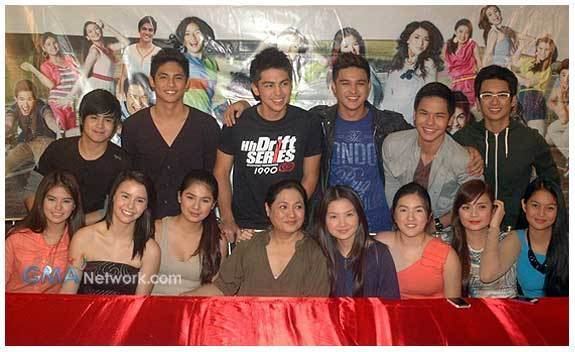 Originally slated to air for just 8 episodes, the series was awarded several extensions after its successive victory on the ratings game. It remains the No. 1 and most preferred youth-oriented drama of the viewers, consistently defeating the four counterpart programs of its competition in television ratings.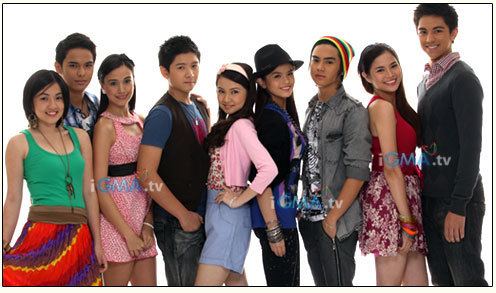 The series follows the lives and loves of a close-knit group of teenagers through the fictional Westridge high school. The series' universal theme for all ages transcended into tackling more complicated issues, complex character dynamics and exciting tandems – from first loves to first heartbreaks, from "fitting in" to peer pressure, from bullying to how a broken marriage affects the teens.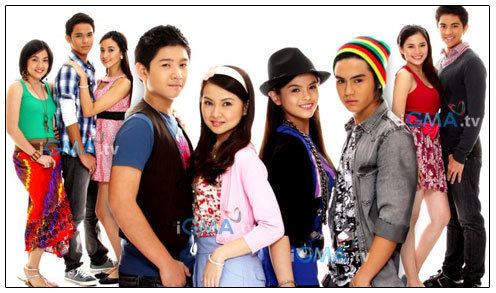 The series concluded on June 10, 2012, with 87 episodes all in all. It replaced by Together Forever, another teen drama on its timeslot.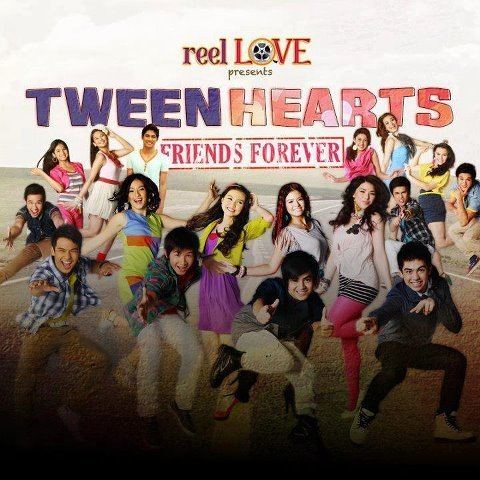 Plot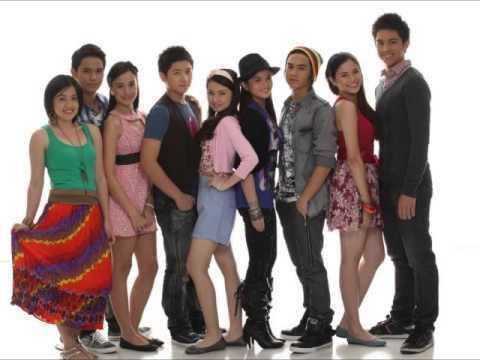 After many years of separation, Bambi (Barbie Forteza) is finally reunited with her mom Irene (Sylvia Sanchez) and older sister Belinda (Bea Binene). She lived a simple life with her father Ted (Emilio Garcia) in the province while Belinda experienced a luxurious lifestyle with Irene in the city. The differences between Bambi and Belinda ignited further tensions which are also triggered by the special attention given by Irene to Bambi to catch up and make up for the lost time they were not together. Belinda finds comfort in the arms of Jacob, known as one of the school's outcasts. Jacob offers reassuring words to Belinda which later on develops into a special friendship between the two. Aside from Bambi's newfound home, she also transfers to Belinda's campus where she meets a new batch of friends including Luisa (Louise delos Reyes), Aya (Joyce Ching) and Jacob (Jake Vargas). Adding spice to her school life are Leslie (Lexi Fernandez), Rick (Derrick Monasterio) and Josh (Joshua Dionisio). Josh is widely known as the Rebel in the campus. He spends more time alone and often rejects the rules imposed by his sister Rose (Roxanne Barcelo). Nothing can get in his way except Bambi who softens his heart and strong persona. Meanwhile, Rick, Belinda and Leslie organize an underground victory party in celebration of the championship won by the varsity team. Even the school's "outcasts" headed by Bambi, Jacob, Aya and Luisa arrive at the festivity. In the middle of the party, a commotion erupts which is masterminded by Josh. Everyone is reprimanded and the school authorities order them to attend a recollection as punishment. The students think it is the usual recollection but they get the shock of their lives when they discover that the affair will be in the form of various activities that will test their strengths, weaknesses, emotions and their way of thinking. What will happen to these bitter sisters? Will an earnest apology be enough to heal the wounds that rip them apart? Will Bambi become the perfect tool to warm the heart of the bully Josh? Will the music geek Jacob be able to tame the spoiled brat Belinda? Who will win Chris' heart between Leslie and Aya? Who will end up victorious in the never-ending battle of Luisa and Rick?
Original cast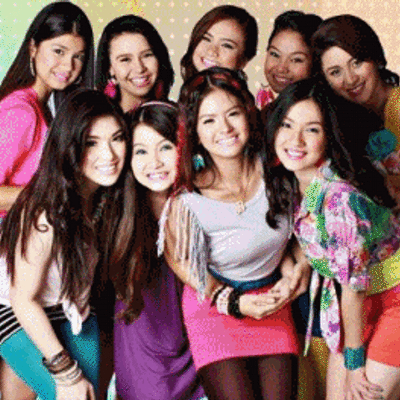 Barbie Forteza as Barbara "Bambi" Fortez (Sweet Heart)- Bambi is the all-around sweetheart who is finally reunited with her mom and older sister Belinda after many years of separation. She starts to develop feelings for Josh. She is a good influence on Josh. She later realizes that when he is gone from her life it will hurt, so she agrees to be his girlfriend.
Bea Binene as Belinda "Belle" Fortez (Tough Girl)- Belinda is the tough chick and the total opposite of her younger sister Bambi. Her differences with her younger sister trigger a competition for their mother's attention. After having a heart-to-heart talk with her dad, she finally learns to accept him and Bambi. She is into Wushu which her dad taught her when she was very young. Belinda hasn't realized that Jacob like her yet. When Angel arrives, Belinda gets very jealous because she feels like she is being replaced as the advice giver in the group. She later joins Lucy's group but feel uncomfortable because they are the complete opposite of her old group. Lucy later convinces her to shoplift which gets her in a lot of trouble.
Joshua Dionisio as Joshua "Josh" Diones (Rebel)- Josh is an over-achiever but is rebellious toward his older sister Rose's rules. Nothing can get in his way, except for Bambi who has a way of softening his heart and strong personality. He develops a crush on her after spending time with her at the camp. He becomes jealous of Mack because Bambi spends all her time with. He later tells Bambi about his true feelings and they become a couple. While Ross (also played by Joshua Dionisio) is Bambi's new friends that resembles Josh a lot. Bambi befriends him after he returns her lost wallet. Bambi has a hard time seeing Ross looks like Josh. Ross also helps Bambi forget Josh by spending time with her. He later leaves Bambi alone since she later sees that he does look a lot like Josh
Jake Vargas as Jacob Vergara (Musician)- Jacob is known to be the outcast in school; he loves music. He supports Belinda and helps her with her problems to get close to her. He is the person that Belinda trusts the most. He also acts as leader of the group, which leads him to run for student body president.
Kristofer Martin as Christoper "Chris" Soriano (The Jock)- Kris is the famous jock and the ex-boyfriend of Leslie. Aya becomes the apple of his eye. He has a secret: He works to earn money and that he's not that rich as everybody thinks he is. He later gets into another fight with Aya after she overhears him say that he doesn't have a nice and sweet girlfriend. He later runs to the new sexy teacher for advice how to get Aya back, but grows closer to the teacher. They later make up again. He has graduated high school.
Joyce Ching as Ligaya "Aya" Baltazar-Chan (Beautiful Nerd)- Aya is a nerd who'd rather talk to plants than to people in a belief that this will keep problems away. She has weird views on things that will eventually catch Kris' attention. She later finds out that he accidentally kissed Eunice and gets mad at him, but forgives him. She later gets hurt after over hearing Kris say that Rick is lucky to have a nice and sweet girlfriend that cares for him unlike her that is hard to the core. They later make up and become a couple again. She likes to shower Kris with gifts, but he doesn't like it.
Derrick Monasterio as Ricardo "Rick" Montano (School President)- Rick is the best friend of Kris and always supports him. He eventually develops feelings for Luisa, but she leaves for London before he can tell her. Instead he falls in love with his childhood frenemy Heidi.
Louise delos Reyes as Luisa dela Cruz (Over-Achiever)- Luisa is the achiever, straight A student, and valedictorian of her batch. She is set to be the top student of the school, creating a battle between her and Rick. Rick develops feelings for her but she leaves for before he can tell her. She is currently studying in London for a year.
Lexi Fernandez as Leslie "Les" Fernan (Drama Queen)- Leslie is the ex-girlfriend of Chris and will do anything to win him back. She is known as the campus drama queen. In the later part, she and Uno become close and romantically involved. She is currently in Australia she has a long-distance relationship with Uno.
Marlo Mortel as Uno Morales (The Probinsiano) - Bambi's best friend in Cagayan, he is bad in fashion and has a Visayans accent, making it hard for Leslie to like him. And when he return to Manila he is completely changed and he becomes romantically involved with Leslie.
Extended cast
Kylie Padilla as Heidilyn "Heidi" Rivera (Ugly Duckling/The Model) - Heidi is someone from Rick's past who he used to dislike because she was ugly and annoying; but now that Heidi's all grown up, Rick seems to have changed his mind about her. She is also Belle's best friend but when she finds out that when she is in Australia Rick is courting Belle, she is furious. But they later became friends again.
Hiro Magalona as Bayani "Ian" de Castro (Environmentalist) - Ian is Aya's "soul mate" in every sense except romantically. He was courting Aya when he joined a writing seminar. When he came back, Aya seems to have patched things up with ex-boyfriend Kris. Ian is now courting Angel.
Yassi Pressman as Eunice Fuentabella (Sport Enthusiast) - Eunice is as much a sports enthusiast as Kris is, and she thinks she has found the perfect guy in him – except having Aya as a friend is just as important for her. Aya becomes jealous of how close she and Kris are. But they later become good friends. He goes out with Mac but they broke up when she found out that he is only using her, but since Mac realizes that he loves Eunice he try to win her back.
Ken Chan as Mackenzie "Mac" Santos (The College Guy) - Mack was Rick's best friend until a fight ruined their relationship. They have started to patch things up, especially after Mack's mother redeveloped cancer. He developed feelings for Bambi which caused a fight between him and Josh. He later tried to express his feelings for Bambi but was disappointed when he found out she didn't feel the same for him. He later goes out with Eunice to get revenge on the group, but gets dump later. After getting dumped by her he realizes that he loves Eunice and try to win her back.
Kim Komatsu as Angela "Angel" Villavicencio (The New Girl) - Angel, with her sister Lucy, has just moved into the community. A peacemaker, Bel feels threatened by her inclusion in the group, especially now that she remains as the only female senior. She later becomes good friends with Belinda and stays in the group.
Teejay Marquez as Nathaniel Antonio "Nathan" Dimagalpok (The Promdi) - When Nathan first met the group, he had to pretend that he was Aris, a smooth-talking Casanova who had swept Heidi off her feet — except he's more geek than chic. Since Heidi confessed to her friends that Aris is really Nathan, he has since been accepted as part of the group. He is not very athletic. He later helps Rick become closer to Belinda and pretends to be Belinda's secret admirer so Jacob won't get mad at Rick. He usually tries to keep Rick out of trouble.
Rhen Escaño as Lucy Villavicencio (The Enemy) - There is only one thing more important to Lucy than fame and fortune: her sister. So when Angel starts hanging out with other people and stops worshiping her every step, Lucy is livid — she promises to bring down the Tween Hearts group one by one.
Krystal Reyes as Mallory Santos (The Pretty One) - Sister of Mack who has been romantically involved with Rick. But was forced to break up with him after her brother found out.
Julie Anne San Jose as Mira (The Singer) - A popular singer who eventually became Jacob's love interest and Belle's rival.
Kiko Estrada as Kevin Del Mundo† (The Discriminator) - At first, Bambi and Belle hate him because of his manners like laughing so loud and putting hif feet in chairs, but even though he has bad manners he helps Bambi and Belle to make amends. He usually pranks and teases Belle, especially Bambi and soon enough he fall in love with Bambi, he has a heart condition and Josh is the only person in the group who knows it. Unfortunately he dies.
Supporting cast
Gabby Eigenmann as Coach A/Bulldog/Sir Boris - He is the one that directs the camp that the tweens go to and help them realize that they are not different from each other.
Roxanne Barcelo as Rose Diones - Miss Rose is the caring and bossy sister of Josh. She always tries to keep Josh out of trouble which irritates Josh a lot, leading him to run away from home.
Emilio Garcia as Ted Fortez - Ted is the ill father of Belinda and Bambi. He is the one who taught Belinda Wushu.
Sylvia Sanchez as Irene Fortez - Irene is the caring mother of Bambi and Belinda. She's always trying to get the two sisters to get along.
Richard Quan as Emerson Chan and Pinky Amador as Liwayway Baltazar-Chan - Parents of Aya and also the reason why Aya run away from home because her parents were arguing and lead them to separation but since they love Aya they reunite.
Tina Monasterio as Josephine "Josie" Montano - Rick's competitive mother, she got mad at her best friend who is also Heidi's mom because they both want to win as PTA president. But later they reconcile with the help of the tweens.
Rochelle Barrameda as Maila Rivera -Heidi's mother who got a fight between her and Rick's mother in order to win as PTA president. But later they reconcile with the help of the tweens.
Jao Mapa as Julio Vergara - Jacob's father they meet at the restaurant where he works and does not have a single idea he is Jacob's father but when he found out he was upset but eventually accept being Jacob's father.
Keith Thompson as Keith Villanueva - He likes Lucy a lot and try to be close to her. He is over-confident in winning as the president of their school but was annoyed when Jacob wins.
Claudine Barretto as Clarisse Benitez - a popular celebrity host.
Isabelle Daza as Ms. Annabelle - He help Chris to get back at Aya but Chris thinks that she was being kind to him cause she likes him.
Mariel Rey as Alexa - Josh girlfriend the one who help him to go to hospital. He is using Alexa to help him move on to Bambi.
Princess Snell as Vanessa - an older party girl and a bad influence to Josh.
Michelle Vito as Cathy - a schoolgirl who has a crush on Jacob. She writes letters to Jacob with a purple tint ballpen whom he thought was Belle.
Ynna Asistio as Yza - Bambi and Belle kind and fashion forward cousin.
Alden Richards as Dennis - Rick's friend, when other girls see him like Aya and Eunice they immediately have a crush on him because of his charm and kindness.
Steven Silva as Leo - the rival of Rick for Heidi.
Bubbles Paraiso as Miss Bunny - Mira and Jacob manager and force Jacob to break up with Belle to pursue his dream of becoming a famous musician.
Elmo Magalona as himself - he is the guest of Jacob to win the vote of the student to become school president.
Julie Anne San Jose as Mira - Belle's rival for Jacob, a musician.
Miguel Tanfelix as Miguel - seen on Jacob's concert (last episode).
Julian Trono as young Rick
Francheska Salcedo as young Heidi
Cherrylyn Torres as Young Belle
Movie adaptation
Tween Academy: Class of 2012 was directed by Mark Reyes and produced by GMA Films.
A movie was produced, based on the show, released in cinemas on August 24, 2011. The total of movie's box office earnings is P32.23 million.
Tours
Tween Hearts: The Mini Concert (October 24, 2012)
References
Tween Hearts Wikipedia
(Text) CC BY-SA