India




Eva Rose York Bible Training and Technical School for Women




Telugu




Andhra Pradesh




Coastal Andhra




East Godavari



Tuni is a undeveloped city in East Godavari district in the Indian state of Andhra Pradesh. It is a major commercial marketing center for more than forty surrounding villages in the district. Tuni is known for mango export, with nearly 250 varieties of mangoes. It is also famous for betel leaves, jute bags, Cashew nuts are major produced variety in Tuni.
Tuni may be a historical site dated back to 1st century CE in connection with Buddhism, which flourished in the nearby hillocks and villages such as Gopalapatnam, Satyavaram and KummariLova nearby to the city of Tuni on the banks of Thandava River. The Buddhist monks would have resided in Kummarilova village (Kummararam) from the 2nd century CE to 6th century CE and propagated Buddhism. The Buddhist aramas and stupas found in the village are testimony for their presence, they said. This village is being called Panchasheela Buddhist centre as five Buddhist stupas were found here in recent times. Archaeology authorities have found a Buddhist site at Kummarilova of Tuni during a general survey carried out recently in the area.
Modern History is in connection with the Kshatriyas of Vatsavai Dynasty, where it was a PARGANA(a sub-division in 15 th Century) in Keemarseema, and after the division it became the capital of KOTTAM ESTATE, Tuni is a famous marketplace since 19th century CE. Tuni Railway station has an important prominence on the Howrah-Madras railway line during the time of British India and also after Independence.
Tuni is located at 17.35°N 82.55°E. It has an average elevation of 16 metres (46 ft)
A famous and one of the oldest sugar factories of Andhra Pradesh Tandava sugars is located here.A large number of handloom industries, about a 20 cashew nut industries ,hetero industries and other 10 chemical industries are located here.
Annavaram, a sacred place of Lord Satyanarayana Swamy is an 18 km drive from Tuni. Sri Talupulamma Lova Temple, a sacred place of Goddess Talupulamma Talli. Seacoast and a lighthouse for ships at Pentakota village, located at 11.5 km.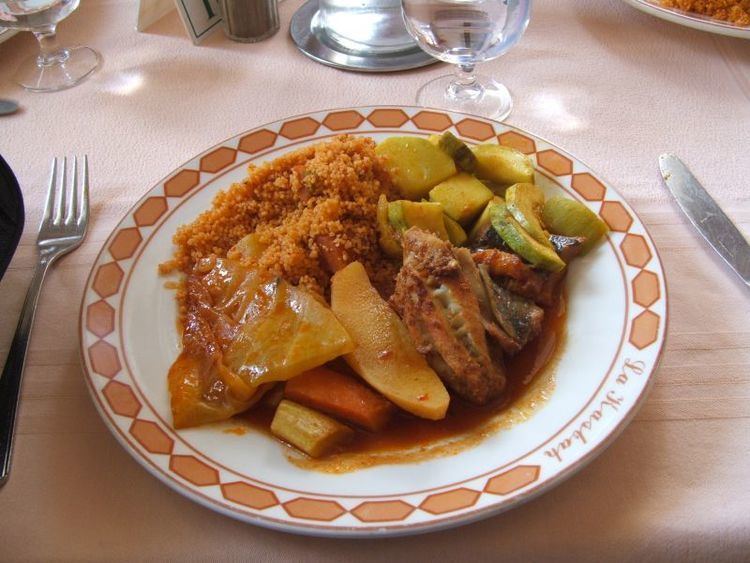 Tunisian cuisine, the cuisine of Tunisia, is a blend of Mediterranean and desert dwellers culinary traditions. Its distinctive spicy fieriness comes from the many civilizations which have ruled the land now known as Tunisia: Romans, Arabs, Turkish, French, and the native Punics-Berber people. Many of the cooking styles and utensils began to take shape when the ancient tribes were nomads. Nomadic people were limited in their cooking implements by what pots and pans they could carry with them. A tagine in Tunisia, is very different from the moroccan dish. It is a type of a pie dish, made out of eggs, meat and vegetables, similar to the Italian frittata or the eggah. Pork is not traditionally used since its consumption is forbidden in the Sharia, the religious laws of Islam.
The openness to tourism also brought international cuisines, like the chinese, indian, japanese cuisine, or fast-food. Moreover the intensification of commercial exchanges with Europe and the rest of the world, makes available products until then, unknown or unusual.
Like all countries in the Mediterranean basin, Tunisia offers a "sun cuisine," based mainly on olive oil, spices, tomatoes, seafood and meat.
Unlike other North African cuisine, Tunisian food is quite spicy. A popular condiment and ingredient which is used extensively in Tunisian cooking, harissa, is a mix of spices commonly sold together, a paste containing the same spices, or the most important ingredient in the sauce which takes its name from the spices used. Westernised harissa almost always uses red chilis because of the trouble obtaining "black cumin" which is significantly different from standard cumin. Black cumin is readily available in the mediterranean and middle east and there are many people that say harissa is only "real" if it contains black cumin rather than chilis, which are not native to the region. Other common spices include cumin or cumin seeds, garlic, caraway seeds, coriander seeds, and paprika or smoked paprika. A recipe for the sauce includes red chili peppers and garlic, flavoured with coriander, cumin, olive oil and often tomatoes. There is an old wives tale that says a husband can judge his wifes affections by the amount of hot peppers she uses when preparing his food. If the food becomes bland then a man may believe that his wife no longer loves him. However when the food is prepared for guests the hot peppers are often toned down to suit the possibly more delicate palate of the visitor. Like harissa or chili peppers, the tomato is also an ingredient integral to the cuisine of Tunisia. Tuna, eggs, olives and various varieties of pasta, cereals, herbs and spices are also ingredients which feature prominently in Tunisian cooking.
Tunisian culinary ingredients include the following typical elements:
Tuni Wikipedia
(,)http://upload.wikimedia.org/wikipedia/commons/f/fc/Lehnert_Landrock_-_Ouled_Na%25C3%25AFl_Tunisie_1905.jpg(,)http://media.irishcentral.com/images/MI%2BMedieval%2Bmerchants.jpg(,)http://upload.wikimedia.org/wikipedia/commons/f/f9/OttomanJanissariesAndDefendingKnightsOfStJohnSiegeOfRhodes1522.jpg(,)https://img0.etsystatic.com/022/1/7707951/il_fullxfull.498844666_fxy9.jpg(,)https://img0.etsystatic.com/009/0/7707951/il_570xN.463823680_lw7c.jpg(,)https://apurvakukreja.files.wordpress.com/2013/10/in-chak.jpg(,)https://farm5.staticflickr.com/4003/4247185755_8b02bac8d7_s.jpg(,)http://www.everyculture.com/images/ctc_04_img1098.jpg
(,)http://www.outonroads.com/wp-content/uploads/2015/01/Tunisia.jpg(,)http://upload.wikimedia.org/wikipedia/commons/1/1c/Tunis1.jpg(,)http://ih2.redbubble.net/image.8281545.5957/flat,550x550,075,f.jpg(,)http://cdn.thirdi.org/wp-content/uploads/2013/07/x4boats_chilmari_300dpiWeb.jpg.pagespeed.ic_.Vow59p3PWO.jpg%3Fb69ef6(,)http://www.tuniphotography.com/media/wysiwyg/banner8.jpg(,)http://www.photographers.com.au/images/usr/f0dd4a99fba6075a9494772b58f95280/20/super_IMG82912-michaeltuni.jpg(,)http://farm9.static.flickr.com/8320/7973610928_b1c299dd82_t.jpg(,)http://mw2.google.com/mw-panoramio/photos/medium/44155331.jpg
(,)http://www.apersonalguide.co.uk/tunisia/images/241-Tunisian-food.jpg(,)https://s-media-cache-ak0.pinimg.com/736x/51/f4/24/51f42478fa0a7b0af1af845863ddc26e.jpg(,)http://www.tunisia-tourism.org/wp-content/uploads/2013/11/228.jpg(,)http://paradiseintheworld.com/wp-content/uploads/2012/01/tunisian-food.jpg(,)http://gobackpacking.com/wp-content/uploads/2013/05/Brik.jpg(,)http://img.food.com/img/recipes/19/39/20/large/piccXjOzk.jpg(,)http://hellotunisia.com/wp-content/uploads/2011/12/images/grand/food/tunisia_photo_food_dishes_fruits%2520(30).jpg(,)http://globaltableadventure.com/wp-content/uploads/2013/07/tunisia.food_.recipe.img_0229.jpg(,)http://www.promotunisia.com/soup.jpg(,)http://northafricarestaurants.com/wp-content/themes/notes/themify/img.php%3Fsrc%3Dhttp://northafricarestaurants.com/wp-content/uploads/2013/12/Tunisian-Cuisine.jpg%26w%3D613%26h%3D%26zc%3D1(,)http://www.promotunisia.com/brik2.jpg(,)http://paradiseintheworld.com/wp-content/uploads/2012/01/tunisian-cuisine.jpg(,)http://www.iliveinafryingpan.com/wp-content/uploads/2013/01/MG_6852.jpg(,)http://www.countryguide.tn/wp-content/uploads/2013/01/epice4.jpg