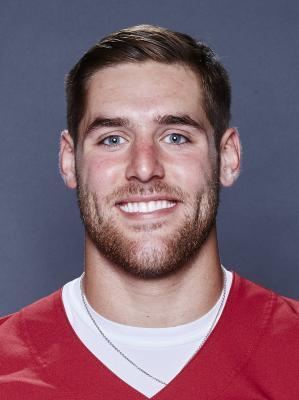 Knight attended Ronald Reagan High School in San Antonio, Texas. While at Ronald Reagan High School, he played for the football team. As a senior, he threw for 2,092 yards and 27 touchdowns with 943 rushing yards and 15 touchdowns. He was ranked as the sixth best dual-threat quarterback recruit by the Rivals.com recruiting network. Trevor has a fraternal twin brother, Connor, who is a longsnapper/fullback for Oklahoma. They played alongside each other for Trevor's entire time with the Sooners.
On February 1, 2012, Knight committed to the University of Oklahoma under head coach Bob Stoops.
Knight was redshirted for the 2012 season.
He was named the Sooners starting quarterback as a redshirt freshman in 2013.
He was named MVP of the 2014 Sugar Bowl when he helped lead Oklahoma to a 45–31 upset of two-time reigning national champion Alabama. Knight threw for 348 yards and four touchdowns in a record-setting performance.
He began the 2014 season against Louisiana Tech, completing 19–of–34 passes for 253 yards, one touchdown, and one interception. In addition, he had four rushes for 17 yards.
On December 11, 2015, it was announced that Knight had obtained a full release from his scholarship and will explore his options to transfer to another school. Despite his intentions to transfer, Knight indicated he would remain a member of the team at least until the completion of Oklahoma's 2015 season.
On January 4, 2016, Knight announced he would be transferring to Texas A&M University. He graduated from Oklahoma in December 2015 and was eligible to play immediately at Texas A&M.
Knight made his Texas A&M debut on September 3, 2016, against UCLA, which Texas A&M won in overtime by a score of 31–24.
Knight was thought to be out for the year with a shoulder injury, but made a return on senior night against LSU.
Source:
After going undrafted in the 2017 NFL Draft, Knight signed with the Arizona Cardinals as an undrafted free agent on May 2, 2017. He was waived on September 2, 2017.
On September 7, 2017, Knight was signed to the Atlanta Falcons' practice squad.