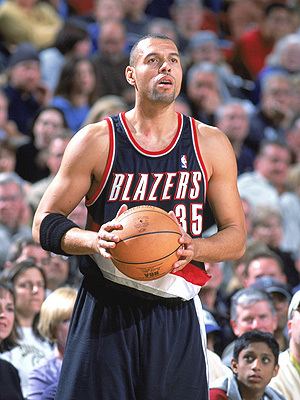 Murray played competitively at Glendora High School in California. As a senior, he led the nation with his 44.3 scoring average. Murray scored 3,053 points in high school, the highest total ever in the state at that time in 3 years. Murray missed his Freshman year due to injury.
Murray played college basketball for the UCLA Bruins. In 98 games at UCLA, Murray averaged 18.3 PPG, 6.4 RPG, and 1.5 APG and made the Pac-10 all-conference team twice. As a junior, he averaged 21.4 points and 7.0 rebounds and led the Pac-10 in three-point shooting at 50%, helping to lead the team to the Elite Eight. After his junior season of college, Murray declared for the 1992 NBA draft. Murray left UCLA in the #5 spot on The Bruins All-Time Leading Scoring List.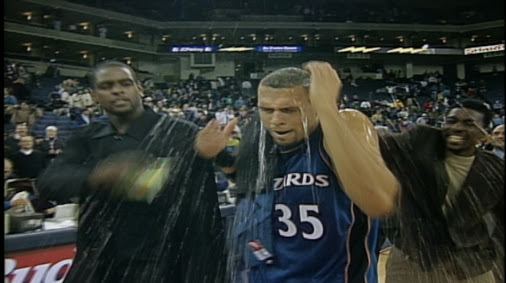 Murray was selected by the San Antonio Spurs in the first round of the 1992 NBA draft with the 18th overall selection. Just seven days after being drafted, on July 1, 1992 Murray was dealt twice in the same day. He was first traded to the Milwaukee Bucks for guard/forward Dale Ellis and then dealt by the Bucks to the Portland Trail Blazers for forward Alaa Abdelnaby. During the 93-94 season, he led the NBA in three point average at 45.9%. Murray spent two-and-a-half seasons with Portland before being dealt to the Houston Rockets on February 14, 1995, with guard Clyde Drexler in exchange for forward Otis Thorpe, the rights to Argentinian forward Marcelo Nicola and a 1995 first-round draft choice.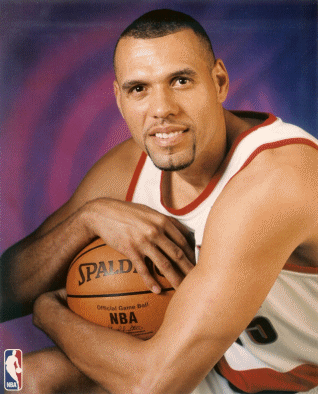 Tracy Murray played in just 25 games for the Rockets where he averaged 3.5 PPG and combined with his 5.9 PPG average in the 29 games he played as a Trail Blazer before the deal finished the campaign with a total PPG average of 4.8. On November 1, 1995 he signed a contract with the expansion Toronto Raptors and played the best NBA season of his career averaging 16.2 PPG, 1.6 APG and 4.3 RPG. Murray then decided to sign a contract with the Washington Bullets (now Washington Wizards) on July 15, 1996.
He spent four seasons with the Washington Wizards and in his first season with the Bullets, qualified for the post-season. It was the first time he got to participate in the playoffs since his second year in the league. Tracy saw action in three playoff games where he posted numbers of 18.3 PPG, 0.7 APG and 3.0 RPG. Those numbers were far better than the ones he had when he played in his first playoff series in 1993–94 with Portland where in 2 games played he averaged 3.0 PPG, 0.5 APG, and 1.5 RPG. He most notably scored 50 points against the Golden State Warriors on February 10, 1998. Only six other Washington players have scored 50 or more points in a game, including Michael Jordan and Gilbert Arenas who are the only players to have since accomplished the feat.
After his tenure with Washington concluded he joined the Denver Nuggets through a transaction which had him going from the Wizards to Denver for forward Popeye Jones and a future second-round draft choice on September 25, 2000. After appearing in 13 games with the Nuggets he was dealt on January 12, 2001 to the Raptors with center/forward Keon Clark and center Mamadou N'diaye for centers Kevin Willis, Aleksandar Radojević, Garth Joseph and a 2001 or 2002 second-round draft choice. Murray played in 38 games with the Raptors following the deal. That season the Raptors qualified for the NBA playoffs and Murray participated in 2 games for his team. He averaged 1.0 PPG and had 1 steal in 2.5 MPG.
In the next year Tracy played in 40 games for Toronto but after the season Murray was dealt again, this time to the Los Angeles Lakers along with the draft rights to guard Kareem Rush for guard Lindsey Hunter and the draft rights to forward Chris Jefferies on June 26, 2002.
After playing one season at the Staples Center for the Los Angeles Lakers he signed with the Portland Trail Blazers on September 15, 2003 and played his last 7 games of his NBA career with the same team for whom he played the first game of his NBA career.
In those 7 NBA contests Murray averaged in 5.0 MPG, 0.1 APG, 1.1 PPG and 0.7 RPG.
Then on October 4, 2004 he signed as a free agent with the New York Knicks, where he hoped he could continue playing in the National Basketball Association. However, on October 27, 2004 he was waived by New York and has not seen game action in the NBA since.
In 2004, he signed with former European Champions Panathinaikos Athens BC. He played there for one season and then he was transferred to PAOK Thessaloniki BC where he played for another year. He left PAOK in January 2006. He retired from the NBA in 2004, proceeding to play the 2004–05 season in Greece with Panathinaikos. He did not see much action, and was then cut when the team's starting center got sick, and they needed to make room to sign a replacement. He then played the following season with PAOK also of Greece. He also runs a basketball camp at Glendora High School.
The year 2006–07 was his final season of professional basketball. "I have a (22-month-old) son of my own and it's time to concentrate on him and my family", said Murray. "For the last 14 years, I haven't been able to spend time with them. My parents spend the whole year preparing for one week ...Fourteen years is a long time; it was a good run. We all sat down and talked about it and decided this was the last year. It takes a lot out of me. None of us are getting any younger. It's time to do some family stuff."
After expressing an interest in coaching at the collegiate level, Murray served three years (2007–2009) as an assistant coach and player mentor for the Bakersfield Jam of the NBA Development League and one year (2011) as an assistant coach for the Tulsa Shock of the Women's National Basketball Association (WNBA).
On October 15, 2015 Murray was hired by the Los Angeles Lakers as an assistant coach/shooting coach. Head coach Byron Scott describes Murray as "one of the purest shooters I've ever seen."
Tracy Murray is the cousin of former Los Angeles Clippers small forward Lamond Murray and cousin of former New York Knicks shooting guard Allan Houston. After his playing career ended, he returned to UCLA to graduate and earn his degree in history.