Covid-19
Tour of Singkarak




Stage race




Road bicycle racing




8 (2016)




UCI Asia Tour 2.2




TDS




8 (as of 2016)




2009




June




BNI-Maybank; Parekraf






West Sumatra, Indonesia




Ghader Mizbani (IRI) (3 wins)




Ghader Mizbani Iranagh (IRI)
The BNI-Maybank Tour de Singkarak (abbreviated TDS) is an annual professional road bicycle racing stage race held in West Sumatra, Indonesia, and named after the Lake Singkarak. First staged in 2009, Tour de Singkarak is classified by the Union Cycling International (UCI) as a 2.2 category race as part of the UCI Asia Tour. It covers more than 900 kilometres — from/to Padang passing around lake Singkarak and runs through inland West Sumatran cities — and lasted for a week and held annually around May or June. The total prize money is IDR 1,000,000,000 (US$100,000). BNI-Maybank was the platinum sponsor of the Tour De Singkarak since 2009 with the Ministry of Culture and Tourism of Indonesia.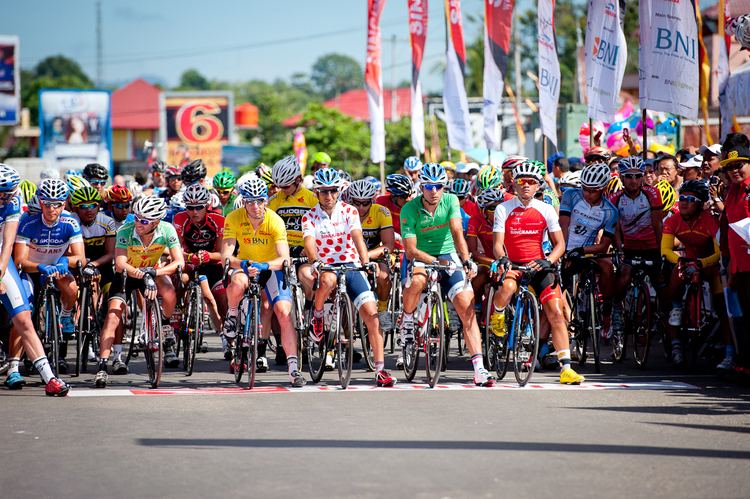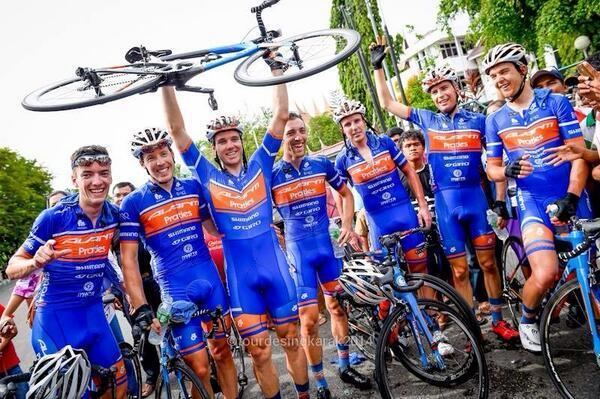 Tour de Singkarak 2009 was held for the first time in 29 April to 3 May 2009 under full sponsorship of Ministry of Culture and Tourism of Indonesia in order to promote tourism in West Sumatra. Tour de Singkarak 2009 attracted teams from 15 countries. The race covers 459 kilometres in five stages, lasted for seven days with total prize money 600 millions rupiah.
Stage 1 Padang: 15.8 kilometres, start in Taman Budaya Padang.
Stage 2a Padang—Pariaman: 84.5 kilometres
Stage 2b, Pariaman— Muko-muko/Lake Maninjau : 90.6 kilometres
Stage 3 Lake Maninjau—Bukittinggi: 51.3 kilometres
Stage 4 Padangpanjang—Sawahlunto: 88.2 kilometres, start in front of Jam Gadang through Pagaruyung Palace
Stage 5 Sawahlunto—Batusangkar: 102.4 kilometres
Stage 6 Bukittinggi—Solok: 244.6 kilometres around Lake Singkarak.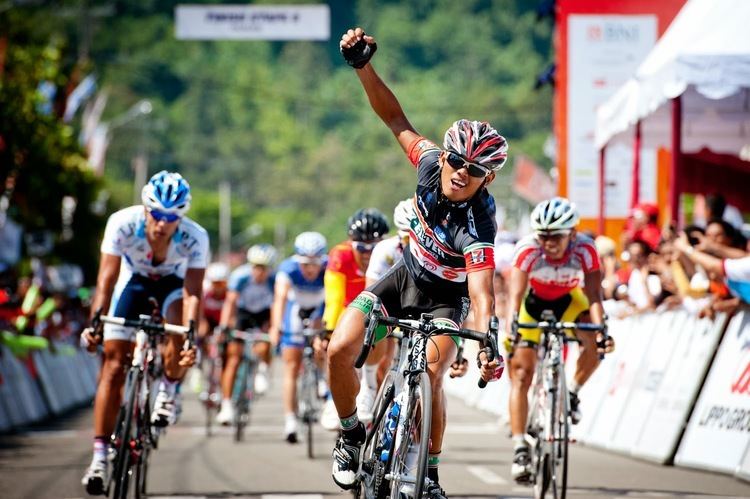 Tour de Singkarak 2010 was held in 1–6 June 2010, joined by 12 foreign teams and 10 Indonesian teams. The race covers the total distance 551.7 kilometres in six stages. The tour was sponsored by Ministry of Culture and Tourism of Indonesia with support from West Sumatran cities and regencies (kabupaten).
Stage 1 Padang
Stage 2 Padang—Pariaman
Stage 3 Pariaman—Bukittinggi
Stage 4 Bukittinggi—Payakumbuh
Stage 5 Payakumbuh—Sawahlunto
Stage 6a Sawahlunto—Pagaruyung Palace
Stage 6b Pagaruyung—Padang Panjang
Stage 7 Padang Panjang—Lake Singkarak
Tour de Singkarak 2011 was held in 6–12 June 2011, covers 743.5 kilometres in seven stages across 12 cities and regencies in West Sumatra. Several tourism spots were crossed in this edition, such as Arau valley, Lake Maninjau, Kelok 44, and twin lakes Lake Diatas and Lake Dibawah.
Tour de Singkarak 2012 was held on 3 June 2011, covers 856 kilometres in seven stages which the routes has been surveyed by Amaury Sport Organization which surveyed also Tour de France routes.
Stage 1 Sawahlunto—Muaro Sijunjung—Sawahlunto
Stage 2 Sawahlunto—Arau Payakumbuh
Stage 3 Payakumbuh—Pagaruyung Palace
Stage 4 Pagaruyung—Malibo Anai—Kelok 44—Bukittinggi
Stage 5 Padang Panjang—Solok
Stage 6 Gandoriah Beach—Pesisir Selatan
Stage 7 Pesisir Selatan—Padang
Tour de Singkarak 2013 is the fifth TDS held on 2 - 9 June 2013, covers 1181,6 kilometres in seven stages.
Stage 1 Bukittinggi - Bonjol
Stage 2 Padang Panjang - Tanah Datar
Stage 3 Payakumbuh - Danau Singkarak
Stage 4 Sijunjung - Dharmasraya
Stage 5 Sawahlunto - Solok Selatan
Stage 6 Pariaman - Pesisir Selatan
Stage 7 Padang Pariaman - Padang
In the sixth Tour de Singkarak which ran in 7 to 15 June 2014, the tour route was 1,250 kilometers through 18 regencies with Rp1.3 billion ( $110,000) totally prize and is followed by 23 countries.
Tour de Singkarak Wikipedia