South Africa


11.72 km2



English




1945





Tongaat is a town in KwaZulu-Natal, South Africa, that is situated on the banks of the Tongati River about 37 km north of Durban and 28 km south of Stanger. It now forms part of eThekwini, the Greater Durban metropolitan area. Its population is predominantly people of Indian descent. Aesthetically English colonial but distinctly cosmopolitan in flavour, Tongaat, part of the Sugar Coast, now supports one of the largest sugar-producing districts in the world.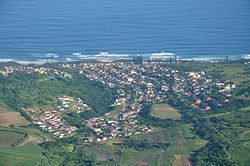 Tongaat was established in 1945 and its name was corrupted from the river's name, Tongati, the Zulu word for the Strychnos mackenii trees that flourish on its banks.
The town is the centre for the Tongaat Hulett Sugar and the Moreland Molasses Companies. Maidstone Sugar Mill, one of the country's first mills, completed in 1850. Some original sugar-crushing methods are still employed.
Railway Street Mosque. 16 Railway St, Tongaat.
Gandhi's Hill Mosque. Gopalall Hurbans Road, Gandhi's Hill, Tongaat 4399
The Habibia Soofie Musjid, which is over 100 years old.
Tongaat hosts the Tongaat branch of the Apostolic Faith Mission of South Africa, founded by Rev John G. Lake in 1908.
The Tongaat South Methodist Church was opened on 26 September 1979.
The Anglican church of All Saints can be found in the historic Tongaat Sugar Company village of Maidstone.
The Jugannath Puri Temple which is a heritage landmark and National Monument and tourist attraction. It was built in 1901 by the late Pandit Shrikishan Maharaj. There is said to be only one other of its kind in India.
Sri Siva Soobramaniar Temple, which hosts what is arguably South Africa's largest Kavadi Festival, involving some of the oldest religious rituals in recorded history.
The Vishwaroop Temple and Dharmashala was formally established in 1903. The temple hall is named after Mr Gopal Krishna Gokhale who visited Tongaat and the Temple during his visit to South Africa on advice from Mohandas Karamchand Gandhi.
The Brake Village Temple located in central Tongaat hosts the biggest Kavady festival on the continent during autumn.
Tongaat South Vishnu Temple, 9 Marigold Pl, Chelmsford Heights in Tongaat,
Shree Veeraboga Emperumal Temple - 483 Gopalall Hurbans Road, Gandhis Hill, Tongaat 4399
Sandfields Siva Subramaniar Temple.
The award-winning scientist Quarraisha Abdool Karim was born here in 1960. There is a statue of Dr. Ansuyah Ratipul Singh near the town hall in Tongaat.
Tongaat Wikipedia