Indonesia




North Sulawesi


147.11 km2


February 25, 2003




Jimmy Feidy Eman, SE.Ak



Tomohon is a city in North Sulawesi Province (Sulawesi Utara), in central Indonesia. Tomohon was a part of the Minahasa Regency in North Sulawesi. There was a time when the inhabitants felt the necessity of upgrading the status of their residence into an autonomous city on behalf of its approach to community service. Tomohon officially became a city in 2003 by the passage of the Act of Republic Indonesia No. 10 of 2003 about the establishment of South Minahasa Regency and Tomohon city within North Sulawesi Province and was inaugurated on August 4, 2003. Tomohon is known for flower planting at peoples homes. Nearby is the volcano Gunung Lokon or Mount Lokon and Mount Empung. Tomohon is also known for wooden-house production, palm-sugar (aren ) production, vegetable agriculture, as a center of Christian Ministry, and as a student town. Tomohon also has a local TV station, TV 5 Dimensi, with services available to 2.5 million viewers in North Sulawesi.
Tomohon has been written of in several historical records. One of them was found in the ethnographic works of Reverend Nicholaas Graafland, written on Queen Elizabeth Ships on January 14, 1864. He described a heart-capturing country on the Minahasa highland in Northern Celebes (Sulawesi) called Tomohon that he had visited in 1850. The development of civilization and the dynamics of development and social implementation from year to year made Tomohon one of the capital districts in the Minahasa regency.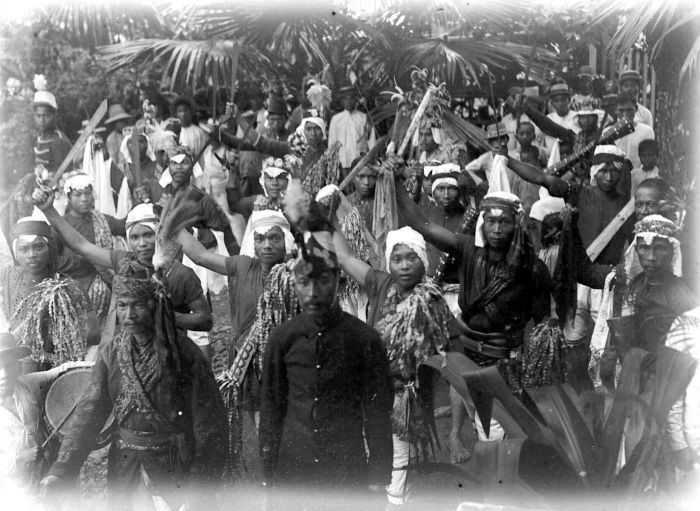 In the early decades of the 2000s, people in some parts of the Minahasa regency bore inspiration and aspirations of the strategic environmental trends both internally and externally for regional expansion. Efforts at reformation and the implementation of regional autonomy had been accelerating the process of accommodation peoples aspirations for the expansion of the region. Through a long legal process and mature consideration in order to accelerate national development for the welfare of society, then the Minahasa regency government along with the Regional Representatives Council (Dewan Perwakilan Rakyat Daerah - DPRD) of Minahasa Regency recommended the aspirations for the establishment of South Minahasa Regency, Tomohon and North Minahasa Regency; which was also supported by The Provincial Government of North Sulawesi. The formation of South Minahasa Regency and Tomohon was established by the Central Government by issuing the Act No. 10 of 2003 and the establishment of the North Minahasa Regency through Act No. 33 of 2003.
The establishment of the legislative institution of Tomohon came as election results of 2004, resulting in Tomohon Regional Regulation Number 22 Year 2005 about Regional Symbol and Regulations of Tomohon and No. 29 of 2005 about the Anniversary of Tomohon. Tomohon inaugurated the Minister of Home Affairs Hari Sabarno on behalf of the President of the Republic of Indonesia on August 4, 2003.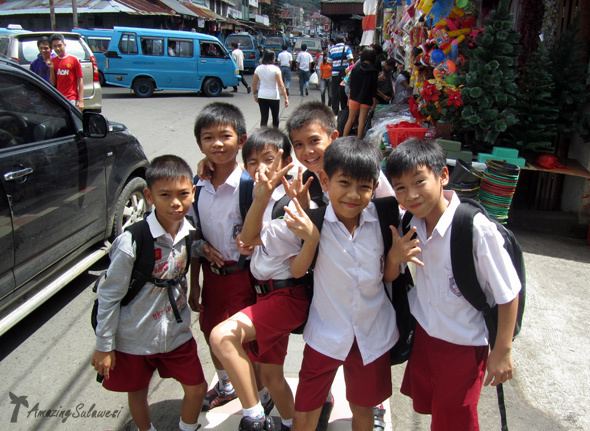 In general, Community Based Eco-Tourism (CBET) is tourism that is managed by the community for the tourist destinations. With general tourism, tourist visits are often marketed and organised by private travel companies and government-protected areas where the bulk of the profits go to the private companies and government enterprises. In contrast, CBET is managed and run by the community itself, management decisions are made by local people and profits directly go to the community. CBET itself, is a part of sustainable tourism development, because it is meets the needs of the present tourists and host regions while protecting and enhancing the opportunity for the future. It is envisaged as leading to management of all resources in such a way that economic, social and aesthetic needs can be fulfilled, while maintaining cultural integrity, essential ecological processes, biological diversity and life support systems(World Tourism Organisation in Bhoj Raj K Hanal, 2007)In order for community based ecotourism to be successful (sustainable), there are many questions that need to be asked and answered in the planning process through implementation stages. One problem of participatory approaches must be pointed out - what defines "community" and "local" in terms of participation? Communities are not free of conflict, nor they are homogeneous. This fact can complicate any development plans for local communities — communities must agree on representatives for decision-making. According to the Quebec Declaration on ecotourism, ecotourism embraces the principles of sustainable tourism. The following principles distinguish it from the wider concept of sustainable tourism:
Contributes actively to the conservation of natural and cultural heritage;
Includes local and indigenous communities inits planning, development and operation contributing to their well-being;
interprets the natural and cultural heritage of the destination to the visitor; and
lends itself better to independent travelers, as well as organizes tours for small sized groups.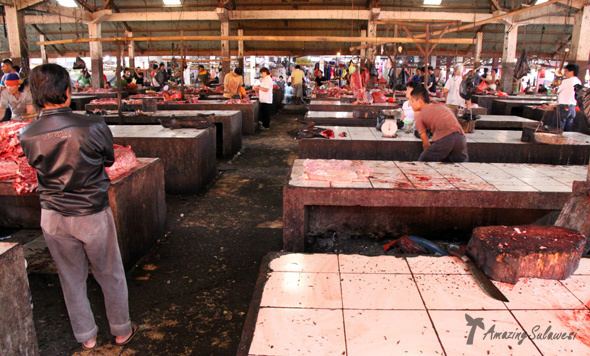 Tombulu language is spoken in and around Kota Tomohon.
Such tourism attractions in Tomohon are suitable to visit, like the volcanoes Mount Lokon and Mount Empung, which were both active volcanoes until now. Also once a year, Tomohon commences a parade with the Tomohon Flower Festival, and Cap Gomeh, which is a Buddhist Chinese ritual also done in the parade. The parade commences from the northern part of Tomohon which is Kakaskasen through the main city road, until the end of the parade, which usually stops at the "Tololiu Statue" at the center of the city. For better tourism atmosphere through Tomohon, using a traditional horse cart or locally called Bendi, Andong, or Delman runs through the city streets and roads.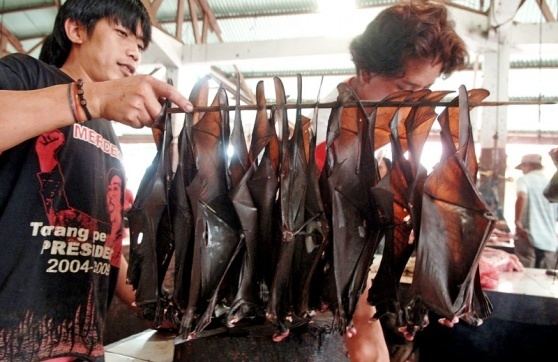 Manado cuisine or Minahasan cuisine is the cooking tradition of Minahasan people of North Sulawesi, Indonesia. It is popularly known as "Manado cuisine" after Manado city, the capital of the province, although other cities in North Sulawesi, such as Bitung, Tomohon and Tondano are also known as Minahasan culinary hotspots. Manado cuisine is known for its rich variations seafood, daring amount of spices, extra hot condiment, exotic meats, and European-influenced cakes and pastries. Manado food hallmark among others are; tinutuan (Manado style vegetables and rice congee), cakalang fufu (smoked skipjack tuna), cakalang noodle, paniki (spiced fruit bat), chicken or various fish/seafood spiced in rica-rica or woku spices, chicken tuturuga, and brenebon.
Although not as popular and widely distributed as Padang food and Sundanese cuisine, today Manado cuisine has gained popularity in Indonesian cuisine scene. Numbers of Manado restaurants has been established in Indonesian cities, such as Jakarta, Bandung, Medan, Surabaya and Makassar.
Tomohon Wikipedia
(,)http://l.yimg.com/bt/api/res/1.2/pS00sFGUekZAFr1qd1UGfw/YXBwaWQ9eW5ld3M7Zmk9aW5zZXQ7aD00MjA7cT04NTt3PTYzMA/http://media.zenfs.com/156/2011/07/15/indonesia-volcano-150711-01_051739.jpg(,)http://upload.wikimedia.org/wikipedia/commons/0/01/COLLECTIE_TROPENMUSEUM_Tjakal%25C3%25A9l%25C3%25A9-dansers_in_Minahasa_Noord-Celebes_TMnr_10003459.jpg(,)http://upload.wikimedia.org/wikipedia/commons/5/55/Gunung_Lokon.jpg(,)http://upload.wikimedia.org/wikipedia/commons/a/a3/COLLECTIE_TROPENMUSEUM_Kerk_te_Tomohon._TMnr_60008323.jpg(,)http://l.yimg.com/bt/api/res/1.2/fQ08uL819AWPm7MLQ2Onkg/YXBwaWQ9eW5ld3M7Zmk9aW5zZXQ7aD00MjA7cT04NTt3PTYzMA/http://media.zenfs.com/156/2011/07/15/indonesia-volcano-150711-02_051738.jpg(,)http://www.indonesia.travel/public/media/images/upload/poi/kota%2520bunga%2520tomohon%25204.JPG(,)http://www.indonesia.travel/public/media/images/upload/poi/kota%2520bunga%2520tomohon%25203.JPG(,)http://l.yimg.com/bt/api/res/1.2/Ji.PeMnB0AaLBtCqgZZ.QA/YXBwaWQ9eW5ld3M7Zmk9aW5zZXQ7aD00MjA7cT04NTt3PTYzMA/http://media.zenfs.com/156/2011/07/15/indonesia-volcano-150711-05_051711.jpg(,)http://www.tomohon.info/wp-content/uploads/2012/07/Gereja-Tua-%25E2%2580%259CSION%25E2%2580%259D-Tomohon.jpg(,)http://upload.wikimedia.org/wikipedia/commons/5/59/De-Kruis-Kerk-op-Batavia-1682.jpg(,)https://b4twilight.files.wordpress.com/2012/03/11958625.jpg
(,)http://www.thejakartapost.com/files/images2/sp-l6-a_4.img_assist_custom-560x362.jpg(,)http://36.media.tumblr.com/tumblr_m1lk4rnJ5s1qcz455o1_1280.png(,)http://manonthelam.com/wp-content/uploads/2012/07/Dogs-and-snakes-sold-as-food-at-Tomohon-Traditional-Market-Tomohon-Sulawesi-Indonesia_thumb.jpg%3F682f7e(,)http://manonthelam.com/wp-content/uploads/2012/03/Bat-wings-for-sale-as-food-Tomohon-Traditional-Market-North-Sulawesi-Indonesia.jpg%3F682f7e(,)http://mywanderlist.com/wp-content/uploads/2013/10/20131030-222331.jpg(,)http://manonthelam.com/wp-content/uploads/2012/03/Bats-for-sale-as-food-Tomohon-Traditional-Market-North-Sulawesi-Indonesia.jpg%3F682f7e(,)https://s-media-cache-ak0.pinimg.com/736x/df/28/b7/df28b77d961395f1002760e04259a89d.jpg(,)http://i.dailymail.co.uk/i/pix/2014/02/27/article-2569111-1BDFCD4300000578-521_634x422.jpg(,)http://mywanderlist.com/wp-content/uploads/2013/10/20131030-222559.jpg(,)http://saynotodogmeat.files.wordpress.com/2014/01/tomohon-market-and-rat-hunting-106.jpg(,)http://cdn.c.photoshelter.com/img-get/I0000bQY84.IdIYA/s/900/900/Indonesia-Sulawesi-Tomohon-3286.jpg(,)http://cdn.c.photoshelter.com/img-get/I0000tWqztqZ.nV8/s/900/900/Indonesia-Sulawesi-Tomohon-3200-Tomohon.jpg(,)http://upload.wikimedia.org/wikipedia/commons/0/03/Cuisine_of_Manado_Jakarta.jpg(,)http://indohoy.com/wp-content/uploads/2015/03/Tomohon-market.jpg(,)https://c2.staticflickr.com/4/3413/3226879696_3104fdee83.jpg
(,)http://www.amazingsulawesi.com/wp-content/uploads/2012/11/tomohon-sulawesi-indonesia-2.jpg(,)http://indonesia.travel/public/media/images/upload/poi/tomohon-resize.jpg(,)http://www.amazingsulawesi.com/wp-content/uploads/2012/11/tomohon-sulawesi-indonesia-1.jpg(,)http://www.amazingsulawesi.com/wp-content/uploads/2012/11/sulawesi-island-indonesia-18.jpg(,)http://photos.ferdzdecena.com/Travel/2012/North-Sulawesi/i-tzL4Mf4/0/L/minahasa-01-L.jpg(,)http://mywanderlist.com/wp-content/uploads/2013/11/20131102-154804.jpg(,)http://photos.ferdzdecena.com/Travel/2012/North-Sulawesi/i-7RBMbfv/0/L/minahasa-02-L.jpg(,)http://i.dailymail.co.uk/i/pix/2014/02/27/article-2569111-1BDFCD3F00000578-788_634x415.jpg(,)http://distilleryimage0.s3.amazonaws.com/00343974d1ae11e2ab4322000a1fa430_7.jpg(,)http://manonthelam.com/wp-content/uploads/2012/07/A-typical-scene-at-Tomohon-Traditional-Market-Tomohon-Sulawesi-Indonesia_thumb.jpg%3F682f7e(,)http://cache2.asset-cache.net/gc/533452421-traditional-musical-instrument-players-in-gettyimages.jpg%3Fv%3D1%26c%3DIWSAsset%26k%3D2%26d%3DYGd0YfASdqYKY00t1DraoHzZBf2jRSD5k45hLUqKEdmoiDLN5dLB%252FZNdsFm1%252F4iO(,)https://duchithlearnphotography.files.wordpress.com/2013/01/tomohon-warrior.jpg%3Fw%3D509
(,)http://www.amazingsulawesi.com/wp-content/uploads/2012/11/tomohon-sulawesi-indonesia-11.jpg(,)http://www.tomohon-onong.com/file/2015/02/21/tomohon_lokon_1.jpg(,)http://saynotodogmeat.files.wordpress.com/2014/01/dog-in-cage-at-tomohon-traditional-market-tomohon-north-sulawesi-indonesia_thumb-2.jpg(,)http://www.amazingsulawesi.com/wp-content/uploads/2012/11/tomohon-sulawesi-indonesia-12.jpg(,)http://www.tomohon-onong.com/file/2015/02/21/tomohon_onong1_1.jpg(,)http://media-cdn.tripadvisor.com/media/photo-s/03/84/f8/86/highland-resort.jpg(,)http://media-cdn.tripadvisor.com/media/photo-s/03/cc/95/14/tomohon-market.jpg(,)http://en.gocelebes.com/wp-content/uploads/2012/12/tempat-istirahat-di-danau-linow-tomohon.jpg(,)http://media-cdn.tripadvisor.com/media/photo-s/07/5b/e7/cd/tomohon-market.jpg(,)http://cdn2.vtourist.com/19/5054481-Smelly_Danau_Linow_near_Tomohon_North_Sulawesi_Province.jpg(,)http://indohoy.com/wp-content/uploads/2014/08/TOMOHON-MARKET-4-half-BW.jpg