Occupation(s)

Musician




Name

Tomasz Szukalski




Years active

1966-2011





Instruments

Saxophone




Genres

Jazz




Role

Music performer






Born

January 8, 1948 Warsaw Polish People's Republic (

1948-01-08

)


Labels

ECM Polskie Nagrania Muza Supraphon Helicon Poljazz GOWI Records




Website

Tomasz Szukalski homepage




Died

August 2, 2012, Piaseczno, Poland




Albums

Balladyna, Sprzedawcy glonow, Time Killers




Associated acts

Tomasz Stanko, Edward Vesala




Similar People

Jan Ptaszyn Wroblewski, Wojciech Karolak, Piotr Wojtasik, Zbigniew Namyslowski, Czeslaw Bartkowski
Polski jazz j zef skrzek tomasz szukalski bracia patrzcie jeno
Tomasz Szukalski (born December 25, 1947 in Warsaw, Polish People's Republic, registered by Soviet authorities January 8, 1948. - died August 2, 2012 in Piaseczno, Poland) was a Polish jazz saxophone player, composer and improviser. Tomasz is most known for his performances as sideman of Tomasz Stańko, Edward Vesala and Zbigniew Namysłowski. Awarded Magister of Music (Master of Arts) at Fryderyk Chopin University of Music, Warsaw.
Contents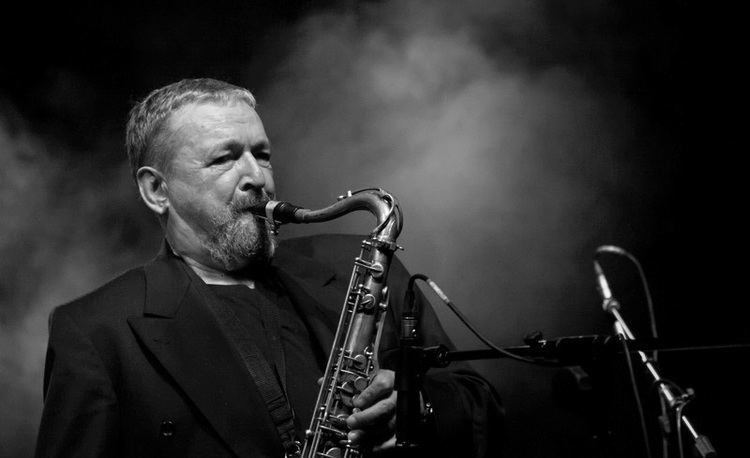 Grzegorz karnas feat tomasz szukalski
Early years

Tomasz studied clarinet but preferred to perform on tenor saxophone, soprano saxophone and on special occasions on bass clarinet. Being experiment friendly Tomasz even once tried a chainsaw.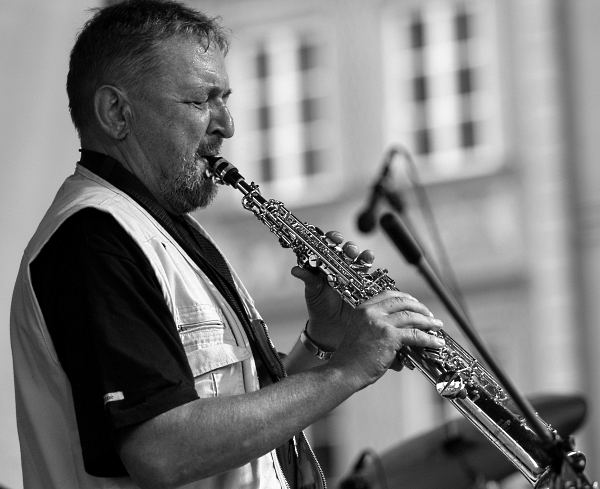 Tomasz started his career in the jazz orchestras of Zbigniew Namysłowski and Jan Ptaszyn Wróblewski often outperforming the bandleaders. Other members of the bands included Tomasz Stańko, Zbigniew Seifert, Adam Makowicz, Włodzimierz Nahorny, Janusz Muniak, Michał Urbaniak and Tomasz's lifelong mate Wojciech Karolak.
Tomasz Stańko, ECM and SBB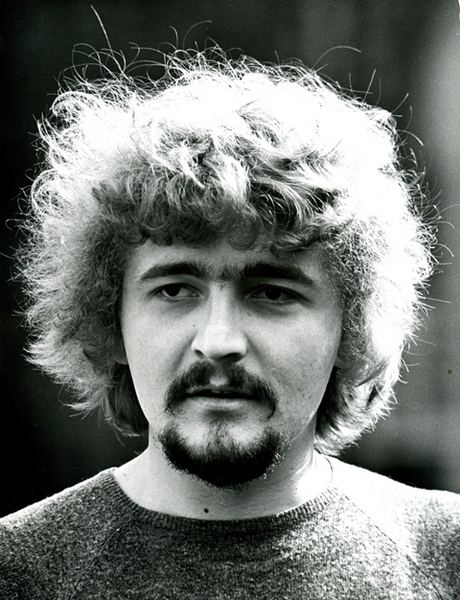 In the 1970s Tomasz's performances became more avant-garde and free. His bandmates at this time were Tomasz Stańko, Peter Warren and Edward Vesala but Tomasz performed also with Arild Andersen, Dave Holland, Palle Danielsson, Palle Mikkelborg, Terje Rypdal, Juhani Aaltonen and Antti Hytti. During this period Tomasz recorded, as sideman, for the prestigious jazz label ECM Records. Parallel to touring Scandinavia and West Europe with jazz musicians Tomasz performed in Polish People's Republic with the progressive Silesian rockband SBB.
The Quartet and Józef Skrzek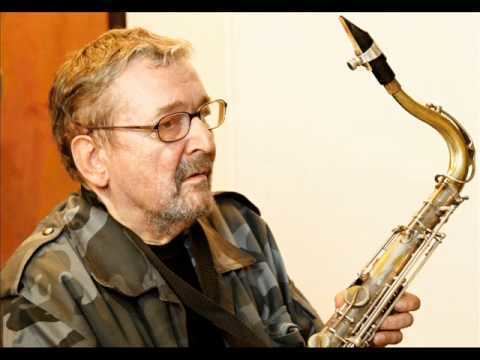 In 1977 Tomasz consolidated his own band The Quartet, which soon gained reputation. His bandmates were Sławomir Kulpowicz, Paweł Jarzębski and Janusz Stefański. In the years 1980-1981 Tomasz continued a duo cooperation with SBB's leader Józef Skrzek and the planned for autumn 1981 joint performance of, almost cultic, SBB and his own The Quartet at the renowned Jazz Jamboree festival, due the tense political situation in Poland, was not finalized. In 1981 Tomasz also performed with Józef Skrzek in the movie "The War of the Worlds: Next Century". Just weeks before the onset of martial law in Poland Tomasz performed with Józef Skrzek, Andrzej Ryszka, Andrzej Urny, Dean Brown and Gil Goldstein in Warsaw and at a workshop in memory of John Coltrane, organised by Joachim-Ernst Berendt at Südwestfunk in Baden-Baden with his The Quartet friends, Tomasz Stańko, Albert Mangelsdorff and John Coltrane's last drummer Rashied Ali. During Tomasz's stay in Vienna, following December 1981 Czechoslovakia tour (performing "Ambitus Extended" with Józef Skrzek), martial law was onset and Tomasz returned home.
Martial law - Time killers
Tomasz joined again the orchestra of Jan Ptaszyn Wróblewski. In 1984 Tomasz mobilised his energy to record with his old mates Wojciech Karolak and Czesław Bartkowski the groovy "Time Killers", which instantly became a hit. In 1985 Tomasz consolidated his new quartet with Piotr Biskupski, Andrzej Cudzich and Andrzej Jagodziński but the quartet didn't survive.
New hope - Artur, Alain, Antti, Apostolis, Arild
After 1990 Tomasz performed in various constellations, recorded as sideman and special guest providing unforgettable saxophone solos, and started a long lasting cooperation with the young pianist Artur Dutkiewicz. During his last years Tomasz performed with Artur Dutkiewicz, Wojciech Karolak, Alain Brunet, Tadeusz Nalepa, Piotr Wojtasik, Wojciech Majewski, Tomasz Stańko, Apostolis Anthimos, Arild Andersen, Janusz Skowron, Karin Krog and Antti Hytti.
Desillusion and death
Tomasz has been expropriated and, after losing his home, divorced and spent more than a decade in his primitive cabin outside Warsaw, where he has been, since 2004, massively harassed by the remains of SB (the soviet secret police). Also his best, custom made, instruments (Henri Selmer Paris, Julius Keilwerth) were stolen. The Quartet reunited and performed some concerts across Europe in 2006 and 2007 but soon Sławomir Kulpowicz died. Due to massive harassment and provocations Tomasz had a stroke. His Silesian friends were expelled, tortured and murdered one by one. Around 2009 sick and homeless himself Tomasz gained some attention of friends, especially from Artur Dutkiewicz, who organised "The Day of The Jackal" (Polish: Dzień Szakala) benefit concerts in several major Polish cities. The last and biggest one, organised in Warsaw on November 21, 2010, became the greatest jazz performance of this year in Poland. The following musicians helped Tomasz find a place at an artist's asylum in Skolimów outside Warsaw:
Michał Barański - double bass
Ewa Bem - vocal
Danel Biel - double bass
David Dorůžka - guitar
Urszula Dudziak - vocal
Artur Dutkiewicz - piano
Tomasz Grzegorski - sax
Krzysztof Herdzin - piano
Borys Janczarski - sax
Paweł Jarzębski - double bass
Kazimierz Jonkisz - drums
Wojciech Karolak - Hammond organ
Tomasz Krawczyk - guitar
Sławomir Kurkiewicz - double bass
Robert Majewski - piano
Adam Makowicz - piano
Michał Miśkiewicz - drums
Leszek Możdżer - piano
Łukasz Poprawski - sax
Wojciech Pulcyn - bass
Janusz Stefański - drums
Józef Skrzek - piano, minimoog, harmonica, vocal
Jorgos Skolias - vocal
Tomasz Stańko - trumpet
Krzysztof Ścierański - bass, guitar
Jarosław Śmietana - guitar
Jan Smoczyński - piano
Michał Tokaj - piano
Michał Urbaniak - violin
Marcin Wasilewski - piano
Aga Zaryan - vocal
Łukasz Żyta - drums
After a couple of months (2011–2012) spent at artist's asylum Tomasz Szukalski passed on August 2, 2012 at a hospital in Piaseczno, Poland) Tomasz's funeral was performed August 8, 2012 at Bródno Cemetery, just one kilometre from his stolen and occupied home. The day of his funeral and a couple days later the Warsaw's Metro was flooded.
Soviet hypocrisy
Tomasz was awarded posthumously, in 2012 with the Medal for Merit to Culture - Gloria Artis for his achievements for the Polish culture and in 2013 with Fryderyk (in Gold), the Polish equivalent of the Grammy Award, for the works of his lifetime.
Mister nobody
Tomasz Szukalski performed on far more than 100 albums but just a bunch appears under his own name. Tomasz was one of the most influential Polish musicians, he was the spirit and teacher of a whole generation of musicians. Tomasz was invited as guest by many artists, bands, radio stations, schools, workshops, venues and festivals to teach and to perform his warm, beautiful and both - calm and energizing solos.
Tomasz Stańko about Tomasz Szukalski:
This was completely improvised music (TWET). Transcendental. This greenhorn Szukalski was a revelation.
He was playing perfectly from the very beginning. The very best musicians are like this.
When I was playing with him, I've always been surprised.
He was very creative in the band (with Edward Vesala), what we mostly appreciated was his sound, his expression.
I had to rely on top class musicians, and in Poland there were just a few. Szukalski, Szczurek, Skowron.
Whoever he was playing with, he was the better performer.
References
Tomasz Szukalski Wikipedia
(Text) CC BY-SA