India




Marathi




Maharashtra




Thane



Titwala is a small town near Kalyan in the Western Indian state of Maharashtra. It is situated at the banks of the seasonal river Kalu. Titwala covers an area of 507.881 hectares with a population of 26,331 (per the Census of 2001).Titwala is famous for the Siddhivinayak Mahaganapati Temple (Titwala), wherein lakhs of devotees visit this temple during Ganesh Chaturthi and Angarki Sankashti Chaturthi.

By worshipping the Ganesh idol, as consecrated by sage Kanva, Devi Shakuntala and King Dushyant united after a long period of disagreement and subsequently married.The Siddhivinayaka Mahaganapati idol vanished for unknown reasons and is believed to be submerged in a tank . During the rule of the Madhavrao I (or Thorle Madhav Rao Peshwa ) (14 February 1745 – 18 November 1772) , to resolve the drought situation in the town, the tank was de-silted to provide drinking water to the town. It was during the de-silting operations that the idol was found buried. The idol of god Ganesha was found by Peshwa sardar Ramchandra Mehendale buried in the silt. Soon thereafter, the renovation of the temple was undertaken and a stone temple was built. Chimmaji Appa under the rule of Peshwa Madhavrao I consecrated the ancient Ganesha idol in this new temple, after the conquest of Vasai fort. Initially, the temple was very small with a wooden sabha mandap (audience hall), which was in a run-down condition. Since the Peshwa, temple had also degenerated over time, in 1965–66, renovation work was initiated again and a new temple was constructed at the same location at cost of 200000 (US$3,200)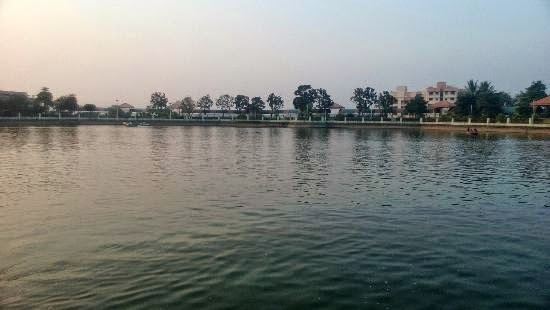 The Siddhivinayaka Mahaganapati Temple is a Hindu temple located in Titwala a small town in the Kalyan taluka of Thane district – near Mumbai, Maharashtra, India. The temple is dedicated to the Hindu, elephant-headed god of wisdom Ganesha. Titwala is believed to be the putative site of the hermitage of sage Kanva, foster parent of Shakuntala who was born here. The place is steeped in ancient legend and the temple is frequented by a very large number of devotees on account of the belief that separated married couples could be united and marriages of desired people could be fixed easily if the Ganesha image installed in the temple is worshipped with devotion.

Siddhivinayak Mahaganapati Temple is the site of a temple of Ganesha and purportedly the hermitage where Shakuntala was born.
The Siddhivinayak Mahaganapati Temple is located at Titwala. The day of Angarki Sankashti Chaturthi, a holy day in the Hindu Calendar, attracts large crowds. Titwala attracts visitors from the suburbs of Mumbai. Believers claim that if Mahaganapati is worshiped regularly, marriages of those wanting to be united can be arranged and that conflicts between husband and wife can end and those that desire a son or daughter, will have one born to them.[2] In May 2009, the temple trust and the Kalyan Dombivali Municipal Corporation (KDMC) have completed renovation of the temple – initiated 5 years ago. At a cost of INR15 million (US$250,000), the renovation work provides regulated entry arrangements and basic facilities to cater to a very large number of devotees who visit the temple. The lake, Titwala Talav next to the temple, has also been de-silted recently and facilities created for boating

Titwala Wikipedia
(,)http://upload.wikimedia.org/wikipedia/commons/thumb/2/25/Titwala_Infrastructure_panoramic_view.jpg/900px-Titwala_Infrastructure_panoramic_view.jpg(,)http://blessingsonthenet.com/img/uploads/city/aim_bn_1314204670.jpg(,)http://3.bp.blogspot.com/-ulCGjrC-Mks/U_3eVw2v1UI/AAAAAAAACXM/Hg-lrDDfGWE/s1600/Sri%252BSiddhivinayak%252BMahaganapati%252BTemple.jpg(,)http://www.india-city-trip.com/images/Mumbai/titwala%2520mandir.jpg(,)https://abhishekkisla.files.wordpress.com/2010/01/titwala.jpg(,)http://upload.wikimedia.org/wikipedia/commons/7/7b/B.D._Zute,_Shaikh_Shamim_Ahmed_%2526_Madhu_Chauhan.jpg(,)http://1.bp.blogspot.com/-gv9D7c6z-b4/UTWd0r40KJI/AAAAAAAAC1Y/kIirrPdWq68/s1600/Birds-Eye-View-of-Bramhala-Talao-%2B03.JPG(,)http://i1.ytimg.com/vi/05Sidp_-cmo/0.jpg(,)http://i.ytimg.com/vi/wrG9LOQQCLw/maxresdefault.jpg(,)http://i.ytimg.com/vi/nBPot056TIM/0.jpg(,)http://i1.ytimg.com/vi/fkGVfkNOY3Y/0.jpg(,)http://i.ytimg.com/vi/V5FC4hGc6TE/0.jpg
(,)http://2.bp.blogspot.com/-GZflPcG8sek/U7e3S8XtwOI/AAAAAAAAAKk/LNNZrH0nJmg/s1600/titwala-ganesh-mandir.jpg(,)http://artforsale.co.in/media/art/103_big.jpg(,)http://www.titwalaproperty.com/img/camera/slides/sadgurulandmark/sl3.jpg%3F1430006408776(,)http://www.titwalaproperty.com/img/camera/slides/sadgurulandmark/sl1.jpg%3F1430006400037(,)http://www.titwalaproperty.com/img/camera/slides/sadgurulandmark/sl2.jpg%3F1430006400044(,)http://i.ytimg.com/vi/lvCYRHkFAm8/hqdefault.jpg(,)http://i.ytimg.com/vi/XoiITU50WaU/0.jpg(,)http://i.ytimg.com/vi/jRtnFyHUyqU/0.jpg
(,)http://falcodevelopers.in/images/falcoworld-location-map.jpg(,)http://images.jdmagicbox.com/thane/f6/022pxx22.xx22.140719124954.q4f6/catalogue/f2c916b6a097097fd0bbd383e5f913db.jpg(,)http://www.nivalink.com/watermark.ashx%3FImageUrl%3Dhotelimages/uploads/7320131528154931743.jpg(,)https://im.proptiger.com/1/668639/6/charms-builders-charms-park-elevation-651216.jpeg%3Fheight%3D300%26width%3D400