It is the administrative headquarters of Tinsukia District of Assam, India. It contains a mixture of Assamese, and Hindi-speaking people. New malls and buildings are being constructed.
Tinsukia deals in agricultural products such as tea, oranges, ginger, citrus fruits and paddy. It also contains the state's largest railway junction.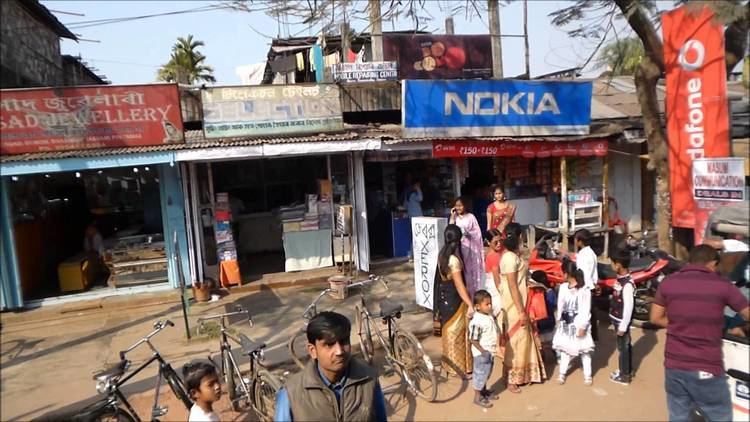 Tinsukia is the site of Bengmara, which was originally known as Changmai Pathar. It was the capital city of the Muttack Kingdom which was founded by Swargadeo Sarbananda Singha.
Swargadeo Sarbananda Singha, known as Mezara, rose to become an able administrator. Mezara adopted the name Sarbananda Singha after he became the King. Swargadeo Sarbananda Singha introduced coins after his name and in Saka 1716 and 1717, he inscribed the title Swargadeo in the coins.
As instructed by Swargadeo Sarbananda Singha, his Minister Gopinath Barbaruah alies Godha dug a triangular pond which is known as Tinikunia Pukhuri. In 1884 a station was constructed near this pond, when the Dibru-Sadiya Rail line was laid, which was named as Tinsukia. Since then it has been known as Tinsukia.
Tinsukia is located at 27.5°N 95.37°E / 27.5; 95.37. It has an average elevation of 116 metres (380 feet).
Dibru-Saikhowa National Park
Tinsukia has a humid subtropical climate with summer, winter and monsoon forming the seasonal cycle. Summer in Tinsukia are typically during the months of March–May, and these months experience a maximum temperature of around 31 °C and a minimum of 24 °C. Rain showers are common during the summer months, and humidity is normally at its highest during this season. the monsoon months in Tinsukia are the months of June–September bringing heavy rainfall. The temperature in the region during winter, which occurs from October to February, ranges from a maximum of 24 °C to a minimum of 11 °C(min).
The district is known for its tea production, and wood related products like Kitply, Merino Ply, and National Ply. Chamber Road, situated at the centre of the town, is the traditional business hub. Besides the wood industry, businesses dealing in garments, electronics, hardware for tea industry form the commercial base of the city.
Plastic park in Tinsukia district: the state government has commissioned a 1,500-bigha plastic park in Tinsukia district to accommodate 400 downstream plastic processing units.The plant will produce various ranges of polymers for different applications in sectors such as packaging film, injection, raffia and blow-moulding which will be marketed with assistance from GAIL.
According to the India census, Tinsukia had a population of 1,25,216. Males constituted 55% of the population and females 45%. Tinsukia had an average literacy rate of 70.15%, higher than the national average of 64.84%: male literacy was 77.89%, and female literacy 63.54%. 13.29% of the population was under 6 years of age.
Road
Tinsukia is connected by air, national highway and railway. It is 492 km by road from Guwahati. Buses from ASTC and other private operators conneceted the town with Guwahati and other places. Local transportation is facilitated by auto-rickshaws and mini vans, with rickshaws being the primary mode of transportation.
Air
The nearest airport is Dibrugarh Airport at Mohanbari, Dibrugarh which is about 40 km from Tinsukia with daily flights to Delhi, Guwahati and Kolkata.
Rail
Tinsukia falls under Northeast Frontier Railway of Indian Railways. It is also one of the divisional headquarters of NF Railway. The New Tinsukia railway station connects the city with rest of the country through notable trains like Dibrugarh Rajdhani Express, Brahmaputra Mail, Kamrup Express, New Tinsukia - Bengaluru Weekly Express, Avadh Assam Express etc. It is an A category railway station of Northeast Frontier railway under Tinsukia railway division. The town has another station called Tinsukia Junction which is the old one.
The Dibru Saikhowa National Park, adjacent to the city is a national park of India and is considered an important Biodiversity Hotspot in India. The Brahmaputra is at the northern border and the Dibru river at the southern, and the park is an island with feral horses, endangered White-winged Wood ducks and Hoolock Gibbons. Bherjan-Borajan-Padumoni Wildlife Sanctuary is about 6 km from Tinsukia. It is famous for different species of primates including the endangered Hoolock Gibbon. Maguri Beel is used for birdwatching.
The Shiv Dham is a temple of Lord Shiva with a pond in the middle. The pond constitutes of over 1000 fishes and few turtles. Devotees are often seen praying to the Gods and feeding these fishes. The Tilinga Mandir (bell temple), located at Bordubi, about 12 kilometer from Tinsukia, is another world famous Shiva temple. This temple is known for its numerous Bells (tilinga) tied on the branches of a giant peepal tree by devotees whose wishes made at this temple are believed to have been fulfilled. The area also has Tea Estates. Marut Nandan Kanan Park is also a tourist attraction.
Some attractions of Tinsukia and its surrounding places are:
The Railway Heritage Museum of North East India is at Tinsukia.
The Dibru Saikhowa National Park is a biological hotspot of India.
The largest Railway Junction in Assam is at Tinsukia
Asia's oldest oil-refinery, The Digboi Refinery is located a few kilometers from the city of Tinsukia at Digboi.
The incredible Hindu Temple, The Bell Temple or Tilinga Mandir is at Tinsukia
The Bherjan-Borajan-Padumoni Wildlife Sanctuary, which is about a distance of 6 km.
The start point of the historical Stilwell Road, also known as Ledo Road, is connected.
Tinsukia is part of Dibrugarh (Lok Sabha constituency).
Assamese daily Dainik Janambhumi published from Tinsukia along with Guwahati and Jorhat.
Tinsukia has landline, mobile and internet connectivity. Internet connectivity through wireless datacards and Broadband is available. The major cellular service providers are Airtel, IDEA, BSNL, Aircel, Vodafone, jio4G
4G services are a recent addition to the city.
7jio
Our ABC Play House (Estd.1995)
Kendra Vidyalaya Tinsukia
St. Stephen's High School, Bordoloi Nagar
Vivekananda Kendra Vidyalaya, Tinsukia
Senairam High Secondary School (Estd. 1937)
A New High School
Guru Teg Bahadur Academy
Our ABC Academy Borguri Court Tinali
Bhagwat Vidyamandir High School, Sripuria
Don Bosco High School, Tinsukia
Hindi English High School
Holy Child Girl's/Boy's High School
Babies Nursery School
Buds Nursery School
Budding Buds Sr. Sec. School [1]
Hindustan Kendra Vidyalaya
Pinewood School
Bimala Prasad Chaliha Nagar School
Aadarsha Parthomik School
Sarbajanik Balika Vidyalaya
Sarbajanik Hindi Balika Vidyalaya
Saumarjyoti Vidyalaya
Bengali Girls High School
Shiksha-The Gurukul
Railway High School
Delhi Public School, Digboi
Tinsukia Bangia Vidyalaya (H.S.)
Borguri High School
Tinsukia English Academy
Jatiya Vidyalaya, Tinsukia
Don Bosco Bible School
Bhawti Bhagwan High Secondary School (Udyog Nagar)
Omega English Academy (Udyog Nagar)
Apple Bee Fun School (preschool)
Los Angeles English Academy, Bordubi
Kendriya Vidyalaya, Tinsukia
Tinsukia Railway High School
Ganpatrai Rashi washia Basic, ME, High School Makum Road
Intel Kids Pre School Near Chaliha Bordoloi Nagar Namghar, Tinsukia
Bachpan Play School
Kids Campus International Preschool
Tinsukia College
Women's College
ACE College of Commerce
G.S. Lohia Girl's College
Pinewood Residential Jr. Sc. College
B.B. Memorial Jr. College
C.T. College
Tinsukia Law College
D.H. Memorial College (Sripuria)
Tinsukia Commerce College (Sripuria)
City Hospital & Research Center
Life Line Hospital
Jeevan Jyoti Hospital
ESI Hospital
Civil Hospital
Dey's Nursing Home
The Apollo Clinic
Aditya Diagnostics and Hospital
R.C. Agarwal Memorial Hospital & Research Centre, Makum Road, Near Thermal Gate
Borthakur nursing home
Pinewood Hospital, Subochoni Road, Tinsukia
St.Luke's Hospital, Duliajan Road, Tinsukia
D.D. Market
Chaliha Nagar
Bordoloi Nagar
Gelapukhuri
Chamber Road
GNB Road
DM Lohia Road
Parbotia
Tamulbari
Dhekia Juri
Daily Bazaar
Hijuguri
Sripuria
Borguri
Khageswar Road
New Colony
Sripuria
Subachani
Development Area
Makum Road
Rangagora Road
Durgabari
Borpathar
Professor Colony
AT Road
Chirwapatty
Milan Pally
Mission Para
Shyama Pally
Babupatty
Tulsiram Road
Nau-Pukhri
Balugada
Chinapatty
Lal Bunglow Road
Ananda nagar
Panitola
Jugipathar
Govindapur