Years active

1977–present




Role

Multi-instrumentalist




Name

Tim Cappello





Website

timmycappello.com




Height

1.83 m (6 ft 0 in)




Albums

Mark Pender Band








Occupation

Saxophonist, percussionist, keyboardist, vocalist, composer, actor




Education

New England Conservatory of Music




Movies

The Lost Boys, What's Love Got to Do with It, Tap




Similar People

Chance Michael Corbitt, Brooke McCarter, Gerard McMahon, Barnard Hughes, Billy Wirth
The lost boys tim cappello i still believe music video
Tim Cappello (born c. 1955), also credited as Timmy Cappello, is an American multi-instrumentalist, composer and vocalist. He is primarily known for his saxophone work supporting Tina Turner in the 1980s and 90s, as well as for his musical performance in the 1987 vampire film The Lost Boys.
Contents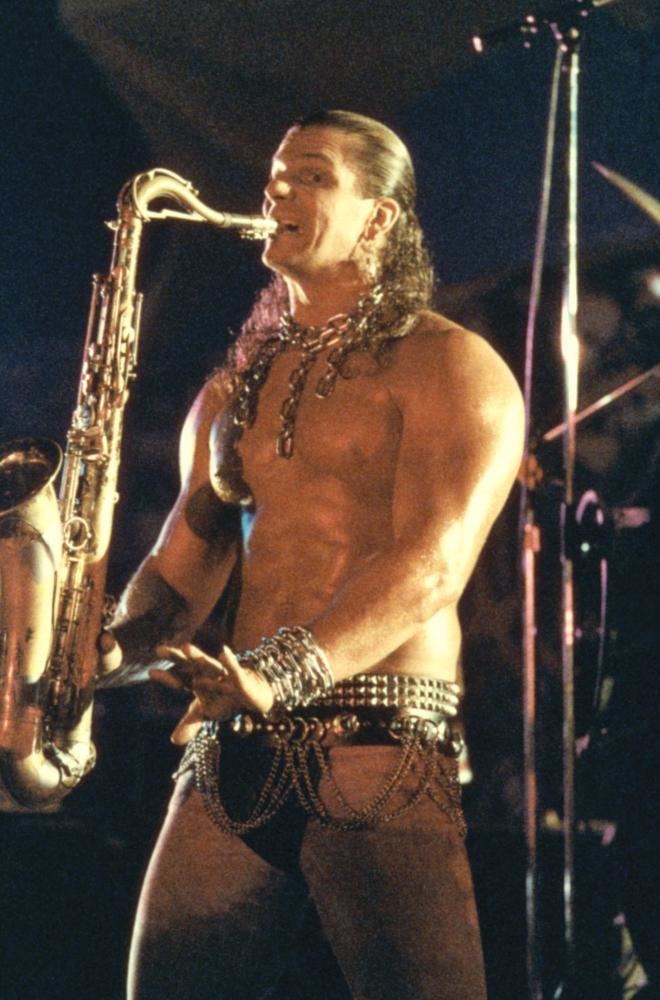 He is notable for his muscular physique, his sexually provocative movements during his performances and for his tendency to perform shirtless, with his skin oiled and with his hair in a ponytail.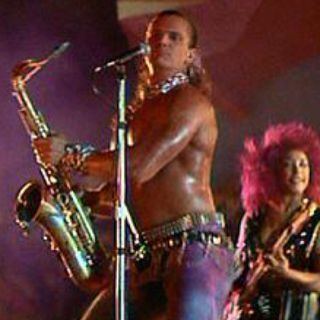 Early life
Cappello was born and grew up in the Silver Lake neighborhood of Harrison, New York, which, at the time, had White Plains, NY postal service address. The youngest of 3 children, his Sicilian father was a local conductor and music teacher. Cappello started music lessons at age 4. At the age of 15 he dropped out of high school and was accepted at the New England Conservatory of Music, playing both drums and keyboards for his audition. He later studied saxophone under the tutelage of jazz musician Lennie Tristano.
Tim, formerly known as Timmy, changed his name after a life-changing trip to Nepal.
Career
Cappello studied intermittently with Lennie Tristano over a 4-year span between touring with performers such as musician Eric Carmen and comedian Billy Crystal. He played saxophone for Peter Gabriel on his albums Peter Gabriel [1] (1977) and Peter Gabriel [2] (1978) in addition to touring with Gabriel. Cappello also toured with Garland Jeffreys in 1978, playing both saxophone and keyboards. After struggling with heroin addiction, Cappello quit the drug "cold turkey" in 1979 and began bodybuilding in 1980. Cappello toured with Carly Simon later that same year—once appearing on stage in a leather g-string, as well as chains and a dog leash by which Simon pulled him onto the stage.
From 1981 to 1982 Cappello fronted his own pop band in New York City called The Ken Dolls—a band that included drummer J.P. "Thunderbolt" Patterson (also of The Dictators and Manitoba's Wild Kingdom) and Joe Carroll, a composer/producer who is president and founder of the Manhattan Producer's Alliance (ManHatPro). Cappello's sexual stage presence was further cultivated during his work with The Ken Dolls—performing in a style dubbed "porn pop", Cappello was known to perform in a g-string.
In 1984 Cappello was hired by Tina Turner as her keyboardist and saxophonist. Recording and touring with her over several years, Cappello's work can be heard on Turner's tracks "We Don't Need Another Hero" and "One of the Living" from Mad Max Beyond Thunderdome (1985) in addition to appearing in the music videos for both singles. Cappello performed on the 1993 soundtrack album What's Love Got to Do with It, playing saxophone as well as singing Ike Turner's vocal parts in an updated version of the song "Proud Mary". Cappello toured with Ringo Starr in 1992 and 1999 as a member of his All-Starr Band.
At 6 feet tall, and reportedly 215 lbs in 1985, Cappello's size and appearance helped garner him roles in television and film: In 1987 he appeared in a musical performance in the film The Lost Boys where he both sang and played saxophone in a cover version of the song "I Still Believe" by The Call. As an actor, he appeared on the television shows The Equalizer and Miami Vice in 1987, as well as in the films Hearts of Fire with Bob Dylan in 1987 and Tap with Gregory Hines in 1989.
Cappello has composed music for film and television. He has worked with director Carole Langer on three occasions, composing the score for her 1987 film Radium City—a documentary about the women who worked for the Radium Dial Company in Ottawa, Illinois in the 1920s—for her 4-hour documentary series about the Rat Pack for the A&E channel, and for her 2001 TV documentary Lana Turner... a Daughter's Memoir. Cappello also composed the score for the A&E Biography episode titled "Jerry Lewis: The Last American Clown" which first aired in 1996.
In popular culture
Actor Jon Hamm portrayed a pony-tailed, shirtless saxophonist named "Sergio" in an SNL Digital Short titled "The Curse", which aired on Saturday Night Live (SNL) on January 30, 2010. In the skit, Andy Samberg's character is cursed by Sergio, who appears out of nowhere playing his saxophone at inopportune times. Sergio's dancing and appearance resembled Cappello's performances in the film The Lost Boys and in the video for Tina Turner's 1985 single "One of the Living" from the Mad Max Beyond Thunderdome soundtrack.
In 2011 a video of a saxophone player interrupting college classes, and other public scenes, while repeatedly playing the saxophone riff from the 1984 pop ballad "Careless Whisper", was circulated on social media websites such as BuzzFeed and Urlesque. The saxophonist in the video, also known as "The Sexy Sax Man", is shirtless, long-haired and is named Sergio Flores, echoing both Cappello's image and that of Jon Hamm's character in the SNL parody. Paste magazine ranked the video #3 on their list of the 10 best viral videos of 2011.
References
Tim Cappello Wikipedia
(Text) CC BY-SA