Listed height

7 ft 1 in (2.16 m)

Nationality

Sudanese, Australian

Position

Power forward / Center

Listed weight

218 lb (99 kg)







Born

25 February 1997 (age 18) Sudan (

1997-02-25

)

High school

Carlisle School, Orangeville District Secondary School

Similar People

Ben Simmons, Jamal Murray, Skal Labissiere, Stephen Zimmerman, Ater Majok
Thon maker will change basketball as we know it official sophomore year mixtape
Thon Marial Maker (born 25 February 1997) is a Sudanese-born Australian professional basketball player for the Milwaukee Bucks of the National Basketball Association (NBA). He attended high school at Orangeville District Secondary School and played basketball for Canada's Athlete Institute. Coming out of high school, Maker was considered a five-star recruit by most basketball recruiting services.
Contents
Thon maker revolutionary 7 footer incredible sophomore class of 2016 basketball
Early life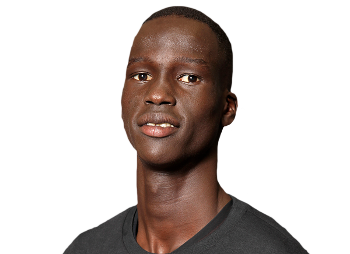 Maker was born in Wau, a city located in what is now South Sudan. His uncle, a local administrator, arranged for Maker, his younger brother, Matur, and his aunt to escape the civil war to Uganda when Maker was five. From there, they were accepted as refugees by Australia; they then moved to Perth, Western Australia, where the family eventually settled down.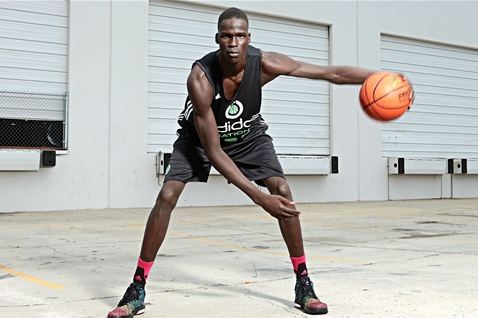 When he was 14, Maker was discovered playing soccer in the Perth suburb of Mirrabooka, by Edward Smith, an Australian of African-American heritage who helps children from migrant backgrounds receive opportunities they otherwise wouldn't get. Smith had previously helped fellow Sudanese immigrants Ater Majok and Mathiang Muo, now both professional basketball players. Smith offered his aunt to feed, clothe and educate Maker in Sydney where Maker played basketball for the St. George Basketball Association during 2011. Just before the team's playoffs, Maker and Smith left to attend a talent camp in Texas.
High school career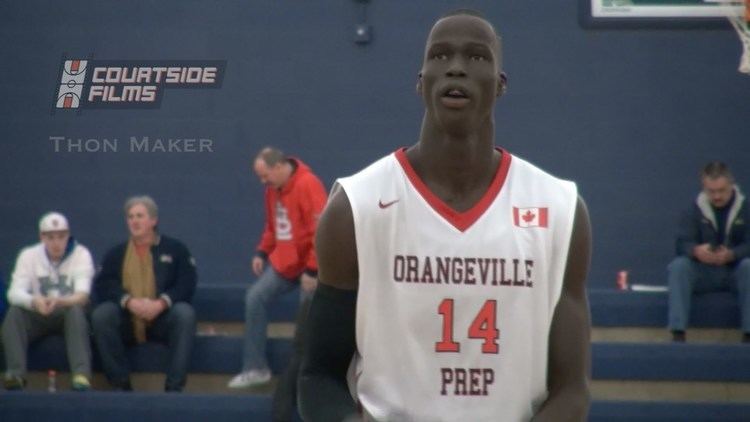 Once in the United States, Maker attended two schools in Louisiana, including Metairie Park Country Day School, before finally settling down at Carlisle School in Martinsville, Virginia. During his freshman and sophomore years playing for Carlisle's varsity team, Maker averaged 22.2 points, 13.1 rebounds, 1.9 assists, 1.4 steals and 4.5 blocks over a total of 53 games. As a sophomore, he earned 2013–14 Gatorade Virginia Boys Basketball Player of the Year honours after leading Carlisle to a state championship.
On 5 September 2014, Maker and his brother enrolled at the Athlete Institute in Mono, Ontario where Edward Smith was already an assistant coach. In conjunction with the Athlete Institute, the brothers enrolled at Orangeville District Secondary School in the nearby town of Orangeville.
On 18 February 2015, Maker announced his decision to reclassify into the 2015 class, which would have made 2014–15 his final year of high school. He later participated in the 2015 Nike Hoop Summit in Portland, Oregon. Playing alongside fellow Australian Ben Simmons in the April 11 game, Maker recorded 10 rebounds, two points and one block as the World Team defeated Team USA, 103–101.
On 18 June 2015, Maker announced his decision to remain in the Class of 2016, and returned to Orangeville Prep for the 2015–16 season. Maker noted how stressful it was working toward entering the Class of 2015, with the issue centred on his workload and the pressure with "trying to get it all done at once". He was being recruited by Arizona State, Florida State, Indiana, Kansas, Kentucky, Notre Dame, St. John's, and UNLV.
On 3 April 2016, Maker declared his intentions to enter the 2016 NBA draft, a decision that required a ruling from the NBA to determine his eligibility. To skip a year of college, Maker had to convince the NBA he graduated from Orangeville Prep in 2015. He successfully did so, proving he graduated from high school in June 2015 but stayed another year as a post-graduate student by his own choosing, fulfilling both the minimum age and one year removed requirements to the NBA's satisfaction. With a successful ruling, Maker became just the second player in more than a decade to make the leap from high school in North America straight to the draft and the first to play in the NBA since the league introduced the "one-and-done" rule for high school students in 2005.
NBA Draft
Maker attended the 2016 NBA Draft Combine, where he was measured as the third-tallest player without shoes at 6'11.75" and recorded the highest no-step vertical jump (32") of any player over 6'11" in NBA Draft Combine history. In the days leading up to the draft, a number of teams ruled themselves out of selecting Maker in the first round over concerns that his age had been misrepresented, as some believed Maker to be between 21–23 years of age despite being officially listed as a 19-year-old. Despite those concerns set around that time, he was selected with the 10th overall pick in the 2016 draft by the Milwaukee Bucks, becoming the first high school player taken in the first round since the 2005 Collective Bargaining Agreement went into effect.
Milwaukee Bucks (2016–present)
During the 2016 NBA Summer League, Maker averaged 14.2 points and 9.6 rebounds in five games for the Bucks and subsequently earned All-NBA Summer League Second Team honours. On 30 July 2016, he signed his rookie scale contract with the Bucks. Maker made his NBA debut on 30 October 2016, entering the game with 95 seconds remaining in the final term of the Bucks' 98–83 loss to the Detroit Pistons; he recorded one rebound. On 21 January 2017, he made his first start for the Bucks and subsequently had six points in 18 minutes in a 109–97 loss to the Miami Heat. On 1 February 2017, he scored a season-high 12 points in a 104–88 loss to the Utah Jazz. On 10 February 2017, in the Bucks' first game since Jabari Parker was ruled out for the rest of the season with an ACL injury, Maker started in Parker's place and recorded seven points and six rebounds in 17 minutes in a 122–114 loss to the Los Angeles Lakers. The following day, he had a second 12-point effort in a 116–100 win over the Indiana Pacers. On 31 March 2017, he scored a career-high 23 points in a 108–105 overtime win over the Detroit Pistons.
National team career
Maker, a Sudanese-born Australian, declared his intentions to play for the Australian national team in April 2016 despite heavy interest from Basketball Canada—the organisation had considered Maker and his younger 208cm brother Matur as potential Canadian players. He put forward the idea of the Boomers' Tokyo 2020 campaign as a potential debut.
Personal life
Maker is an Australian and South Sudanese citizen.
Maker's parents, who descend from the Dinka people, still live in South Sudan and are also both extremely tall; his father is 203 cm (6'8") and his mother is 190 cm (6'3"). His brother, Matur, is a top recruit for the 2017 class. Another brother, Maker Maker, plays soccer for South Melbourne FC's under-20 team. A cousin of Maker's, Makur, attends West Hills Chaminade Prep School in Los Angeles. Another cousin, Aliir Aliir, plays in the Australian Football League for the Sydney Swans.
References
Thon Maker Wikipedia
(Text) CC BY-SA