Directed by

Santram Verma

Creative director(s)

Darien Amos

Created by

Ugraya Entertainment &Balaji Telefilms

Written by

Kamlesh Pandey, Anirudh Pathak & Jitesh Patel

Opening theme

"Thodi Si Zameen Thoda Sa Aasmaan" by Alka Yagnik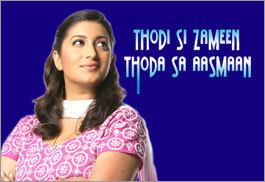 Thodi Si Zameen Thoda Sa Aasmaan (English: A Little bit of Land A Little bit of Sky) is an Indian television show broadcast on STAR Plus. The series was produced by popular Indian television actress Smriti Irani along with Ekta Kapoor. The series aired every Sunday at 10pm IST, but later started broadcasting on Fridays'. Smriti herself plays the main lead in the serial.
Contents
Plot
The show is based on the story of the mill workers, who have lost their job as the company (mill) has shut down. The protagonist Uma (played by Smriti Irani) has to work hard to run her family as her father and brother have lost their job.
Thus, Uma tries to motivate the people of her 'basti' to work hard to conform various roles in the running of a mall, so they can all have jobs to run their families. Besides being a hard worker, Uma goes to school to fulfill her dreams even though that is not her parent's priority.
Cast
Smriti Irani ... Uma Apate (the protagonist)
... Manohar (Uma's father)
Usha Nadkarni... Girija (Uma's mother)
... Namita (Uma's younger sister)
Pawan Shankar ... Sanjay Apte (Uma's younger brother and a trade union leader)
Jaya Bhattacharya ... Pooja (best friend of Uma)
Sanjeet Bedi ... Munna (one of the boy in the "basti")
... Gondya (alcoholic in the basti who plays drums)
Kiran Karmarkar ... Sudhanshu (love-interest of Uma)
Harsh Chhaya ... Dushyant Jajodia (Uma's brother-in-law, antagonist)
Madhvi Chopra ... Sapna (Sanjay's girlfriend)
Sachin Tyagi ... Prashant (Advocate for Uma's case)
Shweta Salve ... Malvica Chopra
Nitin Vakharia as...
References
Thodi Si Zameen Thoda Sa Aasmaan Wikipedia
(Text) CC BY-SA