Thenali is a 2000 Indian Tamil comedy-drama film produced and directed by K. S. Ravikumar and written by Crazy Mohan. The film stars Kamal Haasan in the title role, along with Jayaram, Devayani and Jyothika. The film's music was composed by A. R. Rahman. It was an unofficial remake of the 1991 American film What About Bob?.
The film opened to positive reviews from critics and was a commercial success at the Tamil Nadu box-office. The film won three Tamil Nadu State Film Awards, including a Special Jury award for Jayaram's performance as Dr. Kailash.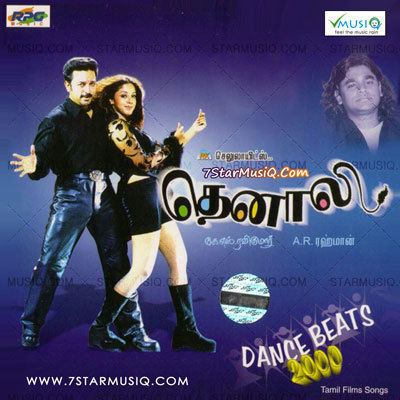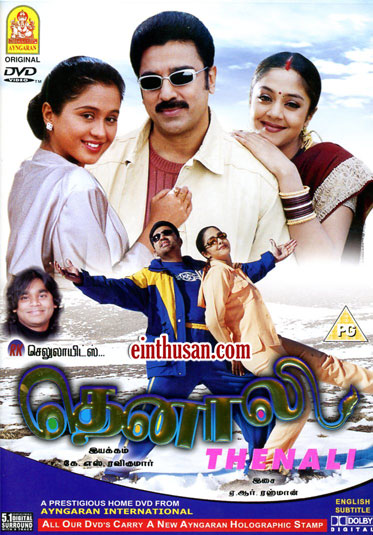 Thenali (Kamal Hassan) is a man who fears anything and everything. Panchabhootham (Delhi Ganesh) and his assistant (Ramesh Khanna), who are the doctors treating Thenali, are jealous of a relatively junior doctor Kailash (Jayaram) getting all the media attention. They decide to derail Kailash's success by sending Thenali over to him. Soon after their first appointment, Kailash heads to his home in Kodaikanal on a vacation with his wife Jalaja (Devayani) and his two children. Kailash tells Thenali to wait until after the vacation before his therapy can begin, but Panchabhootham asks for Thenali to go meet Kailash while on vacation.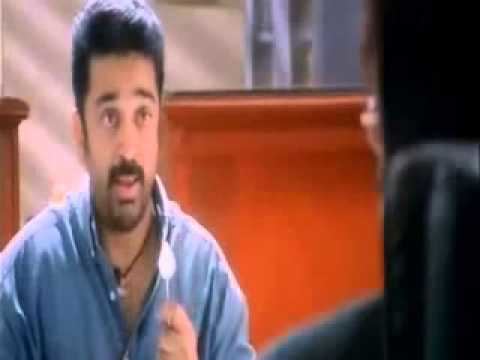 The expected happens. Thenali falls in love with Janaki (Jyothika), the younger sister of Kailash, which is vehemently opposed by the latter. The whole film is about how Kailash goes mad with the antics of Thenali and even begins to suspect that his wife has an affair with Thenali, as she has a soft corner for the latter. He even tries to kill Thenali by tying him to a tree with a time bomb, which Thenali (not knowing it is a real bomb) removes and puts it in Kailash's house, causing it to explode. Seeing this, Kailash suffers a paralytic attack.
Eventually, Thenali marries Janaki and cures Kailash through shock treatment by bringing Meena, B. H. Abdul Hameed and K. S. Ravikumar and makes Meena act as his wife.
Kamal Haasan as Thenali Soman
Jayaram as Dr. Kailash, Thenali's psychiatrist
Devayani as Jalaja, Kailash's Wife
Jyothika as Janaki, Kailash's sister
Delhi Ganesh as Dr. Panchabhootham
Charle as Kanthaswamy
Ramesh Khanna as Dr. Panchabhootham's assistant
Madhan Bob as "Diamond" Babu
Master Suraj as Arjun, Kailash's son
Baby Taj Nisha as Aishwarya, Kailash's daughter
Crane Manohar as Servant
Lavanya as Raj TV Reporter
Bayilvan Ranganathan as Inspector
Meena as herself (cameo)
C. R. Vijayakumari as mental patient (cameo)
B. H. Abdul Hameed as himself (cameo)
K. S. Ravikumar as himself (cameo)
Kamal Haasan approached K. S. Ravikumar to make the film after the success of the director's Padayappa featuring Rajinikanth and the film took four months to be scripted by K. S. Ravikumar, Kamal Haasan and Crazy Mohan. The story of the film was inspired by the 1991 American film What About Bob? directed by Frank Oz. Mohanlal was the initial choice to play Kailash and actress Simran was the original choice for the role of Janaki, but Jayaram and Jyothika later took the roles. Actress Meena was signed on by the producers to appear in a guest role. Vivek rejected the film as he felt that he didn't have the best lines. The film was launched at the Kalaivanar Arangam in Chennai on 22 March 2000 with Y. Gee. Mahendra as compere and with Rajinikanth as chief guest.
Kamal Haasan played a Sri Lankan Tamil in the film and to get the accent right, he took lessons from prominent television host, Abdul Hameed. Scenes were shot predominantly in Ooty, while some song sequences were shot in New Zealand.
The Hindu gave a verdict that the film was "a wholesome mix of rip-roaring action, witty dialogues and exotic locales".
Thenali completed 175-day runs across halls in South India. A success meet was also held with Rajinikanth again attending the function, where Ravikumar revealed that it was the actor who picked the title, Thenali. It went on to win three Tamil Nadu State Film Awards with Thamarai picking up the Tamil Nadu State Film Award for Best Lyricist and S. Maniraj won the Tamil Nadu State Film Award for Best Art Director in the technical award categories. Jayaram received a Tamil Nadu State Film Award Special Prize for his role in the film.
The film was dubbed into the Telugu language as Tenali under the production of singer, S. P. Balasubrahmanyam and won good reviews.
The soundtrack of the film was composed by A.R.Rahman, with lyrics written predominantly by newcomers. The album also featured the song "Injerungo", which became the first noted song of lyricist Thamarai, who used Jaffna slang within the song. Due to the rift between Rahman and Vairamuthu the lyricist has been replaced by newcomers. The song "Swasame Swasame" from the soundtrack, was re-used in the final scene of the Hollywood film The Accidental Husband.