The Wicked Dreams of Paula Schultz is a 1968 DeLuxe Color (Deluxe Entertainment Services Group) American comedy film directed by George Marshall and starring Elke Sommer, Bob Crane, Werner Klemperer and Leon Askin. An East German athlete defects to the West by pole-vaulting over the Berlin Wall.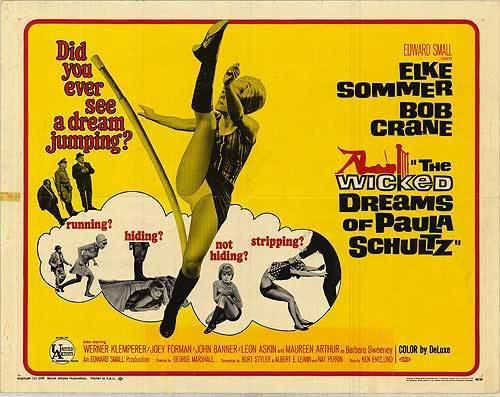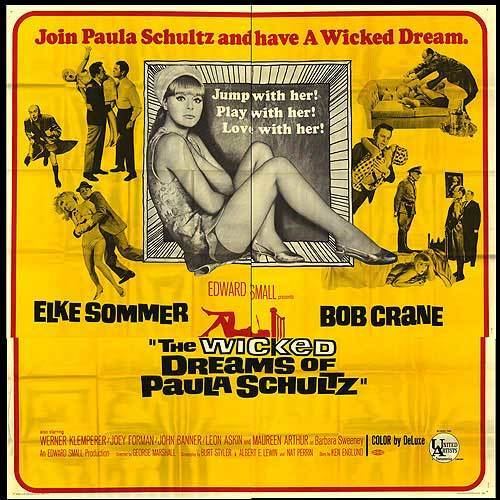 Paula Schultz (Elke Sommer) has been preparing to compete in the Olympic Games, but instead pole-vaults over the Berlin Wall to freedom in West Germany.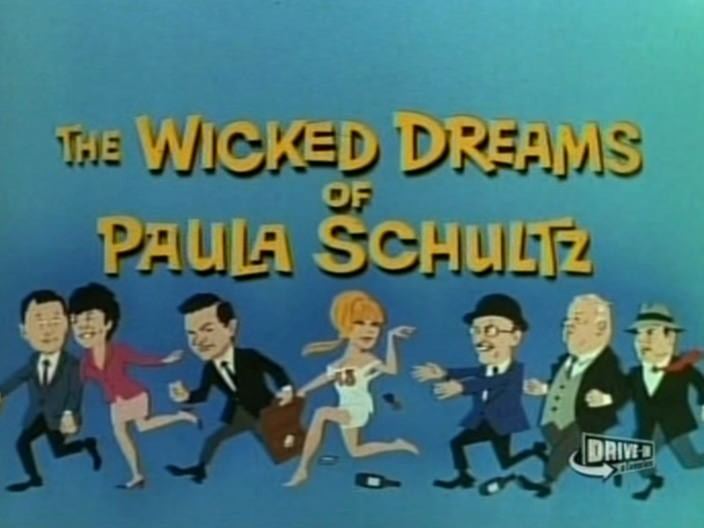 A black-market operator, Bill Mason (Bob Crane), hides her in the home of an old Army buddy, Herb Sweeney (Joey Forman), who now works for the CIA. Bill is willing to hand her over for a price, to either side, so a disappointed Paula returns to East Germany with propaganda minister Klaus instead. At this point, Bill comes to his senses, realizes he loves her, then disguises himself as a female athlete to get Paula back.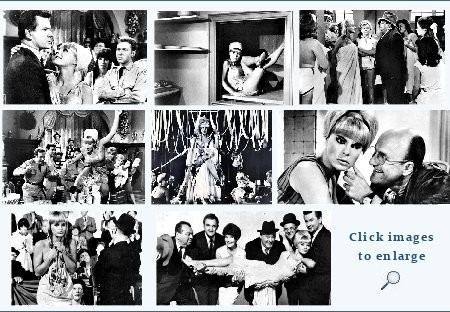 Elke Sommer as Paula Schultz
Bob Crane as Bill Mason
Werner Klemperer as Klaus
Joey Forman as Herbert Sweeney
John Banner as Weber
Leon Askin as Oscar
Maureen Arthur as Barbara Sweeney
Robert Carricart as Rocco
Theodore Marcuse as Owl (as Theo Marcuse)
Larry D. Mann as Grossmeyer
John Myhers as Boss
Chanin Hale as Hilda
Barbara Morrison as Klabfus
Benny Baker as Cab Driver
Fritz Feld as Kessel
Four of the main actors involved in the film (Bob Crane, Werner Klemperer, John Banner, and Leon Askin) also worked together in the popular late 1960s sitcom Hogan's Heroes. Crane, Banner, and Klemperer appeared in every episode, and Askin had a frequent recurring role.
In the film Kill Bill: Volume 2, written and directed by Quentin Tarantino, the character played by Uma Thurman is buried alive in a grave marked "Paula Schultz".
The film was based on an original screenplay by Ken Englund which Edward Small bought in 1966. Harry Tugend was hired to rewrite it.
Bob Crane was given the lead due to his success in Hogan's Heroes.
Reviews were poor.