George E. Marshall (December 29, 1891 – February 17, 1975) was an American actor, screenwriter, producer, film and television director, active through the first six decades of movie history.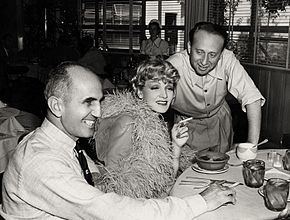 Relatively few of Marshall's films are well-known today, with Destry Rides Again, The Blue Dahlia, The Sheepman, and How the West Was Won being the biggest exceptions. Marshall co-directed How the West Was Won with John Ford and Henry Hathaway, handling the railroad segment, which featured a celebrated buffalo stampede sequence. While Marshall worked on almost all kinds of films imaginable, he started his career in the early silent period doing mostly Westerns, a genre he never completely abandoned.
In the 1930's he established a reputation for comedy, directing Laurel and Hardy in three classic films, and also working on a variety of comedies for Fox (Many of his films at Fox were destroyed in a vault fire in 1937). Later in his career, he was particularly sought after for comedies. He did around half a dozen films each with Bob Hope and Jerry Lewis, and also worked with W.C. Fields, Jackie Gleason, and Will Rogers.
Lucille Ball chose George Marshall to direct eleven episodes of her "Here's Lucy" television series in 1969, having previously worked in several Marshall comedies herself.
Marshall is buried in Holy Cross Cemetery in Culver City, Los Angeles.
For his contribution to the film industry, George Marshall has a star on the Hollywood Walk of Fame at 7048 Hollywood Boulevard.