On the Italian coast, writer Paul Decker (Peter Van Eyck), who has grown unhappy in his marriage, executes what appears to be a perfect murder of his wife. Although Paul is believed to be writing a book in France, his stepdaughter, Candy (Mandy Miller), is sure that he murdered her mother, and suspects he also murdered her father years before. With the police unwilling to investigate any further, Candy sets out to confirm her suspicions and take Paul down herself.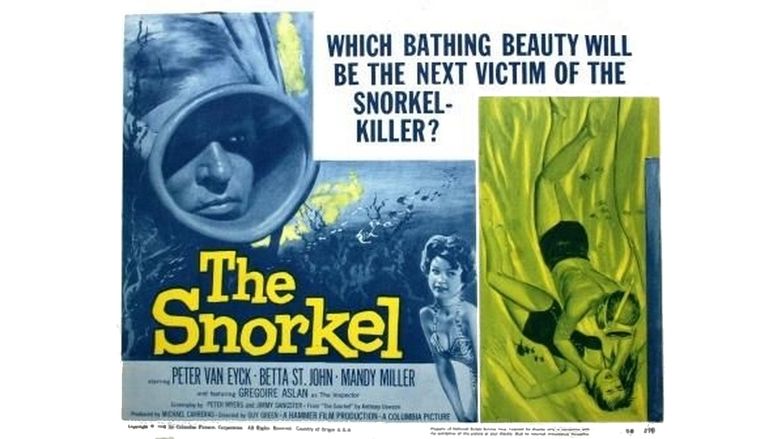 The Snorkel is a 1958 British thriller film from Hammer Films. It was directed by Guy Green and starred Peter van Eyck, Betta St. John and Mandy Miller. It was the first starring role for Miller.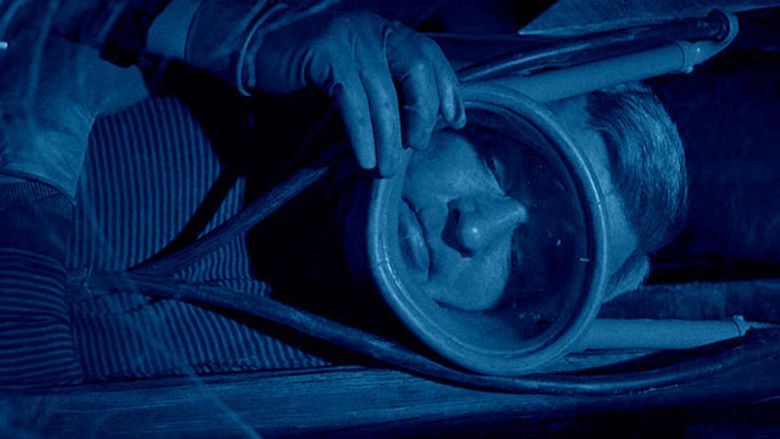 Jacques Duval devises a fiendishly clever method of murdering his wife. Doping her up with sleeping tablets, Duval places his wife in a sealed room, then opens all the gas jets. While the police identify the body, Duval remains hidden in the room, breathing through a snorkel, then makes his escape when the authorities leave. Only one flaw in this perfect crime: Duval's stepdaughter (Mandy Miller) is the suspicious type.
In the opening scene, a man seals off windows and doors in a stylish European sitting room, and attaches rubber hoses to a snorkel. He then lets gas escape through the rooms lighting fixtures, allowing the gas to kill a woman lying prone on the couch while he hides under the floorboards, using the snorkel to breath while concealed. The murderer is Paul Decker (Peter van Eyck), who hides under the floor of the room as household servants discover the body of his dead wife, Madge. Since the room has been locked and sealed from the inside, it appears to the local Italian police and British Consulate Mr. Wilson (William Franklyn) to be a suicide. Madges teenaged daughter Candy (Mandy Miller) has been traveling and arrives on the scene with her dog Toto and traveling companion Jean Edwards (Betta St. John). Candy vocally accuses her stepfather of the murder, but he has an alibi: at the time of the murder, he was just across the border in France, seeking peace and quiet at a lodging to work on a book he is writing. Candy is adamant; she is also convinced that Paul killed her father in a boating incident several years before. When Paul can produce a passport proving that he had passed into France, Candy is all the more determined to discover how her stepfather could commit the murder.
Peter van Eyck - Paul Decker
Betta St. John - Jean Edwards
Mandy Miller - Candy Brown
Gregoire Aslan - Inspector
William Franklyn - Wilson
Marie Burke - Daily Woman
Irene Prador - French Woman
Henri Vidon - Italian Gardener
Armand Guinle - Waiter
Robert Rietti - Station Sergeant
David Ritch - Hotel Clerk
In the book Hammer Films: An Exhaustive Filmography, director Green recalled working on The Snorkel with producer Michael Carreras, whom he called "...very cooperative, as well as a delightful person to be with, and very much responsible for making the film a most pleasant experience. He and I had a great time casting the smaller roles." The film was the first starring vehicle for actress Mandy Miller; Green described her as "...a natural talent and a very professional girl, but a bit too mature for the part, and all our efforts failed to disguise this." Of star Peter van Eyck, Green said that "he had to do a lot of difficult swimming and, one day after spending most of the morning manfully keeping up with a motorboat from which he was being photographed, Peter said, You never asked me if I could swim before giving me the part. It was true. I didnt." The Snorkel was the only film van Eyck starred in for Hammer Studios.
The budget on The Snorkel was about 20 percent above the average Hammer Films shoot, due to the extensive location photography (the Italian villa used in the movie was located in Sanremo, near the border with France).
The film was reportedly produced without a distribution deal in place. Hammer Films: An Exhaustive Filmography claims that an agreement with Warner Bros. had fallen through and Hammer executive James Carreras (father of producer Michael) only later struck a deal with Columbia Pictures for both The Snorkel and its co-feature in a double-bill, The Camp on Blood Island.
The films story, credited to "Anthony Dawson", has sometimes been attributed to Italian Horror director Antonio Margheriti, who often used the anglicized pseudonym "Anthony Dawson." In 2010, however, Margheritis son denied his father was involved with the production, stating that he did not begin using the name "Anthony Dawson" until 1960. It seems likely that the true author of The Snorkels story was actor Anthony Dawson, who also appeared in Hammers Curse of the Werewolf.
The film had its premier aboard the luxury liner Queen Elizabeth, during a crossing of the Atlantic in May of 1958.
In The New York Times, critic Richard W. Nason offered lukewarm praise for the film, writing that, "Hammer Films apparently has become proficient in the manufacture of motion pictures that are not greatly distinguished but that nonetheless manage to be more absorbing than the usual low-budget program film.... because of the competence of the direction, acting and particularly the editing, the audience is kept awake throughout the running of the twin bill. This is no mean achievement, when you consider the number of ho-hum melodramas that flow from the worlds film factories every year... Anyone who wonders how a simple skin-diving snorkel can be used this way will have to see the film... And, once you think about it, its a very silly way to do away with somebody. Both [this film and its double-bill, The Camp on Blood Island,] are for those who are looking to kill time."
Glenn Erickson of DVDTalk also offered mix praise, calling van Eycks character "underdeveloped but menacing," and noting that, "Mandy Millers likeable teen heroine is a doubtful mix of immature emotions and steely resolve, as shown in one poorly handled scene when Candy underreacts to the death of her beloved dog." However, he goes on to write, "The films good reputation comes from fans that admire the killers technically elaborate murder scheme, and ace Hammer cameraman Jack Ashers arresting camerawork. A final surprise lifted from The Third Man could have provided a perfect shock finish, but the movie goes on a bit longer, clearly to tie up some moral loose ends for the censors."
John M. Miller, writing for Turner Classic Movies, was more positive: "The Snorkel opens with one of the more memorable pre-credits sequences to be found in a thriller...While not a classic, this clever and twisted thriller, as well as Peter van Eycks chilling performance, is overdue for greater exposure."