Born

19 September 1930 (age 72) (

1930-09-19

)

Occupation

Film director, producer, writer

Children

Edoardo Margheriti, Antonella Margheriti

Parents

Pierina Margheriti, Luigi Margheriti

Siblings

Alberto Margheriti, Lidia Margheriti, Adriana Margheriti

Movies




Similar People

Luciano Pigozzi, Barbara Steele, Edoardo Margheriti, Lee Van Cleef, Paul Morrissey

Died

4 November 2002 (aged 72) Monterosi, Italy
Antonio Margheriti (19 September 1930 – 4 November 2002), also known under the pseudonym Anthony M. Dawson, was an Italian filmmaker. Margheriti worked in many different genres in the Italian film industry, and was known for his sometimes derivative but often stylish and entertaining science fiction, sword and sandal, horror/giallo, Eurospy, Spaghetti Western, Vietnam War and action movies that were released to a wide international audience.
Contents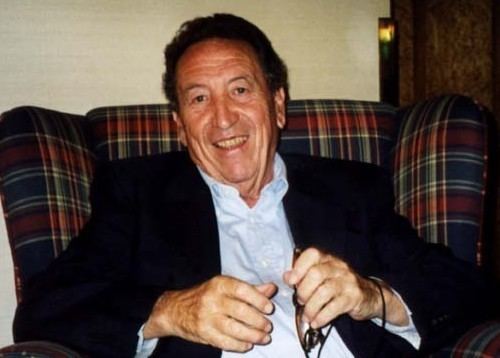 He was born in Rome and died in 2002 from a heart attack in Monterosi, Viterbo, near Rome at the age of 72.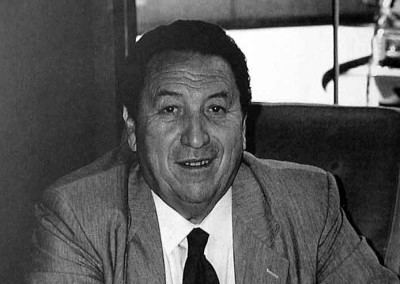 Life and career
Like Roger Corman, Margheriti originally began his tertiary education as an engineer. In 1950 he entered the Centro Sperimentale di Cinematografia film school and after completing his studies became an assistant on various documentary films. Margheriti started out in the Italian feature film industry in 1956 (age 26) as a screenwriter, editor and assistant director. During the production of a never completed documentary about the 1908 Messina earthquake, Margheriti constructed models for the film. This led the producer of that film to recommend him as a director.
He started directing in 1960, his first film being Assignment Outer Space where he also did some of the model work. He directed such Italian cult movies as Castle of Blood (1963), The Long Hair of Death (1964), Wild Wild Planet (1965), Cannibal Apocalypse, The Virgin of Nuremberg, Naked You Die (1968), Mr. Super Invisible, The Last Hunter, Battle of the Worlds and numerous others. Most of his films were directed under the pseudonym of Anthony M. Dawson. He stopped using his real name in the United States early in his career, when he was told by his dubbing director Ted Rusoff that the English translation of the name "Antonio Margheriti" was "Anthony Daisies", and that it sounded too effeminate; Margheriti added his middle initial "M" as the name Anthony Dawson was used by the English actor.
He was the only Italian director who worked directly for American production companies like MGM, United Artists, 20th Century Fox, Columbia Pictures, etc. with films like: Yor, the Hunter from the Future, Take a Hard Ride, Killer Fish, etc. Margheriti said his action/adventure/war films were his favorites, and his least favorite movies were the sword-and-sandal peplum films he made in the early 1960s (such as Devil of the Desert Against the Son of Hercules and Giants of Rome).
For years, director Paul Morrissey disputed Margheriti's claim that he had directed "Andy Warhol's Frankenstein" (aka Flesh for Frankenstein) in the early 1970s, saying that Margheriti was mostly just a technical advisor on that film. Morrissey said Margheriti did however direct a very brief segment of the movie (mostly the scenes involving the two children roaming around in the lab).
Margheriti worked with many well-known genre actors such as Lee Van Cleef, John Saxon, Claude Rains, John Morghen, Klaus Kinski, Barbara Steele, Richard Harrison, Reb Brown, Donald Pleasence, Yul Brynner, David Warbeck, Luciano Pigozzi, Marvin Hagler, Lee Majors, James Franciscus, Terence Hill, Fred Williamson, Christopher Lee and many others. Most of his later films were shot in the Philippines (especially his war films). Margheriti also collaborated on the special effects in two Italian cult films which he did not direct, Sergio Leone's Duck, You Sucker! (1971) and Aldo Lado's The Humanoid (1979).
Margheriti retired from filmmaking in 1996 at age 66. He died in 2002 of natural causes. Margheriti's son Edoardo and daughter Antonella are both also involved in filmmaking. Eli Roth's character in the 2009 Quentin Tarantino film Inglourious Basterds took Margheriti as his namesake.
The Gamma One series
Margheriti made two of the first ever Italian space movies in 1960 and 1961 respectively; Assignment: Outer Space (known as "Space-Men" in Italy) and Battle of the Worlds (known as "The Planet of Extinct Men" in Italy).
In 1965, since he was considered an accomplished science-fiction film director who could work wonders with a very small budget, Margheriti was hired by MGM to direct four Italian space movies that became known as the Gamma One series. He finished all four films in three months. The films in the series were made to be distributed in the USA (most were sold directly to late-night television) under the following titles: Wild, Wild Planet, War of the Planets, War Between the Planets and Snow Devils. A fifth film was later made in the Gamma One series in Japan in 1968—a film Margheriti did not direct—titled: The Green Slime (a.k.a. Gamma One: Operation Outer Space) which starred Robert Horton.
Filmography
Legs of Gold (1958) co-director
Assignment: Outer Space (1960) a.k.a. Space Men (Margheriti's first film as director)
Battle of the Worlds (1961) a.k.a. The Planet of Extinct Men, starring Claude Rains
The Golden Arrow (1962) fantasy peplum starring Tab Hunter
The Fall of Rome (1963) peplum, a.k.a. Il crollo di Roma
Castle of Blood (1963) a.k.a. Danza Macabra starring Barbara Steele & Arturo Dominici, B&W
The Virgin of Nuremberg (1963) a.k.a. Horror Castle, starring Christopher Lee & Rosanna Podesta
Il pelo nel mondo (1964) aka Mondo Inferno/Go! Go! Go! World (shockumentary) a more television friendly Mondo Cane
Devil of the Desert Against the Son of Hercules (1964) peplum, a.k.a. Anthar the Invincible, a.k.a. The Slave Merchants
Hercules, Prisoner of Evil (1964) a.k.a. Ursus, Terror of the Kirghiz, co-directed by Ruggero Deodato
Giants of Rome (1964) peplum starring Richard Harrison
The Long Hair of Death (1964) horror film starring Barbara Steele
Wild, Wild Planet (1965) a.k.a. I Criminali della Galassia/ Criminals of the Galaxy (1st film in the Gamma-One series)
War of the Planets (1965) a.k.a. I Diafanoidi Vengono da Marte/ The Diaphanoids Arrive From Mars (2nd film in the Gamma-One series)
War Between the Planets (1965) a.k.a. Il Pianeta Errante / The Wandering Planet, a.k.a. Planet on the Prowl (the 3rd film in the Gamma-One series)
Snow Devils (1965) a.k.a. La Morte Viene dal Pianeta Aytin/ Death Comes From The Planet Aytin, a.k.a. Space Devils (4th film in the Gamma-One series)
Lightning Bolt (1966) a.k.a. Operation Goldman (Eurospy film starring Anthony Eisley)
Agent 077 Challenges the Killers (1966) a.k.a. The Killers Are Challenged (spy film starring Richard Harrison & Janine Reynaud)
Dynamite Joe (1967) a.k.a. Joe l'implacabile (spaghetti western starring Rik Van Nutter)
Naked You Die (1968) a.k.a. The Young, the Evil and the Savage, a.k.a. The Schoolgirl Killer
Io ti amo (1968)
Vengeance (1968) a.k.a. Roko's Revenge (spaghetti western starring Richard Harrison)
The Unnaturals (1969) a.k.a. Contronatura
Mr. Superinvisible (1970)
And God Called Cain (1970) spaghetti western starring Klaus Kinski
Web of the Spider (1971) starring Klaus Kinski (this was a color remake of Margheriti's 1963 "Castle of Blood")
Fistful of Dynamite (1971) Margheriti only handled the Special Effects on this film, which was directed by Sergio Leone
Treasure Island (1972) starring Orson Welles (Margheriti co-directed this with John Hough and Andrea Bianchi)
Seven Deaths in the Cat's Eye (1973) giallo starring Jane Birkin
Mr Hercules vs Karate (1973) (Kung fu film comedy)
Andy Warhol's Frankenstein (1973) a.k.a. Flesh For Frankenstein (Margheriti was 2nd unit director to Paul Morrissey) filmed in 3-D
Andy Warhol's Dracula (1973) a.k.a. Blood for Dracula (Margheriti was 2nd unit director to Paul Morrissey)
The Stranger and the Gunfighter (1974) starring Lee Van Cleef
Take a Hard Ride (1975) spaghetti western starring Lee Van Cleef & Fred Williamson
The Rip-off (1975) a.k.a. The Squeeze (starring Lee Van Cleef)
Death Rage (1976) a.k.a. Blood Reckoning (starring Yul Brynner)
Killer Fish (1977) a.k.a. Treasure of the Piranha, starring Lee Majors & James Franciscus
The Humanoid (1979) Margheriti only handled the Special Effects on this film, directed by Aldo Lado
Cannibal Apocalypse (1980) a.k.a. Invasion of the Flesh Hunters, a.k.a. Apocalypse Tomorrow, starring John Saxon & John Morghen
Car Crash (1981) starring Joey Travolta
The Last Hunter (1982) starring David Warbeck (The first Macaroni Combat Vietnam war film)
Hunters of the Golden Cobra (1982) starring David Warbeck
Tiger Joe (1982) starring David Warbeck
Ark of the Sun God (1983) starring David Warbeck
Yor, the Hunter from the Future (1983) a.k.a. The World of Yor, starring Reb Brown
Last Blood (1983) a.k.a. Tornado
Code Name Wild Geese (1984) starring Lee Van Cleef & Klaus Kinski
Jungle Raiders (1985) a.k.a. Captain Yankee, starring Lee Van Cleef
Commando Leopard (1985) starring Klaus Kinski
Treasure Island in Outer Space (1987) made for Italian TV, starring Anthony Quinn, David Warbeck & John Morghen
The Commander (1988) a.k.a. Triangle of Fear, starring Lee Van Cleef & Donald Pleasence
Alien From the Deep (1989) a.k.a. Alien From The Abyss, starring Charles Napier
Indio (1989) starring Marvin Hagler & Brian Dennehy
Indio 2: The Revolt (1991) starring Marvin Hagler
Genghis Khan: The Story of a Lifetime (1992) starring Charlton Heston & John Saxon (this film was only released many years later in 2004)
Virtual Weapon (1997) a.k.a. Cyberflic, starring Marvin Hagler & Terence Hill
References
Antonio Margheriti Wikipedia
(Text) CC BY-SA