Covid-19
7.2

/

10

1

Votes

Alchetron

Rate This




Sidney Smith




51 minutes




ABC




Television special






United States




Hoysyl Productions




Sid Smith






Paul Lynde Margaret Hamilton Billie Hayes Billy Barty Tim Conway Roz "Pinky Tuscadero" Kelly Florence Henderson Betty White KISS Donny Osmond Marie Osmond




American Broadcasting Company




Raymond Katz, Sandy Gallin




Bruce Vilanch, Ronny Graham, Ron Perlman, Sol Weinstein




Paul Lynde, Margaret Hamilton, Florence Henderson, Tim Conway, Betty White




Fol‑de‑Rol, Pufnstuf, Soul Hustler, Killer Bees, A Name for Evil
The Paul Lynde Halloween Special is a Halloween-themed television special starring Paul Lynde broadcast October 29, 1976 on ABC. It featured guest stars Margaret Hamilton in her first reprisal of her role as the Wicked Witch of the West from The Wizard of Oz. Also guest starring are Billie Hayes as Witchiepoo from H.R. Pufnstuf, Tim Conway, Roz Kelly, Florence Henderson, rock band KISS, Billy Barty as Gallows the Butler, Betty White and, in an unbilled surprise appearance, Donny and Marie Osmond.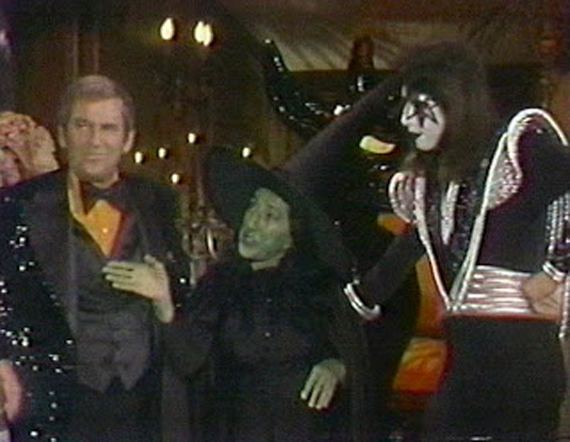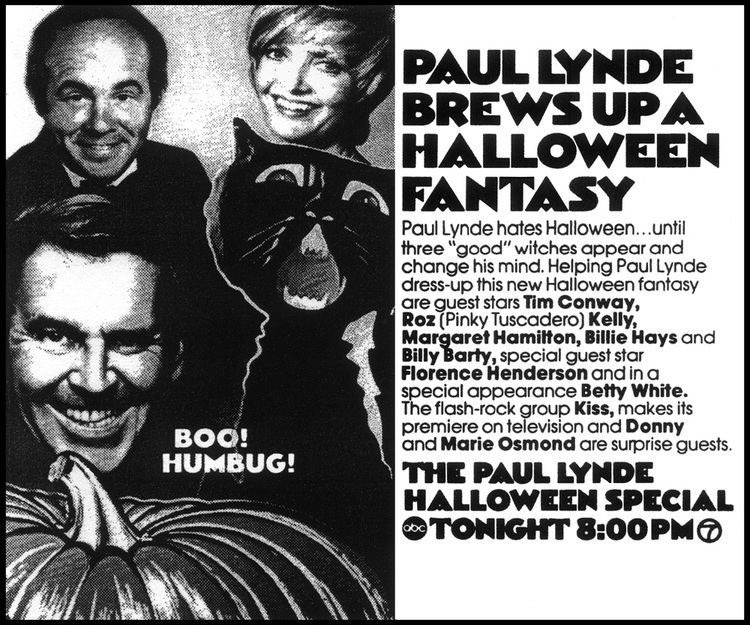 Lynde announces to the audience the show is to celebrate a holiday which might be Christmas, Easter or Valentine's Day. His housekeeper Margaret tells him that it is none of those holidays and drops a hint about it being Halloween ("witches, spooks, and strange creatures of the night"). The subsequent musical number has Lynde sing "Kids" (his signature tune) from Bye Bye Birdie with new Halloween-themed lyrics. In order to avoid "pesky kids" the housekeeper takes him to meet her sister, Witchiepoo, who has a pet vulture named Rover guarding her manor's doorway. She also has a short butler named Gallows (Billy Barty). Lynde realizes that Margaret's sister is a witch and Margaret transforms into The Wicked Witch of the West. He is terrified and tries to escape, but Rover confines him to Gloomsbury Manor. The two witches grant three wishes to him. In his first wish he becomes a trucker who competes against a fellow trucker (Tim Conway) for the love of a diner waitress (Roz Kelly). In his second wish he's a sheik trying to woo a kidnapped beauty (Florence Henderson) only to be interrupted by Tim Conway as a Foreign Legion scout sent in to save Henderson from Lynde. In his third wish, Lynde allows the witches to make a choice and they wish to go to a disco. At the disco, Florence Henderson returns to sing a disco version of "That Old Black Magic." Paul is also treated to three performances from KISS, who performs "Detroit Rock City", "Beth" and "King of the Night Time World"—and they engage in a comic exchange with the star after the Wicked Witch of the West introduces the band to Paul.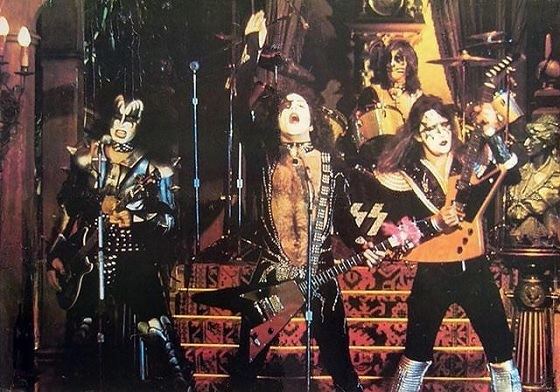 The show's finale has the entire cast assembling for a performance of "Disco Baby" (a gender-neutral version of the popular "Disco Lady") by Lynde and Roz "Pinky Tuscadero" Kelly (who is repeatedly billed this way).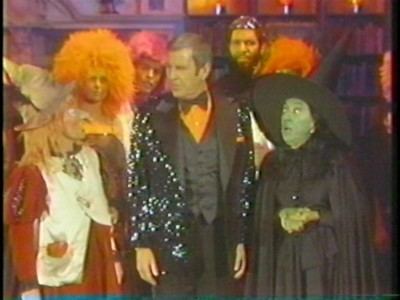 Although The Paul Lynde Halloween Special was not produced by '70s kiddie/variety show icons Sid and Marty Krofft, their Witchiepoo character appeared and many of the cast members also appeared in Krofft productions: Billie Hayes (H.R. Pufnstuf, Pufnstuf, Lidsville), Margaret Hamilton (Sigmund and the Sea Monsters), Billy Barty (The Bugaloos, Sigmund and the Sea Monsters, Dr. Shrinker), Florence Henderson (The Brady Bunch Hour) and Donny and Marie Osmond (The Donny and Marie Show). During the closing credits an announcer provides a voice over that notes "Witchiepoo is from The World of Sid and Marty Krofft." In addition to the appearances of Krofft actors, a small number of crew members that worked on this special also previously worked on Krofft shows as well - for example, the special was edited by William Breshears, who also served as editor on a number of different Krofft shows.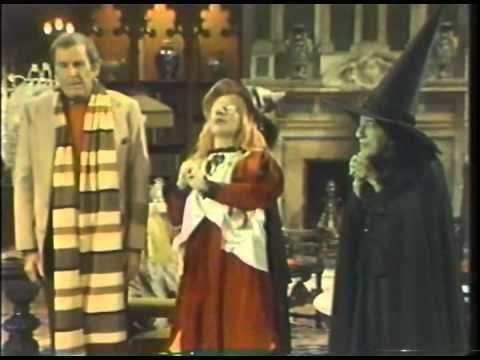 The show has been bootlegged over the years in KISS fan circles. On October 31, 2006 some of the show's footage was released on KISS' KISSOLOGY The Ultimate Kiss Collection Vol.1 1974-1977. The DVD shows a clip of Paul Lynde meeting KISS and the band's performance of "King of the Night Time World."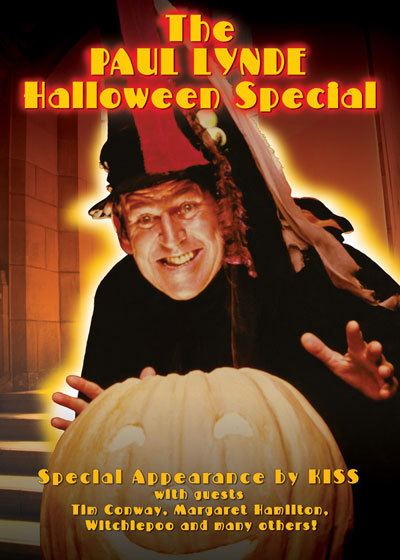 The program was released on Region 1 DVD in the US on October 2, 2007, With bonus features. This followed a two-year process by producer/head writer Bob Booker to clear the rights after finding the original footage of the show which had long been thought lost. The special aired only once.
The Paul Lynde Halloween Special Wikipedia