8.4

/

10

Alchetron

Rate This





Original language(s)

English




First episode date

8 May 1999




Networks

FOX, Fox Kids






Country of origin

United States




No. of seasons

3




Final episode date

30 March 2002






Created by

Walter Lantz (characters)




Voices of

Billy West Andrea Martin B.J. Ward Jim Cummings Elizabeth Daily Nika Futterman Mark Hamill




No. of episodes

53 (whole) 157 (segments) Woody Woodpecker: 105 Chilly Willy: 31 Winnie Woodpecker: 11 Knothead & Splinter: 10




Cast

Mark Hamill, Billy West, Elizabeth Daily, B J Ward, Jim Cummings
The New Woody Woodpecker Show is an animated television series based on the original cartoon by Walter Lantz, produced by Universal Cartoon Studios and aired from 1999 until 2002 on Fox Kids (United States) and CBBC (UK). It is an updated version of The Woody Woodpecker Show with characters from the original series and a few new ones appearing in their own segments.
Contents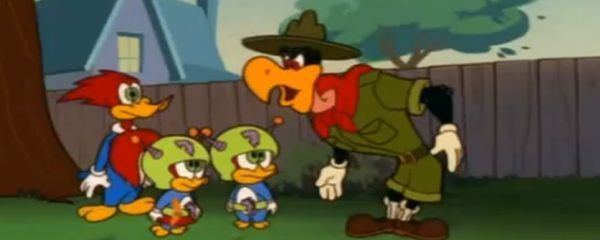 Chilly willy the chilly show hq
Segments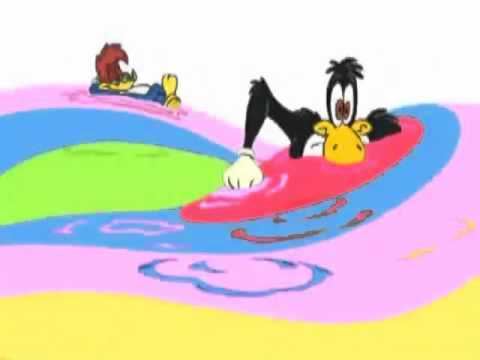 Each 22-minute episode consists of three segments, two featuring Woody Woodpecker (or his fellow woodpecker co-stars) and one starring Chilly Willy. Each have their own supporting casts.
Woody Woodpecker
Woody Woodpecker (voiced by Billy West) - In this modern update, Woody Woodpecker lives in a treehouse overlooking an apartment building in the city. He is frequently portrayed as a lazy moocher, often looking for ways to get by without lifting a finger. This does not endear him to his rivals, but Woody doesn't take their resistance lightly.
Wally Walrus (Billy West) - A Swedish walrus who lives in the apartment Woody's treehouse overlooks. Woody frequently mooches him for food and generally proves to be a nuisance for him.
Mrs. Meany (Andrea Martin) - The mean landlord who owns the apartment building that Wally and Woody live in. She is another of Woody's frequent adversaries.
Buzz Buzzard (Mark Hamill) - A sleazy vulture who is always concocting scams and cons on Woody, though Woody frequently outsmarts him. In this series, Buzz often operates with a sidekick named Tweaky Da Lackey (also voiced by Mark Hamill).
Winnie Woodpecker (B.J. Ward) - A female woodpecker who tends to get into her own misadventures. She has a more dignified persona than Woody's. Unlike the original series, Winnie and Woody are best friends instead of boyfriend and girlfriend.
Knothead (E.G. Daily) and Splinter (Nika Futterman) - Woody's nephew and niece, who can't help but give their uncle (and anybody else) a hard time.
Chilly Willy
Chilly Willy - A silent penguin who lives in the Arctic, though he frequently dreams of living someplace warm like tropical islands and resort beaches. Despite his innocent demeanor, Willy is quite the troublemaker.
Smeadly (Billy West) - A hound dog that is frequently at odds with Chilly Willy, though usually portrayed as more of an authority figure than an antagonist. He is very easygoing and generally does not break his calm demeanor, but Willy always pushes Smeadly's patience to the breaking point.
Major Bull (Kevin Michael Richardson) and Sgt. Hogwash (Blake Clark) - Military officers who operate in a government base, who are plagued by Willy's mischievousness and frequent habit of sneaking into their base.
Maxie the Polar Bear (Rob Paulsen) - One of Willy's friends, though he only makes a few appearances in this series.
Season 2 (2000–2001)
Automatic Woody / Zoom-a to Montezooma / Chicken Woody
Bonus Round Woody / Winnie at the Ball / Date with Destiny
Woody's Roommate / Winnie's New Car / Whistle Stop Woody
Lap It Up / Swiss Family Buzzard / Getting Comfortable
Sync or Swim / Armed Chilly / Difficult Delivery
Cabin Fever / Everybody's a Critic / Hide and Seek
The Ice Rage / Endangered Chilly / Attila the Hen
Frankenwoody / The Meany Witch Project / Fright Movie Woody
This Seat's Taken / Cajun Chilly / Out of Line
Inn Trouble / Wishful Thinking / Trail Ride Woody
Super Woody / Skating By / Be a Sport
Like Father, Unlike Son / A Chilly Spy / Country Fair Clam-ity
Eenie, Meany, Out You Go! / Stage Fright / Gone Fishin'
Teacher's Pet / Dirty Derby / Hooray for Holly-Woody
Cyrano de Woodypecker / Chilly Lilly / Meany's Date Bait
The Twelve Lies of Christmas
Season 3 (2002)
Woodsy Woody / Chilly Solar Wars / Cue the Pool Shark
Couples Therapy / Chilly Blue Yonder / Hiccup-Ed
Crouching Meany, Hidden Woodpecker / A Chilly Party Crasher / Junk Funk
Two Woodys, No Waiting / A Chilly Amusement Park / Born to Be Woody
Mechanical Meany / A Chilly Furnace / Homerun Woody
Spring Cleaning / A Chilly B-B-Q / Tire Tyrant
The Fabulous Foodbox by Scamco / A Chilly Hockey Star / Corn Fed Up
Infrequent Flyer / A Chilly Cold & Flu Season / Moto-Double Cross
Wild Woodpecker / A Chilly Fashion Model / Speed Demon Mountain
Niece and Quiet / Chilly Bananas / Surf Crazy
Birdhounded / Run Chilly, Run Deep / Surviving Woody
Firehouse Woody / Hogwash Junior / Thrash for Cash
Miniature Golf Mayhem / A Chilly Cliffhanger / I Know What You Did Last Night 'Series Finale'
Home media
In Brazil was released the DVD "Pica-pau Sai de Férias", and in Spain the DVD "Pajaro Loco: Pánico Escénico y Otras Aventuras" from these series. Few DVDs were released in the UK, previously on VHS. 13 episodes from the first and second seasons can now be viewed on Hulu.com.
References
The New Woody Woodpecker Show Wikipedia
(Text) CC BY-SA