Covid-19
8.8

/

10

Alchetron

Rate This




Ken Burns




Peter Coyote







Documentary, History




Peter Coyote, Adam Arkin




United States






September 27, 2009 (2009-09-27)




6 The Morning of Creation (1946-1980)Season 1 - Oct 2 - 2009, 6 The Morning of Creation (1946-1980), 5 Great Nature (1933-1945)Season 1 - Oct 1 - 2009, 5 Great Nature (1933-1945), 4 Going Home (1920-1933)Season 1 - Sep 30 - 2009, 4 Going Home (1920-1933), 3 The Empire of Grandeur (1915-1919)Season 1 - Sep 29 - 2009, 3 The Empire of Grandeur (1915-1919), 2 The Last Refuge (1890-1915)Season 1 - Sep 28 - 2009, 2 The Last Refuge (1890-1915), 1 The Scripture of Nature (1851-1890)Season 1 - Sep 27 - 2009, 1 The Scripture of Nature (1851-1890)




Related Ken Burns movies



The National Parks: America's Best Idea is a 2009 documentary film for television, DVD and companion book (ISBN 978-0307268969) by director/producer Ken Burns and producer/writer Dayton Duncan which features the United States National Park system and traces the system's history. The series won two 2010 Emmy Awards for outstanding writing in episode 2 "The Last Refuge", and for outstanding non-fiction series.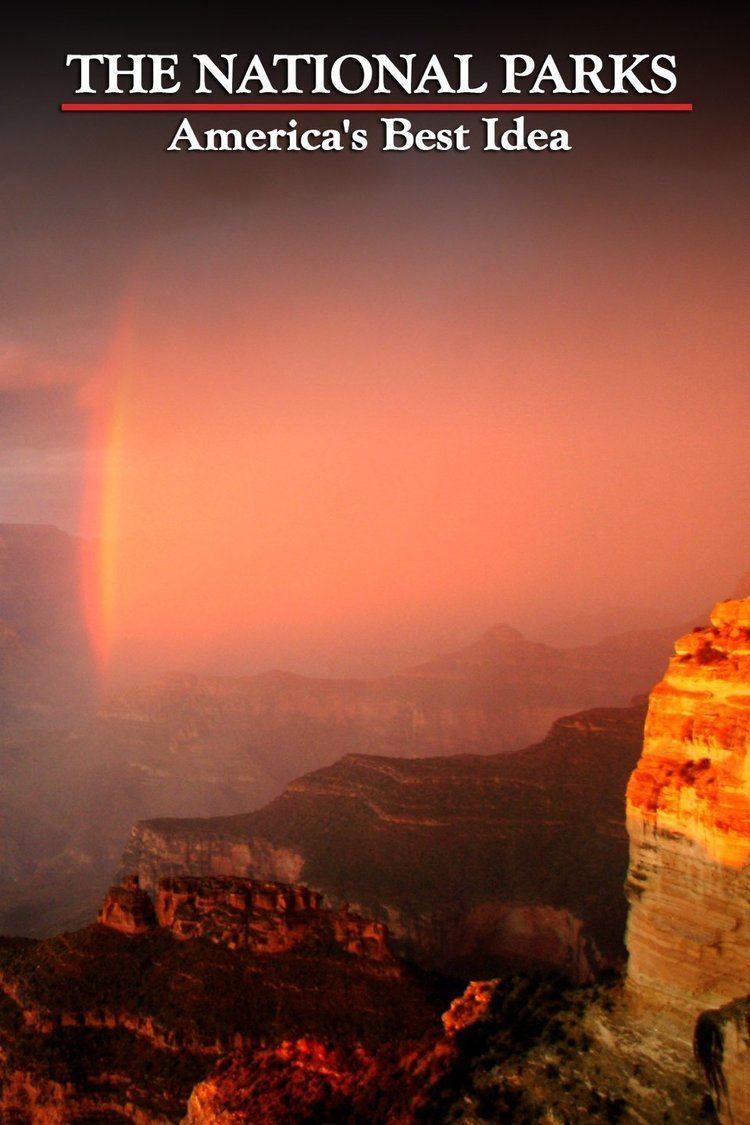 Peter Coyote is the narrator of all episodes, with first-person voices supplied by Adam Arkin, Philip Bosco, Kevin Conway, Andy García, Tom Hanks, Derek Jacobi, Clay Jenkinson, John Lithgow, Josh Lucas, Carolyn McCormick, Campbell Scott, George Takei, Eli Wallach and Sam Waterston. Shelton Johnson, a National Park ranger, was a surprising hit.
"The Scripture of Nature" (1851–1890) shows the beauty of Yosemite Valley and the geyser wonderland of Yellowstone. Additionally, it offers a lengthy discussion of how Yosemite and Yellowstone National Parks were created and shows how John Muir became their eloquent defender. Aired Sunday, September 27, 2009.
"The Last Refuge" (1890–1915) Theodore Roosevelt uses the presidential powers of the Antiquities Act to add National Monuments, including Devils Tower, Mesa Verde, Petrified Forest, Muir Woods, Crater Lake and the Grand Canyon. Hetch Hetchy Valley is lost through damming. Roosevelt's speech at the dedication of Yellowstone's Roosevelt Arch states the ultimate purpose of the National Parks: For the Benefit and Enjoyment of the People. Aired Monday, September 28.
"The Empire of Grandeur" (1915–1919) covers the creation of the National Park Service and the influence of its early leaders Stephen Mather and Horace M. Albright, and wealthy industrialists who Mather persuaded to help him champion the park system. Aired Tuesday, September 29.
"Going Home" (1920–1933) focuses on the time when America embraced the automobile, setting off an explosion in the number of park visits. Also, the Rockefellers quietly buy up land in the Teton Mountain Range. Aired Wednesday, September 30.
"Great Nature" (1933–1945) emphasizes the societal impacts of the park concept, including new environmental and naturalistic perspectives, employment opportunities and application of the park idea to additional geographical locations. Aired Thursday, October 1.
"The Morning of Creation" (1946–1980) offers details about the ecological damage caused by 62 million visitors each year and the controversial decision to protect wolves in Alaska which had been hunted to extinction in all other parks. Aired Friday, October 2.
Some foreign releases of the series – notably Australia – have separated it into 12 one hour-long episodes.
The film was previewed in a seven-minute segment at the end of the fourth episode of Burns's 2007 PBS documentary, The War. The first two-hour segment premiered at the Hopkins Center for the Arts at Dartmouth College on April 17, 2009. Episodes debuted daily, beginning Sunday September 27 to Friday October 2, with full episodes online the following day.
The National Parks: America's Best Idea Wikipedia
(Text) CC BY-SA
The National Parks: Americas Best Idea IMDb
The National Parks: Americas Best Idea themoviedb.org