Covid-19
8

/

10

1

Votes

Alchetron

Rate This




Peter Brook




Mahabharata





Belgium / Australia / U.S.A. / Sweden / Portugal / Norway / Netherlands / Japan / Ireland / Iceland / Finland / Denmark / U.K. / France






Drama, War




5 million USD




English






Jean-Claude Carriere

,

Marie-Helene Estienne




1989




Vittorio Mezzogiorno

(Arjuna),

Bruce Myers

(Ganesha; Krishna),

Miriam Goldschmidt

(Kunti),

Robert Langdon Lloyd

(Vyasa),

Andrzej Seweryn

(Yudhishthira),

Yoshi Oida

(Drona)


Wrath of the Titans

,

Clash of the Titans

,

Underworld: Rise of the Lycans

,

Gandhi

,

Glory

,

Clash of the Titans



The Mahabharata is a 1989 film version of the Hindu epic, Mahabharata directed by Peter Brook. Brook's original 1985 stage play was 9 hours long, and toured around the world for four years. In 1989, it was reduced to under 6 hours for television (TV mini series). Later it was also reduced to about 3 hours for theatrical and DVD release. The screenplay was the result of eight years' work by Peter Brook, Jean-Claude Carrière and Marie-Hélène Estienne.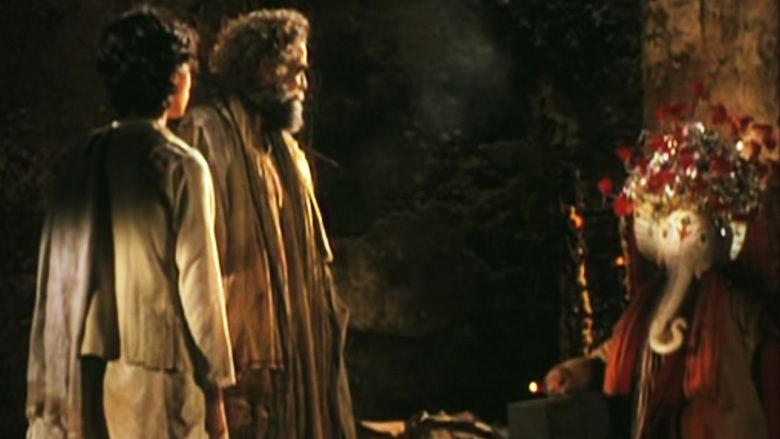 In general terms, the story involves epic incidents between two warring families, the Pandavas (representing the good side) and the Kauravas (representing the bad side). Both sides, being the offspring of kings and gods, fight for dominion. They have both been advised by the god Krishna to live in harmony and abstain from the bloody lust for power. Yet their fights come to threaten the very order of the Universe. The plot is framed by a dialogue between the Brahmin sage Vyasa and the Hindu deity Ganesha, and directed towards an unnamed Indian boy who comes to him inquiring about the story of the human race.
Robert Langdon Lloyd as Vyasa
Antonin Stahly-Vishwanadan as Boy
Bruce Myers as Ganesha/Krishna
Vittorio Mezzogiorno as Arjuna
Andrzej Seweryn as Yudhishthira
Mamadou Dioumé as Bhima
Georges Corraface as Duryodhana
Jean-Paul Denizon as Nakula
Mahmoud Tabrizi-Zadeh as Sahadeva
Mallika Sarabhai as Draupadi
Miriam Goldschmidt as Kunti
Ryszard Cieslak as Dhritarashtra
Hélène Patarot as Gandhari
Myriam Tadesse as Gandhari's servant
Urs Bihler as Dushasana
Lou Bihler as Young Karna
Jeffrey Kissoon as Karna
Maurice Bénichou as Kitchaka
Yoshi Oida as Drona
Sotigui Kouyaté as Parashurama / Bhishma
Tuncel Kurtiz as Shakuni
Ciarán Hinds as Ashwatthama
Erika Alexander as Madri / Hidimbi
Bakary Sangaré as The Sun / Rakshasa / Ghatotkacha
Tapa Sudana as Pandu/Shiva
Akram Khan as Ekalavya
Nolan Hemmings as Abhimanyu
Hapsari Hardjito as Utari (Abhimanyu's wife)
Mas Soegeng as Virata
Yumi Nara as Virata's wife
Amba Bihler as Virata's daughter
Tamsir Niane as Urvasi
Lutfi Jakfar as Uttara
Gisèle Hogard as 1st princess
Julie Romanus as 2nd princess
Abbi Patricx as Salvi
Ken Higelin as Deathless boy
Corinne Jaber as Amba / Sikhandin
Joseph Kurian as Dhristadyumna
Clément Masdongar as Gazelle
Leela Mayor as Satyavati
Velu Vishwananan as The hermit
The production's use of an international cast caused heated intercultural debate. Negative criticism came from Indian scholar Pradip Bhattacharya who felt that Brook's interpretation "was not a portrayal of a titanic clash between the forces of good and evil, which is the stuff of the epic... [but] the story of the warring progeny of some rustic landlord".
In 1990, the film won the award for Performing Arts of the International Emmy Awards and the Audience Award for Best Feature at the São Paulo International Film Festival.
The Mahabharata (1989 film) Wikipedia
(Text) CC BY-SA
The Mahabharata (1989 film) IMDb
The Mahabharata (1989 film) themoviedb.org