Covid-19



David Hand





Mickey Mouse




United States






Animation, Short, Comedy




7 minutes




Bert Lewis




English






January 21, 1933




Walt Disney

(Mickey Mouse),

Pinto Colvig

(Pluto),

Billy Bletcher

(Dr. XXX)


Paperman

,

Pacific Rim

,

Get a Horse!

,

Elmer Elephant

,

Three Little Pigs

,

Mickey and the Beanstalk



The Mad Doctor is a classic Mickey Mouse cartoon released in 1933. It is known as the first appearance of the title character "The Mad Doctor", or "Dr. XXX".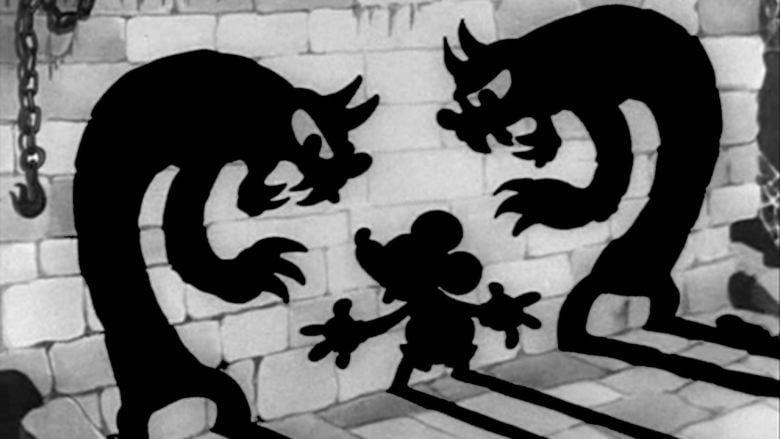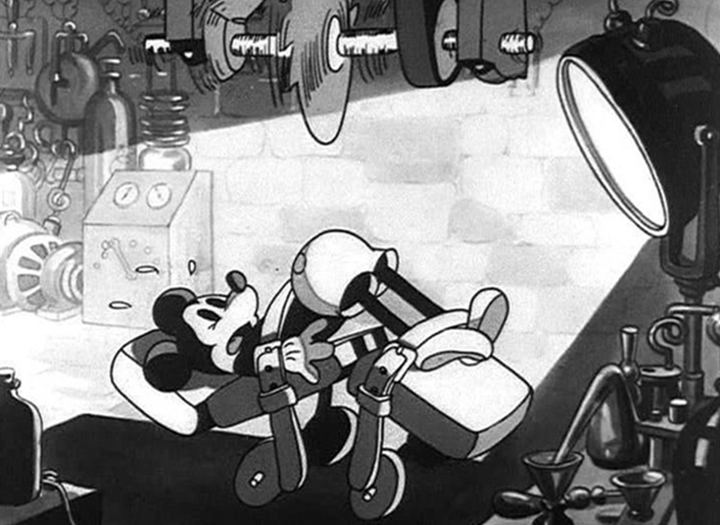 The plot centers on the title character, a mad scientist named Dr. XXX, who has kidnapped Mickey's dog, Pluto. Mickey tries to rescue him before the doctor can perform his experiment: putting Pluto's head to the body of a chicken in order to see if a puppy will hatch from an egg (that is if the end result will "bark or crow or cackle"). Mickey battles his way through booby traps and animated skeletons before eventually getting caught and strapped onto a table to get cut open by a buzzsaw, forcing Mickey to suck in his belly, trembling. The scene then fades to Mickey asleep in bed and suddenly woken up by a fly, whose buzzing resembles the whirring of the spinning blade. Not yet realizing the events were only a nightmare, Mickey shouts for Pluto, who eagerly jumps onto Mickey's bed with his doghouse and chain still attached to collar.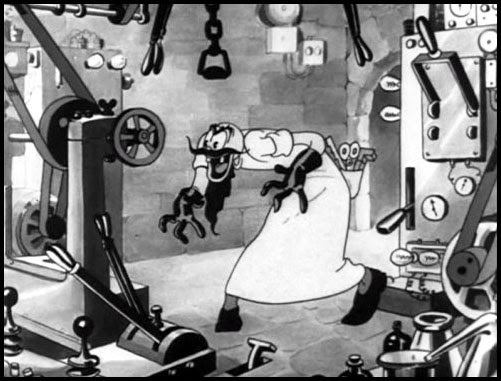 The short uses the same gag that appears in "Haunted House" (1929), which has the door lock itself after Mickey enters the house.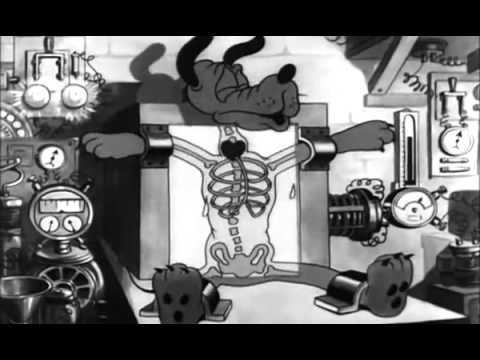 The short's horror overtones made it unusual for a Mickey Mouse cartoon. Some theaters refused to show it, believing it to be too scary for kids. At one time, for this reason, it was banned entirely in the United Kingdom, as well as Nazi Germany.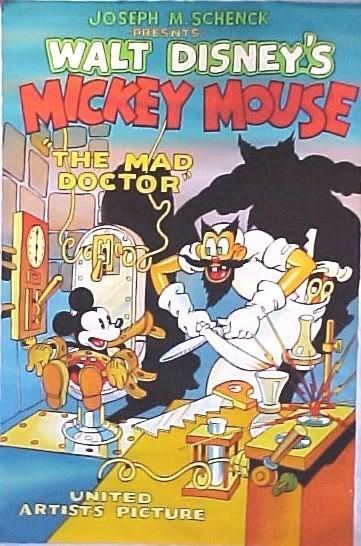 The short's title character had a cameo in the Roger Rabbit short, "Tummy Trouble", in which he was seen on a picture. The Mad Doctor was also the basis for, and title of the second level in the video game, Mickey Mania: The Timeless Adventures of Mickey Mouse released for the Super NES, Genesis, Sega CD and PlayStation (as Mickey's Wild Adventure); a depiction of the Mad Doctor level is used as the cover art for the game.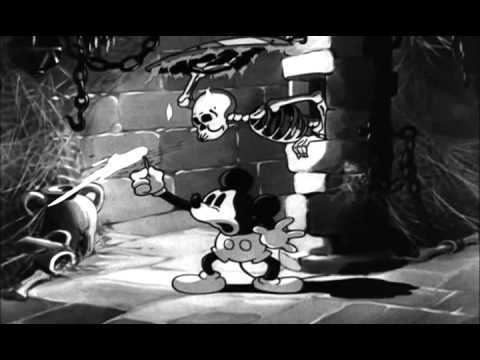 This cartoon is one of a few Disney shorts that lapsed into the public domain, and can be found on many low budget VHS tapes and DVDs, usually paired with "Minnie's Yoo Hoo" and "The Spirit of '43". It was also released on DVD in 2002 as part of Walt Disney Treasures: Mickey Mouse In Black and White.
The Mad Doctor appeared as an antagonist in the video games Epic Mickey and Epic Mickey 2: The Power of Two
The Mad Doctor (1933 film) Wikipedia
(Text) CC BY-SA
The Mad Doctor (1933 film) IMDb
The Mad Doctor (1933 film) themoviedb.org