The film was screened at the 2012 Toronto International Film Festival and competed at the 2012 Cannes Film Festival where Mikkelsen won the Best Actor Award for his role. It also won the 2013 Nordic Council Film Prize. The film was selected as the Danish entry for the Best Foreign Language Film at the 86th Academy Awards, making the final nomination. It was nominated in the same category at the 2013 Golden Globe Awards.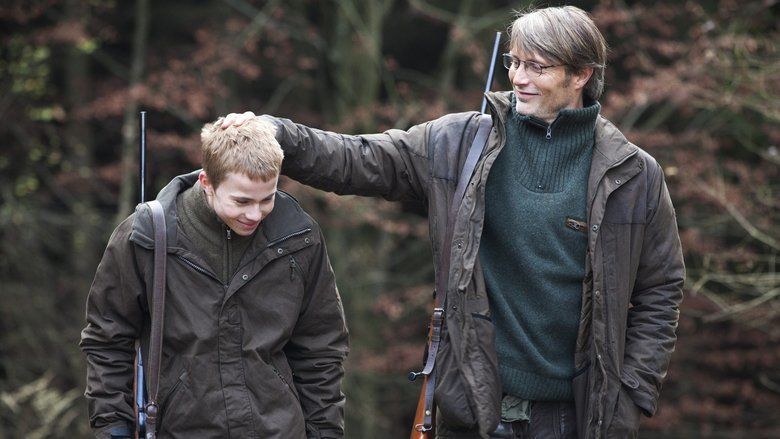 Lucas is a well-liked kindergarten teacher in a close-knit Danish community. Divorced, he struggles to maintain a relationship with his teenage son, who lives with his ex-wife, but the boy eventually decides to live with him. Lucas' coworker Nadja makes advances towards him and eventually becomes his girlfriend.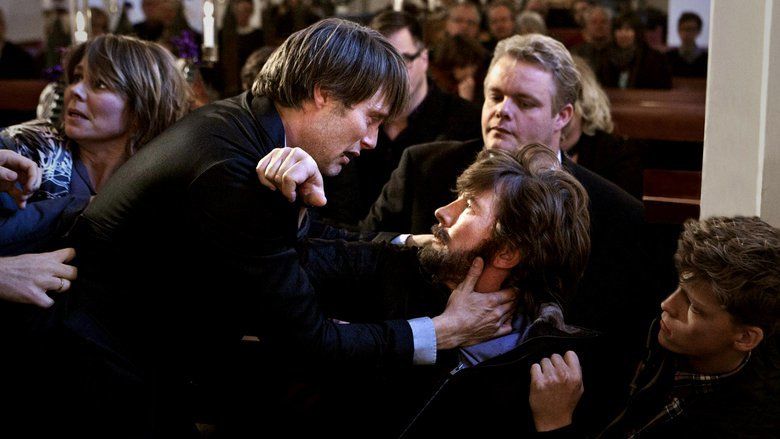 One of Lucas' students is Klara, the daughter of his best friend Theo. She has a crush on Lucas, and one day she puts a heart-shaped ornament into his coat pocket, then gives him a kiss on the lips. After Lucas rebuffs the kiss, Klara's feelings are hurt. Drawing on a memory of a pornographic picture her older brother showed her, she makes comments that lead the kindergarten director to believe Lucas indecently exposed himself to her. The director asks Klara leading questions, and the girl gives unclear testimony against Lucas. The adults in the community believe the director's story of abuse, dismissing Klara's later contradictions as denial.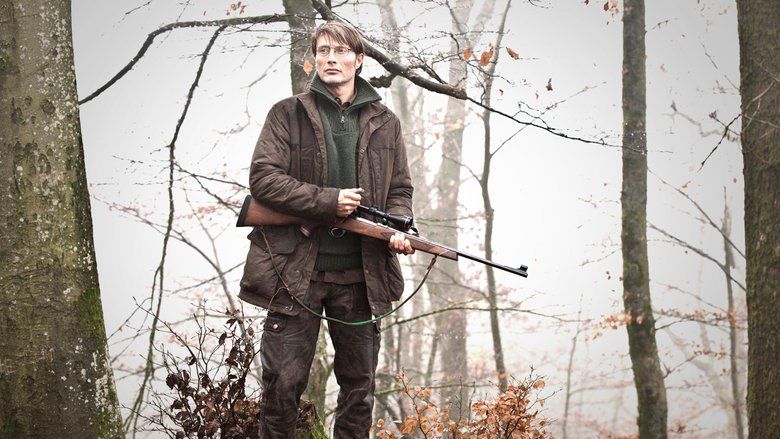 Lucas is shunned by the community as a pedophile and sexual predator. His friendship with Theo and his relationship with Nadja are destroyed, and his son is publicly ostracised. The kindergarten staff ask leading questions of the other children, who also say they were abused. However, the children's accounts involve Lucas abusing them in his basement, which supports Lucas' innocence - his house has no basement. After a hearing, he is released without charge.
The community is still suspicious of Lucas, however, and the ostracism turns to violence. Someone kills his dog, Fanny, while another assailant throws a stone through his window. When he goes grocery shopping, the grocery store employees attack him. On Christmas Eve, Lucas confronts Theo during a public church service. Later, Theo overhears Klara apologizing to Lucas as she drifts off to sleep. He realizes that Lucas is innocent, and he visits him on Christmas Day with food and alcohol as a peace offering.
A year later, tensions in the community have lessened. Lucas and Nadja are in a relationship again, and Lucas' son is accepted into the local hunting society as an adult. On a hunting expedition to commemorate the event, an unseen person apparently shoots at Lucas and misses him. Blinded by the setting sun, Lucas is unable to identify his attacker, who flees. A moment later the unknown shooter, real or metaphorical, is gone.
Mads Mikkelsen as Lucas
Alexandra Rapaport as Nadja, Lucas' girlfriend
Thomas Bo Larsen as Theo, Lucas' best friend
Susse Wold as Grethe
Lars Ranthe as Bruun, Lucas' brother
Anne Louise Hassing as Agnes, Theo's wife
Bjarne Henriksen as Ole
Annika Wedderkopp as Klara, Theo's daughter
Lasse Fogelstrøm as Marcus, Lucas' son
Ole Dupont as Godsejer / Advokat
The film was produced by Zentropa for 20 million Danish kroner. It received co-production support from Sweden's Film i Väst and Zentropa International Sweden. Further support came from the Danish Film Institute, DR, Eurimages, Nordisk Film & TV Fond, the Swedish Film Institute, Sveriges Television and the MEDIA Programme.
The Hunt premiered on 20 May 2012 at the 2012 Cannes Film Festival, as the first Danish-language film in the main competition since 1998. Mads Mikkelsen won the Best Actor Award at Cannes. Given its estimated $3.8 million budget, the film was a financial success; in total, it earned more than $16 million including $7.9 million in Denmark. In the United States, it was shown in 47 theaters and earned $613,308.
The film received universal acclaim. It has a "certified fresh" score of 94% on Rotten Tomatoes based on 124 reviews, with an average rating of 7.9 out of 10. The critical consensus states: "Anchored by Mads Mikkelsen's sympathetic performance, The Hunt asks difficult questions with the courage to pursue answers head on." The film also has a score of 76 out of 100 on Metacritic based on 30 critics, indicating "generally favourable reviews".
Nordisk Film released it in Denmark on 10 January 2013. The film was released on DVD and Blu-ray on 7 May 2013.