Just before dying, voodoo queen Pauline Christophe (Mary J. Todd McKenzie) instructs her butler (Jean Durand) to mail a handful of letters. The various recipients learn that theyre related to Christophe and are requested to travel to Skull Mountain in Georgia for the reading of her will. No sooner do they arrive, however, than a mysterious robed creature begins killing them off one by one. Unable to leave the house, the survivors band together to fight what they fear is a voodoo curse.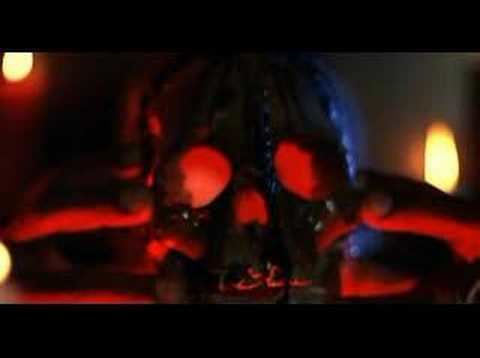 The House on Skull Mountain is a 1974 horror film directed by Ron Honthaner. After Pauline Christophe (Mary J. Todd McKenzie), the sole heir for the mansion on Skull Mountain dies, four of her family members are called to hear her will. Upon arrival, each of the guests is stalked by a skeleton in a robe.
Four cousins who have never met are invited by their Great-Grandmother Christophe to visit her mansion outside of Atlanta. When they arrive, they learn she has just died. They stay to hear the reading of her will and soon are being killed off one-by-one with voodoo magic. The survivors try to find the killer before he finishes them all off.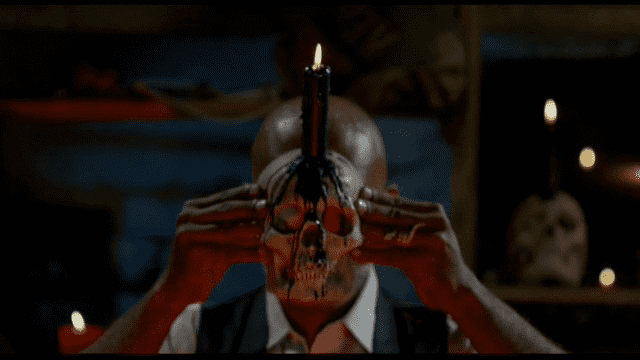 In her home on Skull Mountain, elderly Pauline Christophe receives last rites as her butler, Thomas and his wife Louette, stand by. Pauline gives the priest four letters, instructing him to send them without allowing anyone to read them. She then pulls out a box filled with voodoo dolls and dies.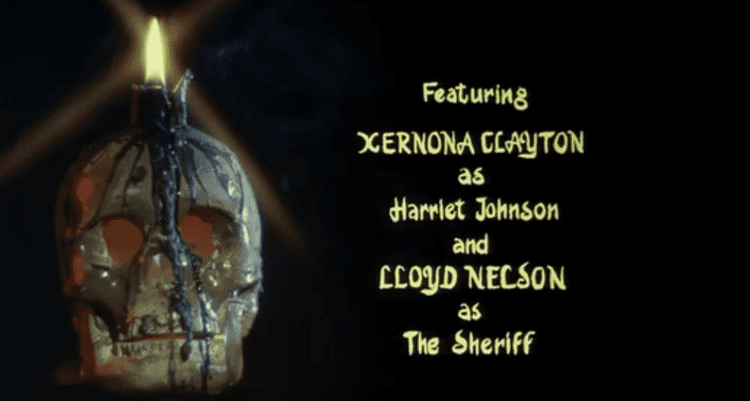 Two days later, Lorena, one of Paulines great-grandchildren, is driving up the hill to Skull Mountain. Phillipe, another great-grandchild, speeds by and nearly forces her off the road. As Phillipe continues on, a skull appears and disappears in front of his car, nearly causing him to crash off the cliff. Arriving at the house after the funeral, Lorena meets with the priest while Louette stands by the gravediggers readying to bury Pauline. Louette sees a raven drop a string of beads tied at the end with feathers, the voodoo symbol for death, onto the coffin in the ground. The beads start to bleed and then burst into flame, burning through the coffin and causing thick smoke to fill the air. Louette hurriedly tells the gravediggers to bury the coffin. When she fearfully tells Thomas what happened, he dismisses it as imagination.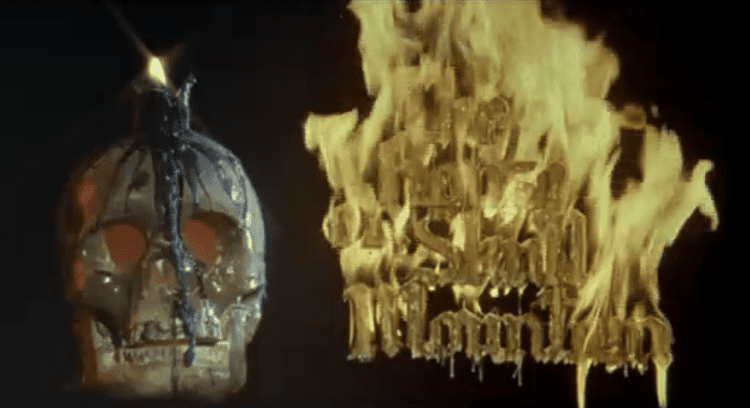 Lorena finds out that Pauline has died and entitled her as part of the will. Upon entering the house, Lorena sees Phillipe and confronts him about almost running her off the road, but when she realizes he is her cousin, she befriends him. While being taken to their rooms, Phillipe discovers Paulines old elevator, finding that it doesnt work.
While flying to the estate, Harriet Johnson, another relative, sees a hooded, robed figure on the plane staring at her. She screams only to have it disappear while the other passengers give her odd looks. She arrives at the house at night during a storm and is introduced to the others. The reader of the will arrives, but cannot proceed as a fourth relative has still not arrived. He leaves, saying that he cannot return for another week. The three relatives ask Thomas why theyre the only ones of the family invited. He explains that Pauline wanted them to come as she had never met any of the four. He then begins to explain the reason for voodoo-related material around the house. They are interrupted by the arrival of a white, drenched man: the fourth relative, Dr. Andrew Cunningham. They introduce themselves, and Phillipe begins to call him out for being the only white relative. After dinner, Philippe explores the house and is startled by Thomas. Philippe scoffs at Thomas belief in voodoo and picks up a feathered bead, throwing it in Thomas face, then leaves to get drunk.
While Lorena is in her room, she sees a skull in the mirror, the windows spring open and a robed skeleton appears. She flees, running into a drunken Philippe in the hallway. He tries to kiss her but is chased away by Andrew who comes to Lorenas rescue. As Philippe stumbles downstairs, he sees the elevator door open and is led by a vision of Lorena toward it. As Thomas performs a ritual with a voodoo doll and when he plunges a needle into it, Philippe walks into the empty elevator shaft and plunges to his death. Drawn by his screams, Andrew goes down the shaft and finds Philippes body along with the feathered beads. The sheriff is called and takes the body away, telling the others they cannot leave town until after an autopsy is performed to see if alcohol was the factor or not.
The next morning, while Lorena and Andrew are in town, Harriet finds a strange plant in the dining room, discovering a rattlesnake inside which then disappears. Unnerved, she heads back toward her room, only to see the lock on Paulines door fall off. She enters Paulines room, discovering a voodoo shrine. A rocking chair begins to move and when she investigates, she is bitten by a rattlesnake. Andrew and Lorena return to find her unconscious and begin to rush her to the hospital. Thomas begins another ritual with a voodoo doll. In the car, Harriet awakens to see the same hooded figure she saw on the plane. She screams, dying when Thomas stabs the needle into the doll. When Andrew arrives at the hospital, he finds a feathered bead on Harriets body.
Back at the house, Lorena sleeps while Andrew keeps watch and reads one of the many voodoo books there. As Andrew begins to fall asleep, Thomas performs a ritual in which a snake slithers all over Lorenas sleeping body until she awakens and faints. She rises in a trance and leaves the room. Andrew wakes up to discover Lorena missing, and begins to search for her. Louette leads him to a passageway at the bottom of the elevator shaft and leaves. Andrew enters a room filled with people dancing around Louette, now tied to a pole in the center of the room. During the ritual, a male dancer begins to dance around with a snake, and Thomas emerges with a knife slashing at Louette who begs him to snap out of it. The male dancer and Thomas take turns slashing close to her face and stomach. Then Thomas takes the knife and stabs Louette in the chest, killing her. As he dances, pulling Lorena from the crowd to join in the ritual, Andrew finds a machete. As Lorena starts to come out of her trance, Thomas conjures a machete in his hand. The two men fight, while the dancer attacks Andrew. After knocking the dancer out, Andrew has his machete knocked out of his hands. As Thomas swings his machete at him, Andrew grabs the skull on a stick that the dancers were worshiping, using it as a defense. Thomas splits it, and everyone screams. The lights go out and Andrew finds he is the only one in the room. He quickly goes to find Lorena, discovering her entranced in Paulines bed. Thomas enters, telling Andrew that Lorena is his and will do anything he wants. As Thomas draws her toward him, Andrew shakes her out of the trance. Thomas begins a voodoo ritual to bring Pauline from the grave. Paulines grave begins to burn and she rises from the dead, coming into the room to kill Andrew. However, Andrew uses his knowledge from read the voodoo book to put a reversal spell on Pauline who then goes for Thomas. Backing away, Thomas falls through the window, crashing to his death on the fence. Pauline returns to her grave. The next morning, Andrew asks Lorena to stay with him in the house, now that hes inherited it. She tells him she has to go, and he takes her to her car.
Victor French as Dr. Andrew Cunnigham
Janee Michelle as Lorena Christophe
Jean Durand as Thomas Pettitone
Mike Evans as Phillipe Wilette
Ella Woods as Louette
Xernona Clayton as Harriet Johnson
Lloyd Nelson as The Sheriff
Mary J. Todd McKenzie as Pauline
Jo Marie as Doctor
Don Devendorf as Priest
O.J. Harris as Dancer
Shooting took place in Atlanta.
Fox released The House on Skull Mountain on DVD in September 2007.
Writing in The Zombie Movie Encyclopedia, academic Peter Dendle described the film as having "crusty acting and hokey dialogue". In his book Mixed Blood Couples, film critic Steven Jay Schneider suggests that the choice of making Frenchs and Michelles characters cousins is an excuse to avoid depicting miscegenation.
Schneider, Steven Jay (2004). Ruth Bienstock Anolik, Douglas L. Howard, eds. "Mixed Blood Couples: Monsters and Miscegenation in U.S. Horror Cinema". The Gothic Other: Racial and Social Constructions in the Literary Imagination (McFarland & Company): 72–89. ISBN 0786427108.