Covid-19
6

/

10

1

Votes

Alchetron

Rate This





Robert McKimson




English






February 18, 1956



The High and the Flighty is a Warner Bros. Merrie Melodies cartoon animated short featuring Daffy Duck, Foghorn Leghorn, and the Barnyard Dawg. Released in 1956, the cartoon is directed by Robert McKimson and written by Tedd Pierce. This short was animated By Ted Bonnicksen, Russ Dyson, and Keith Darling. The title is a parody of the 1954 Warner Bros. Pictures film The High and the Mighty starring John Wayne.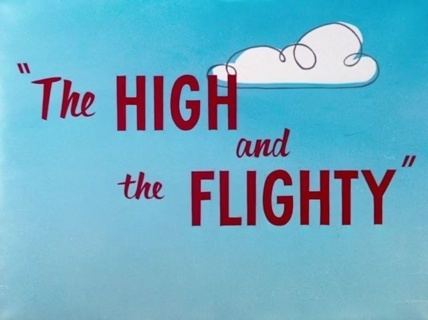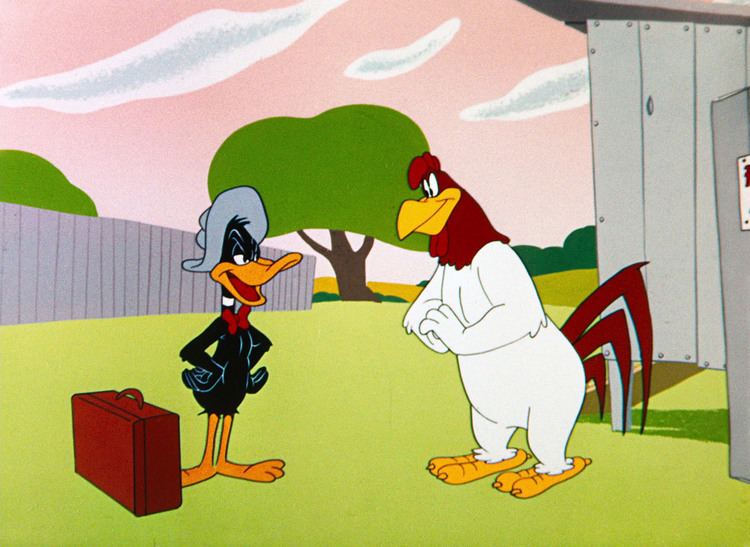 Daffy Duck is a traveling salesman for the Ace Novelty Company of Walla Walla, Washington, when he witnesses Foghorn Leghorn and the Barnyard Dog in one of their familiar alternating scraps. (Foghorn is seen awakening the dog by lifting him up by the tail and repeatedly slapping his rear end with a board which causes the dog to chase him. The dog goes in pursuit, but reaches a painted white line with a sign that reads "Rope Limit" which causes the dog to be jerked to a stop by the rope around his neck. Foghorn yells "AHH SHADDUP!!!" then takes a rubber ball and stuffs it in the dog's mouth, then punctures the ball with a needle causing the dog to fly away. As Foghorn leaves he walks past a wooden tower with a sign the reads "Don't Look Up". Foghorn naturally looks and sees the dog perched on the tower holding a watermelon which the dog releases, causing it to break over Foghorn's head. The dog's prank prompts Foghorn to contemplate "massive retaliation" against him) Daffy enters with his traveling salesman suitcase of novelty joke items and offers to help Foghorn get back at the dog by selling him a trick bone that is spring-loaded.
As the prank works, Daffy then intervenes to help the dog retaliate against Foghorn with a gift-wrapped corn-on-the-cob that is connected to an electrical wire. Naturally, as Foghorn wants to get back at the dog with an even bigger prank, Daffy sells him something called the Chattanooga Choo-Choo which ends up backfiring on Foghorn, who carries the corn-cob pipe in his mouth for a smoke effect, he uses a metal train engine part to try and hit the dog, only to miss, and find himself on a railroad track and get hit by a passing diesel train. To make up for the Chattanooga Choo-Choo, Daffy offers to sell Foghorn an elaborate prank called the Pipe Full Of Fun Kit Number 7, which Foghorn purchases. As Foghorn is setting up the trap, he sees the dog setting up the same trap to use against him, only both of them realize that Daffy has been playing them against each other (and enriching himself in the process). Foghorn and the dog join forces to go after Daffy, who attempts to flee, but is instead victimized by the Pipe Full O' Fun Kit, until Foghorn says "You know, there might I say there just might be a market for bottled duck.".
The High and the Flighty Wikipedia
(Text) CC BY-SA