8.2

/

10

Alchetron

Rate This




Director

Yasujiro Ozu




Music director

Ichiro Saito




Duration




Country

Japan






Genre

Drama




Screenplay

Yasujiro Ozu




Language

Japanese







Writer

Kogo Noda

,

Yasujiro Ozu




Release date

1952




Cast

Shin Saburi

(Mokichi Satake),

Michiyo Kogure

(Taeko Satake),

Koji Tsuruta

(Noboru Okada),

Chikage Awashima

(Aya Amamiya),

Keiko Tsushima

(Setsuko Yamauchi),

Eijirô Yanagi

(Yamauchi)


Similar movies

Related Yasujiro Ozu movies



The flavor of green tea over rice ochazuke no aji 1952
Tea Over Rice or The Flavor of Green Tea over Rice (お茶漬けの味, Ochazuke no aji) is a 1952 Japanese film directed by Yasujirō Ozu. The screenplay concerns a wealthy middle-aged couple (played by Shin Saburi and Michiyo Kogure) who have marital difficulties, and their niece who uses the couple's troubles as her excuse for not attending arranged marriage interviews.
Contents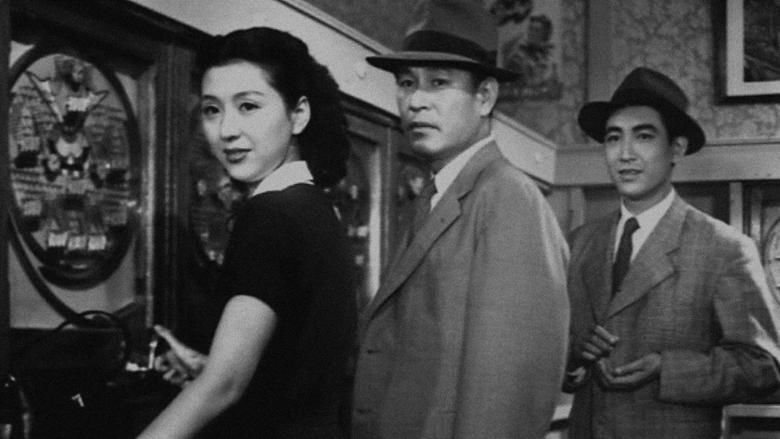 the flavor of green tea over rice
Synopsis
Taeko (Michiyo Kogure) and Mokichi Satake (Shin Saburi) are a childless married couple living in Tokyo. The husband, whom the wife thinks dull, is an executive at an engineering company.
Taeko's friend Aya (Chikage Awashima) persuades Taeko to falsely claim to her husband that Taeko's brother's daughter, Setsuko (Keiko Tsushima), is ill, so that she can go to a spa with a couple of friends. The plan goes wrong when Setsuko visits her house unexpectedly, but Taeko substitutes the invalid with another friend and obtains consent from her husband to go for a break.
Setsuko has to go for a matchmaking session although she is unwilling to do so. Seeing that Mokichi and Taeko are not happy after their arranged marriage, she is determined to find her own spouse. Mokichi's family tasks Taeko to act as matchmaker for Setsuko at a kabuki theater, but Setsuko runs off midway and goes to see her uncle, who brings her back to the theater and leaves, after which she runs off again. She joins Mokichi at a pachinko parlor with his younger friend Noboru (Koji Tsuruta). Mokichi asks Noboru to bring Setsuko back home as he heads home.
Setsuko does not go home, but instead goes to her uncle's house, where Taeko is fuming. When Taeko realizes that Setsuko and Mokichi have been together, she becomes so angry that she refuses to speak to her husband for days. The two have a confrontation, when Mokichi tells her that he finds his old habits hard to break because smoking inferior cigarettes and traveling third-class on a train remind him of the simpler pleasures of life. Taeko leaves in a huff.
Taeko goes on a solo train journey away from Tokyo. Mokichi telegrams her to tell her that his company is sending him to Uruguay on a business trip, and asks her to return. Taeko returns only after Mokichi has flown. Mokichi returns a few hours later since the airplane carrying him has met with technical mishaps and has to head back to Tokyo. The couple make up while preparing ochazuke, rice with green tea. Taeko understands what her husband has been speaking about earlier on. She promises never to leave without a word again.
The film ends with Setsuko confiding with Noboru over her aunt's changed attitude, and the final scene suggests that the two have become a couple.
Cast
Shin Saburi - Mokichi Satake
Michiyo Kogure - Taeko Satake
Kōji Tsuruta - Non-chan / Noboru Okada
Chishū Ryū - Sadao Hirayama
Chikage Awashima - Aya Amamiya
Keiko Tsushima - Setsuko Yamauchi
Kuniko Miyake - Chizu Yamauchi
Eijirō Yanagi - Naosuke Yamauchi
Script
The script for the film was originally written by Yasujirō Ozu under the title "Kareshi Nankin e Iku" (彼氏南京へ行く, translation "He's going to Nanjing") in 1939, with a story concerning a man about to be sent abroad on military service, rather than the business trip to Uruguay in the eventual film. In 1940 it was retitled "O-chazuke no aji" and went into preparation for production. However, the military censors demanded that the script be completely rewritten, for example demanding that the humble "ochazuke" dish mentioned in the title be changed to the celebratory dish of red beans and rice, because the man was leaving to serve in the army. Ozu then shelved the project.
Reception
In 1973, Vincent Canby wrote that The Flavor of Green Tea over Rice "is not great Ozu. There are times—especially in its subplot about a girl who refuses traditional wedding arrangements—when it is almost formula comedy." Canby also said, however, that Kogura and Saburi's characters "become such appealing characters, touched by a kind of nobility", and noted that "Ozu never wastes our interest on connecting scenes if we can take them for granted. When he does show us a man proceeding, say from one office to another, it becomes important, perhaps as an acknowledgment of time lost or as a sort of film equivalent to the white space between the chapters in a novel."
Dave Kehr of the Chicago Reader marked the film as "Recommended". Praising Ozu's melodramas for "[avoiding] any sense of cliche in their restrained, sometimes painfully subtle study of family relationships", Kehr argued that "the lack of camera movement sometimes speaks more than the elaborate techniques of [Ozu's] contemporaries."
References
The Flavor of Green Tea over Rice Wikipedia
(Text) CC BY-SA
The Flavor of Green Tea over Rice IMDb
The Flavor of Green Tea over Rice themoviedb.org