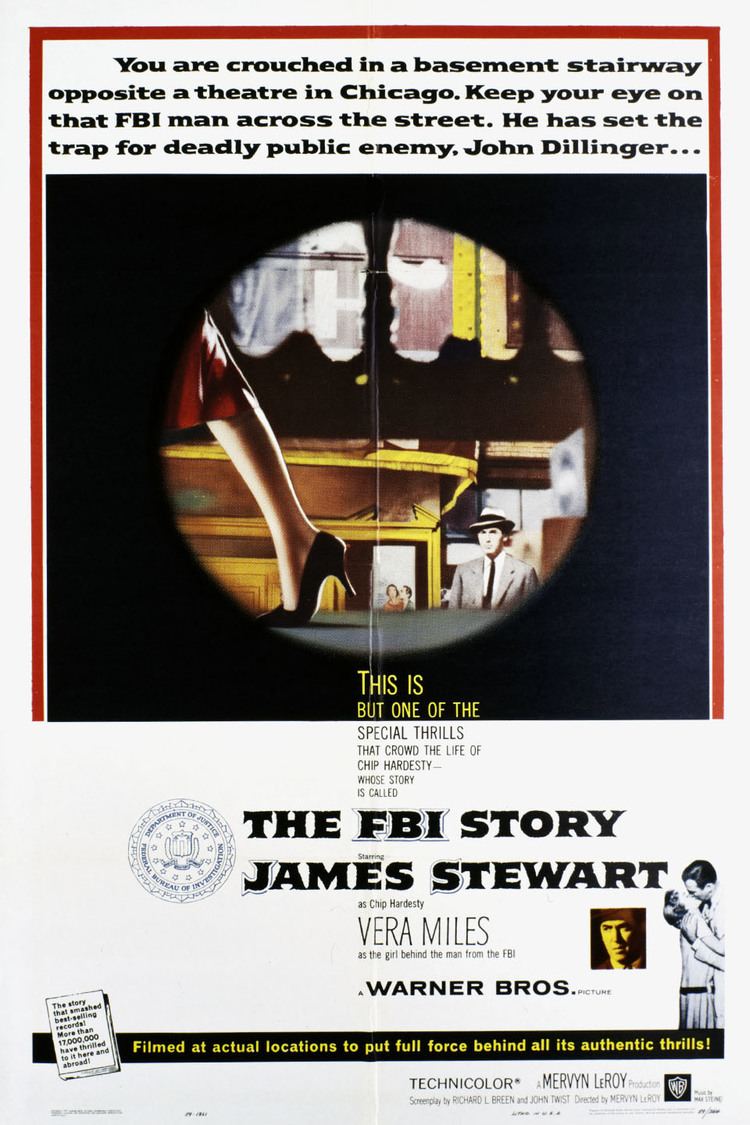 John Michael ('Chip') Hardesty (James Stewart) narrates the story of a murder, which the viewer sees in a flashback. Young Jack Graham (Nick Adams), takes out life insurance on his mother and plants a bomb in her luggage for a flight that she was taking from Denver, Colorado, to Portland, Oregon, November 1, 1955.
Next we see Hardesty as he recounts his history as an agent of the Federal Bureau of Investigation during a lecture. The lecture becomes the narration of flashbacks as he tells of his life as an agent combating various crimes and criminals, including the Ku Klux Klan, Pretty Boy Floyd, Baby Face Nelson, John Dillinger, and spies.
Then he recounts his first involvement as a government clerk in Knoxville, Tennessee in May 1924, and his proposal to a librarian, Lucy Ann Ballard (Vera Miles). Ballard loves Hardesty but wants to change him. They marry with the idea that Hardesty will resign from the FBI and start practicing law. On his way to Washington D.C. his partner, Sam Crandall (Murray Hamilton), tries to talk him out of resigning. Then listening to the new director, J. Edgar Hoover, he becomes inspired to stay. He meets Lucy Ann for a shrimp dinner at Herzog's Seafood Restaurant and tries to evade her questions about his resignation, but she soon tells Chip that she is pregnant, and she, still trying to change him, allows him stay in the bureau, "for a year".
The next day Chip is sent south to investigate the Ku Klux Klan. He is moved around until he is sent to Ute City, Wade County, Oklahoma (The real case was in Osage County, the Osage Indian murders, between 1921 and 1923) to investigate a series of murders of Native Americans who had oil rich mineral rights and land. The FBI lab ties the doctored wills and life insurance policies of the murder victims to a local banker, Dwight McCutcheon (in real life a rancher, William "King of Osage" Hale; played by Fay Roope), with the typewriter that he used. Lucy Ann loses a baby during this time.
On June 17, 1933, Three FBI agents, McAlester Oklahoma Police Chief Otto Reed, and Kansas City police officers, were escorting Frank "Jelly" Nash from a train to a car outside the Union Station in Kansas City. When they got into the vehicle, another vehicle pulled up behind them, three men (Verne Miller, Charles "Pretty Boy" Floyd, and Adam Richetti) got out and opened fire on the car with Nash and the law enforcement officers. Otto Reed, Bureau Special Agent Raymond J. Caffrey, and Kansas City Policemen W. J. Grooms and Frank Hermanson, were all killed in what is now called the Kansas City Massacre (Nash was not intentionally shot as the film shows, his friends were there to free him). Following the Kansas City Massacre average citizens and civic groups decided that they had had enough and started to demand actions against gangsters like Pretty Boy Floyd, Baby Face Nelson, John Dillinger, Machine Gun Kelly, and Bonnie and Clyde. The Kansas City Massacre changed the FBI, prior to this event the agency did not have authority to carry firearms (although many agents did) and make arrests (they could make a "citizen's arrest", then call a U.S. Marshall or local law officer), but a year later Congress gave the FBI statutory authority to carry guns and make arrests. Hardesty and Crandall are very excited by the Weyburn Bill (the right for agents to carry firearms), calling it "a real Christmas present", but Lucy Ann does not like the idea at all.
After receiving a tip, Hardesty and Crandall head to Spider Lake, Wisconsin on April 22, 1934, but after barking dogs alerted the gangsters they scattered. They then head to a nearby country store to call the Chicago office. When they get there they find two men sitting in a car, with Baby Face Nelson (William Phipps), holding them hostage. Nelson comes up shooting, mortally wounding Crandall. (The real incident did occur on April 22, Baby Face Nelson, was hiding out with John Dillinger, but it was at the Little Bohemia Lodge just outside Manitowish Waters, Wisconsin, the two agents were Special Agents J. C. Newman and W. Carter Baum, Baum is the agent killed in the shootout. With them was also a local constable not shown in the film. Nelson was holding two hostages in a house, and when the car came up, Nelson, wanting to take the vehicle, rushed forward shouting for the occupants to get out, but then opened fire on the car shooting all three lawmen).
The film then quickly recounts Hardesty's (fictional) involvement in the capture and/or deaths of numerous infamous mobsters of the day including "Pretty Boy" Floyd, "Baby Face" Nelson, and "Machine Gun" Kelly (who coined the popular term "G-Men" during his arrest, shouting "Don't Shoot G-Men, Don't Shoot" upon being apprehended.) Chip's three children quickly mature into young adults; as Chip attends a speech and dance at his daughter's high school graduation, the joyous mood is suddenly shattered by news of the Attack on Pearl Harbor. With the US entry into the war, enemy aliens (Americans of Japanese, German and Italian descent) are quickly rounded up by the FBI and sent to "concentration camps", and although none of them were spies, the film argues that it was a necessary act to prevent possible espionage and collaboration with the Axis Powers. In order to shoulder the new burden, the ranks of the "bureau" are quickly doubled from about 2500 to more than 5000 agents. One of those aspiring new agents is the deceased Sam's son George who is constantly frustrated and worried that he would never live up to his father's reputation. After another day of difficult training, George is invited by Chip to a barbecue at the Hardesty household where a romance is clearly budding between the young man and Chip's oldest daughter. While dancing in the backyard, the party is suddenly interrupted by Chip's only son who plays the Marine Hymn on the phonograph before announcing his enlistment in the U.S. Marine Corps. Lucy is naturally horrified; she wishes for her son to finish school and fears that he will never survive the war, though Chip has some support for the young man's decision. Soon afterwards, George completes his FBI training and is sent off to a secret mission abroad; Chip's son joins the Marines just in time for the battles of Saipan and Iwo Jima in the Pacific. Meanwhile, the now aging and white-haired Chip is sent by the FBI to relieve the duties of three agents in an unspecified South American country after their identities had been compromised (the CIA did not yet exist at the time, and U.S. wartime covert activities in Latin America were directed by the FBI's Special Intelligence Service). The first two agents are easily found and sent back to the United States before they are captured by local authorities; the third agent is operating deep in the jungle and Chip has to traverse through the overgrown wilderness with a guide named Mario to reach him. The third agent is then revealed to be none other than young George who has been intercepting various secret enemy radio messages. As local authorities move in to arrest the trio, George intercepts one last message, reporting an illegal shipment of platinum to Buenos Aires before destroying all of the equipment and codebooks with a detonator. As they flee across a rope bridge towards the Brazilian border, Mario returns to the enemy shore and blows up the bridge with the remaining detonator, saving the two FBI agents but at the cost of his own life. Seeing their loyal companion swept away by the river, Chip expresses hope that Mario's body will be taken to the ocean, visiting the sea having always been the guide's dream. The film then cuts to the first anniversary celebration of George and Chip's daughter in the United States. As the celebration continues, Chip and Lucy suddenly receive a telegram at the door, informing them of their son's death in the Battle of Iwo Jima. Heartbroken by their loss, Chip and Lucy nonetheless continue serving their country with courage as the Axis powers are defeated and America slowly enters the Cold War.
The last investigation, "50-Cent Clue", involves an espionage case of a New York City clothes cleaners finding a hollow half-dollar with microfilm inside. The microfilm contains a series of numbers, which the FBI tries to decipher. (The real case involved a nickel, not a half-dollar, and took four years to unfold, not the short matter of days in the film. On June 22, 1953, a newspaper boy, collecting for the Brooklyn Eagle, was paid with a nickel that didn't sound and feel right to him. But it wasn't until a KGB agent, Reino Häyhänen, wanted to defect in May, 1957, would the FBI be able to link the nickel to KGB agents, including Vilyam Genrikhovich Fisher (aka Rudolph Ivanovich Abel) in the Hollow Nickel Case. The deciphered message in the nickel turned out to be worthless, a personal message to Häyhänen from the KGB in Moscow welcoming him to the U.S. and instructing him on getting set up).
The film then ends with the conclusion of Hardesty's speech to his fellow FBI agents, walking out of the building he is greeted by his family, including his own granddaughter wearing an old hat that sang the tune of Yankee Doodle ; the same hat that Chip had bought for his own children decades ago near the beginning of his career. Chip says, "I guess I'll never understand how one little family can collect so much junk," and drives away. Various scenes are then shown, depicting the family driving past various Washington DC landmarks such as the Washington Monument, the White House and the Lincoln Memorial while patriotic music is played in the background before the credits roll.
James Stewart as John Michael 'Chip' Hardesty
Vera Miles as Lucy Ann Hardesty
Murray Hamilton as Sam Crandall
Larry Pennell as George Crandall
Nick Adams as John Gilbert 'Jack' Graham
Diane Jergens as Jennie Hardesty
Jean Willes as Anna Sage
Joyce Taylor as Anne Hardesty
Victor Millan as Mario
The Federal Bureau of Investigation had great influence over the production, with J. Edgar Hoover acting as a co-producer of sorts. Hoover even forced LeRoy to re-shoot several scenes he didn't think portrayed the FBI in an appropriate light, and played a pivotal role in the casting for the film. Hoover and LeRoy were personal friends, but Hoover only approved the film after he had a file of "dirt" created on LeRoy. Hoover had to approve every frame of the film and also had two special agents with LeRoy for the duration of filming. Hoover himself appears briefly in the film.
Dell Four Color #1069 (November 1959)