7.2

/

10

Alchetron

7.2

Rate This




Director

Stuart Walker




Music director

John Leipold




Duration




Language

English






Genre

War, Action, Drama




Story by

John Monk Saunders


Country

United States







Release date

May 6, 1933 (1933-05-06)




Based on

"Death in the Morning" by John Monk Saunders


Writer

Seton I. Miller, Bogart Rogers, John Monk Saunders (story)


Cast

Fredric March (Jerry H. Young), Cary Grant (Henry Crocke), Jack Oakie (Mike 'Slug' Richards), Carole Lombard (The Beautiful Lady)


Similar movies

John Monk Saunders wrote the story for The Eagle and the Hawk and wrote the screenplay for Ace of Aces



John denver the eagle and the hawk
The Eagle and the Hawk is a 1933 American Pre-Code aerial war film directed by Stuart Walker and based on an original story by John Monk Saunders. The film stars Fredric March and Cary Grant as World War I Royal Air Force fighter pilots. The supporting cast includes Carole Lombard and Jack Oakie.
Contents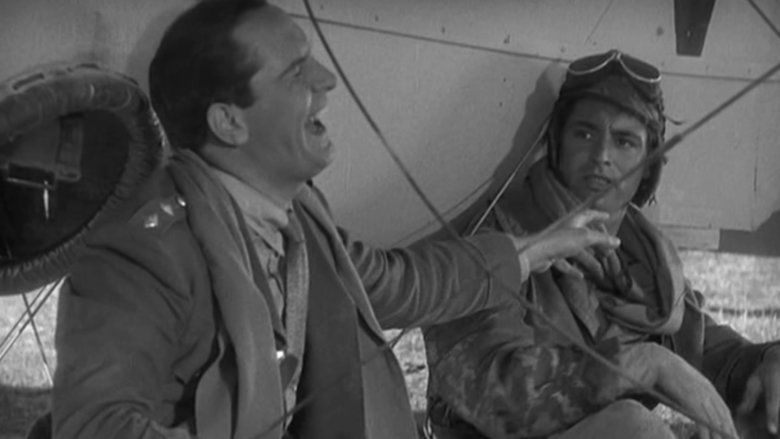 Plot
In World War I, American pilots Lt. Jerry Young (Fredric March) and Lt. Mike "Slug" Richards (Jack Oakie) are assigned to the dangerous mission of reconnaissance over enemy lines. During furious fighting, Jerry loses his air gunners/observers, one after the other, until only Henry Crocker (Cary Grant) is available to fly with him. The two men had previously met and fought. Jerry's dislike of Crocker grows after Crocker shoots a parachuting German observer who bailed out of a blimp. They eventually become friends of a sort, but Henry realizes that the war is taking a toll on Jerry.
After an enemy raid on his base, the commanding officer, Major Dunham (Guy Standing) sees what is happening to his best pilots, and orders Jerry to go to London on leave after Crocker tells him that Jerry is cracking up. Meeting a young woman (Carole Lombard), Jerry carries on a brief affair, before being sent back to the front. With Jerry away, Henry flies a mission with Mike that ends with the pilot's death because Henry persuaded him to go back for another pass at an enemy. Jerry blames his friend and asks for a different air observer. On his first mission with Jerry, the new recruit, Lt. John Stevens (Kenneth Howell) falls out of the airplane during inverted flight during a dogfight with Voss (Robert Seiter), a famous German ace. He has no parachute and falls to the ground. Jerry then shoots down Voss in a head-on pass. Jerry lands near Voss' crashed airplane and sees that the dead Voss is a young man. Stevens' death and the killing of the young German are the last straw for Jerry, who kills himself in his and Crocker's quarters after attending a drinking party in honor of his killing Voss. Crocker finds Jerry dead later that night, and hides the fact that Jerry is dead from the Colonel, who visits to check on Jerry.
To preserve his friend's reputation, Crocker loads Jerry's body into an aircraft early the next morning and flies to the front lines, where he stages a crash. The movie ends showing Jerry's heroic epitaph.
Production
Although a small number of aerial scenes were called for and noted aerial cinematographer Elmer Dyer was contracted, many of the sequences were clips from two other Paramount productions, Wings (1927) and Young Eagles (1930), as well as Warner Brothers' The Dawn Patrol (1930). Assistant director Michael Leisen, himself a pilot, handled most of the aerial filming, and although uncredited, was responsible for the authentic look of the film.
The period-accurate aircraft assembled for the film included five Thomas-Morse Scouts, four Nieuport 28s, two de Havilland DH-4s, a Curtiss JN-4 and assorted post-World War I types used as "set dressing". The aircraft were all leased from the Garland Lincoln Flying Services, a company that provided aviation equipment for film productions.
Reception
The Eagle and the Hawk was well received and critical reaction was extremely positive, characterizing the film as "... one of the better World War I dramas produced during the 1930s." Reviewer Mordaunt Hall at The New York Times, described the film as "... a vivid and impressive account of the effect of battles in the clouds upon an American ace. It is, fortunately, devoid of the stereotyped ideas which have weakened most of such narratives. Here is a drama told with a praiseworthy sense of realism, and the leading rôle is portrayed very efficiently by Fredric March."
References
The Eagle and the Hawk (1933 film) Wikipedia
(Text) CC BY-SA
The Eagle and the Hawk (1933 film) IMDb
The Eagle and the Hawk (1933 film) themoviedb.org