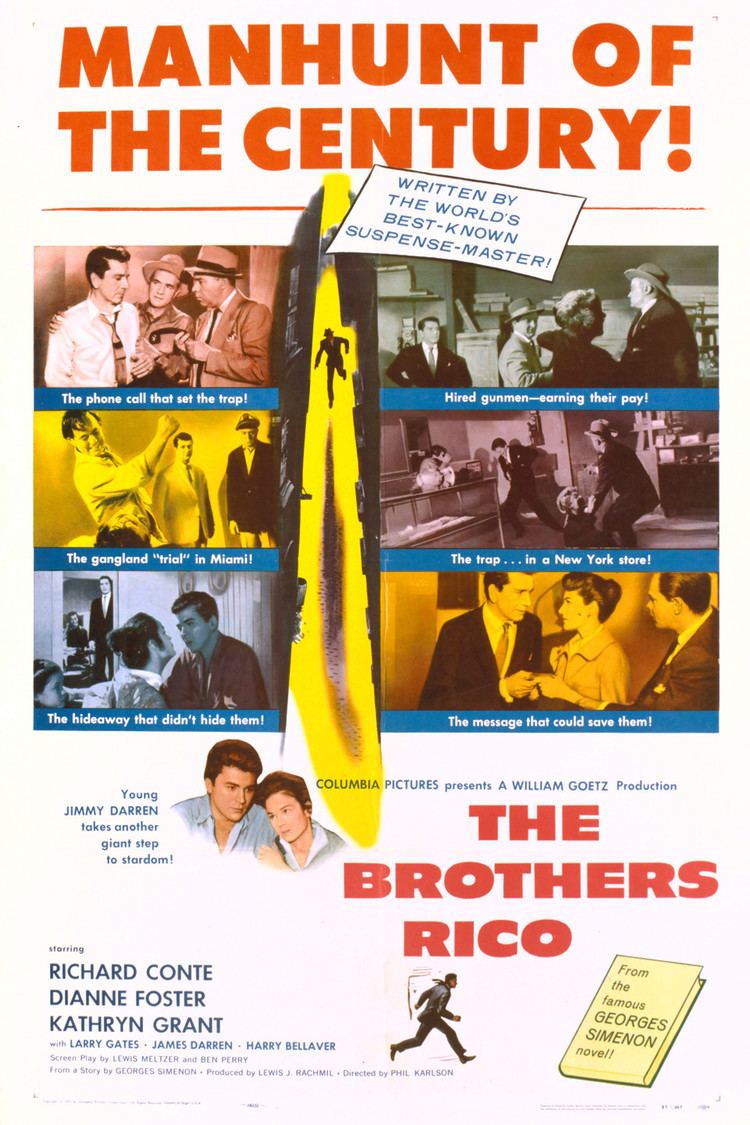 Eddie Rico (Richard Conte) is the owner of a prosperous laundry company in Bayshore, Florida who was the former accountant for a major crime syndicate years ago. He has given up his ties to the syndicate, and hopes to adopt a child with his wife, Alice. When Eddie receives a call asking to give a job to Wesson (William Phipps), a junior mobster, and Alice becomes worried that the syndicate will attempt to bring Eddie back into a life of crime. Eddie calms her down, but then he receives a letter from his mother saying that his two brothers, Johnny (James Darren) and Gino (Paul Picerni), have disappeared. On the way to work, Gino finds Eddie and asks for his help in leaving the country: Gino admits to being the gunman for a gang killing and Johnny was the driver. Gino now believes the syndicate is after him, and he was ordered to St. Louis later that day. Eddie, who does not believe that the syndicate is after them, tells Gino to go to St. Louis and gives him some money. When Eddie returns to work, he finds out that the syndicate boss, "Uncle" Sid Kubik (Larry Gates), has ordered him to Miami. Eddie leaves despite his wife's objections that he will miss an adoption interview.

Eddie meets Kubik in Miami, where Kubik apologizes for orders to hire Wesson and congratulates Eddie on his impending adoption. Kubik says the syndicate does not know where Johnny is, but they are concerned that because Johnny's new wife's brother is suspected of being a prosecution witness, Johnny will be persuaded to turn on the syndicate and testify against them in return for clemency. After insisting that he does not believe Johnny has not turned on them, Kubik tells Eddie to find Johnny and make him leave the country in order to protect his life. As Eddie leaves, Kubik goes into a different room where Gino is being beaten.
Eddie arrives in New York City and finds Johnny's brother-in-law, Peter Malaks (Lamont Johnson). When Eddie says that Johnny may be in a lot of trouble, Malaks tells Eddie he would rather have Johnny dead and does not approve of his sister getting involved with Johnny. Eddie then visits his mother (Argentina Brunetti) to ask where Johnny is, but she proclaims that even though she once took a bullet to protect Kubik's life, she no longer trusts Kubik. When Eddie tells her that Johnny's life is in danger, she prays in front of a statue of the Virgin Mary and tells Eddie that Johnny last wrote from El Camino, California.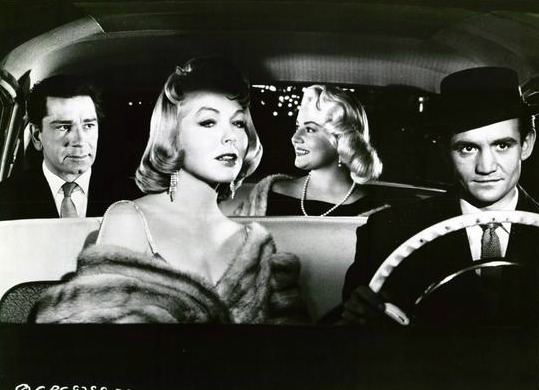 In California, Eddie finds Johnny and his pregnant wife, Norah (Kathryn Crosby) hiding out on a farm. Johnny says he left the syndicate because he wants his son to grow up to be clean and not know a life of crime. Norah becomes excited at the prospect of Johnny being dragged back into the syndicate, and needs a doctor. Eddie is asked to leave, and returns to his hotel room where Mike Lamotta (Harry Bellaver), a local crime boss, is waiting for him. There, Eddie realizes that Kubik used him to locate Johnny, and intended for Johnny to be killed the whole time. Lamotta instructs Eddie to tell Johnny to meet mobsters waiting outside his home, but Eddie tells Johnny to go to the cops instead, and is knocked out by Lamotta's assistant, Gonzales (Rudy Bond). To save his wife and newborn son, Johnny goes to the mobsters and is killed.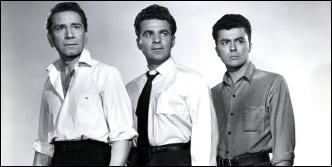 As Eddie and Gonzales fly back to Florida, Eddie learns that Gino attempted to flee the country against orders and was killed. Eddie knocks out Gonzales while on a stopover in Phoenix, and returns to Florida to give Alice money. He goes to Malaks and offers to testify against the syndicate. When Eddie goes to say goodbye to his mother, Kubik is there and holds him at gunpoint. Eddie pulls out his own gun and kills both Kubik and his accomplice, but is wounded himself. Eddie eventually testifies against the syndicate and it is broken up, while he and Alice go to an orphanage hoping to adopt a child.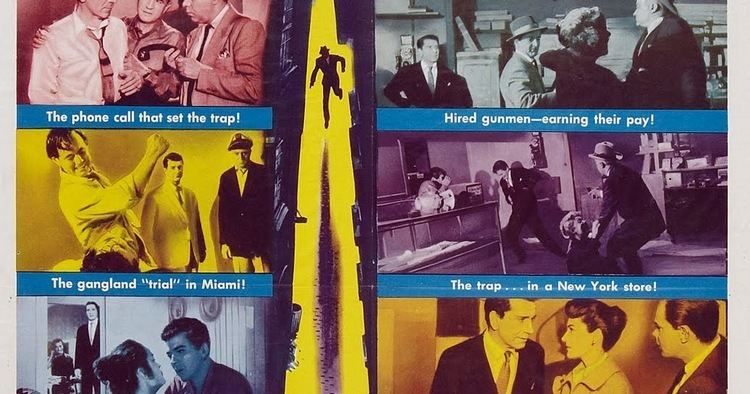 Richard Conte as Eddie Rico
Dianne Foster as Alice Rico
Kathryn Crosby as Norah Malaks Rico
Larry Gates as Sid Kubik
James Darren as Johnny Rico
Argentina Brunetti as Mrs. Rico
Lamont Johnson as Peter Malaks
Harry Bellaver as Mike Lamotta
Paul Picerni as Gino Rico
Paul Dubov as Phil
Rudy Bond as Charlie Gonzales
Richard Bakalyan as Vic Tucci
William Phipps as Joe Wesson
The staff at Variety magazine gave the film a positive review and lauded the acting in the drama, writing, "Phil Karlson forges hard action into unfoldment of film. Performances are first-class right down the line, Conte a standout as a man finally disillusioned after thinking of the syndicate leader who orders his brother's execution as a close family friend. Both femmes have comparatively little to do, Dianne Crosby as Conte's wife and Kathryn Grant as the brother's, but make their work count. Larry Gates as gang chief scores smoothly and James Darren as younger brother handles character satisfactorily."
The film was later re-made for television as The Family Rico (1972).