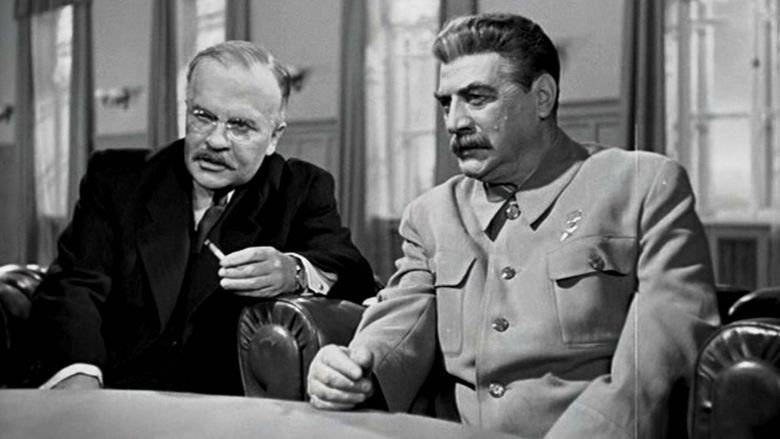 In the Kremlin, Stalin analyzes the Wehrmacht's movements and concludes that the Germans aim to capture Stalingrad. Hitler, who believes the city is the key to final victory, orders his Generals take it at all costs.
As the enemy approaches Stalingrad, the Red Army and the local population rally to defend it in a bitter house-to-house combat, stalling the German advance. In Moscow, Stalin plans the counter-offensive.
The Wehrmacht launches a last, massive assault, intended to overwhelm the defenders of Stalingrad. As the Red Army is pushed back to the Volga, Stalin orders to commence Operation Uranus. The Germans are encircled, and efforts to relieve the Stalingrad pocket fail. Paulus, ordered by Hitler to hold to the end, refuses to surrender while his soldiers starve. The Soviets close on the city, destroying the Sixth Army. After Red Army soldiers enter his command post, Paulus orders his remaining troops to surrender. The Soviets hold a victory rally in liberated Stalingrad; In Moscow, Stalin looks at a map, setting his eyes on Berlin.
The film is the last of the 'Artistic Documentaries', a series of propaganda epics that recreated the history of the Second World War with a Stalinist interpretation of the events. Like all of the other films in the genre, The Battle of Stalingrad consists mainly of battle scenes and staff meetings, reconstructing the campaign from the point of view of the soldiers and the generals, in a heroic manner fitting the state's ideology.
The movie won the Crystal Globe in the 1949 Karlovy Vary Film Festival. Aleksei Dikiy, who portrayed Stalin, received the 1949 Gottwaldov Film Festival's prize, and director Vladimir Petrov won the Czechoslovak Workers' Film Festival Best Director Award. Petrov, cinematographer Yuri Yekelchik and four actors - Aleksei Dikiy, Nikolai Simonov, Yuri Shumski and Vladimir Gaidarov - were awarded the Stalin Prize at 1950 for their role in the film.
French critic André Bazin wrote that the film portrayed Stalin as a super-human leader, showing him planning the Soviet war effort almost on his own: "Even if we grant Stalin a hyper-Napoleonic military genius... It would be childish to think that events in the Kremlin unfolded as they are seen here." Richard Taylor listed The Battle of Stalingrad as "a personality cult film".
The most blatant twist of historical facts, is the complete omission of Marshal Zhukov, who was instrumental in the victory of Stalingrad. It is 1949 and Zhukov is expunged from Soviet narrative by Stalin.
Aleksei Dikiy as Joseph Stalin
Nikolai Ryzhov as Lazar Kaganovich
Maxim Schtrauch as Vyacheslav Molotov
Viktor Khokhryakov as Georgi Malenkov
Yuri Tolubeyev as Andrei Zhdanov
Yuri Shumski as General Alexander Vasilevsky
Boris Livanov as General Konstantin Rokossovsky
Vladimir Golovin as General Nikolai Vatutin
Vasili Merkuryevas General Nikolay Voronov
Nikolai Simonov as General Vasily Chuikov
Nikolai Kryuchkov as Colonel Ivanov
Mikhail Nazvanov as Colonel Ivan Lyudnikov
Alexander Antonov as Colonel Popov
Leonid Kniazev as Sergeant Yakov Pavlov
Viktor Stanitsyn as Winston Churchill/General Fedor Tolbukhin
Nikolay Cherkasov as Franklin Delano Roosevelt
Konstantin Mikhailov as W. Averell Harriman
Mikhail Astangov as Adolf Hitler
Nikolai Komissarov as Field Marshal Wilhelm Keitel
Boris Svoboda as General Alfred Jodl
Nikolai Rybnikov as Field Marshal Maximilian von Weichs
Rostislav Plyatt as General Hermann Hoth
Vladimir Gaidarov as Field Marshal Friedrich Paulus
Vladimir Vsevolodov as General Arthur Schmidt
Yevgeni Kaluzhski as General Wilhelm Adam (first film)
Nikolai Nikolaievski as General Wilhelm Adam (second film)