The Apostle is a 1997 American drama film written and directed by Robert Duvall, who stars in the title role. John Beasley, Farrah Fawcett, Billy Bob Thornton, June Carter Cash, Miranda Richardson and Billy Joe Shaver also appear. It was filmed on location in and around Saint Martinville and Des Allemands, Louisiana with some establishing shots done in the Dallas, Texas area by a second unit before principal photography began. And main opening shots filmed in Grand Coteau and Lafayette Louisiana.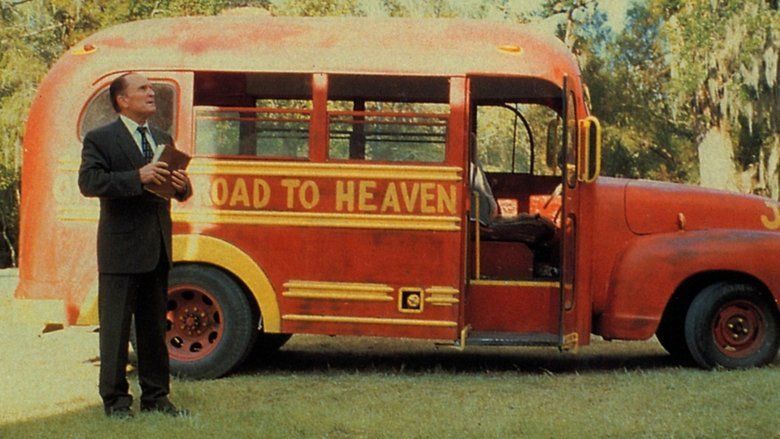 The film was screened in the Un Certain Regard section at the 1998 Cannes Film Festival. For his performance, Duvall was nominated for the Academy Award for Best Actor.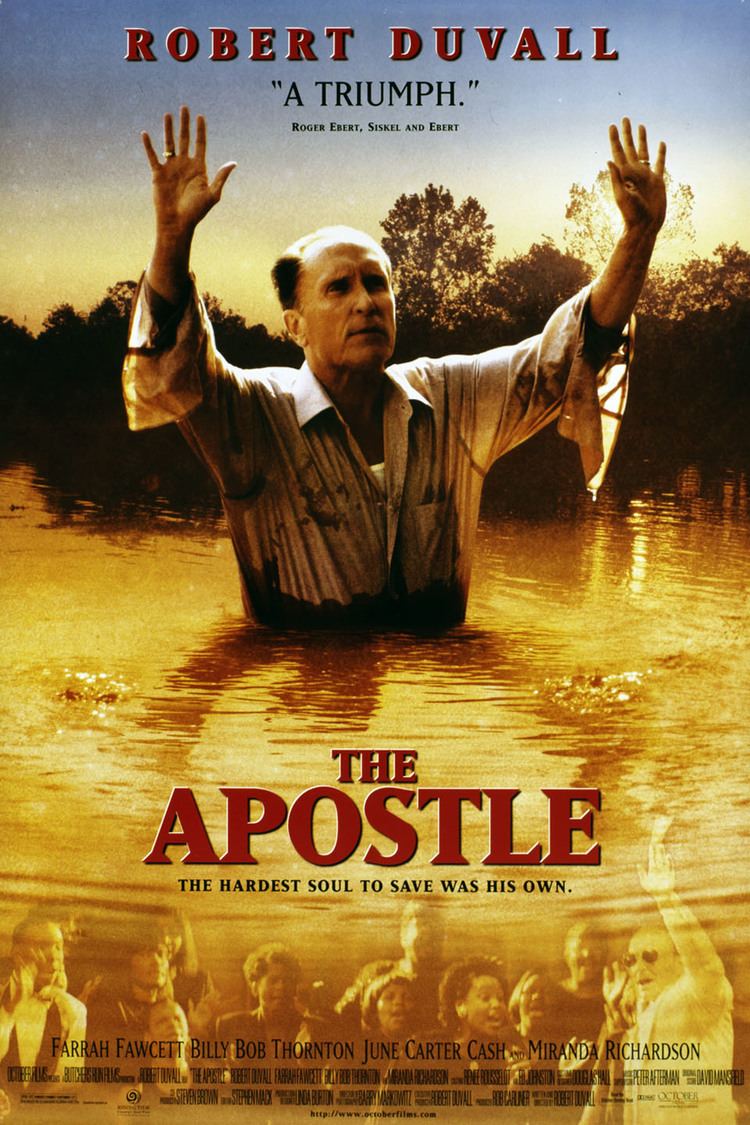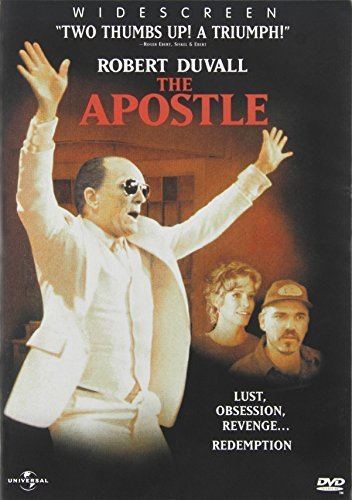 Euliss F. "Sonny" Dewey (Duvall) is a charismatic Pentecostal preacher. His wife Jessie (Fawcett) has begun an adulterous relationship with a youth minister named Horace. She refuses Sonny's desire to reconcile, although she assures him that she will not interfere with his right to see his children. She has also conspired to use their church's bylaws to have him removed from power. Sonny asks God what to do but receives no answer. Much of the congregation sides with Jessie in this dispute. Sonny, however, refuses to start a new church, insisting that the one which forced him out was "his" church. At his child's Little League game, Sonny, in an emotional and drunken fit, attacks Horace with a bat and puts him into a coma; Horace later dies.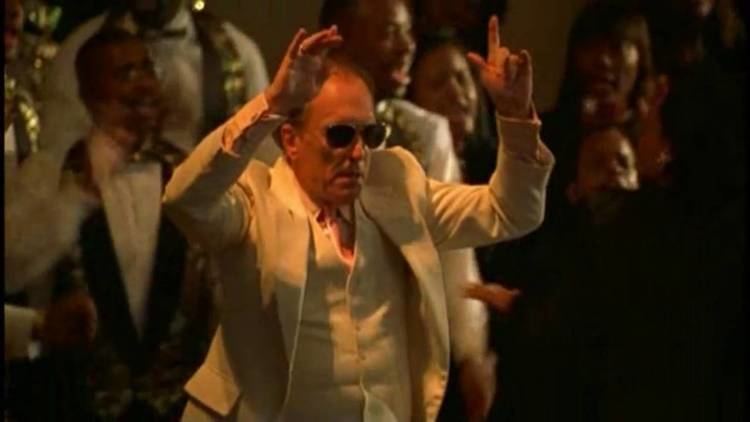 A fleeing Sonny ditches his car in a river and gets rid of all identifying information. After destroying all evidence of his past, Sonny rebaptizes himself and anoints himself as "The Apostle E. F." He leaves Texas and ends up in the bayous of Louisiana, where he persuades a retired minister named Blackwell (Beasley) to help him start a new church. He works various odd jobs and uses the money to build the church, and to buy time to preach on a local radio station. Sonny also begins dating the station's receptionist (Richardson).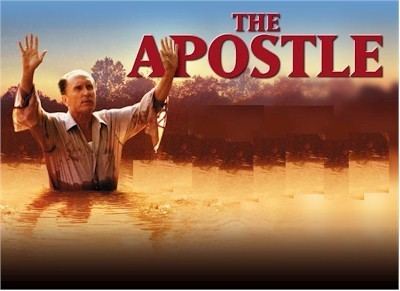 With Sonny's energy and charisma, the church soon has a faithful and racially integrated flock. Sonny even succeeds in converting a racist construction worker (Thornton) who shows up at a church picnic intent on destruction. While at work in a local diner, Sonny sees his new girlfriend out in public with her husband and children, apparently reconciled. Sonny walks out, vowing never to return there.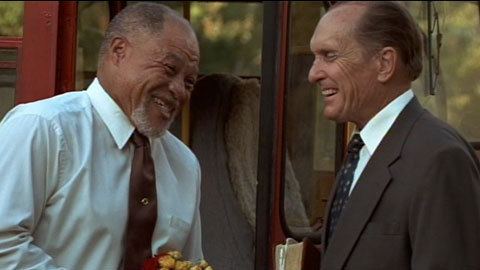 Jessie hears a radio broadcast of the Apostle E. F. and calls the police on Sonny. The police show up in the middle of an evening service but allow Sonny to finish it while they wait outside. In the poignant finale, Sonny delivers an impassioned sermon before telling his flock that he has to go. In the final scene, Sonny, now part of a chain gang, preaches to the inmates as they work along the side of a highway.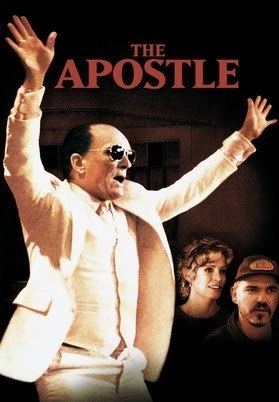 Robert Duvall – Euliss F. "Sonny" Dewey
Farrah Fawcett – Jessie Dewey
John Beasley – Brother C. Charles Blackwell
Miranda Richardson – Toosie
June Carter Cash – Momma Dewey
Walton Goggins – Sam
Billy Bob Thornton – Troublemaker
Billy Joe Shaver – Joe
Rick Dial – Elmo
Todd Allen – Horace
Duvall wrote the script in the 1980s, but could not find a studio willing to film it. He eventually decided to direct and finance it himself. It was first screened at the Toronto International Film Festival. Thirty minutes into the screening, studio executives began leaving the theater to wheel and deal outside; October Films gained the distribution rights that night. The film went on to acquire a $21.3 million worldwide theatrical gross, with a combined production and advertising budget of $8 million.
The score for The Apostle was scored by David Mansfield. Three songs, by country music artists Lyle Lovett and Patty Loveless and contemporary Christian artist Steven Curtis Chapman, were recorded especially for the film.
The soundtrack won the 1998 Grammy Award for Best Southern, Country, or Bluegrass Gospel Album.
The songs, "I Will Not Go Quietly" by Chapman, "Two Coats" by Loveless and "I'm a Soldier in the Army of the Lord" by Lovett were released on a soundtrack album that was supplemented with more exclusive songs "inspired by" (but not included in) the film. The additional tracks include works by Johnny Cash, Emmylou Harris (in a duet with Robert Duvall), the Carter Family, the Gaither Vocal Band and the Sounds of Blackness.
"I Will Not Go Quietly" (composed and performed by Steven Curtis Chapman) – 3:46
"Two Coats" (traditional, performed by Patty Loveless) – 3:21
"I'm a Soldier in the Army of the Lord" (traditional, performed by Lyle Lovett) – 3:29
"Softly and Tenderly" (composed by Will Lamartine Thompson, performed by Rebecca Lynn Howard) – 3:05
"There Is a River" (composed by David Sapp, performed by the Gaither Vocal Band) – 4:24
"In the Garden" (composed by C. Austin Miles, performed by Johnny Cash) – 3:16
"I Love to Tell the Story" (traditional, performed by Emmylou Harris and Robert Duvall) – 3:45
"Waitin' on the Far Side Banks of Jordan" (composed by Terry Smith, performed by the Carter Family) – 3:15
"Victory Is Mine" (traditional, performed by the Sounds of Blackness) – 3:32
"There Is Power in the Blood" (traditional, performed by Lari White) – 5:19
"There Ain't No Grave Gonna Hold My Body Down" (composed by Brother Claude Ely, performed by Russ Taff) – 4:54
"I'll Fly Away" (composed by Albert E. Brumley, performed by Gary Chapman and Wynonna Judd) – 3:47
"Softly and Tenderly (Reprise)" (composed by Will Lamartine Thompson, performed by Dino Kartsonakis) – 4:37
Review aggregator Rotten Tomatoes has an 89% 'fresh' rating for the film based on 45 reviews, with an average score of 8.1/10. Roger Ebert gave it four out of four stars and called the film "a lesson in how movies can escape from convention and penetrate the hearts of rare characters."